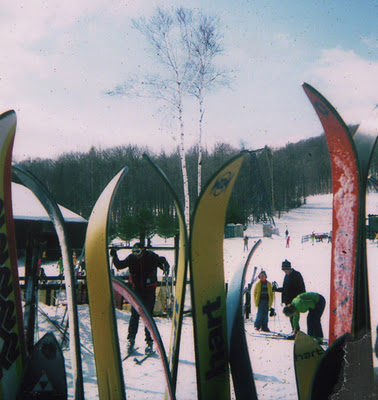 In 1974, Gore Mountain was a major Eastern ski area with just about everything that skiers wanted — 2,000 feet of vertical, trails spread out over several mountains, and the only gondola in New York State.
As a member of the elite Gondola Club, Gore joined Stowe, Killington, Sugarbush, Sugarloaf, and a handful of New Hampshire resorts in offering true big mountain skiing to the masses.
There was only one problem: the masses weren't coming. Why not? Because Gore Mountain had no snowmaking. In the 60s, chairs, gondolas and vertical were all you needed. But that wasn't enough to compete in the 1970s.
Gasoline was rationed and lines were long on the days that gas stations hung their green flags, indicating they were open. With gas prices soaring, skiers became more discriminating. They wanted a guarantee of good coverage and conditions, but New York State's largest ski area couldn't offer it.
Crowds of skiers took their business to Big Bromley and Stratton and Mt Snow, where they waited in long liftlines for slow double chairs, while Gore's lifts ran empty most days.
So what did Gore management do? The NY State Department of Environmental Conservation came out with a radio advertising campaign featuring a jingle. It ran for several years in the mid-70s on powerhouse WGY-AM radio in Schenectady, coaxing Capitol District skiers to come on up to North Creek. The tune ran often during Harry Downy's nightly ski report at 8:30 pm, and I listened religiously on the transistor radio in my room:
"It's my day on the mountain, gonna get away to Gore.
A special place, with lots of room to soar.
I'm up there to share the sun, the snow, and more.
Gonna get away, getaway to Gore."
Few ski areas resorted to jingles, but for other enterprises, they were the norm in 1970s-era advertising. I can still remember tunes for the Lee Two-Stage Maxifilter and Coppertone tanning lotion. Three hours down the Thruway, Music Radio WABC blared the famous jingle of the Palisades Amusement Park … "swings all day and after dark."
Did Gore's jingle make a difference? It must have, as Gore was almost invisible its first decade of operation. But a series of bad snow years continued to frustrate skiers, and send them to Vermont. Gore's next move was to add snowmaking, but that's another topic for another day.
A jingle stays with you long after other ads are forgotten. And 35 years later, I know that some day soon, I will "getaway to Gore" again.