The first article I wrote for NYSkiBlog was about taking my kids hiking at the long closed Silvermine Ski Area in Harriman State Park. Silvermine has been one of my go-to spots for a long time, for short walks, hikes around the lake, canoeing, sledding and an occasional ski.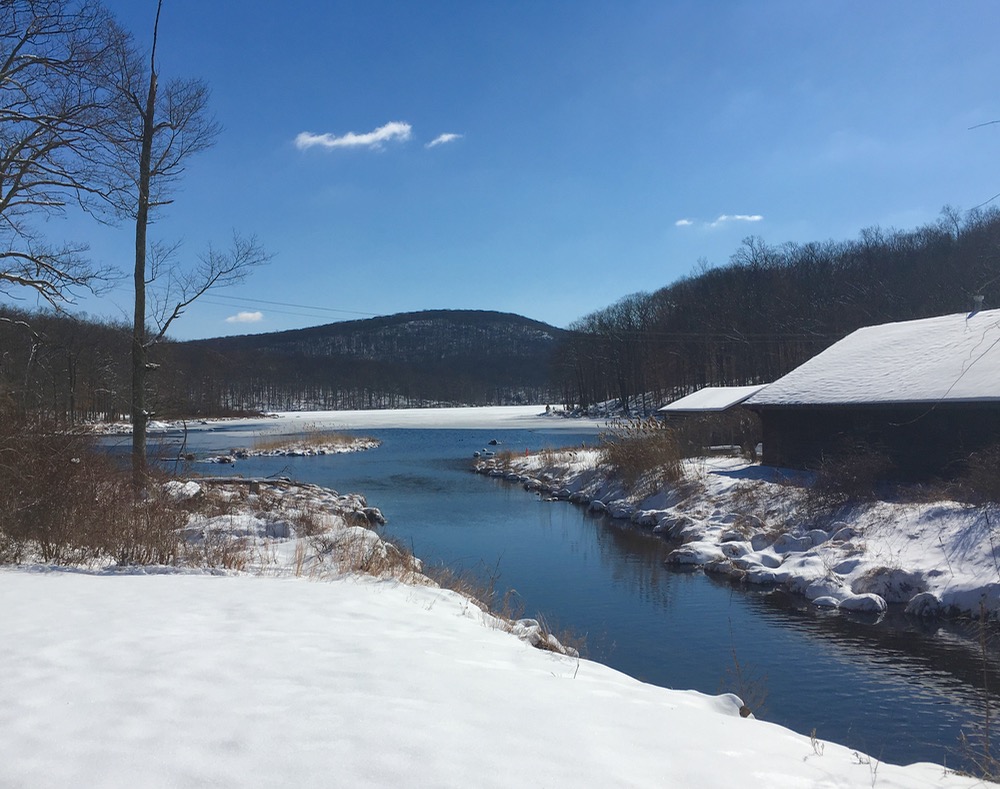 It's a cool spot to get a small dose of nature quickly, easy to get to, has convenient parking and even has bathrooms. Though New York is littered with closed ski areas, most of them have been completely erased from the land. Nearby Ski Stony Point, for instance, is covered in McMansions with big manicured lawns. Silvermine looks like someone shut it down and just walked away twenty years ago.
There are surface lift towers still standing and shacks with the old electric motors still inside. Last time I was there I discovered a counter weight hanging in the trees near the path of one of the original rope tows. It's like an archeological site, revealing what skiing was like in an earlier era.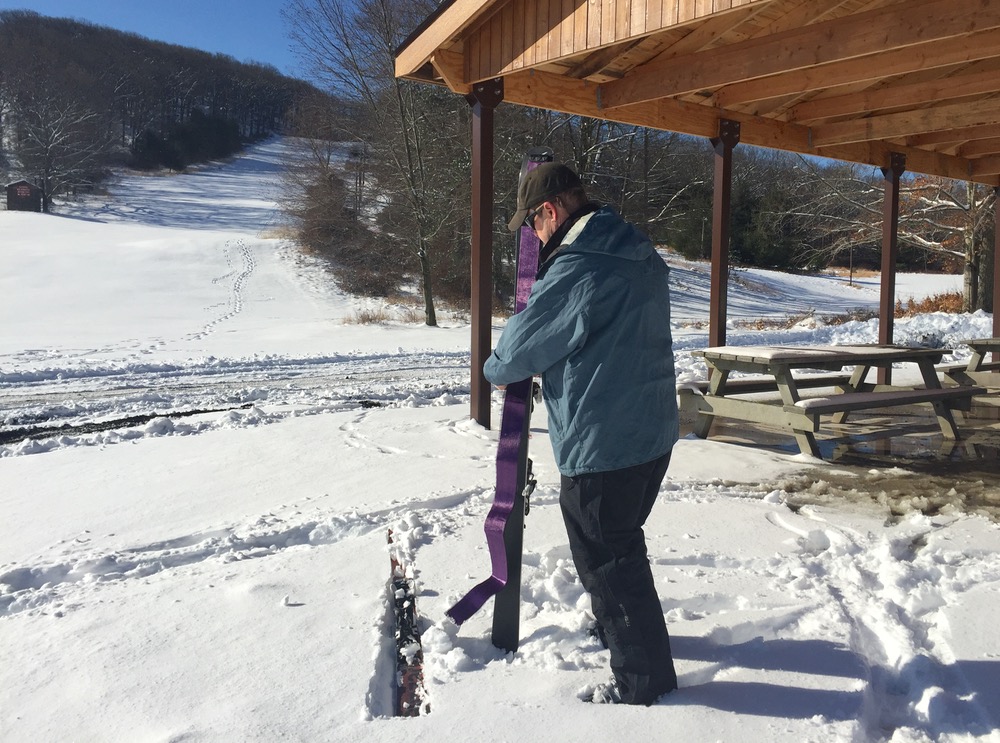 What surprised me about my original piece was the positive response it got. We found that lots of people had fond memories of the place. The post went up in November of 2015 and it's most recent comment appeared in January of this year so I guess Silvermine still has some fans.
When I first started skiing there, I had the place to myself but over the last few winters I've noticed other people's tracks once in a while. Last year I actually bumped into another skier for the first time. On a recent Sunday, we parked at 9am and the place was deserted except a few winter hikers and a truck plowing the lot.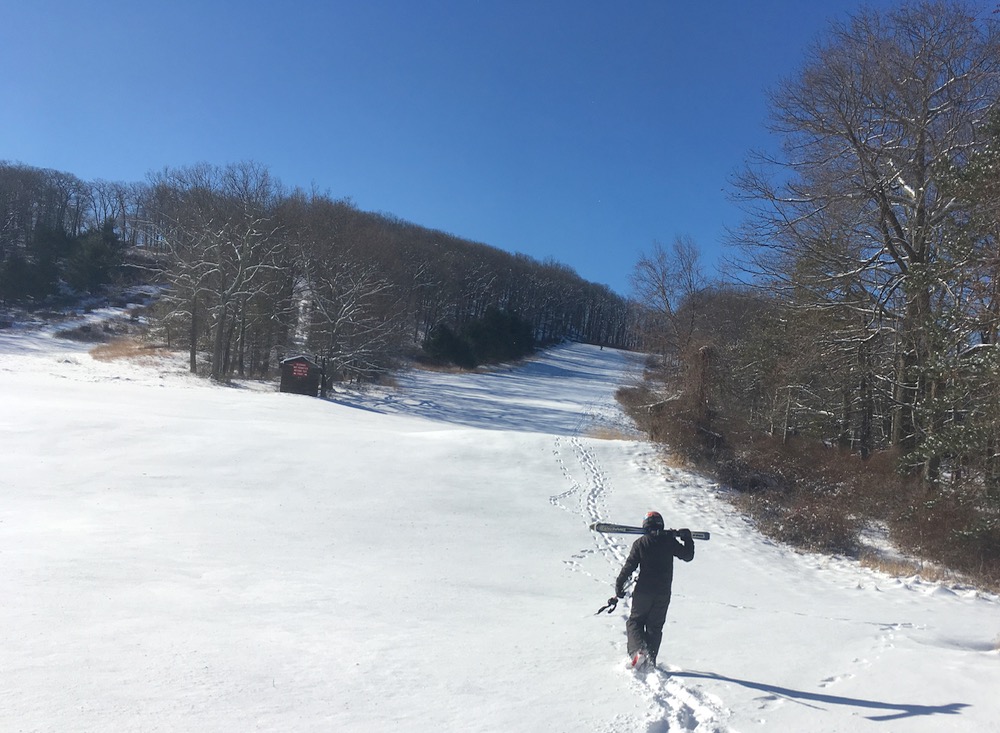 Wow, I thought as we booted up, are we the first ones here? No sooner did the thought cross my mind then, seemingly out of nowhere, a guy with a pair of skis over his shoulder trotted past us, his dog following along behind. Dammit.
I'd adjusted my touring adapters to fit junior's bindings and boots but some complications with a new pair of skins meant that he would have to boot pack it. I gave him a head start while I got my skins attached and then I followed along. About a third of the way up, the guy that got up ahead of us came by, arcing nice little tele turns with his dog chasing behind.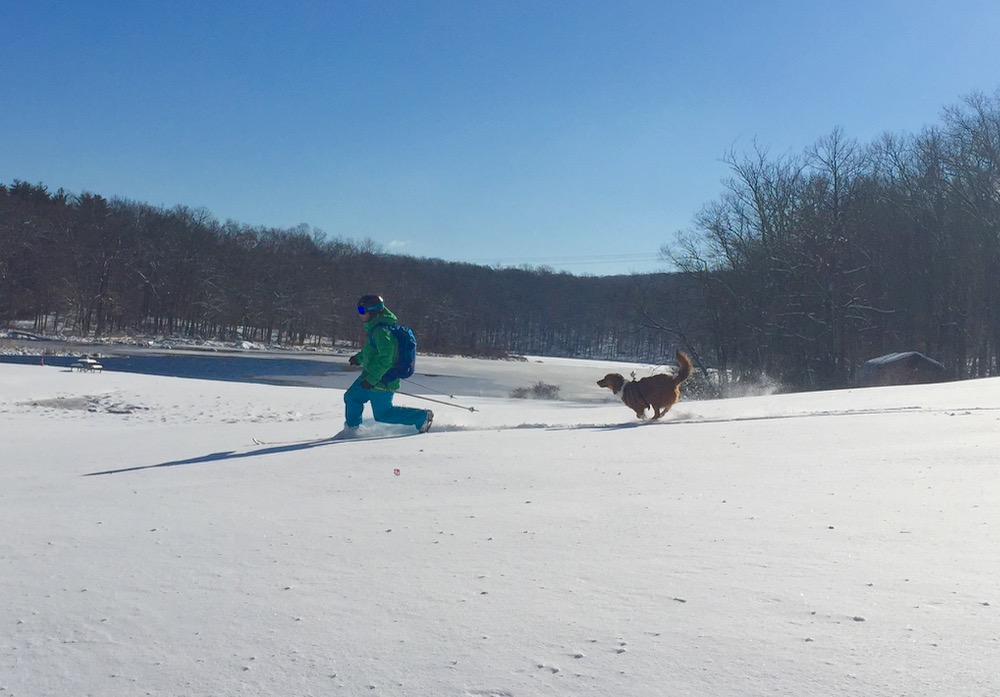 I paused to take some pictures and then continued on. Even though it's less then 400 feet of vertical, the climb kicked my ass. A busy couple of months at work and a two week long head cold are my excuses for missing my gym time, but I was still embarrassed by my fitness level.
There was still plenty of six-inch deep powder left for us. The lure of powder is really the main attraction of skiing here, which is why I normally only come after a storm. It's not a challenging hill and the taller, more interesting trail to skiers' right has thick brush covering it.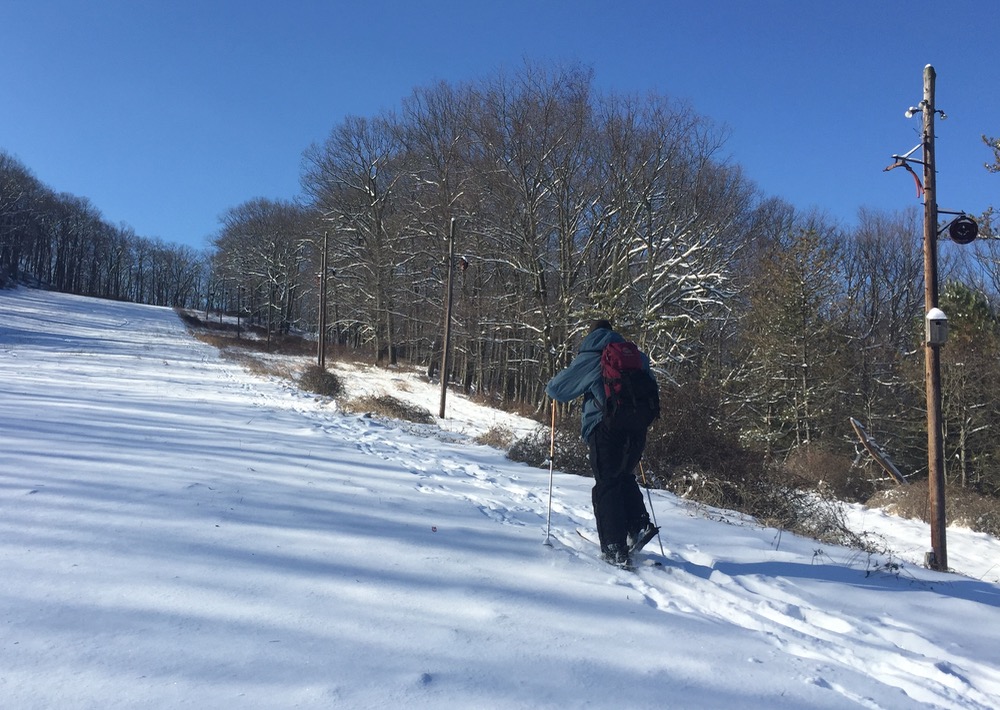 Skiing that would require a four foot base of snow, which I've yet to see. Usually when I go to Silvermine, I'm just looking for two or three runs of silky powder skiing. We got that this time.
When we were ready to start back up for a second run, sledders were showing up but they stuck to the lower part of the hill. Even with just three people and one dog skiing, Silvermine was getting busy. After a couple runs we went to explore the beginners' area, in a meadow to skiers' left. This slope is even gentler and the vertical can't be over a hundred feet but the snow was still untouched.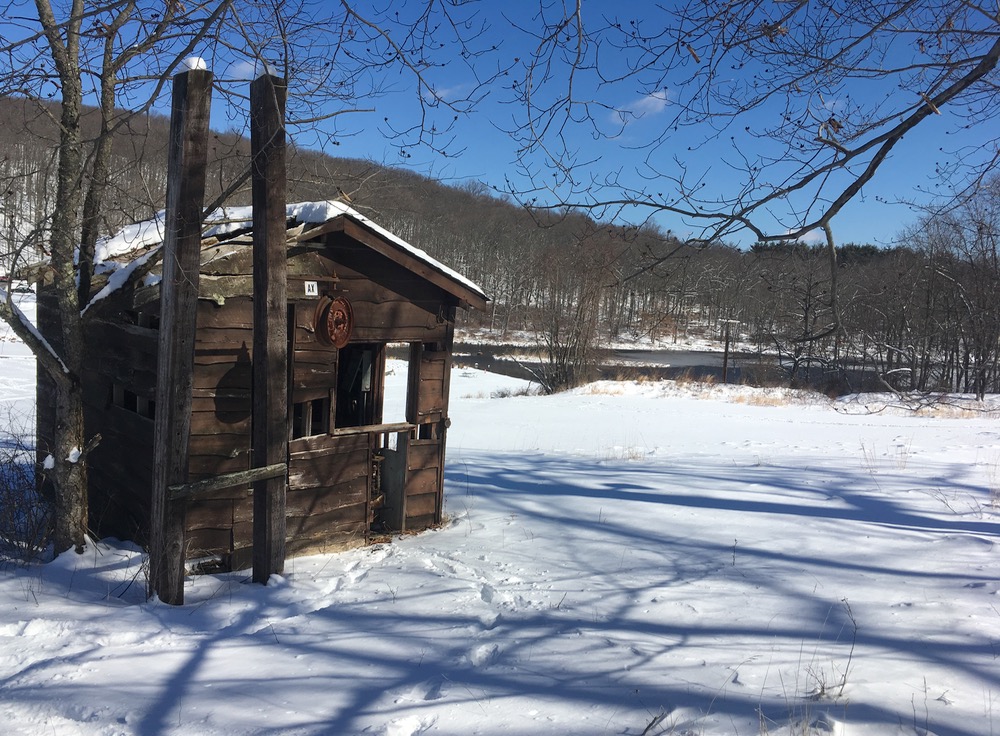 At some point, junior asked me if I had a shovel in the car because he wanted to try riding it like a sled, an idea I admit he got from me. Shovel-riding was a lot more fun on groomed slopes but we gave it a shot. We brought our skis back to the car and got the shovel.
Previous shovel-riding experience told me that we needed more gravity then the sledding area offered so we headed up the "expert slope" and started butt-grooming a track. Each run, we started a little higher on the hill to pack down the track as we went so each run was a little faster then the last. I had to remind junior to keep his feet up but he got the hang of it pretty quick in spite of some spectacular crashes. Shovel-riding is a ton of fun. If you've never tried it I recommend that you do.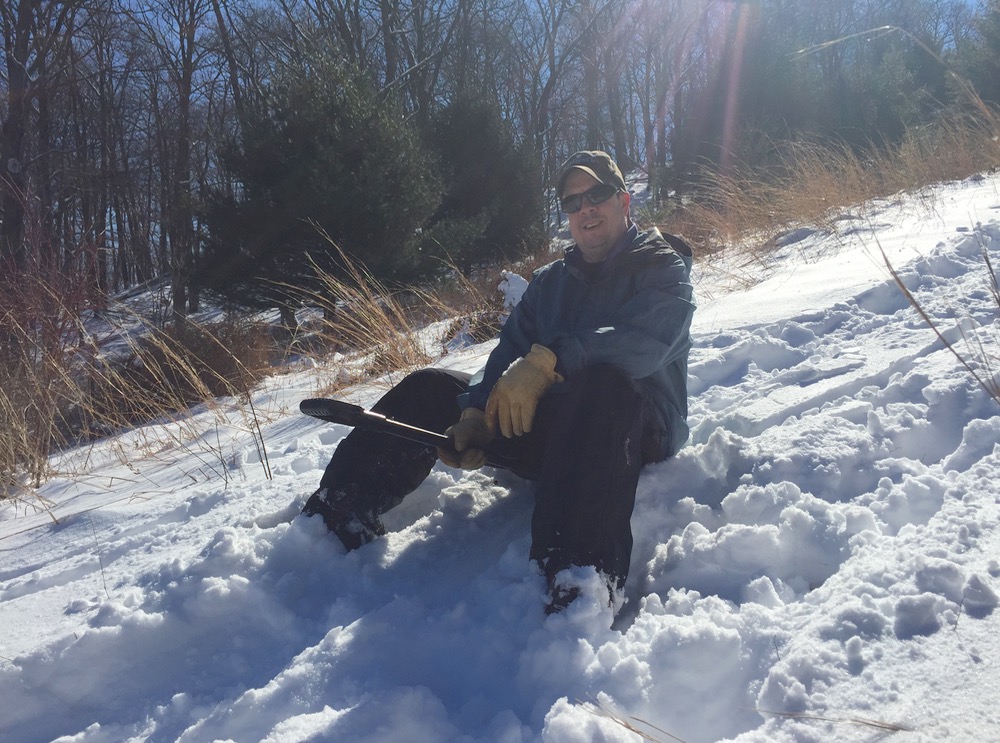 We headed home by noon. We didn't get much skiing out of the day but what we got was quality and we got a great workout as well. Silvermine is such a cool place, no matter the season. With some strategic brush-mowing and maybe a little time spent clearing the tanglefoot from the woods above the beginners' area it could be more interesting to ski there but in the mean time we'll enjoy it for what it is.