I usually take Sunday as the day for a long run or ride, but the weather forecast did not bode well. Having more than paid my dues working out in the rain, I headed for Lake Minnewaska State Park on Saturday.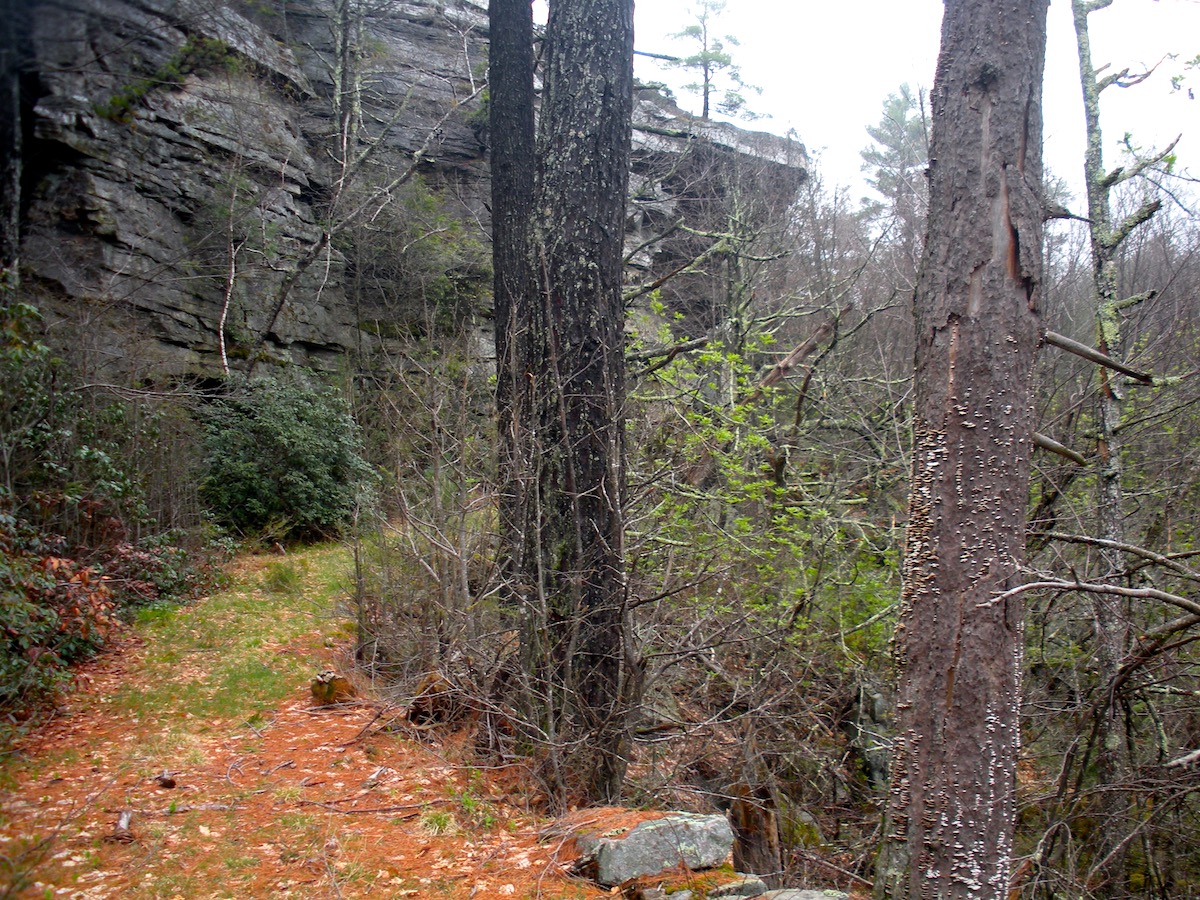 My goal was to run west, past Lake Awosting to the High Point Trail, which goes north towards High Point, and a landmark called Four Mile Camp. This is the most remote part of Minnewaska State Park. Two years ago, I'd tried to get there from Sam's Point Preserve, and didn't quite make it.
Rain was a long shot on Saturday, but low clouds blanketed the parking area where the old Wildmere resort hotel had resided. I laced my running shoes, stuffed a jacket, a hat, and couple of Clif bars into my hydration pack, and set out.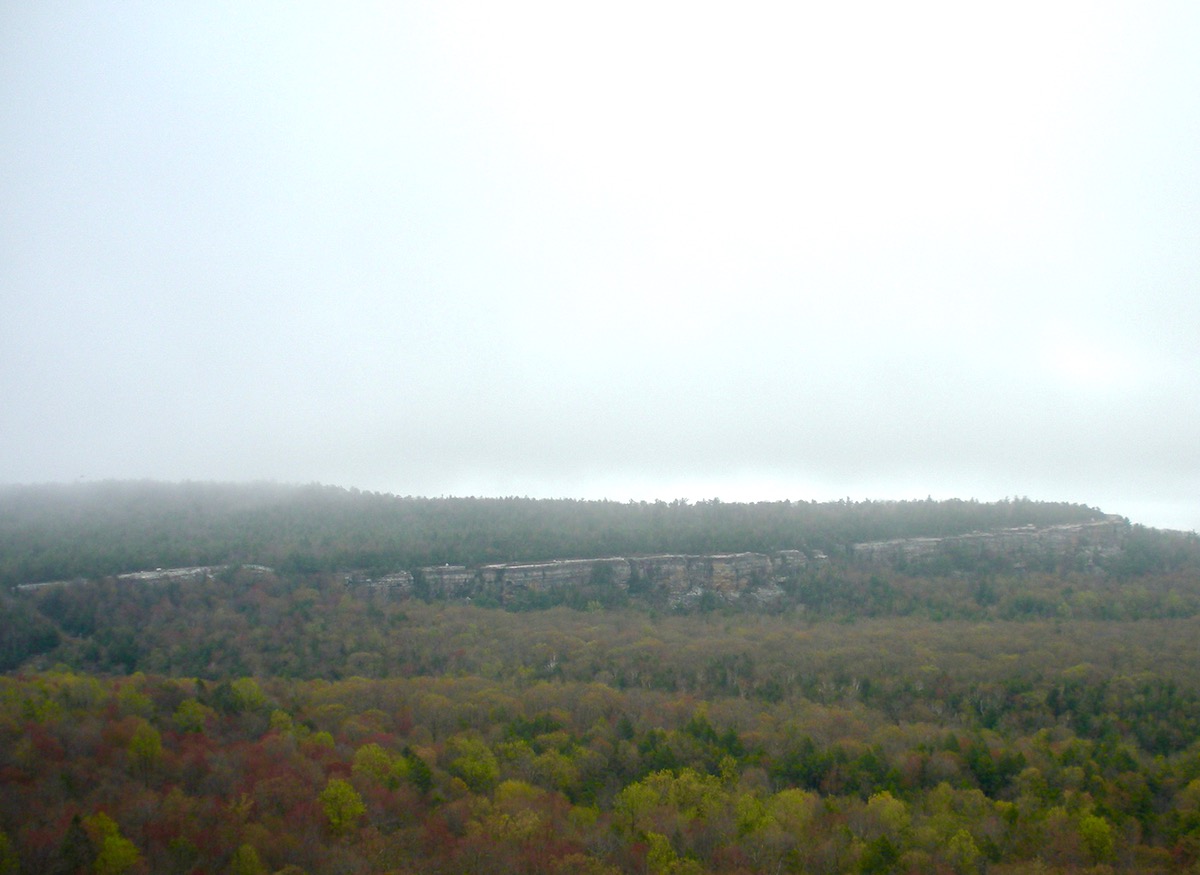 Running clockwise around Lake Minnewaska, I turned on to the Millbrook Carriageway. A few hundred meters in, I turned on to Hamilton Point carriage road. Hamilton Point was closed for some years because of trail deterioration, and underwent serious maintenance before reopening a few years ago. To the south, the Millbrook ridge slipped in and out of the clouds.
In the 19th century, the Minnewaska carriage roads were designed to accommodate leisurely touring in a horse-drawn buggy. Hamilton Point looks flat, but it's really a three-mile-long, gradual uphill.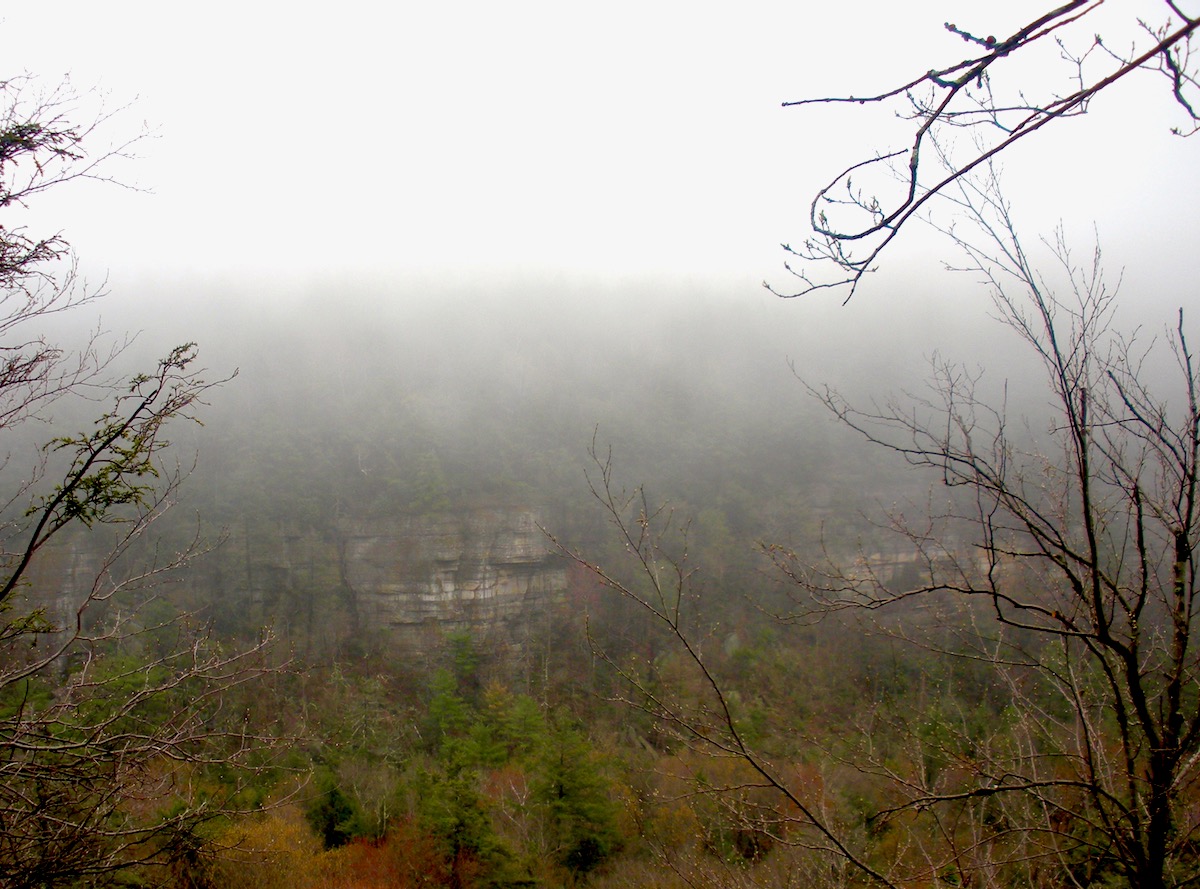 It took 90 minutes to get to the junction with the Castle Point trail. Here I encountered athletes from the day's Rock the Ridge 50-mile trail race, descending from Castle Point and heading out towards Upper Awosting Road.
From the wide, easy carriage road,I made the jarring transition to the singletrack of the Long Path. At this point, I began doubting the wisdom of my plans. When I look at a map, I tend to be like a binge eater at an all-you-can-eat-buffet. Making plans bigger than I might be able to carry out. It didn't help that I don't cover ground as fast as I did when I was 40, and that I had to collect my daughter from a play date, 90 miles away, by 5 PM.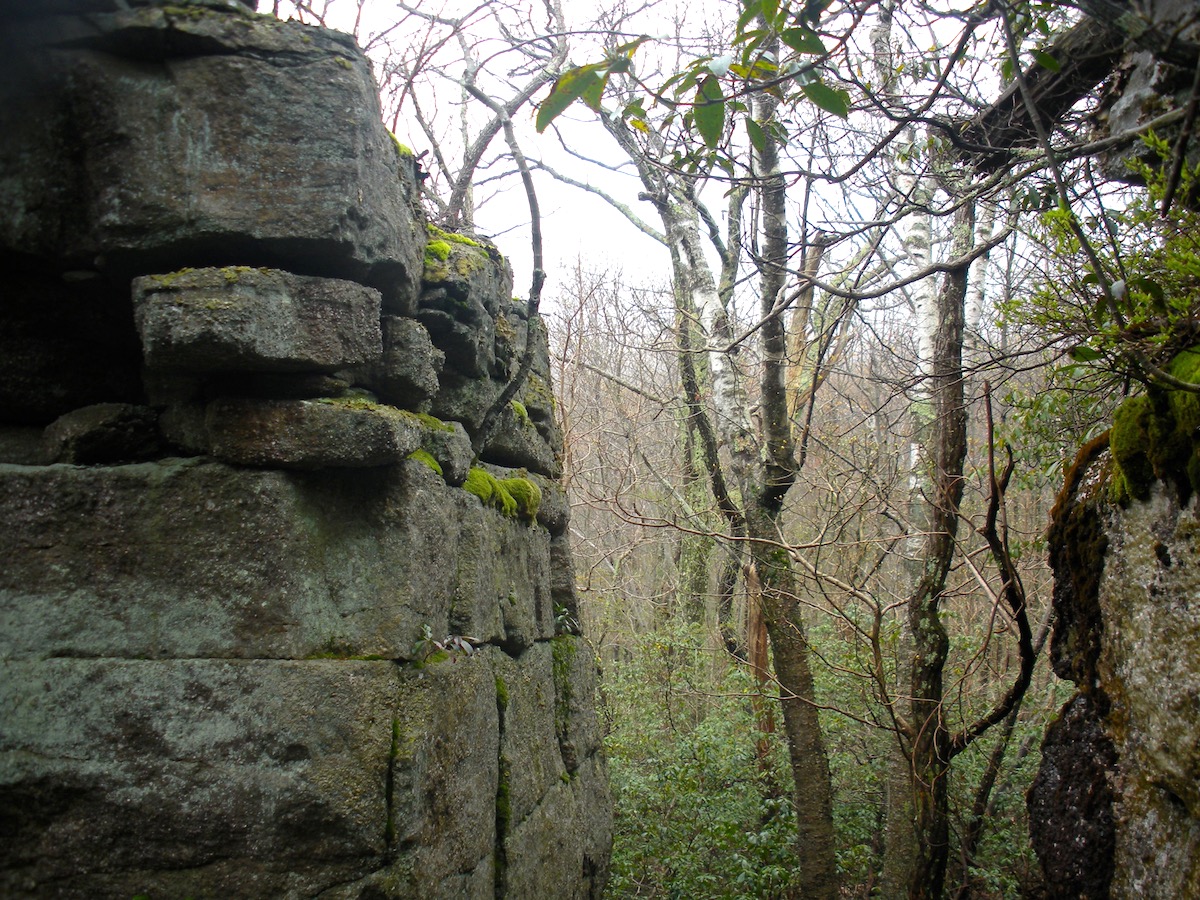 I took the first of my bail-out options and picked my way through the Wolf Jaw, a jumble of rocks that made me wish I'd brought a helmet. Skip across a stream, and the trail opened up. I was on a carriage road covered over in grass. Nature will take its course, you just have to give it time.
When I got back to the carriage road, I was running against the route of the trail race with runners were going downhill as I was climbing towards Castle Point. A mile later, I topped out at Castle Point, where there was a quite basic racers' aid station manned by a lone volunteer. Gatorade or water; your choice.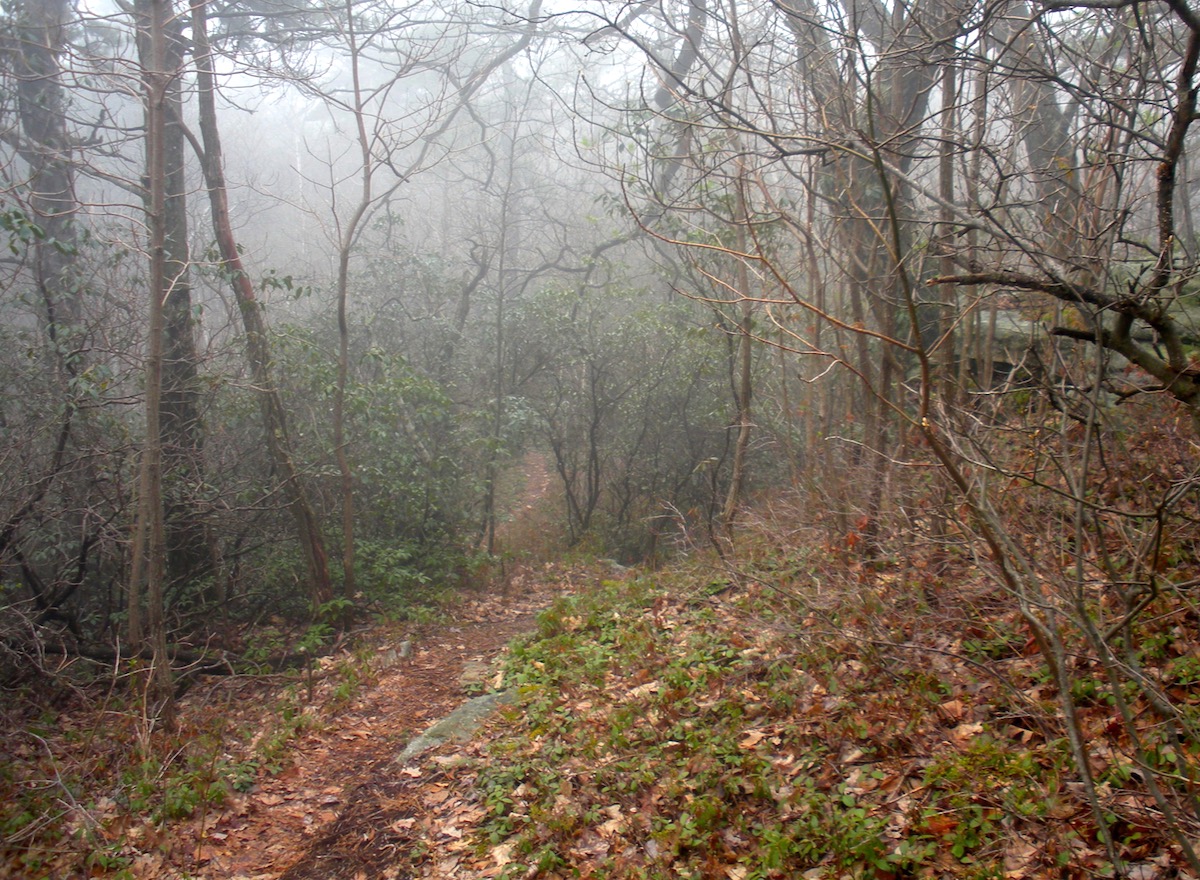 "Got any espresso?" I asked.
"Nope."
"What about beer?"
"Nope."
"Any doughnuts?"
"No."
"What kind of a race are you guys running?!"
"A good one," he grinned, as he helped a runner refill her water bottle.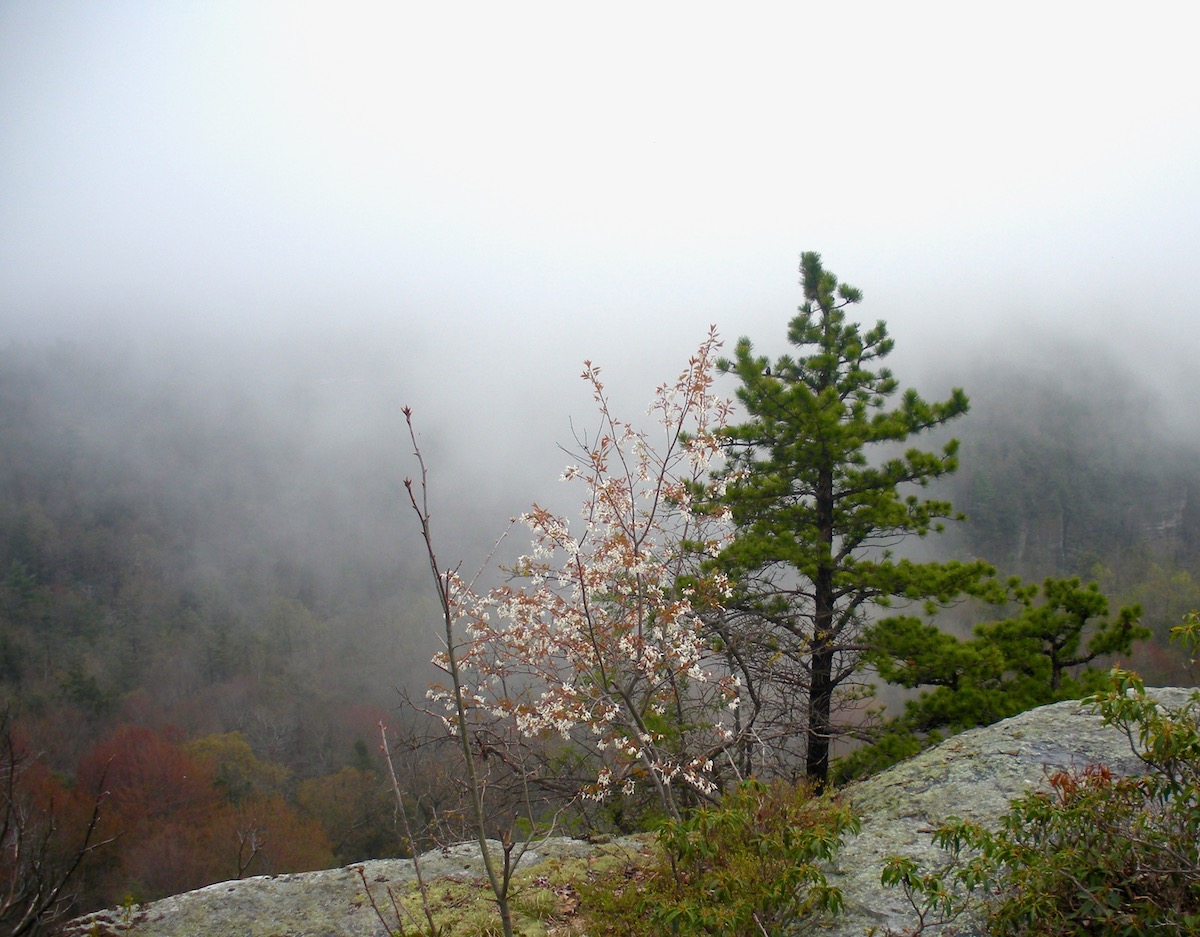 Rock the Ridge sounded tempting, but I don't think my knees will tolerate a 50-miler any more. I paused to watch clouds moving fast across the hills. From Castle Point, you can see the Empire State Building on a clear day, but that wasn't happening.
The aid station was beyond the race's 30-mile mark. As I set out down Castle Point towards the trail head, it was around 12:30. Given the 6 AM start, the leaders were close to the finish (Jason Friedman would win in 7:01). This meant that the athletes I saw were over six hours in and probably had four to six hours to go. Many of them gave me a smile when I shouted encouragement, but many looked worked over too. You can train all you want, but at some point it becomes a test of will, you against yourself.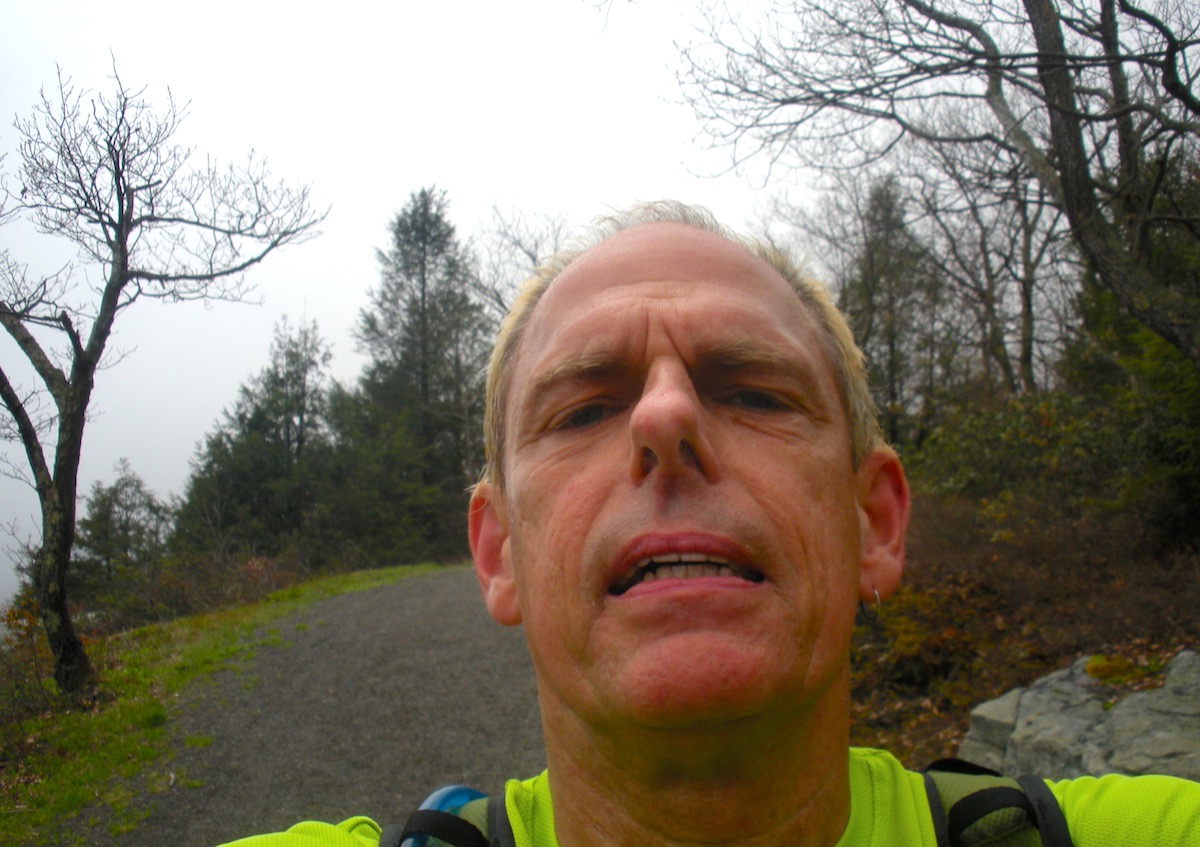 Three more miles, and I climbed Library Hill to the parking lot. Done, and ravenous. I changed and stopped at New Paltz's Main Street Bistro for a well earned burger before driving home.
On a side note, big changes are happening at the park. I stopped skiing here some years back because of the sketchy grooming and lack of a warming hut. Some time this year, construction of a proper visitors' center will commence. I can't say whether it'll be open to skiers in the winter, but this is something that Minnewaska lacked. And by local accounts, the grooming was noticeably improved last winter.
If you're looking to expand your running or hiking repertoire, add Lake Minnewaska to your list. You can even bring your mountain bike for the carriageways. See you out on the trail!