So far, my summer kayaking plan has been working out pretty good. I haven't done big trips but I've gotten in a lot quick paddles on the lakes in Harriman park. Like always, parking has been an issue at Harriman.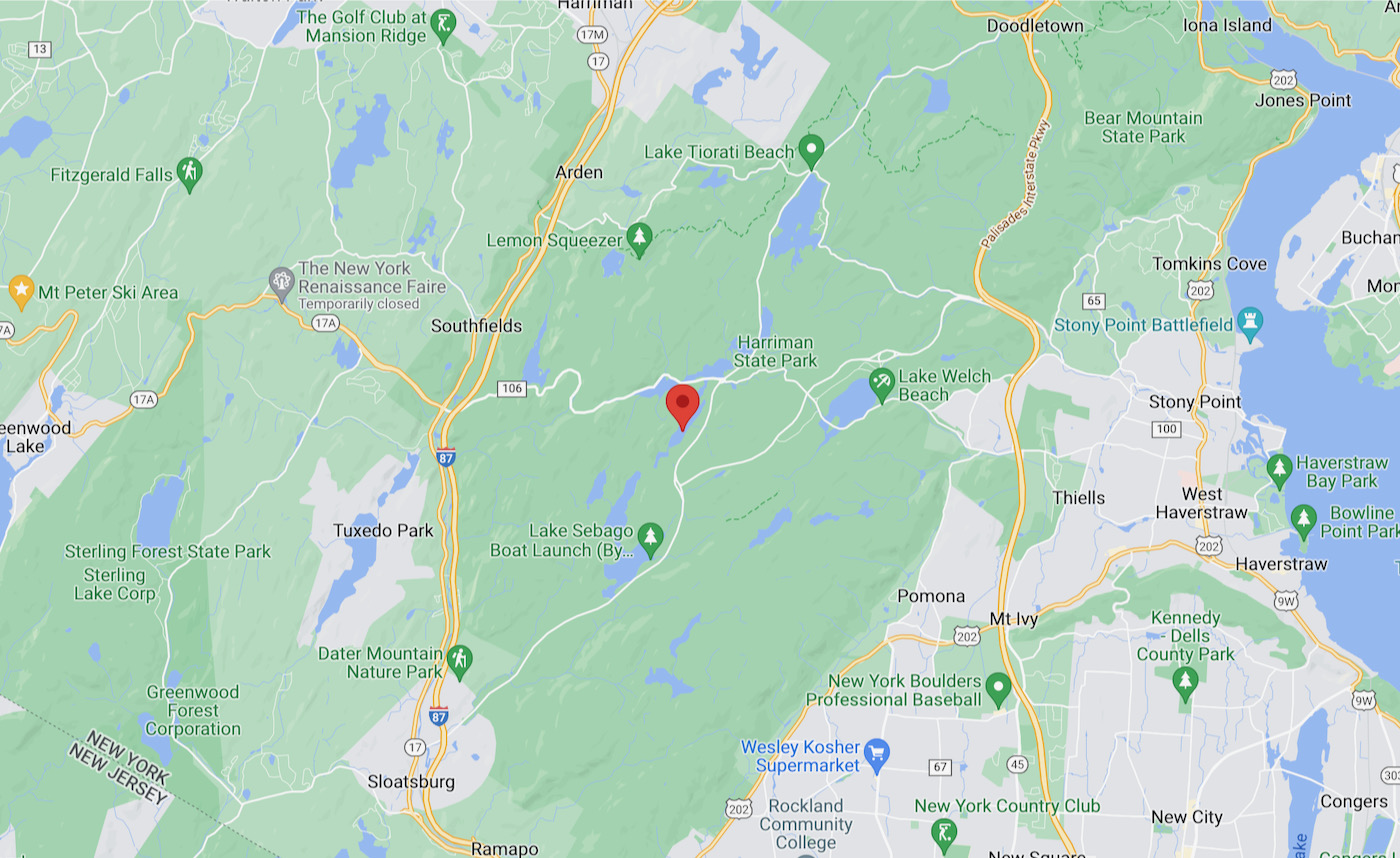 Making things worse, Lake Welch has been closed due to a toxic algae bloom. Lake Welch has a huge beach and parking lot that would normally absorb a big percentage of the picnickers who show up to grill and swim and hang out with family and friends every weekend. Lake Kanawauke has been a reliable spot. Somehow I've always managed to find parking there, even when other areas are full. My first day there this year I spent exploring.
On a map, it looked like the stream which connects Lake Skannatati to Kanawauke might be partially navigable so my first mission was to find it. I did that successfully but it turned out to be smaller than it looked and choked with water lilies.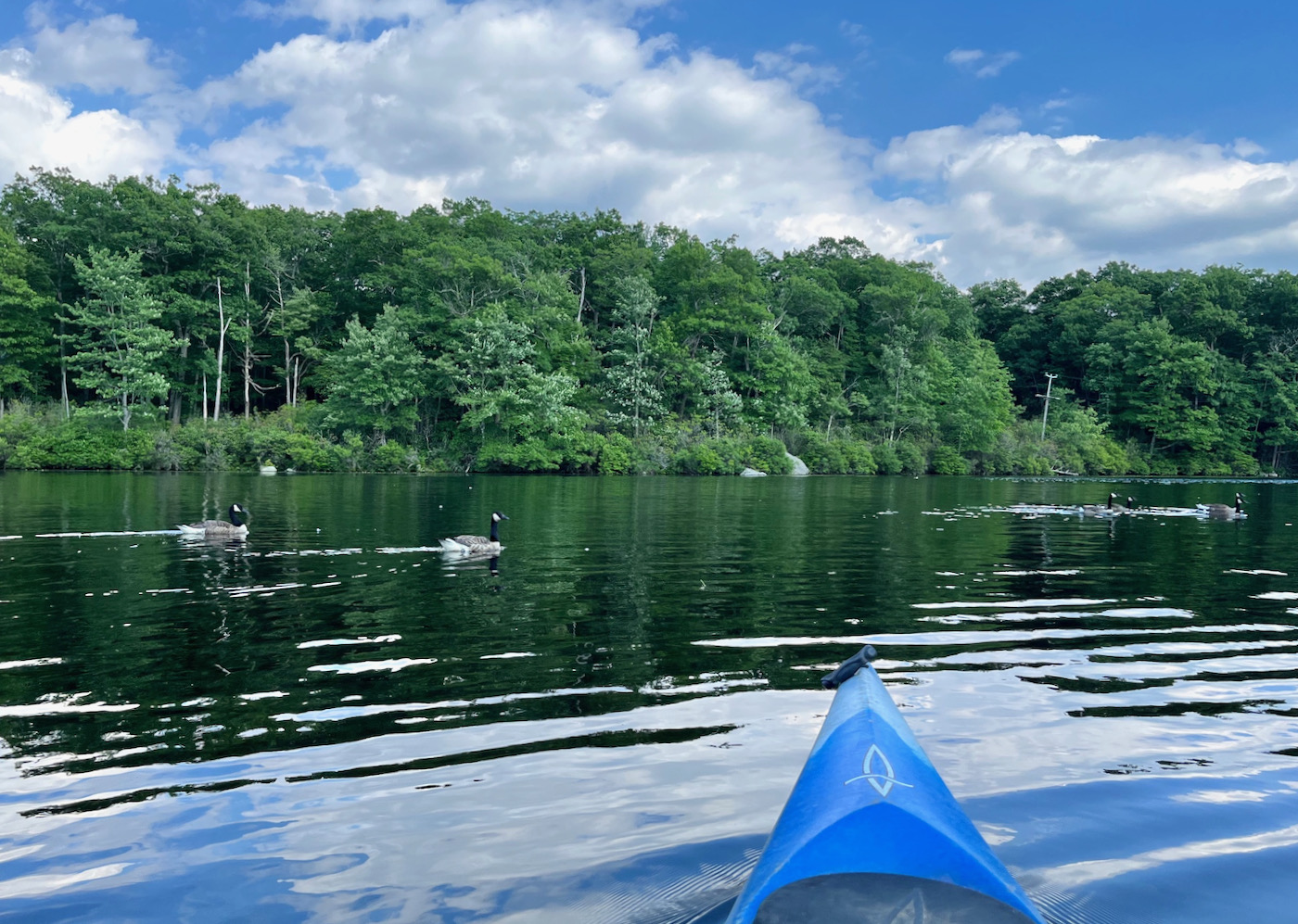 This past Sunday my available window was in the middle of the afternoon. I anticipated traffic and road closures on the Palisades Parkway so I entered through Sloatsburg on Seven Lakes Drive. My first choice to paddle was actually Lake Sebago but as I approached the boat launch and saw cars along the road there, I figured it meant trouble. Sebago's lot was full. Kanawauke is the next option down the road.
I made the turn and pulled into the boat launch there, dropped my kayak and drove up the hill to the parking lot. Back at the lake, there was some silliness happening just then with some wading toddlers and an inflatable blocking the ramp, so I walked my kayak around some garbage cans and launched from the grass.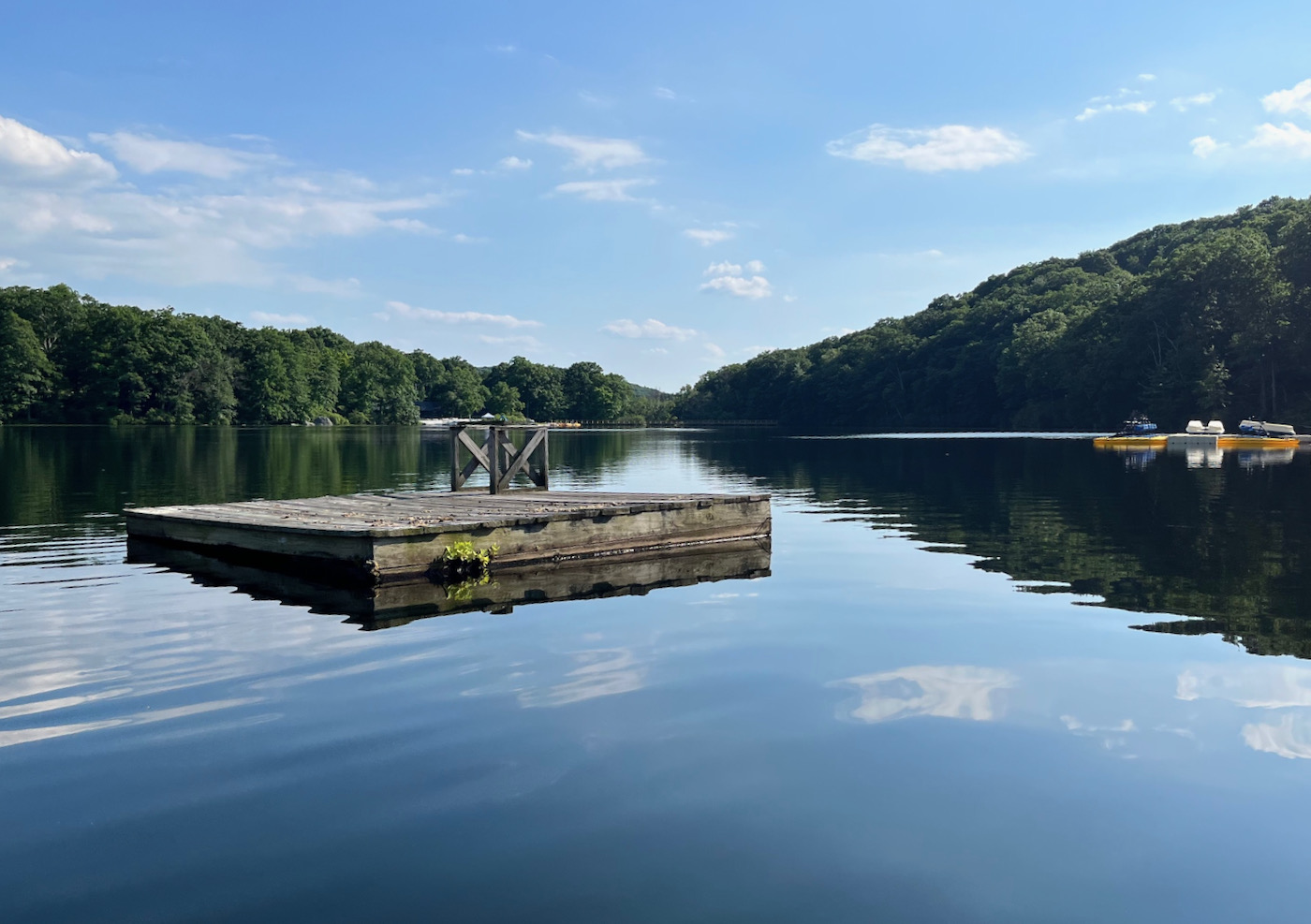 Finally on my way, I pointed my bow for a nearby culvert and made my way under route 106, entering the northern portion of the lake. My trip goal was to get a workout so I figured I would just follow the shoreline all the way around the three sections of the lake. To that end, I hooked a left turn and paddled west into a narrow corner of the lake that led to another culvert that connected to the third section.
The photo-copied maps the park rangers hand out don't differentiate but my guidebooks refer to this section as Little Long Pond. Early in the season I'd ventured back here and had it all to myself. The group camps located on Little Long Pond hadn't opened yet. Now there were a bunch of folks out in kayaks and canoes and some swimmers were splashing around at one of the camps. I paddled the perimeter, trying not to bother anybody.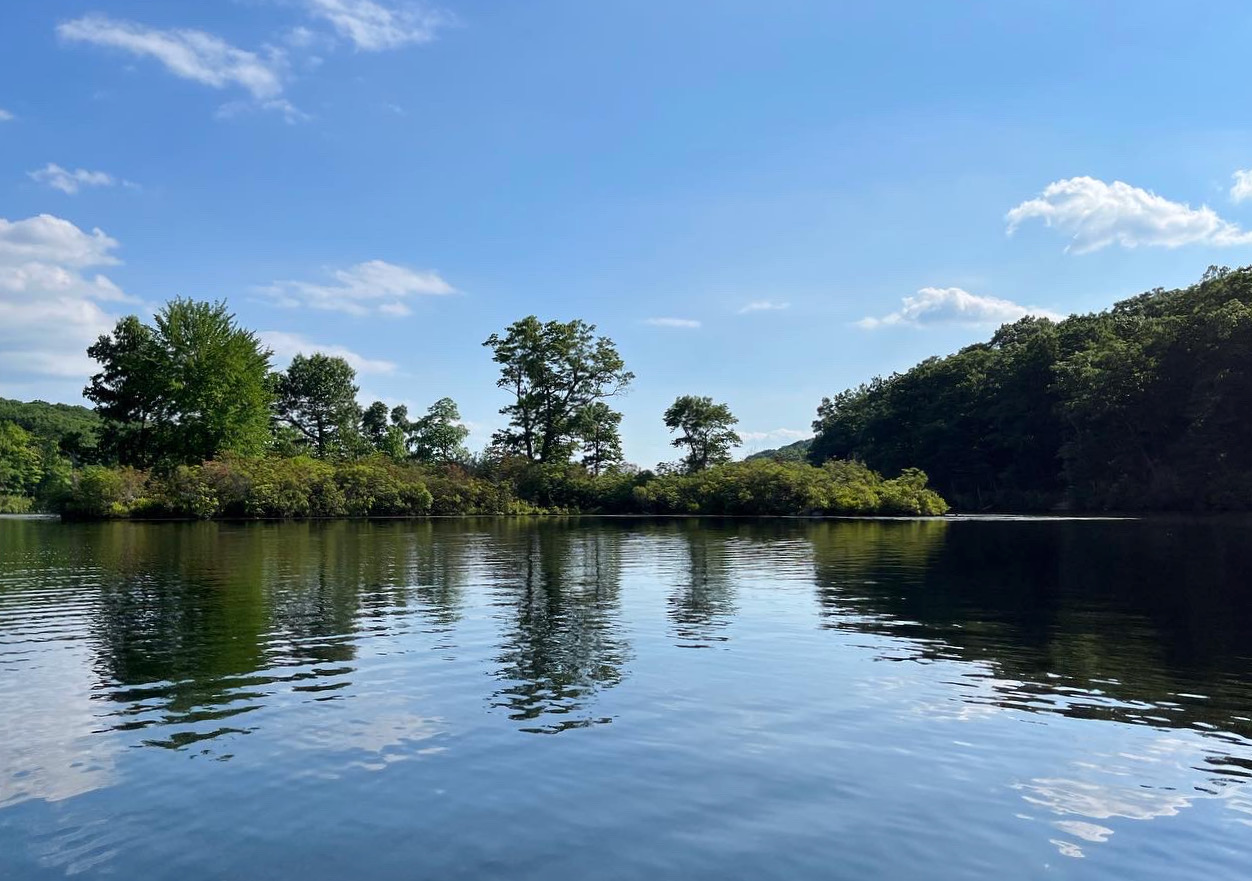 I noticed two women in one of the canoes were sitting facing each other so one of them had to paddle backwards. It looked awkward but they seemed to be enjoying themselves. I finished up with my lap of that part of the lake and returned to the culvert to paddle back through to the northern section. I took my time following the shoreline here. This part of Kanawauke has no camps or picnic areas on it so it's a bit more peaceful. I lingered, then made my way back to the southern section of Kanawauke.
Back on the side of Route 106 where I'd started, the picnic area was as noisy and boisterous as ever. I left the yelling and music behind, paddling south to where the lake widens. There are more camps down here but only one of them seemed to be occupied on Sunday.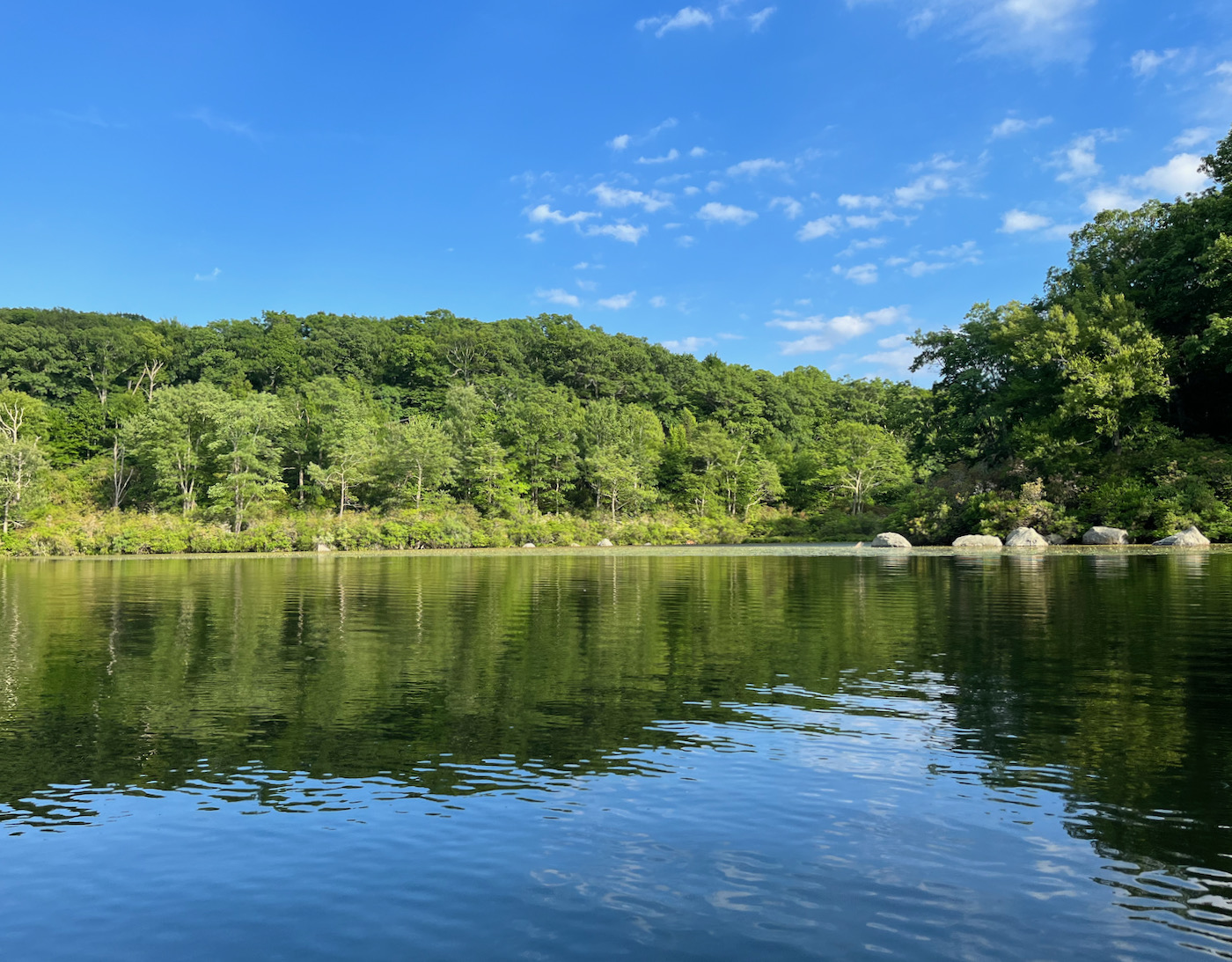 I passed some kids on SUPs and and a group in inflatable canoes, one with a smiling yellow lab in the front. I soon ran out of lake to the south so I turned and glided past the concrete dam to the western shore and turned north. There is a cluster of small islands in the middle of the lake so I crisscrossed between them a bit to extend my time on the water.
Then I was back at the picnic area and parking lot again. There was a new group of kids wading on the boat launch while their dad inflated a SUP for them and simultaneously yelled at his son to come back and wait for his sisters. I squeezed my bow into a narrow bit of ramp between the splashing children and and some fishermen and got out.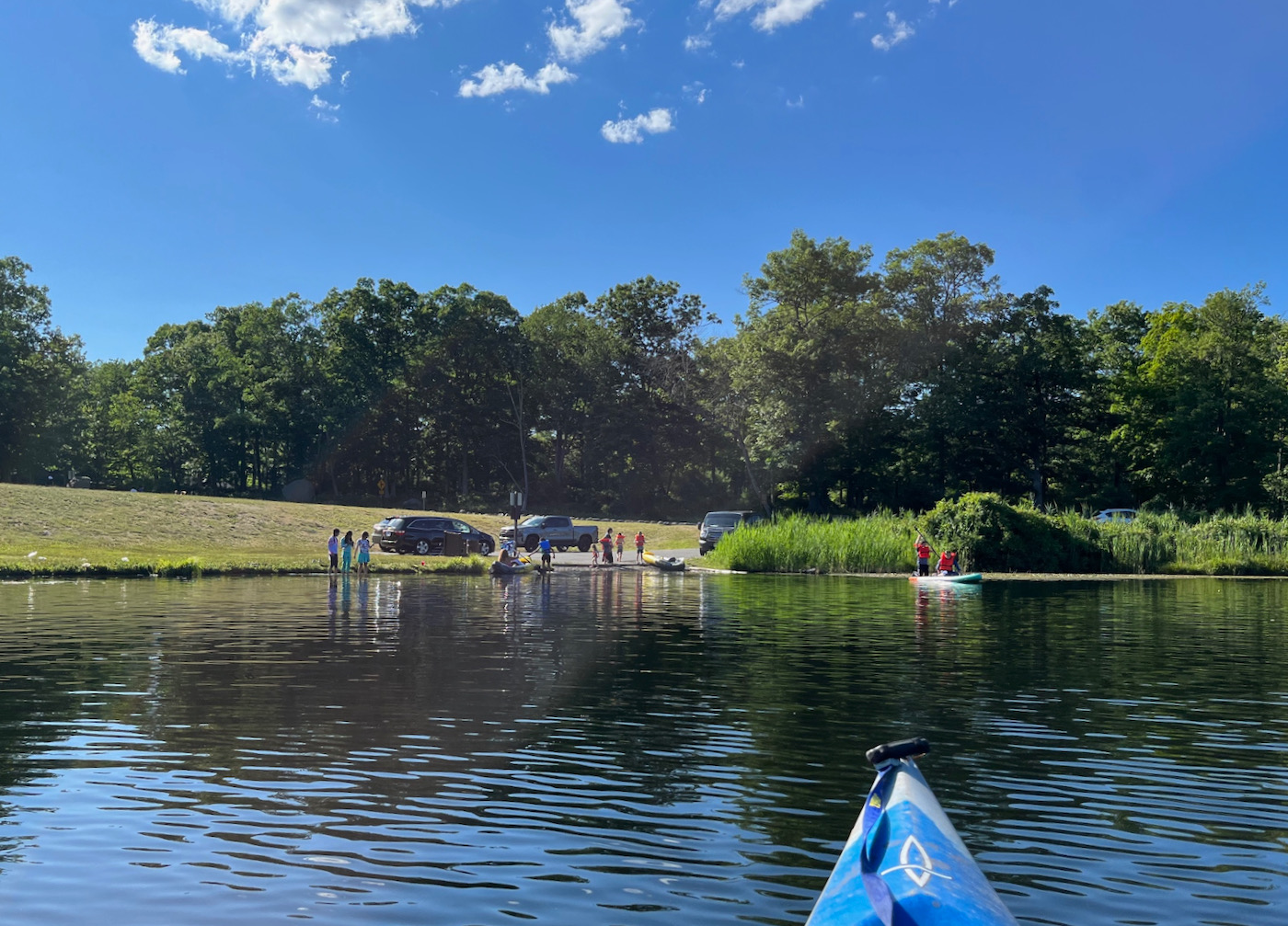 It only took a few minutes to retrieve my car, get my kayak back on its rack and hit the road. I took a different route home so I could eyeball Lake Welch on the way. The algae bloom covered most of what I could see from the road in a pea green film. I drove down through Stony Point to the Palisades Parkway to head home. It wasn't quite six PM yet. My arms and shoulders were sore from my fast lap of Lake Kanawauke. I gotten a good workout, which was the whole point. It felt good.