Let's get the bad news outta the way first: I didn't get up to Skytop, so no photos with stupendous views. It would have added 60 minutes to what was becoming a long day. Sunday was partly cloudy anyway. The good news: I found an important artifact of New York ski history, as we shall see.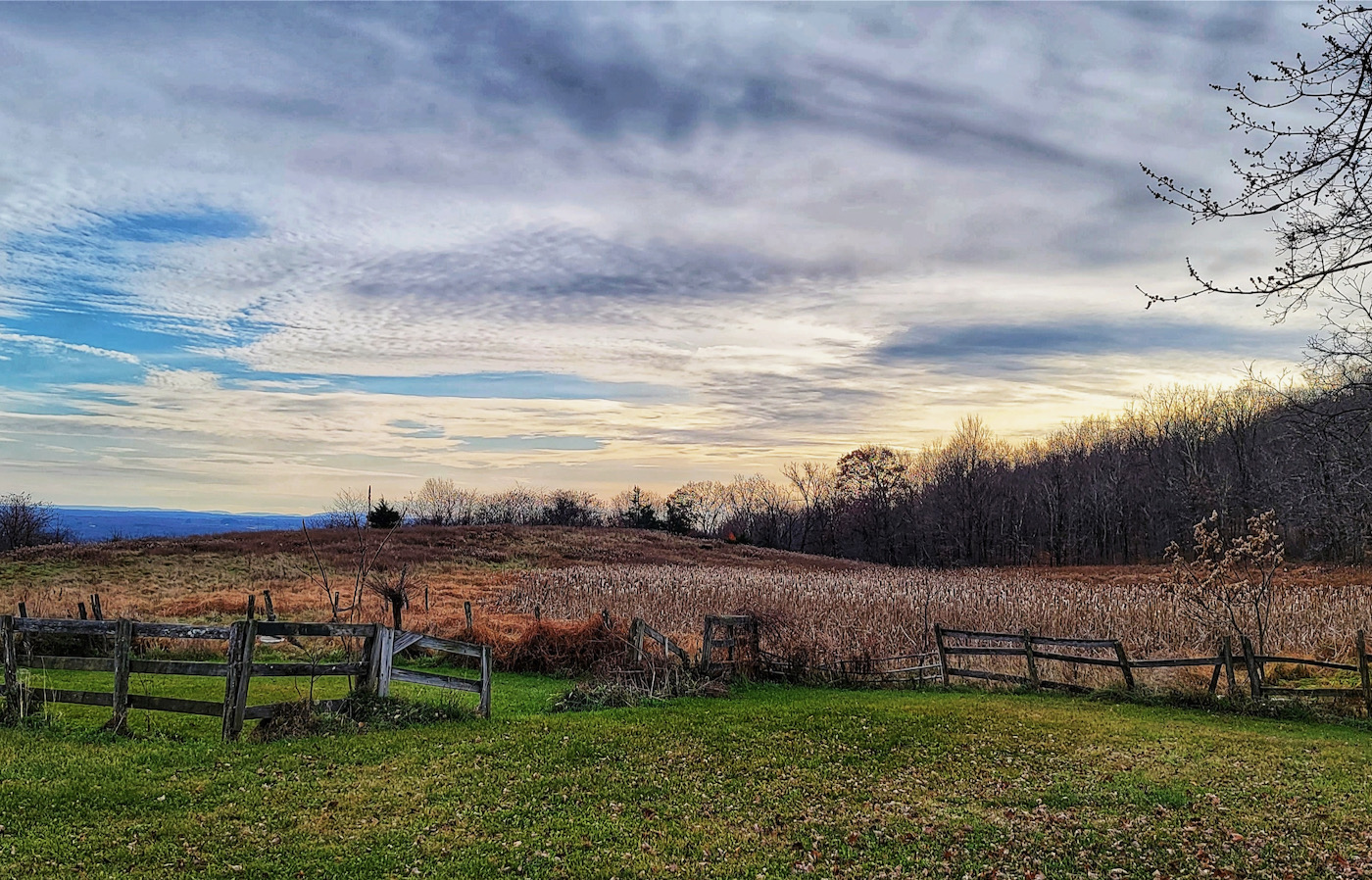 When I think that there can't possibly be anything I haven't seen in a place, I'm often proven wrong. On Sunday morning, I flogged the shooting brake up the Thruway to New Paltz. Objective: Mohonk Preserve. Instead of the Spring Farm Road trailhead, or parking at the Mohonk gatehouse, I went to a trailhead off Butterville Road to explore the lower part of the trail network.
I set out up Lenape Lane, past an old farm, before diving off the carriage road on to the Woodside trail. Woodside narrowed from old road to singletrack. With a steady, gradual climb, this area lived up to its billing as "the foothills of the Shawangunks." Punctuated with numerous gullies carved out by streams, there's no shortage of up and down. Climbing out of one of these was so steep, I resorted to French stepping.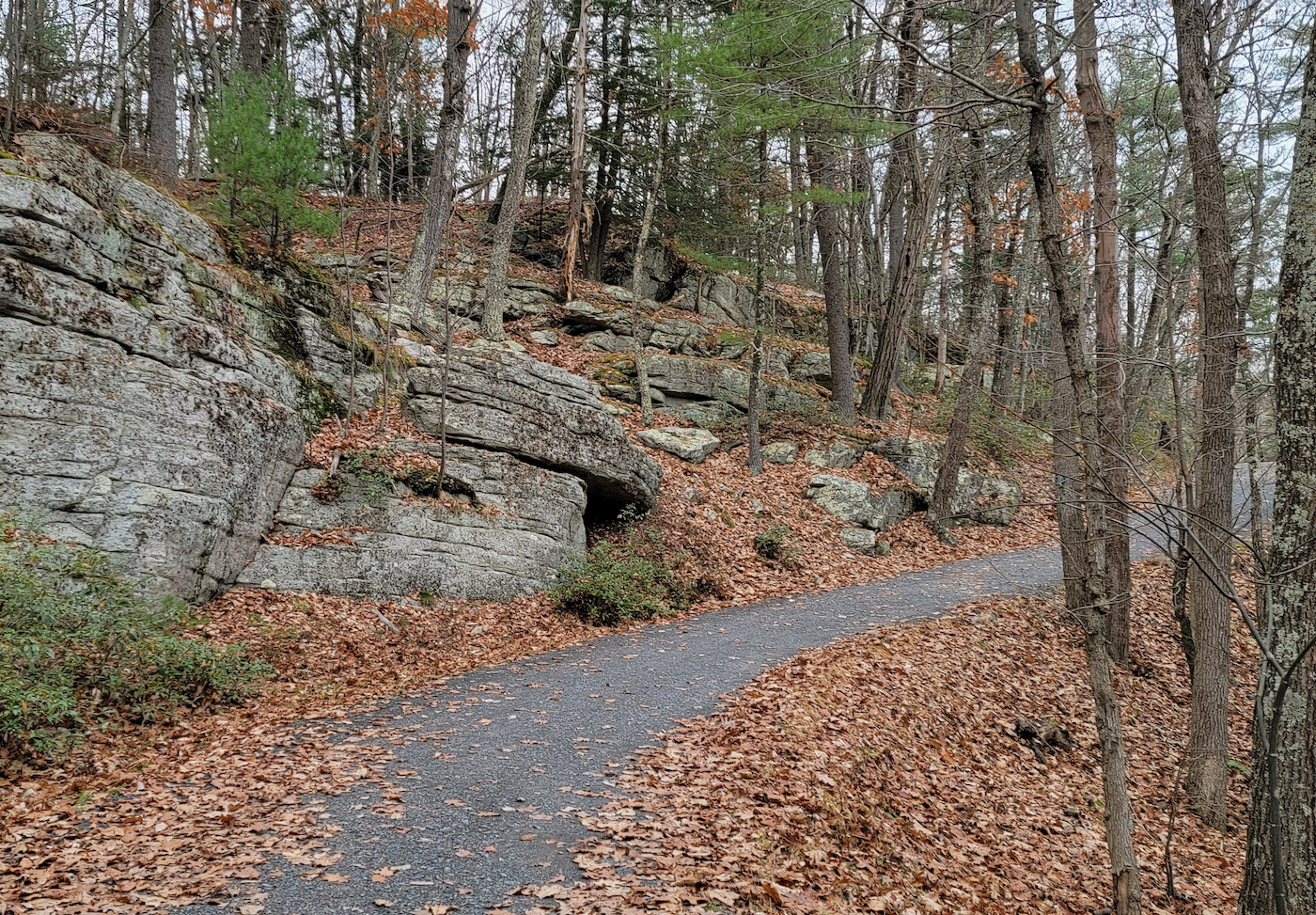 These lower elevation woods are much different than the skylands of Minnewaska. Rather than stunted pitch pines struggling on thin soil on top of rock, the country featured hardwood trees with a couple of patches of hemlock and white pine.
Woodside takes you to Mountain Rest road, a little below the gatehouse. Crossing the road, it becomes the Northeast trail. Half a mile from the road, right next to the trail, were four anchor bolts arranged in a square. I stopped and took note of the surrounding forest. Lots of younger trees and saplings, interspersed with more mature hardwood.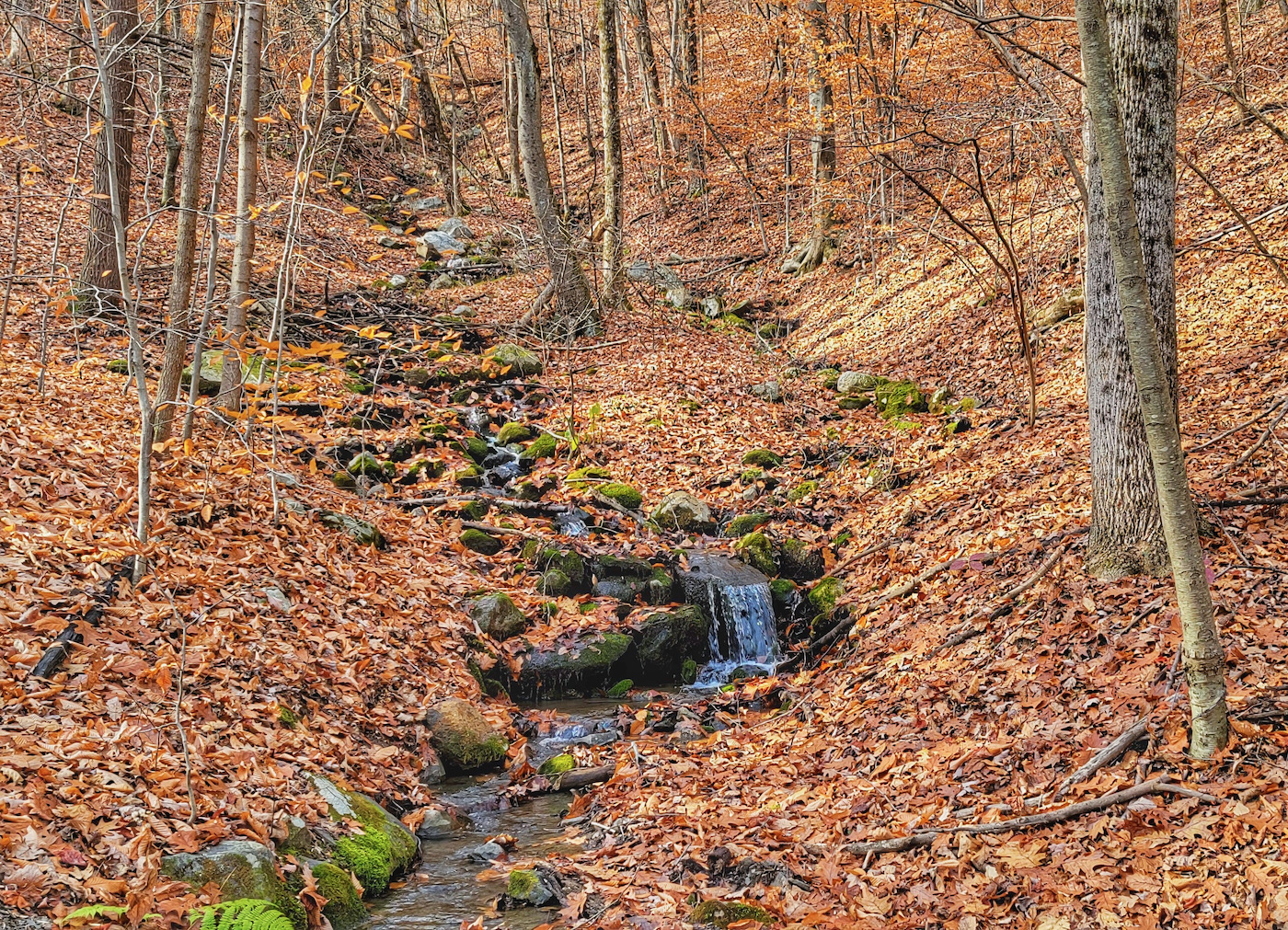 Èccola, a relic from Mohonk's alpine ski operation, Bonticou Ski Area! Part of a rope tow or T-bar. Or perhaps a base for the lift line that was never built. The bolts' location would make Mohonk's golf course, above me, the drop-in point. They must have been brazen or foolish back then, because downhill from the hiking trail was wicked steep. I can't imagine skiing that with the boots and bindings of the '60s.
As you continue on Northeast, you get glimpses of Bonticou Crag, the ski area's imposing namesake. Sadly, too many trees meant no photo for this story. I turned up a connector trail, crossing the Bonticou carriage road, and headed up Guyot Hill Road. It's a steady half mile uphill to the top. In the winter, skiing from the bottom of the trail system — Cedar Drive to the Guyot Hill summit — is a solid mile and takes the stuffing out of me.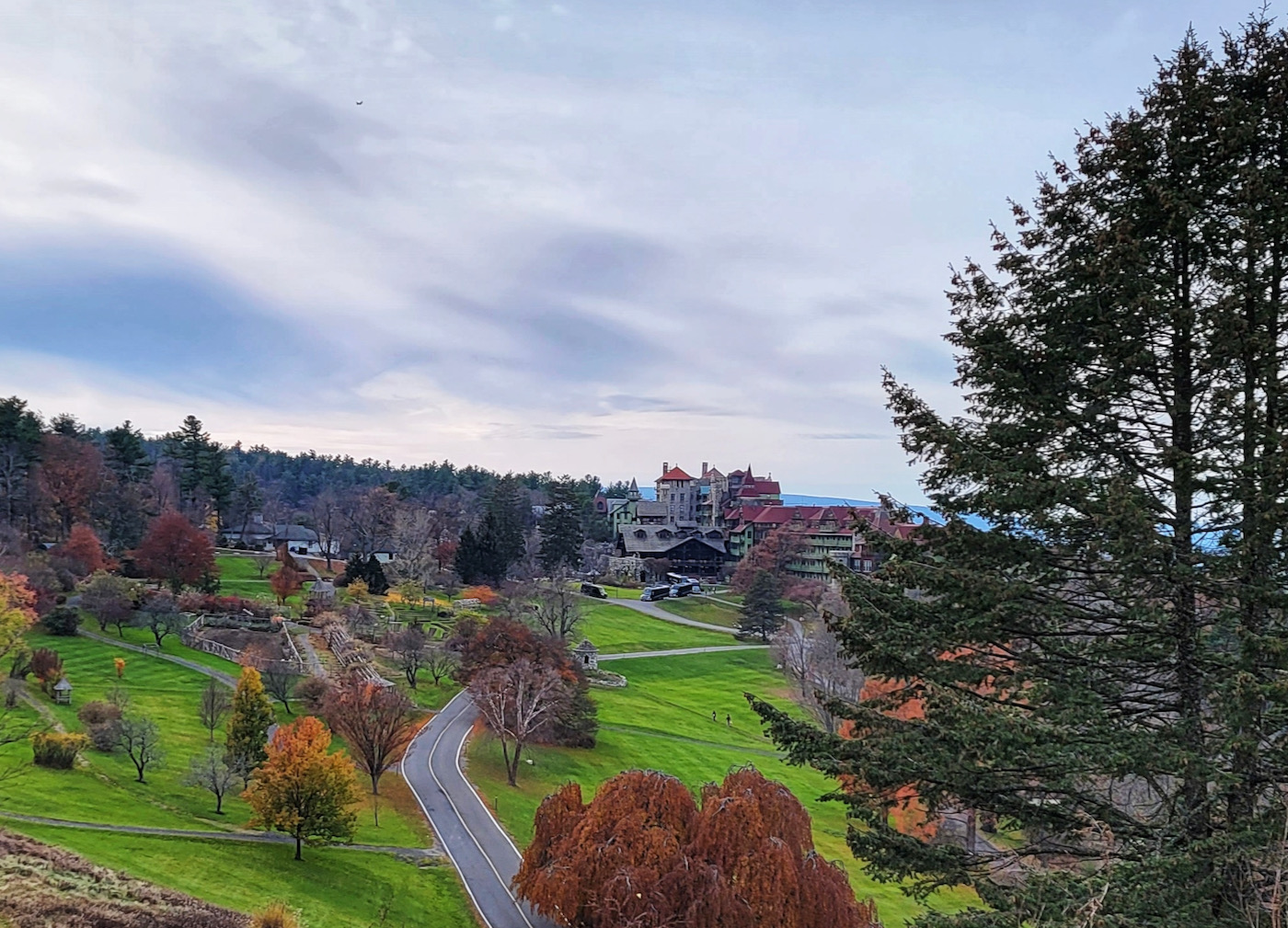 Dropping off Guyot Hill, I passed the small pond and pump house that may just have supplied water for snowmaking. I ran across Mountain Rest Road on to Mohonk Mountain House property and followed my nose towards Skytop, the monument on the highest point of the hotel property. Looking at my watch, and the map, it was gonna be well over a three-hour day without Skytop. I decided to skip it.
It was just as well, because the last 40 minutes, my body reminded me that I'm an old fart with a body in the process of breaking down. The right knee protested, the arthritic feet gave me a piece of their mind. It was all ameliorated by being out in a beautiful piece of woods.
Afterwards, I fortified myself for the ride home at the B-side Diner on Main Street in New Paltz. If you want an adult beverage with your repast, check out Main Street Bistro or Bacchus.