Gore usually targets Black Friday for opening day and I rarely make it.  This year was no different. Thursday we feasted. Friday morning we bought our Christmas tree and stood it up, ready to decorate. In the afternoon, I drove to our place in the Adirondacks, solo, to ski the weekend. The snowfall forecast was favoring northern zones, and it looked like Whiteface could be the right call for me.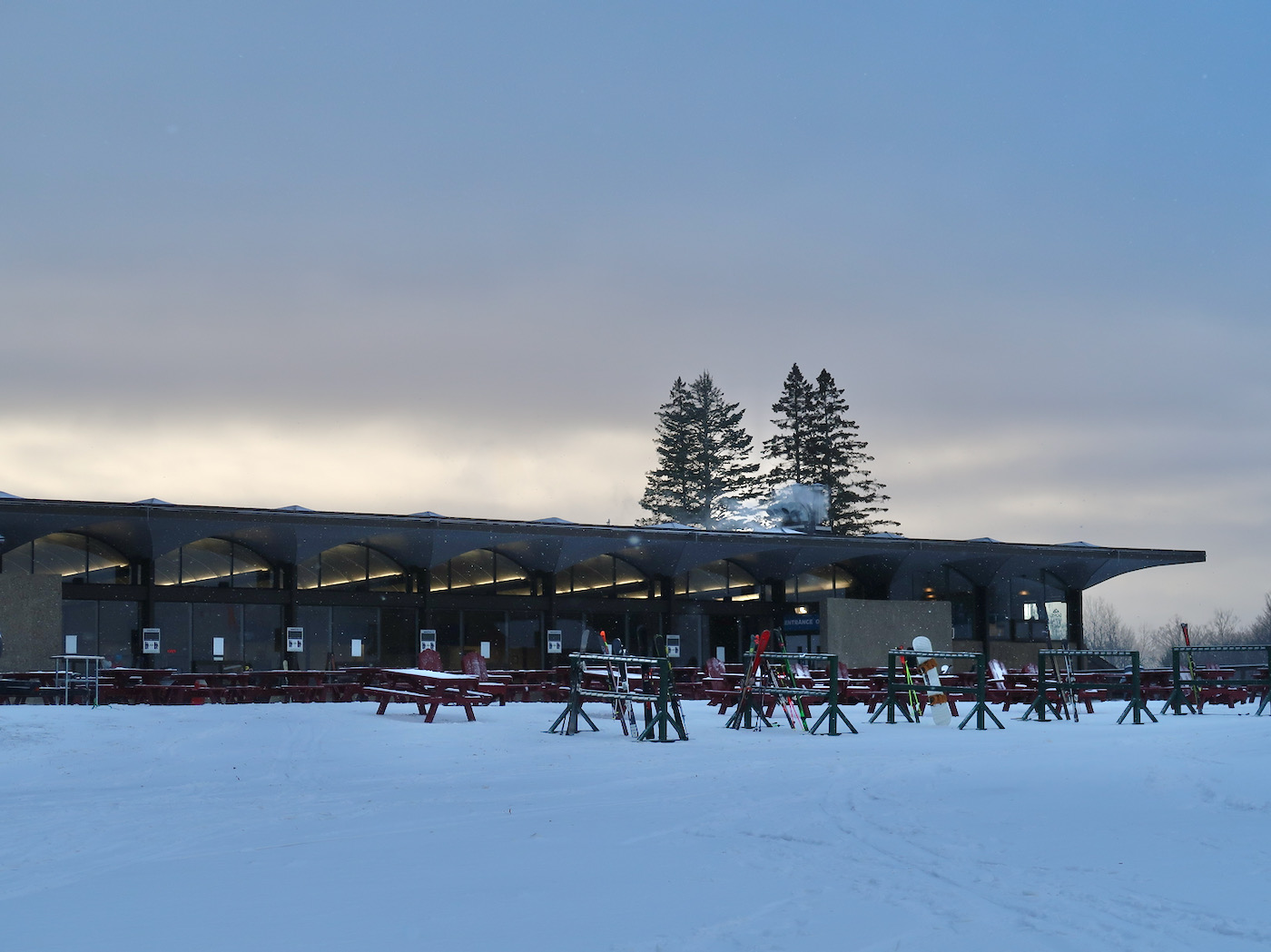 When I arrived in North River, I was surprised to see 4 inches of new snow on the ground. It was still snowing lightly. Recently my tires have been the subject of scorn, and the driveway wasn't plowed. I considered walking up to eliminate drama. Instead, I chose to run and gun, and I made it up.
I assumed that Whiteface picked up as much snow as Gore Thursday night. The forecast for Whiteface included an another 4-6 inches overnight Friday, with wind speeds up to 48 mph on Saturday. I don't have enough experience to know how windspeed forecast numbers correlate with actual windholds for the Gondi or the Facelift. But, those numbers seemed to be pushing the limit and everyone I spoke to doubted those lifts would spin normally.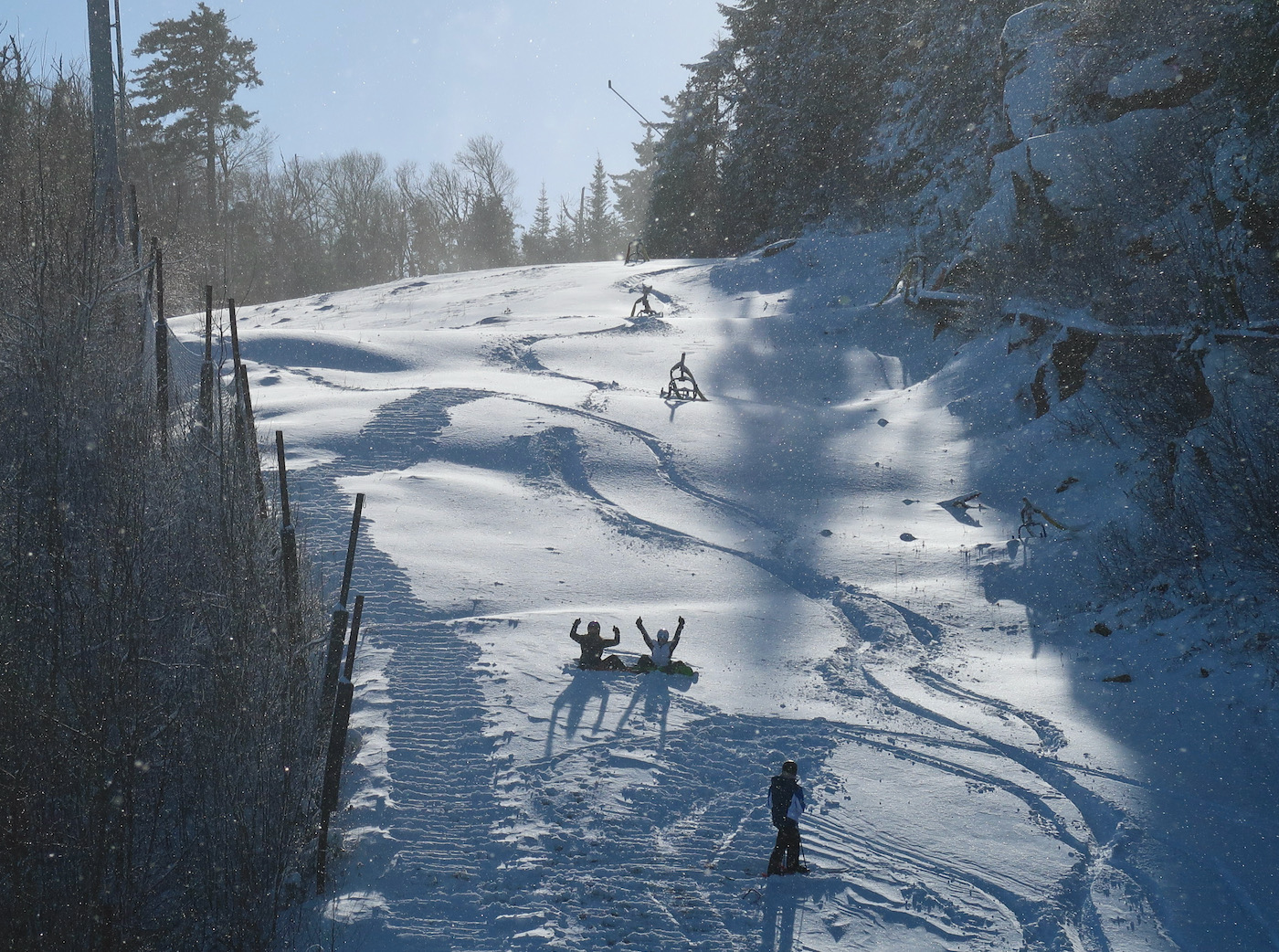 When I woke up Saturday morning it was really windy. The maximum wind forecast for Gore was 25mph, roughly half the speed anticipated at Whiteface. I headed to Gore. It was a lot easier for me, and the AE2 is pretty reliable. That quad is in a windy spot, even so, it's not often on hold.
I hadn't taken the time to read Gore's protocols, so I didn't know if I was supposed to leave my boot bag in the lodge. It felt natural to pick up where I left off last season — I booted up in my car. My "car-as-lodge" game was a bit rusty. Last year I learned to boot up and get outside the car quickly, 100% warm and ready to go.  Eventually I got it together and walked across the parking lot toward the lodge.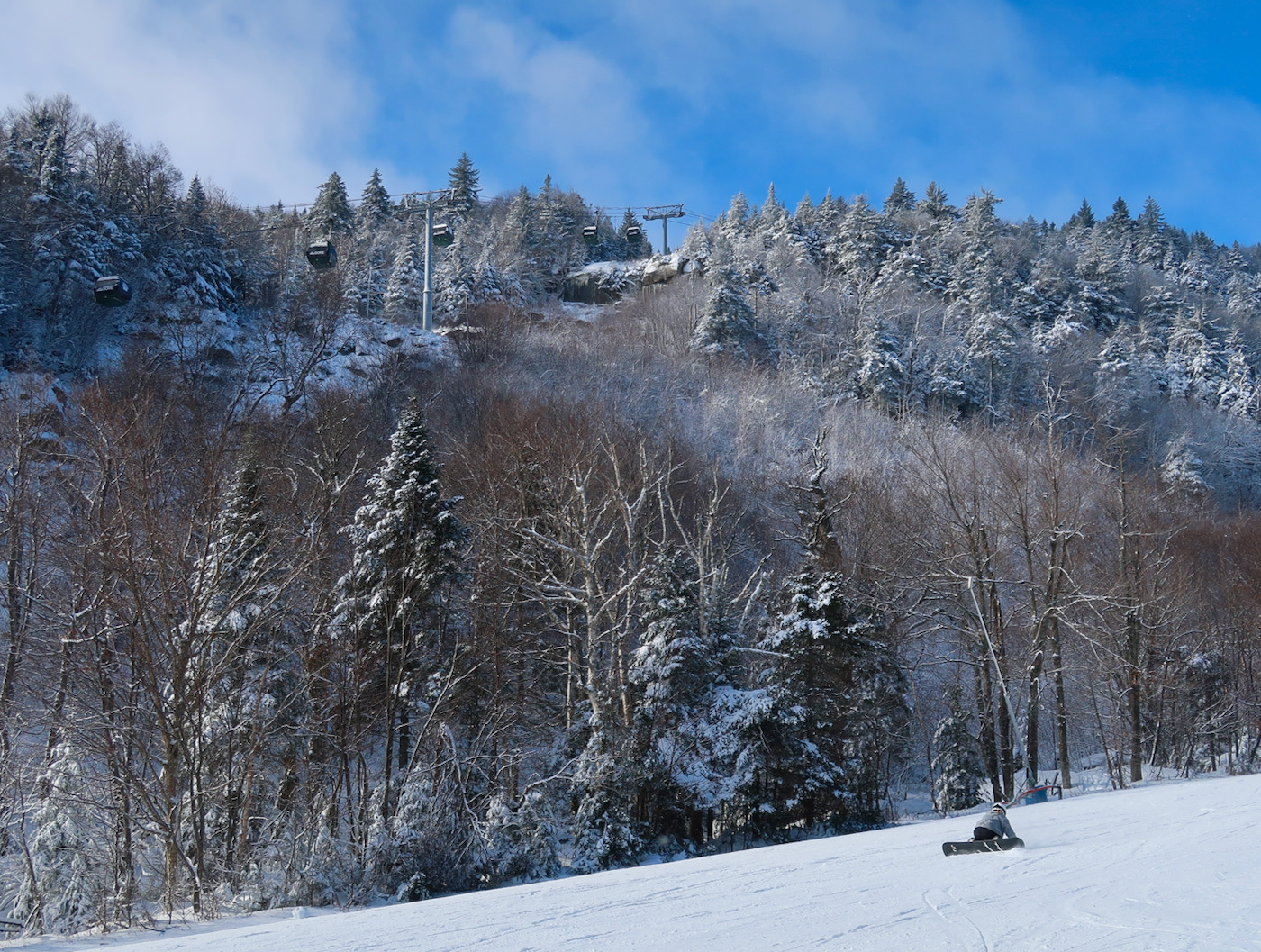 Inside it was almost completely empty. I walked to the ticket window, not open yet, but manned. Last year I was first in line at Whiteface, for opening day, but instead of riding first chair, my pass didn't get me past the RFID. I ended up in long guests services line. I wanted to prevent a repeat, so I asked if there was any way to test my pass to see if it was working. I was told no.
Back outside, I got a text from Jeremy Davis of NELSAP fame. "Are you here today?" My response: "I'm in line for the quad." He moved up to join me and when was it our turn my pass was — curses foiled again — no good.
I descended into guest services purgatory, and forty-five minutes later, JD and I reconnected for our first lift ride. The mountain was also empty.  In the past, I remembered opening weekends being boisterous reunions. It was really windy and it felt cold, so I assumed that was why the crowd was light.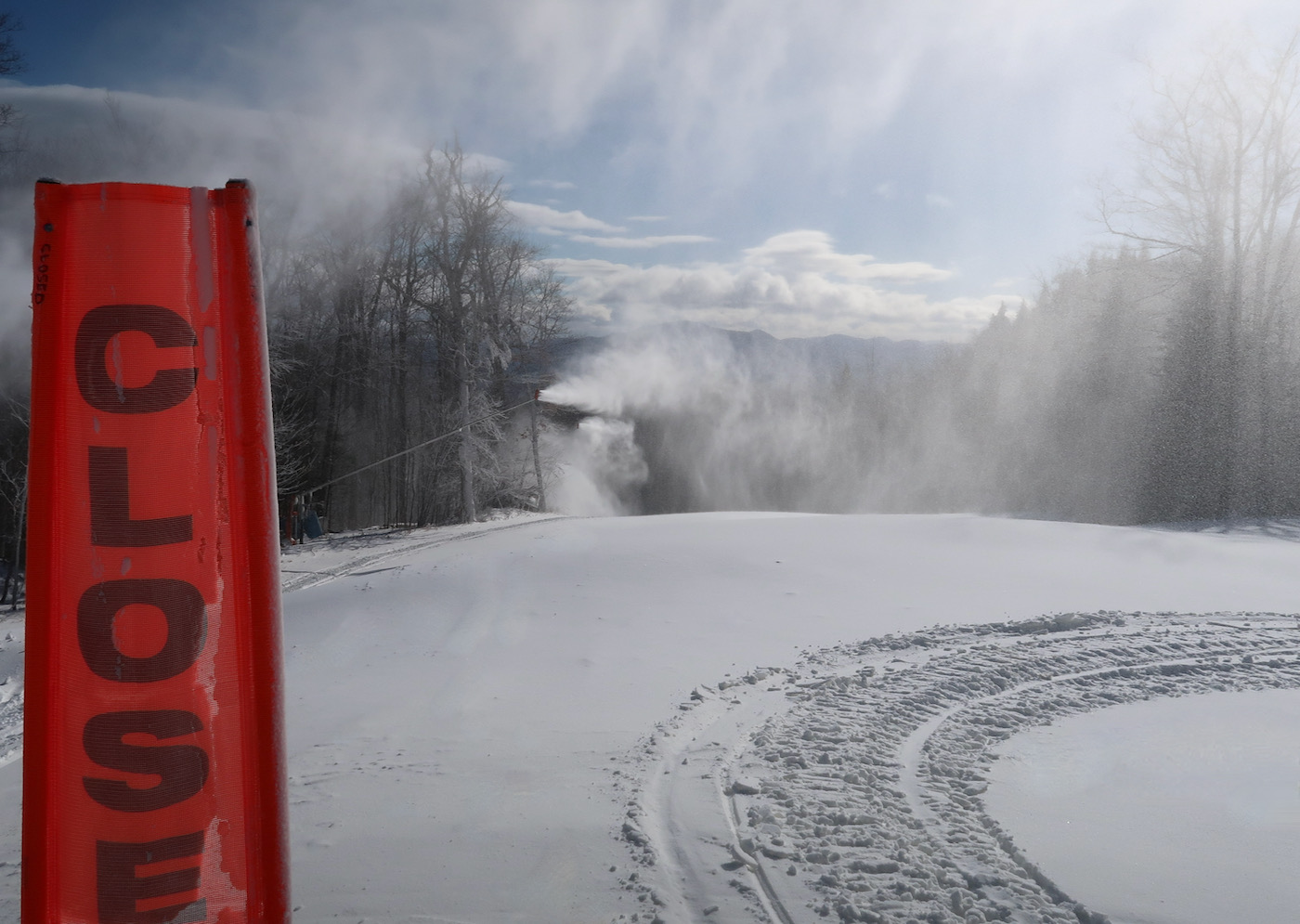 Earlier this month it was rumored that Gore made plans to go big, with five lifts for opening day, spreading everything out, covid style.  But weather is weather, with a mind all it's own.  The window of cold air was somewhat limited. Gore chose to cover one big wide run on the front side, and bury it deep. Sunway to Wild Air to Potluck and then to the Arena. I thought it was well executed, and other skiers seemed to agree.
The wind made it challenging to stay warm as you passed over the Saddle at the end of each lift ride. JD and I kept moving for the most part.  He called it a day after he measured 18,000 vertical feet.  I'm sure I had less than that with my ticket snafu, but I kept skiing after he split.  On one of my last runs, the lift stopped in the death zone, the Saddle, for just a few minutes.  I really felt like I was taking a chance.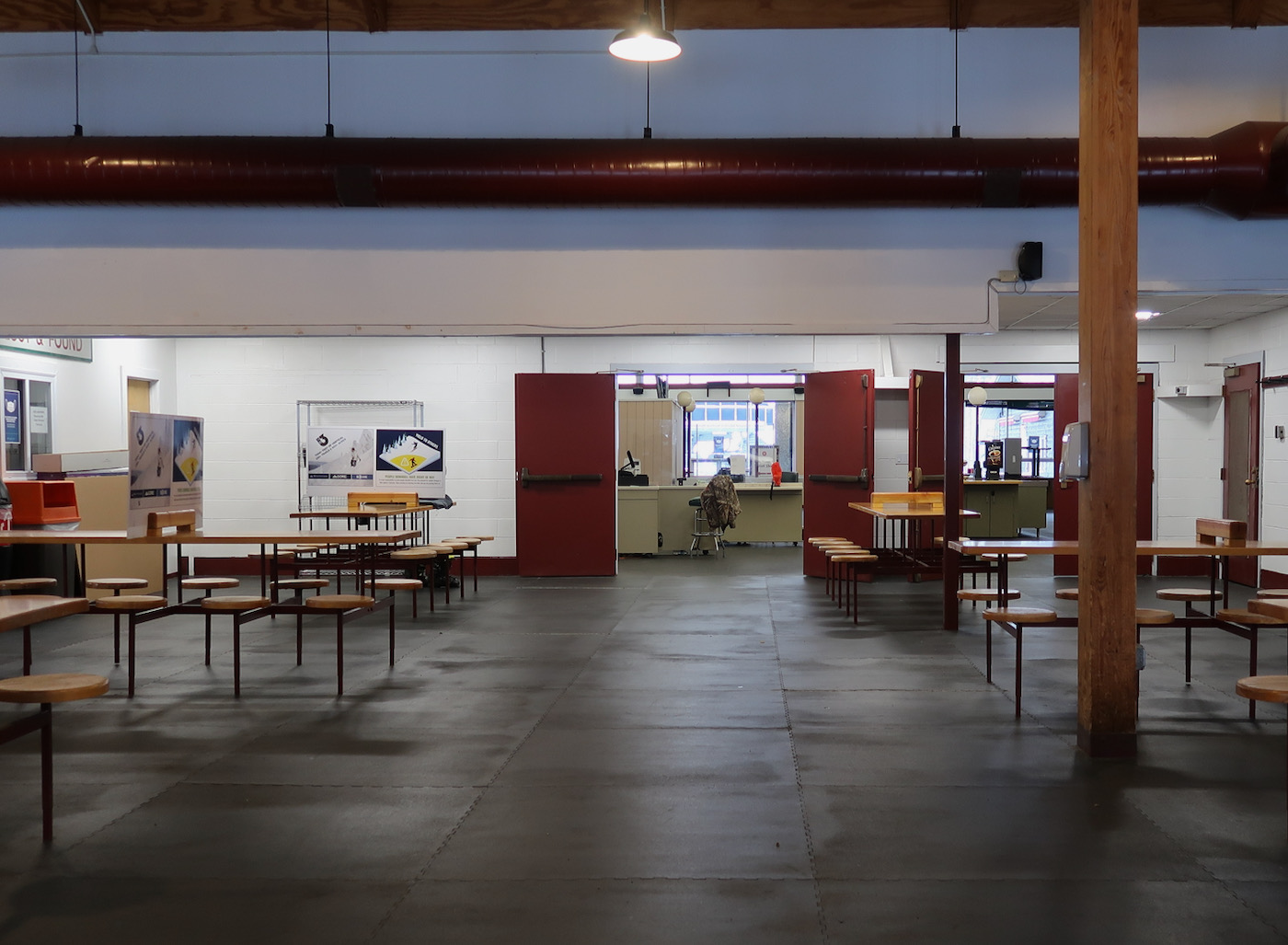 Snow conditions were good all morning and into the afternoon.  The manmade base was deep, and for the most part surfaces stayed skiable.  At 2:30 when I  called it, the Saddle was in the shadows, primarily uncarvable white ice, for about a quarter mile. Still even then, there was good skiing below.
I felt a little wobbly in the knees to start, but into my second run, it all disappeared. I felt strong and I probably tele'd 30% or more of turns, which is unusual for me on opening day. I headed home, threw a few logs on the fire and slept until bedtime.  I was exhausted. I only rose to turn out the lights and set my alarm.
I'd considered Belle for Sunday, but I chose Gore again. Freeheeln messaged me and we agreed to meet up. The day was much more comfortable that Saturday, but the mountain was still empty. It was a few degrees colder, but still relatively warm, and no wind. The conditions at opening, and for a handful of runs after, were trenchable deluxe.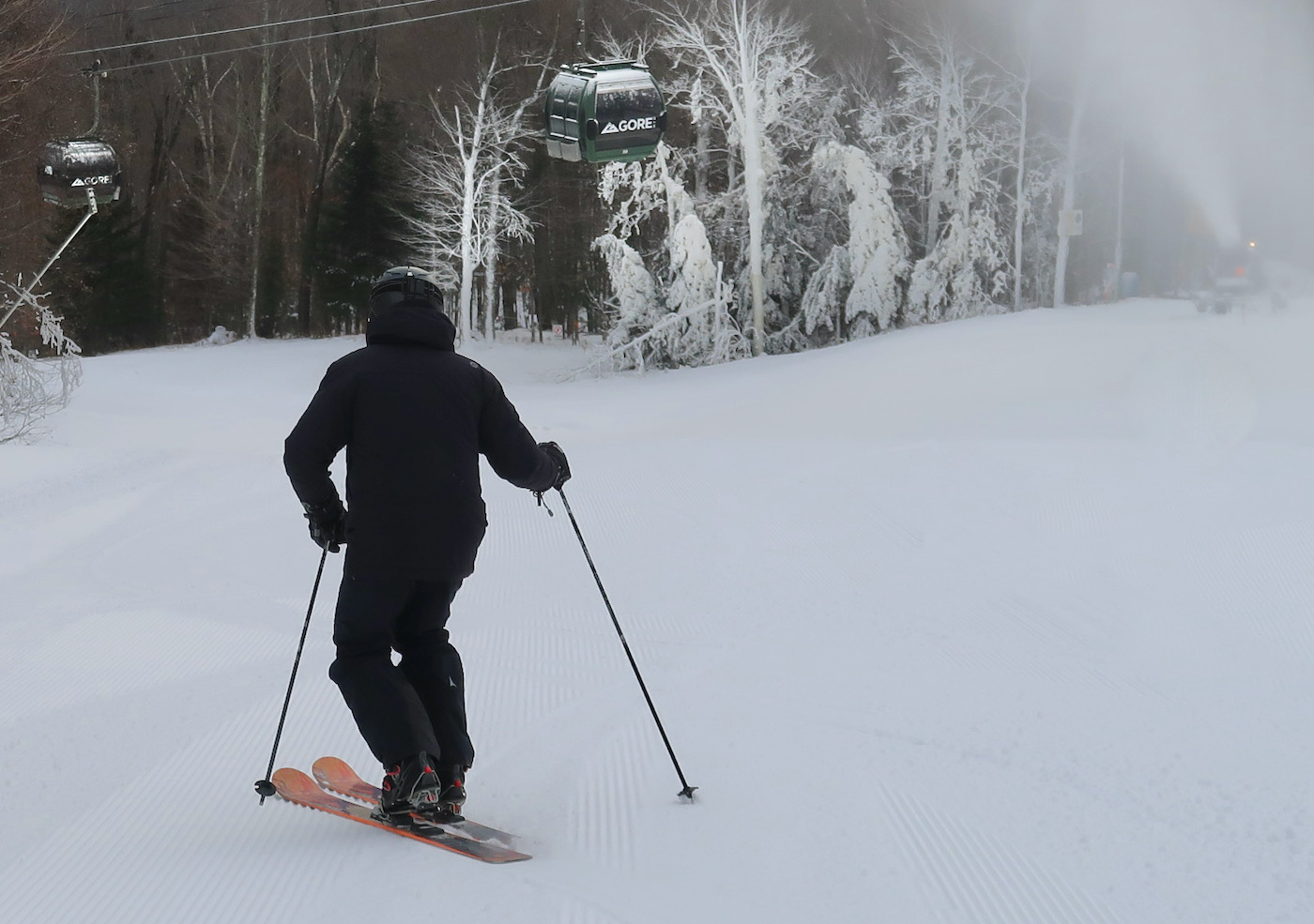 Gore made a good amount of snow on Saturday, but Sunday it looked like the system was maxed and fully cranking. Two or three long lines of densely stacked and blowing guns lined parts of Sunway, Wild Air and 3B. I don't think I personally have ever seen this much firepower out of Gore at one time.  Certainly not on the front side. In a few spots some of the bigger guns were positioned to throw a little bit off into the open terrain. That helped keep it interesting.
Most exciting for me was the return to normal skiing.
It wasn't completely normal, but I'm giving it an A- for normalcy. On Saturday a balaclava was essential survival gear. I guess that's workable if your balaclava is your mask when you head inside. I switched to my regular mask the two times I went in.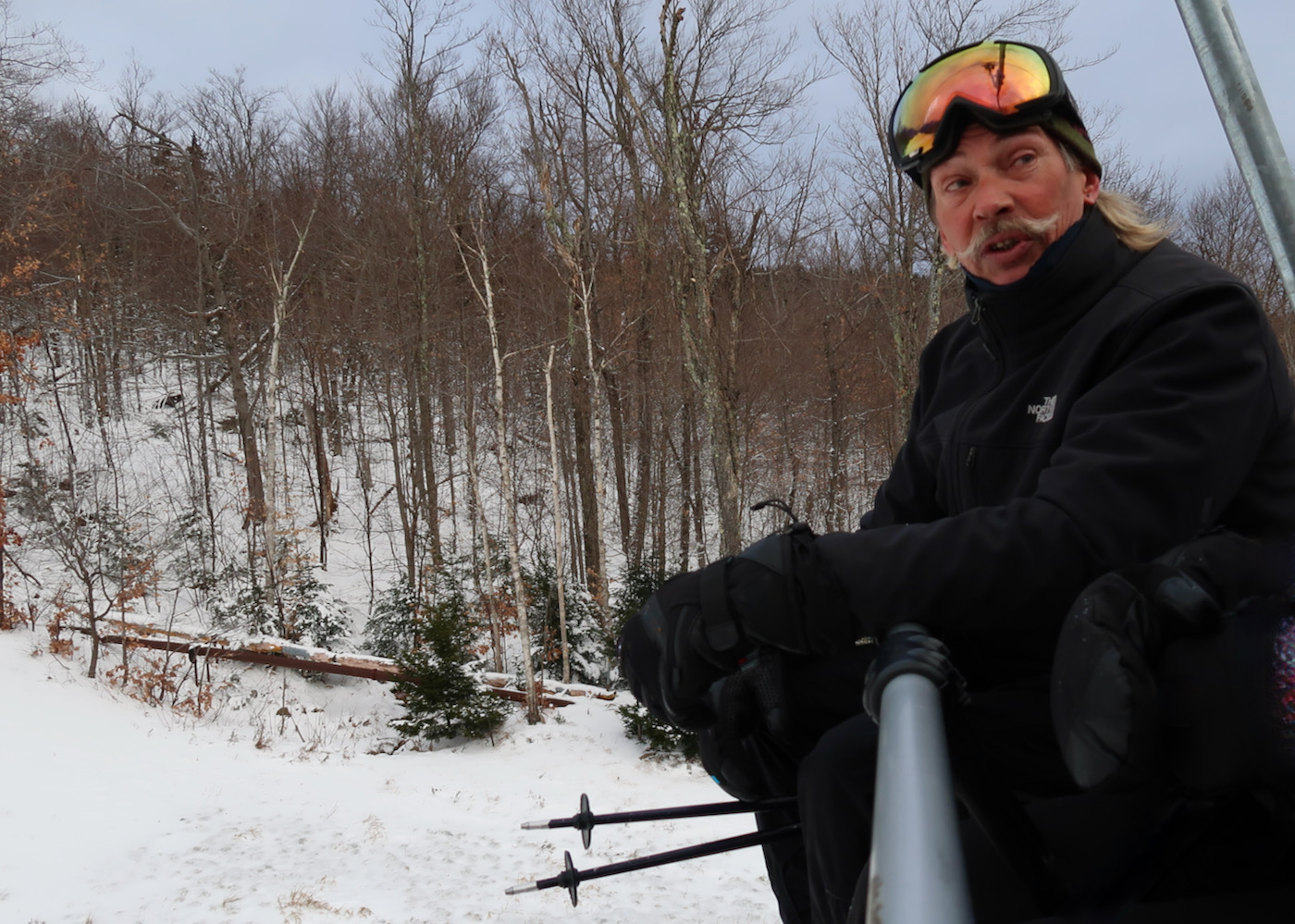 Put all that to the side. The best part was that we skied normally. We ripped, we stopped, we talked and we rode the lifts with friends, and skied with those who matched our speed. It really felt like something, when 15 or 20 of us, stopped at the Saddle for a virtual group hug. Then we split up into three groups: insanely fast, very fast and the rest of us.
Around midday we connected up with EDeO. I may not have seen him at all last year, I know I didn't ski with him. There was a time, a few years back, when I skied Gore more, maybe 25 days a season. I'd ride the gondola to the top of Bear, head to the Straightbrook chair and start looking for EDeO up top. He'd lead us off piste, to share his own interpretation of what constitutes thin cover.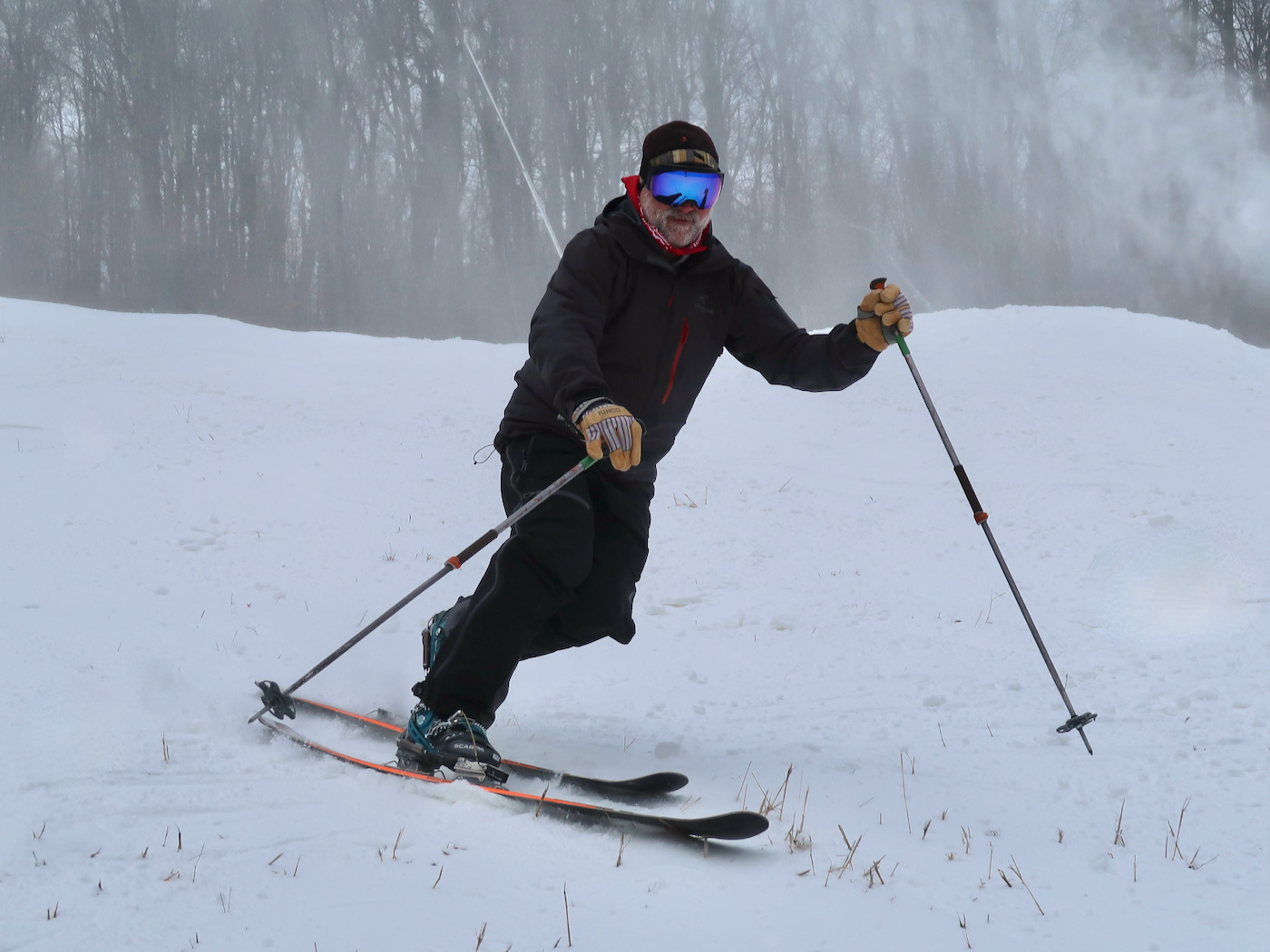 Eddie and I are pretty well-matched speed wise and took several runs together. We looked longingly at the guns firing all over the front side. The full-on assault got our attention, and we showed our respect for the accomplishment.
Opening weekend surprised me in several ways. The snow itself was the best part of the surprise. There was new snow. There was deep manmade snow and the snow quality was good. There was snow in the woods and the snowmaking was cranking all day.
A great start for me, I am ready to ski.