I wasn't around for the very beginning of skiing at Lake Minnewaska. But in 1980 or '81, when my best friends introduced me to skiing, they dragged me to Lake Minnewaska on a wicked cold January day. Back then, you had to arrive bright and early. The parking lot would fill up quickly and you were out of luck. "Don't go, it's too popular."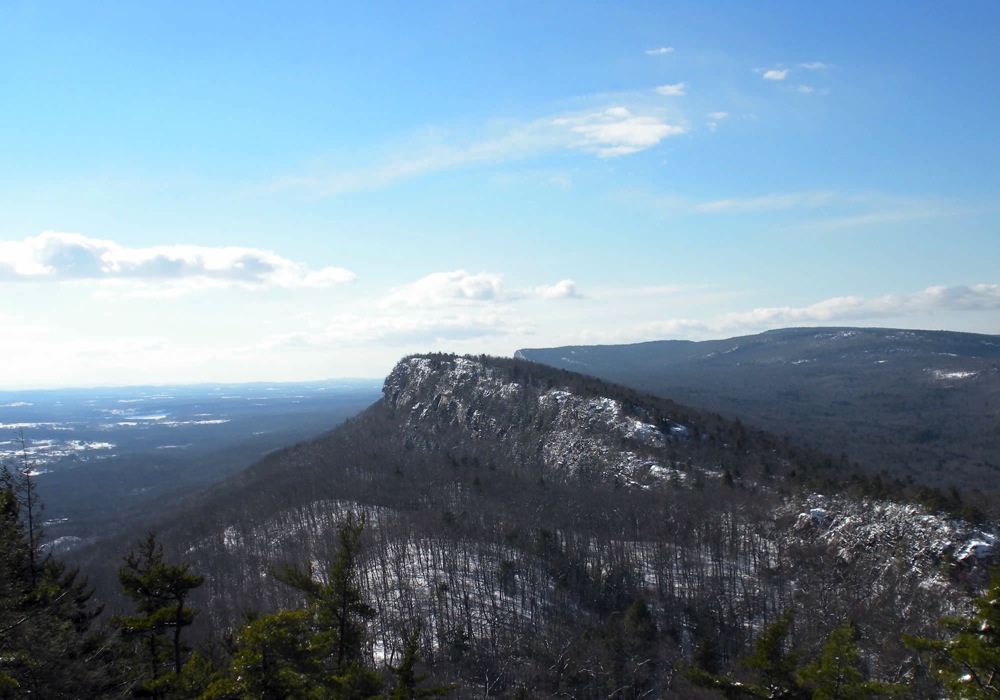 The lodge was in the old Wildmere Hotel. Perched on a cliff overlooking Lake Minnewaska, Wildmere had been a graceful example of the grand nineteenth-century wood frame resort hotel. But by 1980, it was a tumbledown shadow of its former self. It had been closed to lodgers, most of the furnishings auctioned off. Pieces of old furniture blocked staircases because the upper floors were unsafe.
In a formerly imposing drawing room at one end of the ground floor, one could buy trail passes and rent skis. In the middle of the long main hall, two wax rooms afforded fabulous views of Lake Minnewaska. At the far end of the building, another drawing room was a snack bar. The heating was exclusively via cast iron stove. Locals looked on approvingly as my friend Barclay heated wax into our skis with a propane-fired iron.
From the lodge, we set out down Library Hill, a short steep downhill ending in a T intersection next to the eponymous lake. I can't tell you how many times I fell at the bottom of that dopey hill before I finally got the hang of it. I learned to turn on the job so to speak, and learned to love going uphill because it was harder to fall.
From the base of Library Hill, multiple trails lured you into skiing all day. In those days, we wore parkas, knickers, and gaiters and carried lunch on our backs. The occasional plunging downhill or technical dogleg corner punctuated long carriage roads with easy grades. The forest was a unique mix of stunted pine trees interspersed with mountain laurel, emerging out on to cliffs with awesome views. Castle Point, for example, was an exposed, rocky outcrop. Invariably windblown, it held snow with difficulty. You'd take off your skis to walk across a few meters of gravel. It didn't matter, because on a clear day you could see clear to New York City.
Minnewaska skiing opened a new world of all the possibilities of outdoor adventure. The first time I skied Hamilton Point, it was snowing two inches an hour. We slogged through new snow with the wind screaming in near whiteout. We'd passed the Millbrook Mountain trail, but otherwise, the weather had us disoriented. Should we turn back? Had we gone off the trail?
Maybe there was a vestigial ski track, or maybe it was just the way the trees framed the landscape. But I saw the trail and shouted, "It goes! It goes!" I felt like Roald Amundsen discovering the South Pole. That one day did more than anything to fuel my desire – no, my need – to get outside.
Although we occasionally skied Mohonk back then, we preferred Minnewaska. A few years ago, I happened to ski Mohonk again and became a convert. Like my first day at Minnewaska, that return to Mohonk was on a stellar day. Bluebird skies combined with intelligent grooming won me over.
The trail system did too: If I want an easy cruise, the west side of the trail system, closer to the hotel, offers long, sinuous trails with gradual up and down. When I feel the urge to beat the crap out myself, I'll ski from the bottom of Spring Farm Road up Guyot's Hill as many times as I can until I stagger back to my car.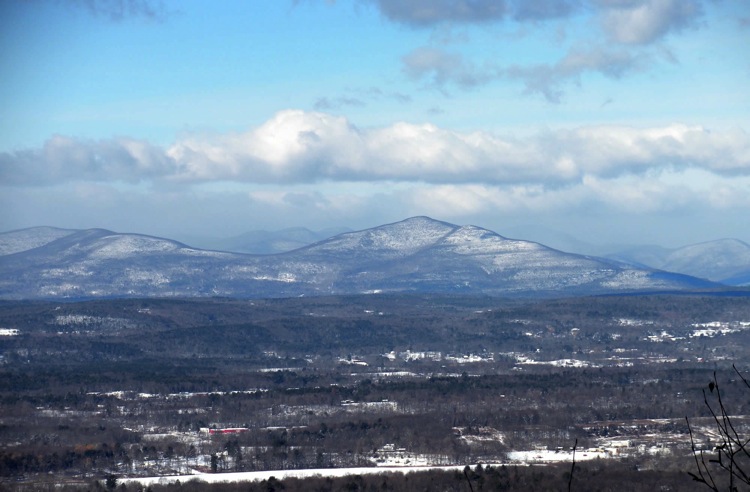 From Huguenot Road, the southern ramparts of the Catskills loom. From Skytop, the high point of Mohonk's property, the same stupendous views are available as from Minnewaska. The scenery is equally magnificent to Lake Minnewaska, with the added benefit of better grooming. I'm now a member of Mohonk Preserve and I'm looking forward to many hours skiing there this winter, as well as running during the summer.
My love for Minnewaska and Mohonk has inspired me to attempt a history of the two ski areas. Because much of Minnewaska's story is readily available, the history is slanted towards that side of the story. By contrast, there's a stark paucity of information on Mohonk. Harvey and I have been unable to contact the curators of Mohonk's history. Should those curators read this note, I respectfully request the opportunity to meet with you and view whatever information you can make available, so this can be a complete history of skiing in Ulster County.
Please take a few minutes to read NY Ski Directory's:
History of Skiing at Minnewaska and Mohonk