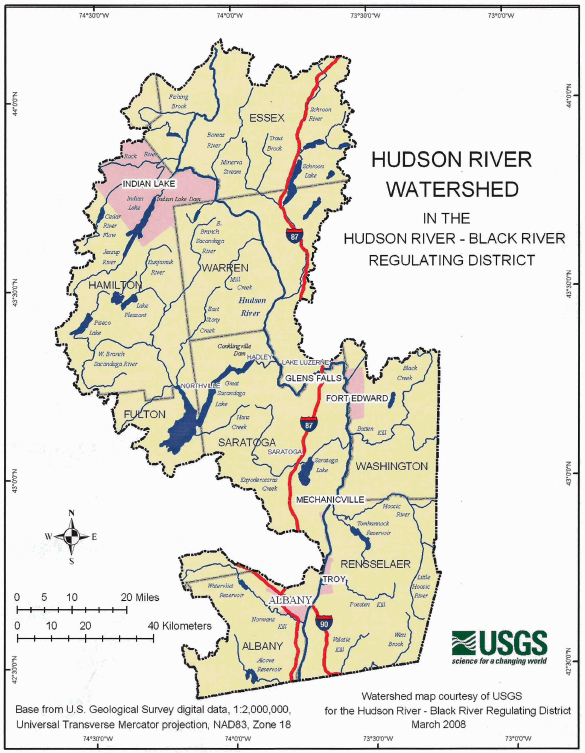 The Hudson River was named for Henry Hudson, the English explorer who sailed up the waterway in 1609 for the Dutch East India Company. It's 315 miles long and flows from north to south through eastern New York State.
The official source of the river is Lake Tear of the Clouds, on the slopes of Mount Marcy, however, the waterway is known as Feldspar Brook and the Opalescent River, until it reaches Henderson Lake, above the old Tahawus Iron Works.
It then flows south through Essex, Warren, Saratoga, Washington and Renssalaer Counties to the confluence with it's major tributary the Mohawk River. Just below this point, the Federal Dam in Troy, separates the Upper and Lower Hudson River Valleys.
The Upper Hudson River Watershed lies primarily in New York State but also drains small portions of southwestern Vermont and western Massachusetts. The Upper Hudson Watershed makes up one-third of the total Hudson River Basin, which also includes the areas drained by the Mohawk River.
The Watershed drains 4,620 square miles of New York including 7,140 miles of freshwater rivers and streams. Major tributaries to the Upper Hudson River include the Sacandaga, Schroon and Hoosic Rivers, Fish Creek and the Batten Kill. Included in the drainage are over 200 freshwater bodies of water including the Indian, Schroon, Great Sacandaga and Saratoga Lakes.