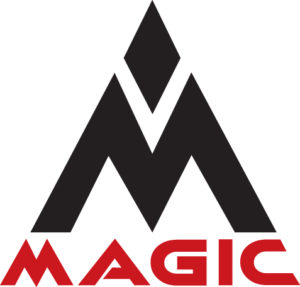 Magic Mountain seems like our kind of place: an underdog known for its tree skiing that is getting by on natural snow, great terrain, and the dedication of an extremely loyal following.
We caught up with the man who could be its most dedicated fan to find out what makes Magic special.  What follows is our interview with Matt Cote, Magic's man of steel.
---
When did you start skiing?
I grew up just outside Springfield, MA. On a trip to Berkshire East, my guide put me on rental snowlerbladez (I think in hindsight they wanted me dead). It was icy, really icy.
I didn't give it another shot until I was 22. but I saw the potential for real fun while night skiing with friends at Bousquet and other Berkshire bumps after work. Within a year or two it was a full on skiing obsession. I was hooked and it took over my life.
When did you first ski Magic? What drew you there?
The first time I skied Magic I wasn't impressed with the conditions but the mountain definitely made an impression. This was back when the grooming was super spotty and the lift stopped every few minutes. The policy seemed to be "who gives a shit, the lift is running and the lights are on just go, man." But the things I saw… I knew the place had a ton of potential.  I was way over my head on the terrain and there was nobody there. Ever. It was like having a private mountain and I loved it.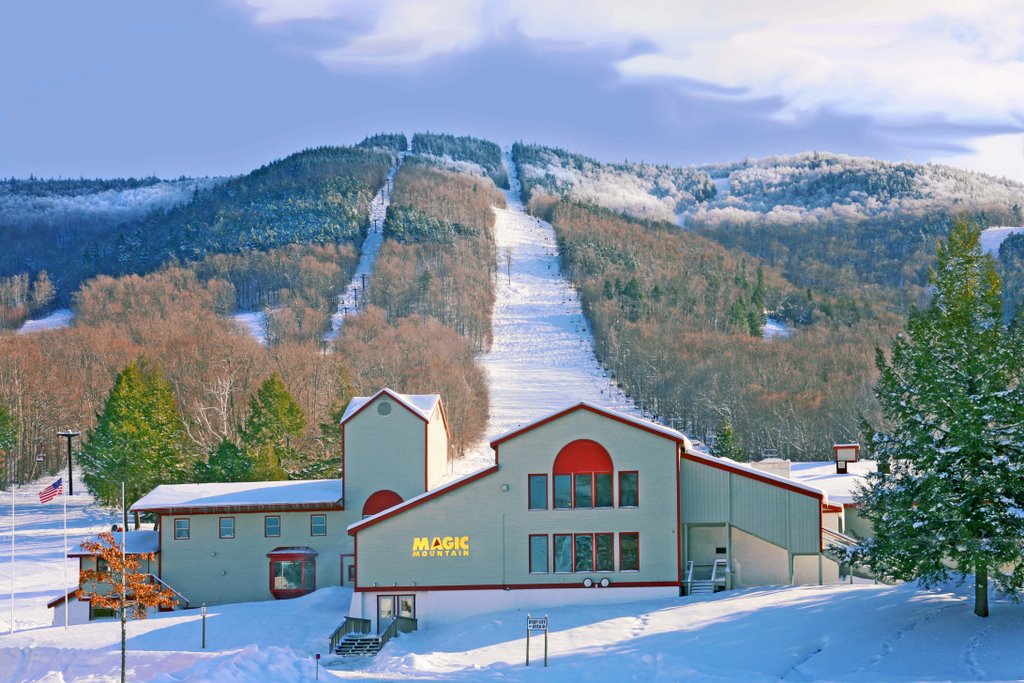 What keeps you there?
Magic makes me a better skier. The mountain is still big and scary when I want it to be and I can still get in over my head. The terrain is a level above in terms of technicality and natural obstacles and I really love that. Couple that with the enthusiasm of management to work with the Machete Militia to keep the tree skiing areas clean and develop new lines… It's exciting if you love trees and fresh powder.
I know the hill very well yet I'm still finding new things all the time.  Now snowmaking and grooming improvements and the improved reliability of the rebuilt red chair means the rest of the hill is up to snuff too. Magic's not just a super extreme one-trick powder day pony anymore.
The icing on the cake is the social scene. Every year the Magic family grows. Once you start making friends, there is no such thing as skiing alone. It really is incredible how many awesome people gravitate towards a great mountain. My Magic people rock and I love them.
Where else do you like to ski?
I'd have to put Smuggs at the top, then probably Jay and then maybe Hickory. Plattekill is a lot of fun too and I'm still learning its secrets. My thing is natural terrain, really good trees and no crowds so I don't really care about how "big" the place is on the map. I hate waiting in line. I think I might be borderline agoraphobic because nothing brings out my fidgets like standing around waiting in line. There really are so many good places to ski in the East though, it's hard to choose. Out West it's UTBC.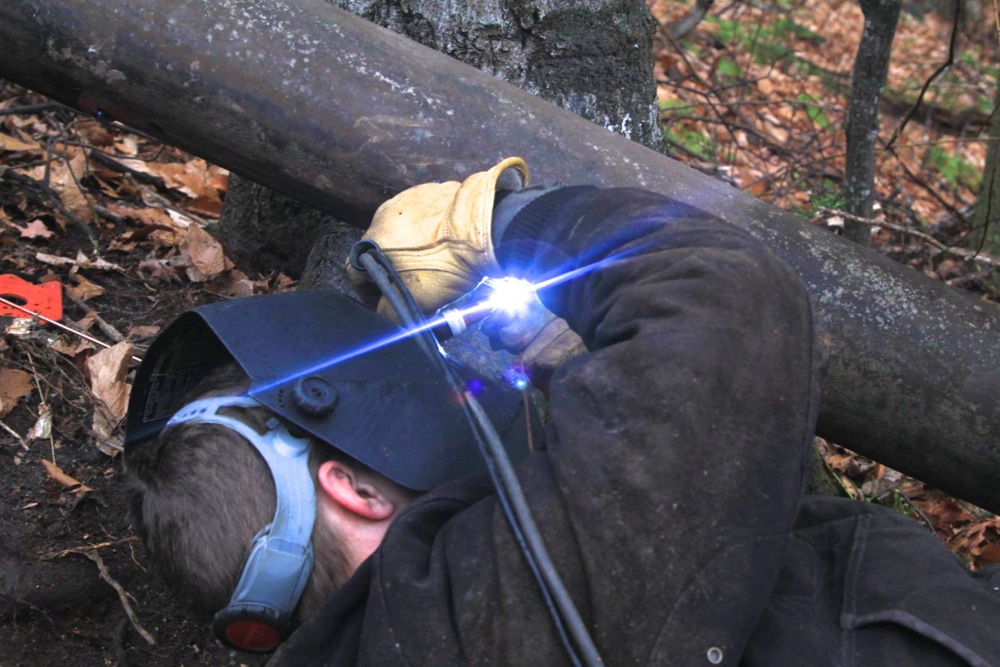 How important is TGR to the success of Magic?
There is no denying the power of social media these days, and online forums are no exception. The Save Magic guys really did a good job getting the word out with the t-shirts, stickers, social media and word-of-mouth promotion. I got involved with Magic's volunteer program by contacting the mountain manager through a forum messenger. Word of mouth is one of the best ways to gain favor. You can hear about a place in an ad, but a strong recommendation from a trusted friend or voice goes much farther.
Thoughts on the partnership with Plattekill? Do you think any other mountains could be a good fit?
I love Plattekill, and Laszlo is the man. It's a perfect fit, they have always been sister mountains to me. They have exchanged a lot of equipment over the years. I would love to see Hickory pair with both and offer a discount. The same breed of skier would appreciate all of them. Hickory and Plattekill all the way. The Magic Triangle.
Does Magic offer off-season stuff?
Yes, Magic has a Timberquest, which is an aerial ropes course and ziplines along with the Blackline Tavern, which is open Friday and Saturdays after 5pm. I'd like to see a lot more summer stuff, personally. There aren't many places to eat and drink in town and it would be nice if they could turn the place into a regular spot and make money off of it every day year round. Magic will never be the Bromley fair, but not everybody wants a tourist trap scene.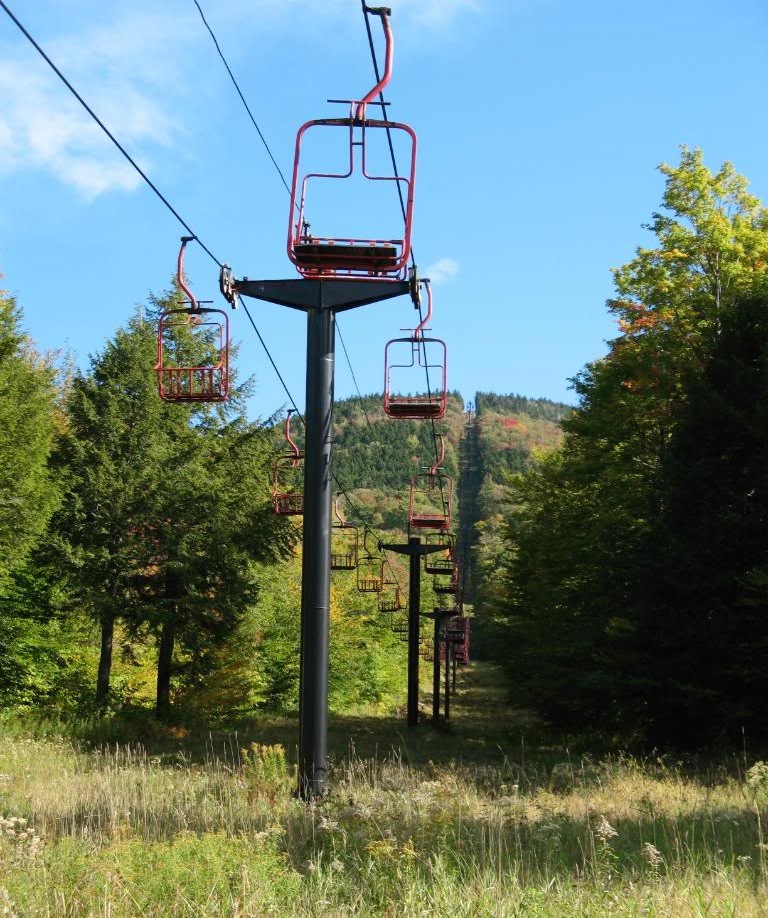 What is it about the Red Chair?
I have dreams about riding it.  It's so smooth and quiet, it rides below the tops of the trees so it's completely shielded from the winds and never goes on hold, and now it's been rebuilt, repainted and has nice new pads on every seat. It is the reddest, most Magical chair anywhere and I love it for so many reasons.
Magic has developed the rep for the best tree skiing in southern Vermont. New lines in the works?
We're constantly working on new projects and there are dozens of no-name runs hidden throughout the hill. Mark my words, he next tree run to be added will make a big statement, it's a total BEAST. The hard part is adding things responsibly and in a way that's scaleable for patrol. If you can't do it safely, you can't do it. Period.
As the Machete Militia grows, the techniques, planning and practices improve and the tree skiing get better and better. We're able to branch out and make use of Magic's biggest assets. I love that we are able to work with management towards common goals at minimal expense and  continuously add to the map.
New is exciting. New keeps things fresh. It also keeps your eyes open! We are still finding stuff with incredible potential right under our noses all the time and the work list is massive. I could work up there every day for a year and still not touch all the possibilities. You can plan on continuous expansion of the tree skiing at Magic.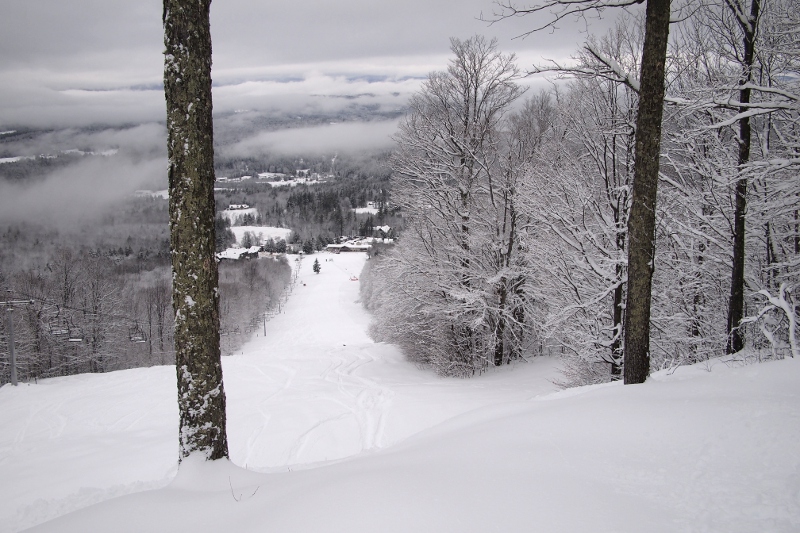 What's your take on the recent management changes at Magic?
I'm sad to see Jim go, but I get it. Tom was tired of funneling money through Jim with little to no say in how it was used. Tom has been around forever and is totally dedicated to Magic. He lives here and he and his wife are in the Blackline every weekend, so he's not hard to find!
What does the new guy bring to the table?
Money and stability. Magic needs it. Not in the sense that it is way over its head in the red. Magic is breaking even now, but that doesn't leave much wiggle room when something needs to be fixed or upgraded. Lifts, snowmaking and operational changes often come with a heavy price tag. The fact that Tom can actually invest in these upgrades and fixes when they're pertinent is very important to a successful business model. Magic has made MASSIVE strides lately and I think it's important to keep improving the skier's experience.
What's the best course for Magic over the next ten years?
Ten years seems like an eternity. I'd say over any timeline Magic's goals should remain simple:
1) Increase our ability to cater to families, developing beginners and intermediate skiers and riders and continue to expand expert terrain responsibly.
2) Maintain current heading with respect to improvements, repairs and upgrades to ensure smooth operation and a continually improving product.
3) Get the word out and develop its niche more.
I feel like there are skiers out there that are dissatisfied with the "resort scene" and would love Magic but have never given it a chance because they have no idea what to expect or worse yet have never even heard of it! Unacceptable. People need to know how amazing the Magic experience is.  Many homeowners, passholders and weekend warriors will tell you: there is no going back once you know what Magic is all about.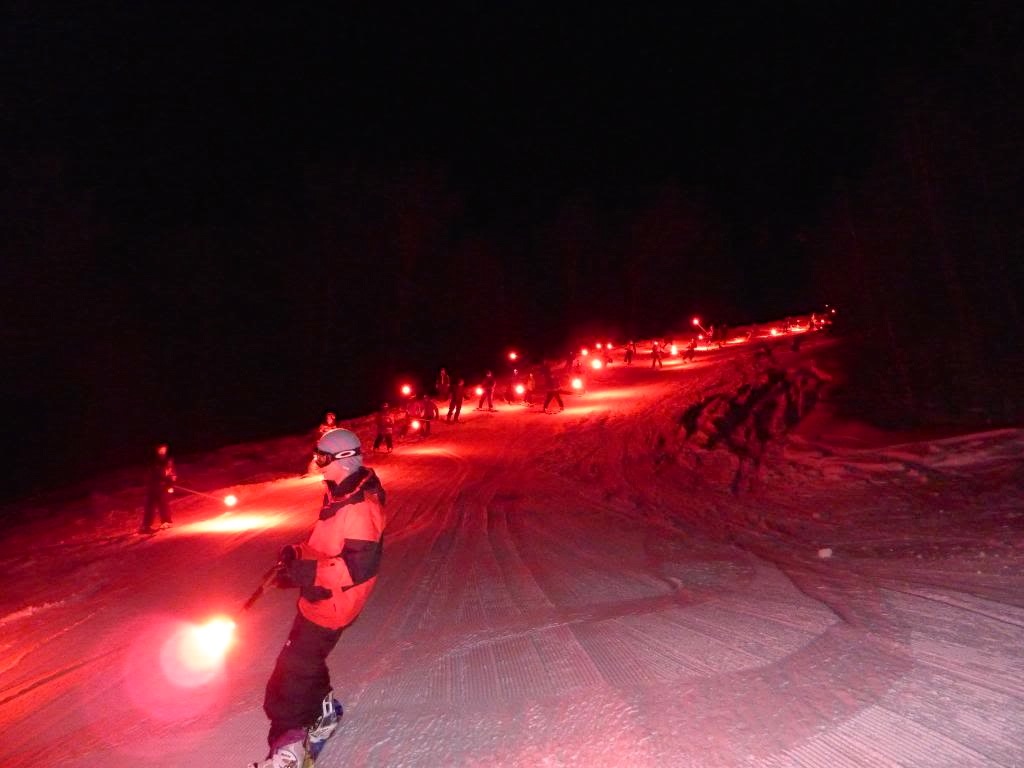 What else?
If you've been with Magic right along, you rock! If you haven't been in a while come back and give it another shot, I promise it's better than you remember it. If you've never been… carpe diem and get yourself to Londonderry.
I don't know why someone would spend $100 on a lift ticket to stand around in line for half the day and ski scraped off groomers in a dangerously unpredictable crowd. When they're ready to stop doing that, we'll be here.