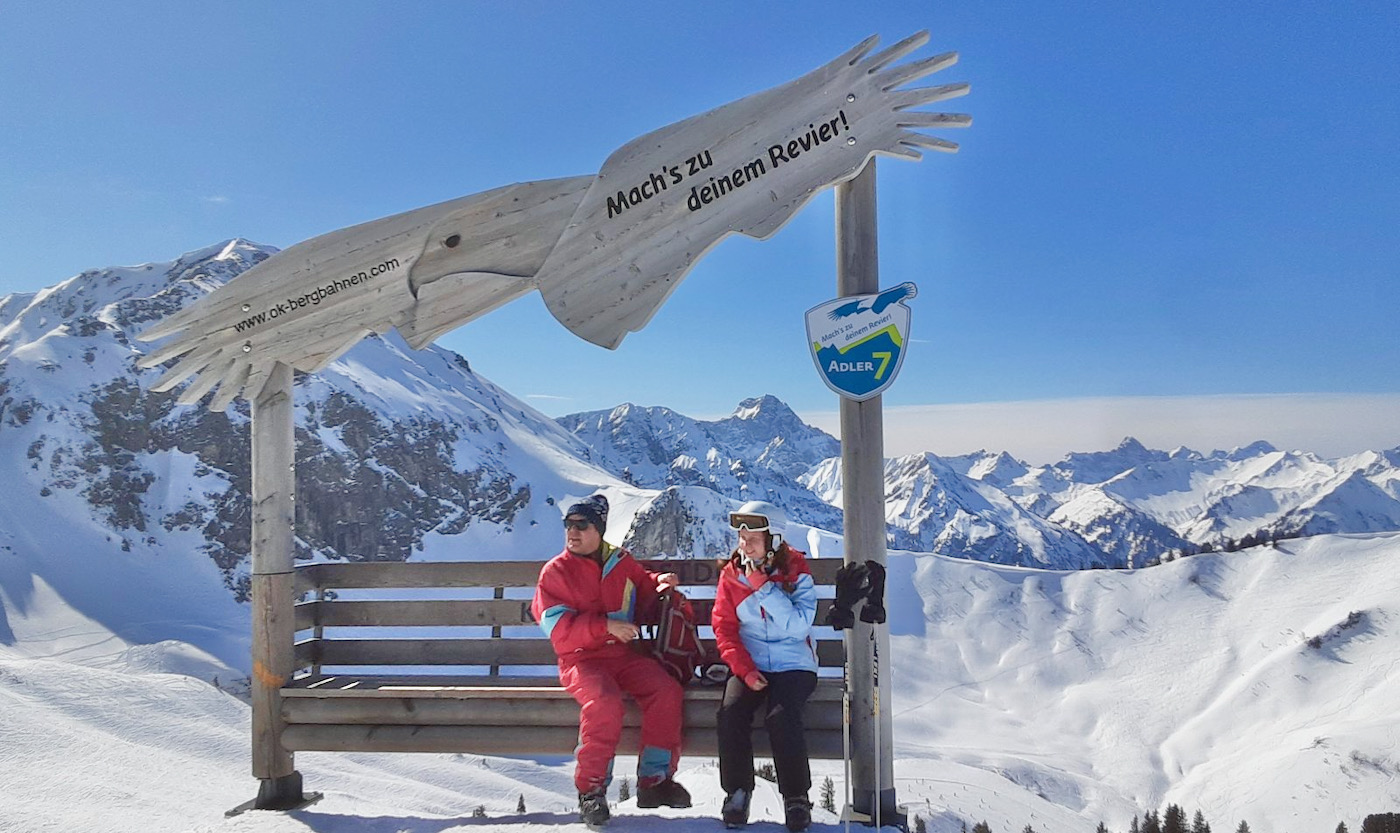 by James Michaud
One of the unique things about flying to the Alps for a ski trip is being confronted by a mind-numbing number of choices, particularly when you're from North America. Within an hour of virtually wherever you're headquartered, you're likely to find a daunting array of options, from massive, interconnected circuits that dwarf anything we have in the States (big enough to keep you occupied for a week or more), to large destination areas bigger than 95% of our resorts, to medium-sized mountains that have enough terrain for at least a couple days of exploration, along with intimate locals mountains where you'll likely be the only skier from outside the region, let alone from outside the continent.
There is, of course, a potential downside to this state of affairs — so many options that you'll be forced to leave numerous attractive ski areas on the table simply because there isn't enough time to visit them all, especially if you're only there for a week. Of course, the rational response is to say, "that's OK; I'll go back in the near future and hit the places I missed." The challenge with that strategy, especially for variety junkies like me, is that you could keep trying out new ski areas ad infinitum, which is a nice problem to have.
For my second 2022 Alps trip (following the previous season's pandemic-induced time out from overseas travel), I summoned my sensible inner self to take another swing at a region that really hit my sweet spot on an inaugural visit seven years earlier: the state of Vorarlberg in the far west of Austria. Vorarlberg checked a number of my key boxes: easy access, lots of snow, charming human-scaled villages, reasonably-priced, good food, welcoming locals, and family-friendly.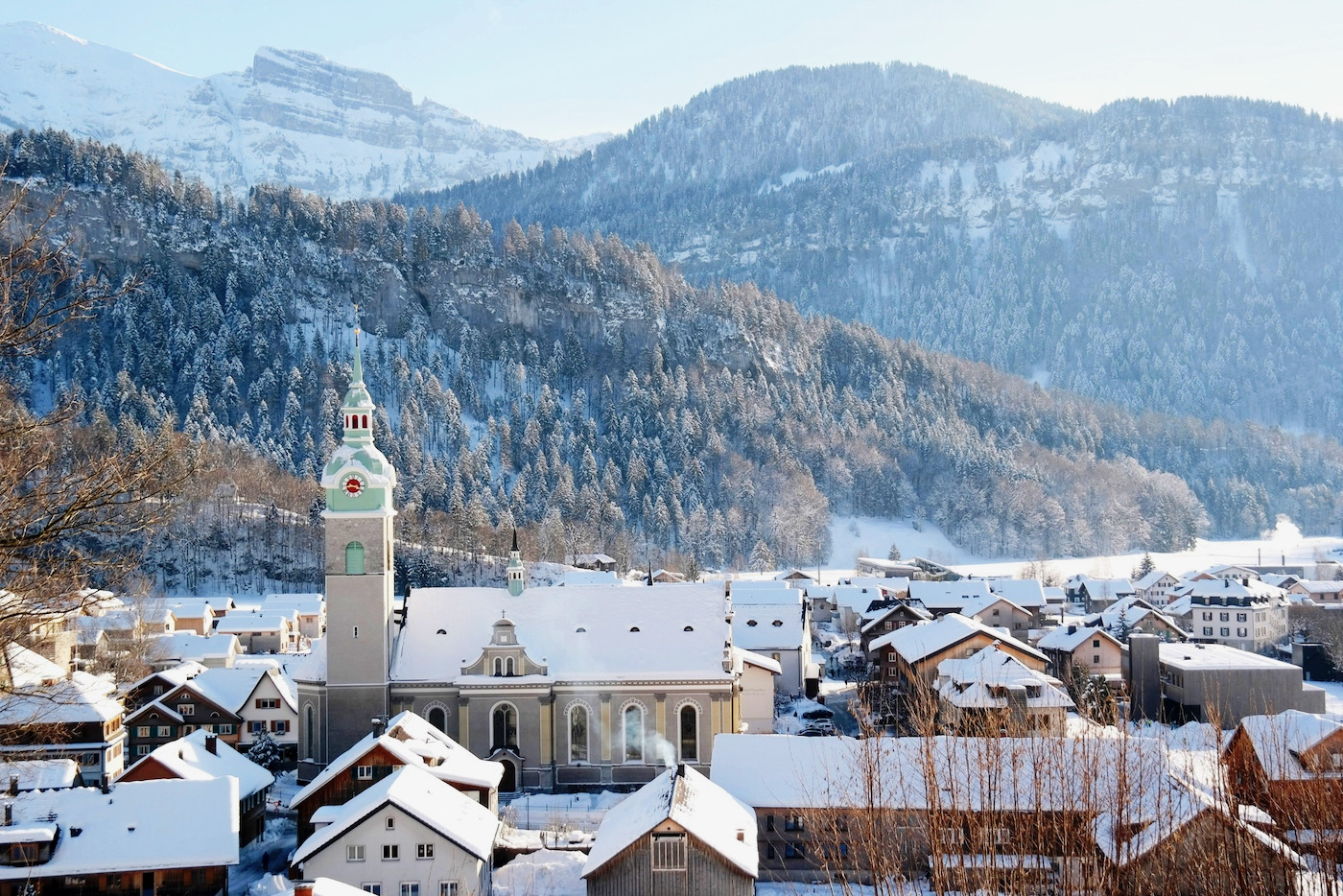 Over the years, the popular British guidebook Where to Ski and Snowboard Worldwide gave a fair amount of space to Vorarlberg and included a descriptor that shouldn't be given short shrift: "unspoiled." You won't run into any brutalist concrete lodging monstrosities in any of these towns. Everything is kept authentic, low-key, and without telltale indicators of industrial tourism.
Whereas my previous itinerary prioritized the southern half of Vorarlberg, the plan for this trip was to target two vacation regions in the northeastern part of the state, Bregenzerwald and Kleinwalsertal, and take advantage of the opportunity to experience a true "variety show" of ski areas. Finally, the fact that I'd be there during the second week of March with clear skies in the forecast meant that I'd be enjoying pleasant early spring conditions the entire week, which is exactly how it panned out.
Day 1: Arrival in the Bregenzerwald
After landing mid-morning in Zurich – which I'd rate as the most user-friendly gateway airport for ski vacations in the Alps – picking up a rental car, and driving due east for 90 minutes on the Swiss Autobahn past scenic Lake Constance, I crossed the Austrian border and drove into the rustic region of Bregenzerwald, translated as the Bregenz Forest. Mention the name to European skiers and a fair number know that its advantageous position as the first recipient of storms coming in from the Atlantic Ocean means that the region is home to two of the three snowiest ski areas in the entire Alps.
Equally important, as you drive through the countryside it becomes quickly apparent how comparatively pristine Bregenzerwald feels, where industrial tourism is a foreign concept with various small towns feeling intimate and genuine, including my headquarters for the following five days, the cute village of Bezau. From my lodging at the pleasant and conveniently located Gasthaus Engel, I never had to drive more than a half hour to reach my target ski areas.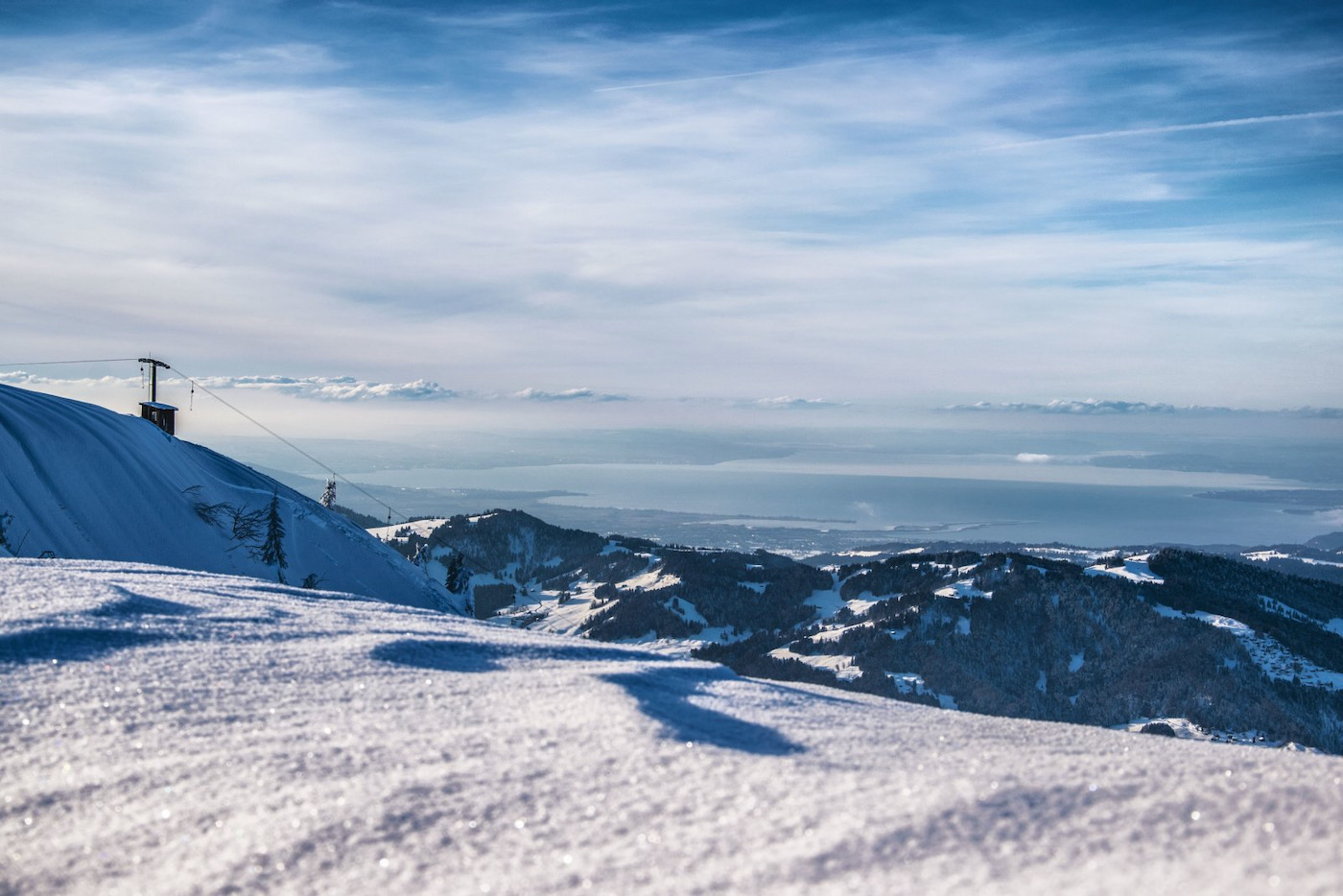 By noon, I was boarding a big new tram at the far end of the village and making arrival-day turns at the nearby local mountain Niedere with gorgeous views of Lake Constance in the distance. Armed with the regional "3 Valley Ski Pass" that covers more than 30 lift-served mountains and provides free public bus access across the Bregenzerwald, lift tickets came out to be approx. $43 per day: quite a deal compared to what we pay in the U.S.
Day 2: Warth-Schröcken
Following a generous breakfast at my hotel, I drove for 30 minutes up and over impressive Hochtannberg Pass to reach the Alps' #1 resort for snowfall, Warth-Schröcken, with a seasonal average of approx. 430 inches and a well-established reputation for deep cover.
The more than three-mile-wide area is completely above treeline so it's not an ideal place to ski on a storm day with limited visibility; however, under bluebird skies Warth is a paradise for cruising on well-groomed intermediate trails or clucking through the extensive offpiste. Moreover, it skis bigger than its 2,100 vertical feet would indicate.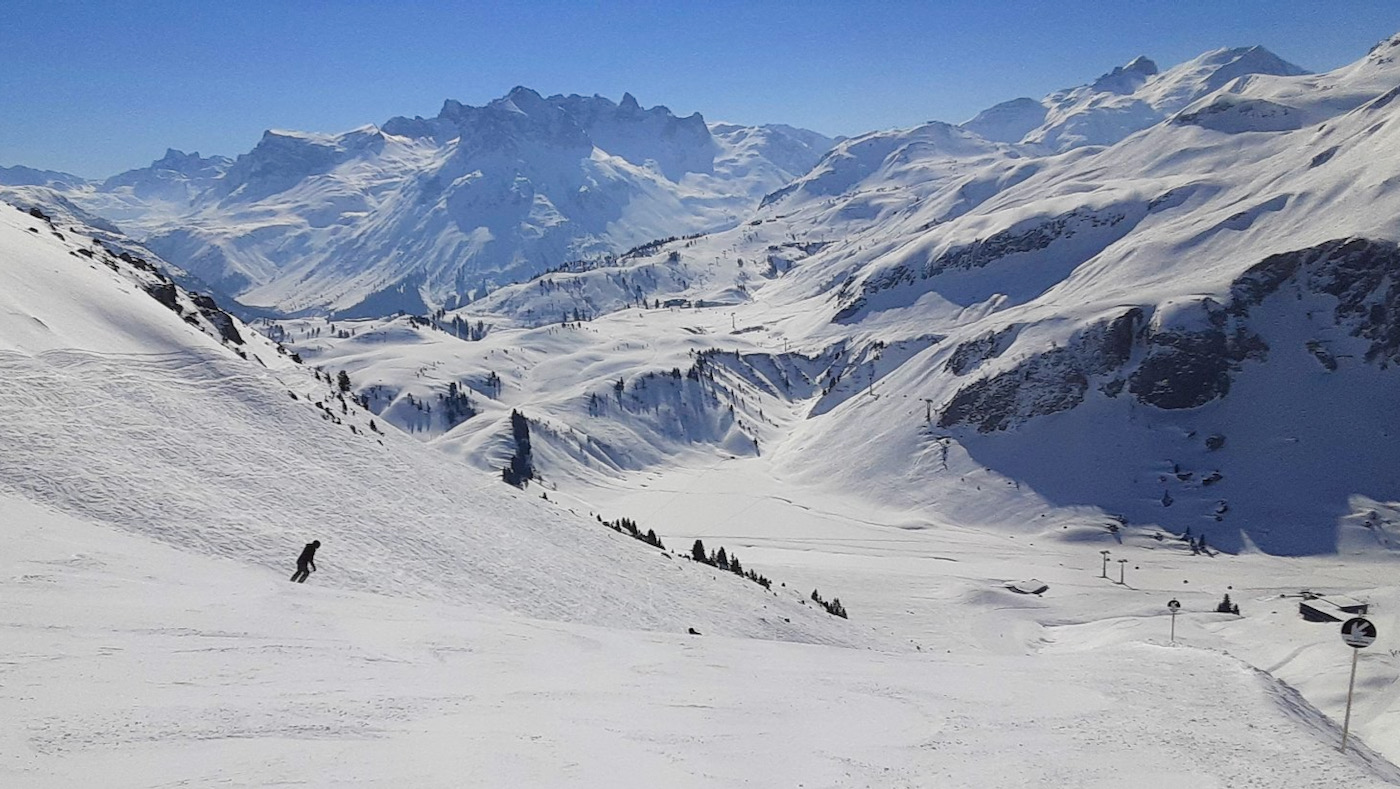 For decades, Warth enjoyed a small but dedicated following of skiers who came every season for its family-oriented atmosphere, reasonable prices, and lack of crowds due to the area's geographic isolation. That situation changed significantly in the early 2010s when a high-tech gondola was built that connected Warth with its wealthy neighbors Lech and Zürs in only eight minutes, thereby allowing the combined Ski Arlberg region to stake its claim as the largest interconnected resort in Austria. For a full overview of the ski offerings, you can try the Run Of Fame – the longest circuit in the Alps (covering 50 miles and 60,000 vertical feet), which guides you through the entire region in either direction and back to your starting point in five hours.
While the smooth exchange of clientele between the two resorts has been a huge boon to the local economy and creates an interesting cultural contrast (Europe's richest of the rich in Lech/Zurs rubbing shoulders with a middle-class family clientele in Warth/ Schröcken, the latter's villages haven't lost their intimate feel and the ski area continues to offer plenty of elbow room, even with a fair number of fellow guests.
Day 3: Damüls
Following the previous day's visit to the snowiest ski area in the Alps, it was time to hit the second snowiest one (approx. 400 inches a year), only 15 minutes from my hotel: Damüls, along with the neighboring villages of Mellau and Faschina. It's notable for being the biggest ski resort in Bregenzerwald with more than 60 miles of marked trails, a balanced mix of terrain for all skill levels, a number of interesting freeride ski routes, and a very modern lift system – I counted nine high-speed chairs, including an astounding five six-packs with heated seats – that prevent any kind of queues from forming.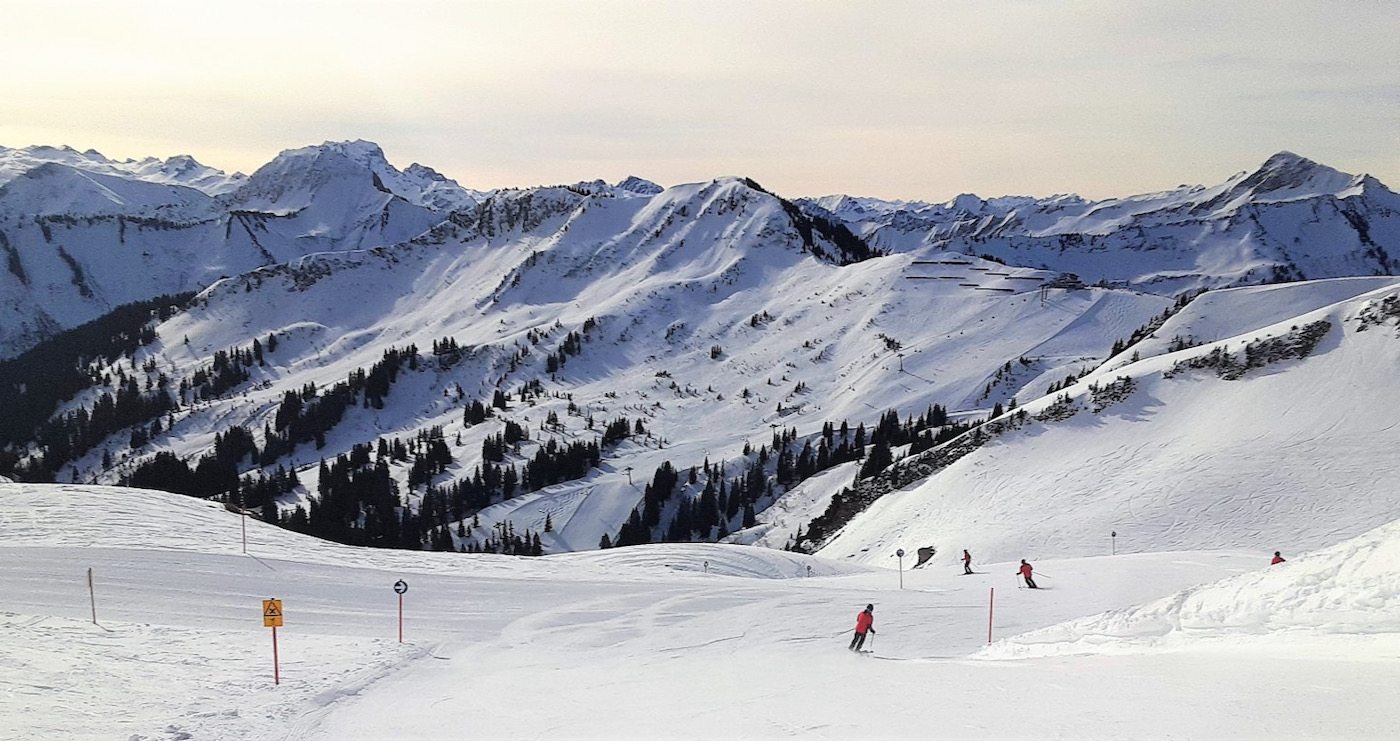 Positioned like a king's crown with peaks arrayed in a circle, the continuous top-to-bottom for a majority of the runs is comparably short for the Alps (usually between 1,200 and 1,500 feet); however, the speedy uphill transport ensures that you'll quickly rack up an impressive amount of vertical, especially if you're there on a pow day like the one I experienced in 2015. Should you opt to overnight in Damüls, you're only a short walk or glide to the nearest trail.
While I had a great time doing laps across the varied terrain and sampling food and drinks at two atmospheric huts with roomy outdoor decks, the high point of the day was without question my final run. This is where I glided down the long narrow trail that gradually takes you down 3,400 continuous feet to the still snow-covered valley floor through a verdant forest with gorgeous views of the surrounding mountains.
Day 4: Hochhäderich
After beautiful days at two comparatively high-profile ski areas, I switched gears for a visit to one of the classic hometown hill that won't necessarily be on the radar of destination travelers. Hochhäderich (pronounced "Hoke Hay Drick"). This fully below-the-treeline mountain offers modest elevation, skiable acreage, and uphill transport (1,200 continuous verts serviced by a t-bar and one fixed-grip chair), and affordable lift tickets ($29 for the afternoon). With a footprint about the same as Belleayre in the Catskills, it's the perfect size for a relaxing half-day outing.
Interestingly, there appeared to be many more people on the cross-country ski trails than on the downhill terrain. Thus, unpopulated runs were the main attraction: stress-free turns with at most a couple dozen other skiers from the region. With conditions transitioning to spring sugar, Hochhäderich provided a handful of fun, twisty ways down including a couple steep shots off the summit.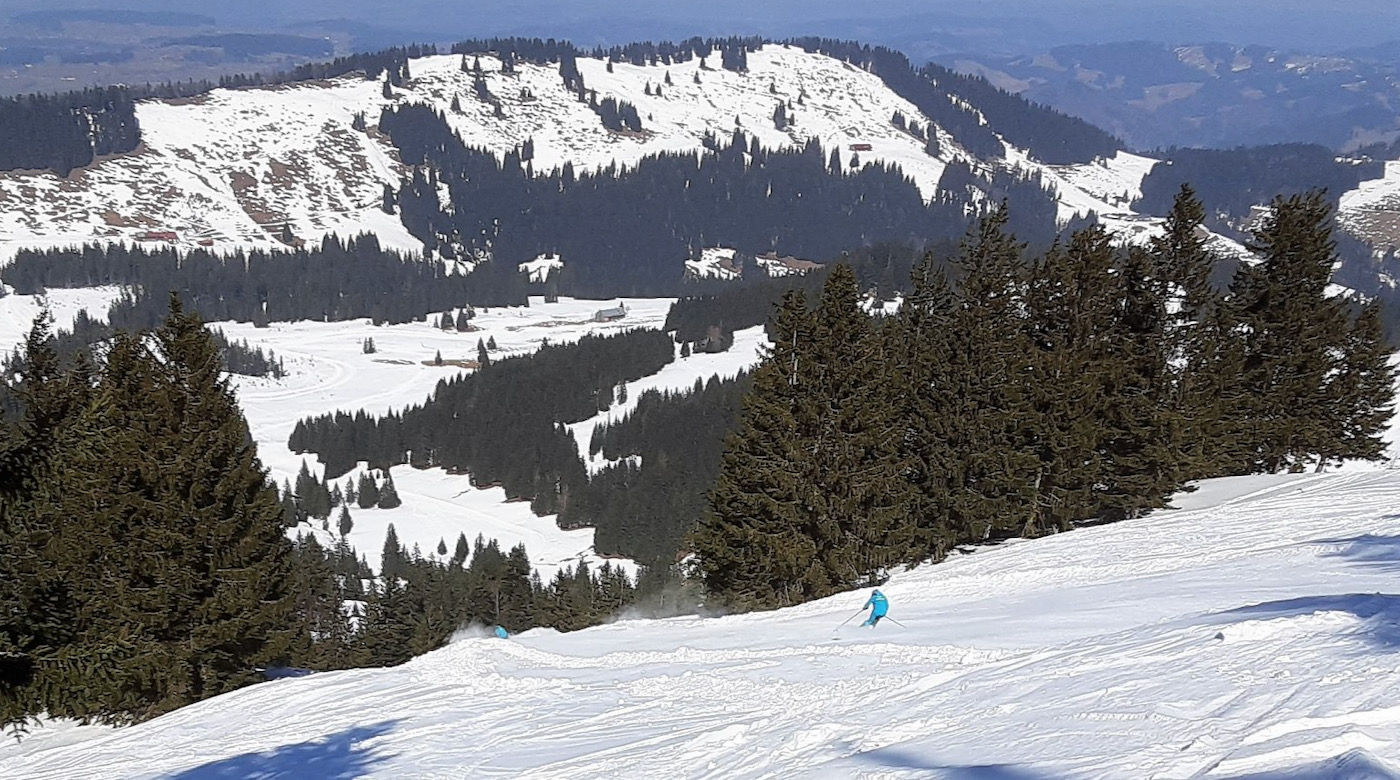 Around 3 pm, I stopped for a beer break at the pleasant Henemoos hut, where I relaxed in the sunshine with a few locals who told me that the ski area is known for having reliable conditions. They were very surprised to hear that someone from the New York City metro area had deliberately chosen to visit their under-the-radar hill. As I looked forward to my next few days at the only major destination resort on this itinerary, I was thankful for the opportunity to enjoy a borderline private ski-area experience.
Days 5 and 6: Kleinwalsertal
For the final stop of a road trip that would allow me to complete a superfecta of ski areas (small, medium, large, and destination size), it was on to the final category. I packed my bags before breakfast, said goodbye to my hosts at the Gasthaus Engel, and headed northeast toward the beautiful Allgäu (pronounced "Ahl Goy") range. My target was the Kleinwalsertal, "Little Valais Valley" – so named due to being settled many centuries ago by people from the eastern Valais region of Switzerland, which I'd visited six weeks earlier. Although it's only 11 miles from Bezau as the crow flies, the valley's unique geographic position creates a practical exclave. Cut off from car access to the rest of Austria by huge mountains to the south means that the only way to access it from the Bregenzerwald is a horsehoe-shaped 75-minute drive across the southern edge of Germany.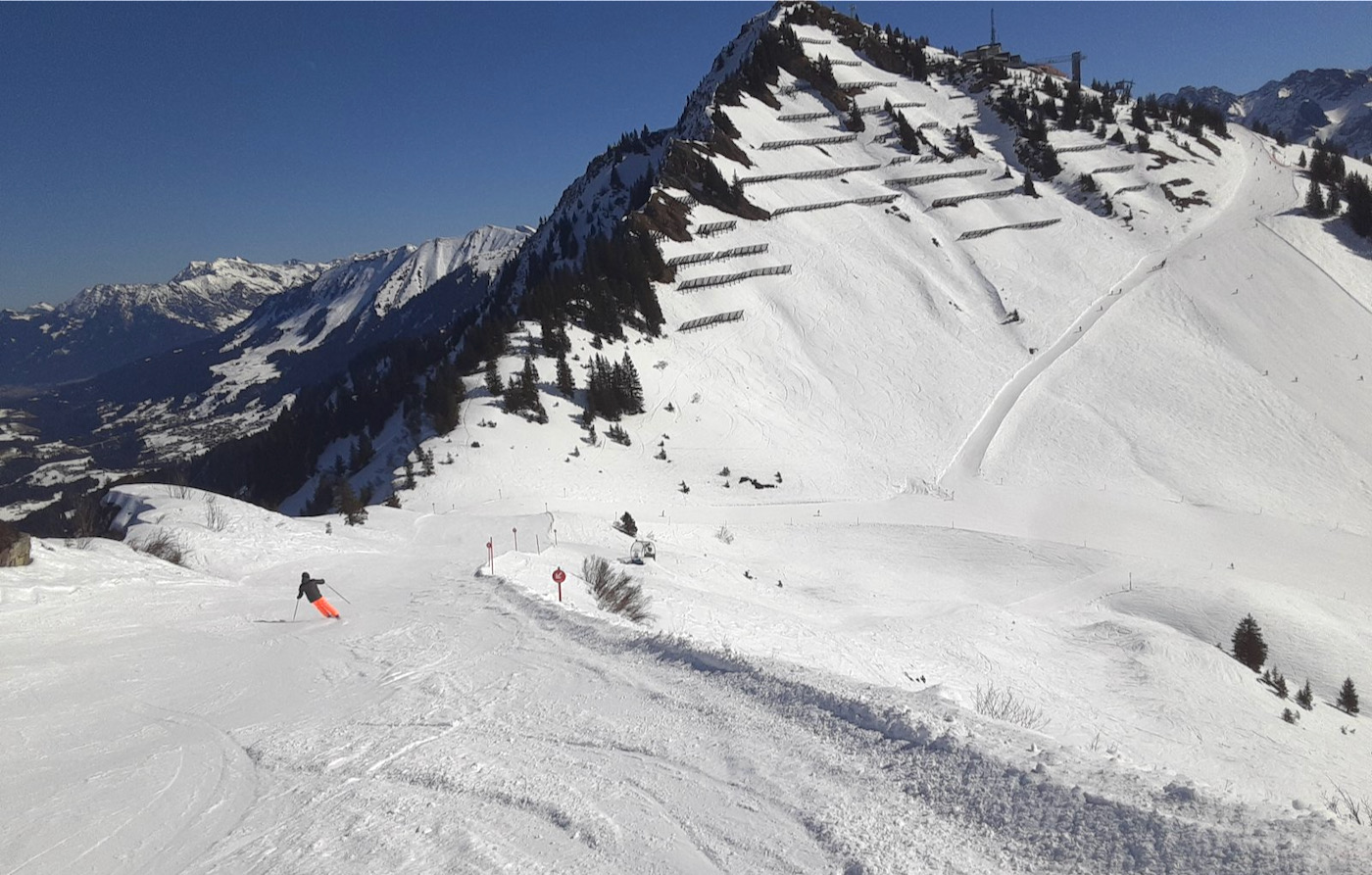 With Kleinwalsertal's location providing easy access from the north, its main clientele unsurprisingly comes from countries other than Austria. In an informal count during my time there, the largest percentage of license plates appeared to be from Germany (including many from as far afield as Hamburg and Berlin, more than six hours away) followed closely by Holland and Belgium. Despite being less than two hours from Munich's airport, oddly enough, I noticed that it appeared to be undiscovered by ski tourists from the British Isles.
To properly ski the five unconnected sectors spread across two countries (81 miles of marked trails with significant amounts of ungroomed terrain), you'd need at least four days; however, since I only had half that amount of time, I quickly got cracking. After parking my car in the middle of Mittelberg, I started on perhaps the most well-known sector in the Kleinwalsertal, the Walmendingerhorn. Serviced by a vintage tram from the 1960s, it quickly takes you up to a towering summit with stunning views of the entire region. Even more promising, after clicking into my skis with several dozen other people, it was clear that we'd scored perfect early spring conditions: a silky smooth patchwork of corn and sugar. Even when I went offpiste, instead of scratchy refrozen coral or heavy mashed potatoes, the snow was soft and light.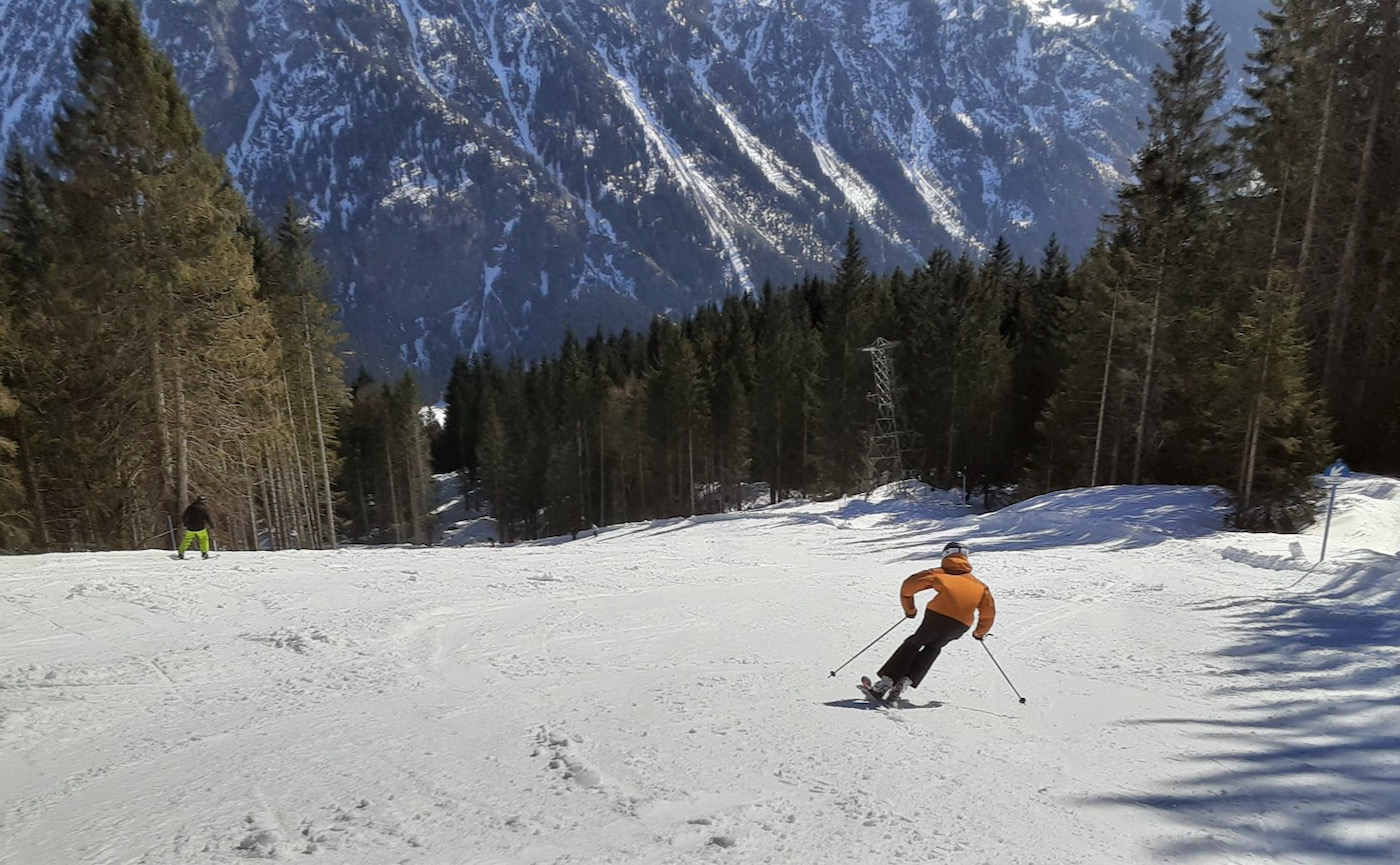 Despite arriving during a non-holiday weekday, the valley was far from deserted and I could see that the extensive modern tourism infrastructure in the three villages (Riezlern, Mittelberg, and Hirschegg) was built to handle sizable crowds. From my lodging at the comfortable Sport- and Familienhotel Riezler, I quickly learned that my car would be more of a hindrance than a benefit there. Instead, the pro tip was to use the convenient (and free to holders of a multi-day lift ticket) bus system rather than driving your car.
About the only regret I had for the Kleinwalsertal region was that I only budgeted two days for it. To ski and experience the entire valley in a relaxed way, four days would've been more appropriate. Still, the wide assortment of ski terrain was a fitting conclusion to a week that avoided any kind of repetition whatsoever.
---
For additional photos, info, and trail maps, check out the daily trip reports:
• Day 1: Bezau-Niedere
• Day 2: Warth-Schröcken
• Day 3: Damüls-Mellau
• Day 4: Hochhäderich
• Day 5: Walmendingerhorn and Ifen
• Day 6: Fellhorn and Söllereck