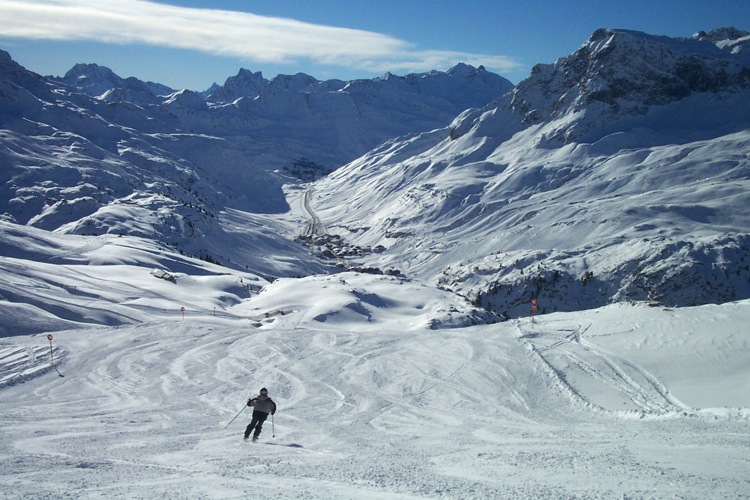 by James Michaud
I don't know about you, but I have a conflicted relationship with ski areas for the wealthy. The populist in me says that I should stay away from places whose prices and elite nature are designed to prevent regular Joes from enjoying them. That said, whenever I visit one, more often than not I have a great time and find that many of the negative perceptions I arrived with were either inaccurate, exaggerated, or if true, easy to ignore. While I've never been to such moneyed luminaries as Aspen, Beaver Creek, or Sun Valley, I have skied at Deer Valley, Utah a handful of times and enjoyed the deserted trees, high-speed lifts, and incredible food while disregarding the nouveau-riche stuffiness and expense (lift tickets were free thanks to the Park City Quick Start promotion).
Anyway, a year after my inaugural winter trip to the Alps, an eye-opening visit to Kitzbühel, I started reviewing options for a return to Austria. At the time, a Stowe ski instructor acquaintance heard about my plans and suggested that I join him and his buddy for a week in Lech Austria, located in the Arlberg region. I proceeded to read a few articles about the resort, most of which described it as a snowbound Monaco filled with European sports superstars, royalty, high-ranking diplomats, powerful CEOs, and show-biz celebrities. I called him a few days later and asked why he, a hard-charging expert skier, was lobbying for what sounded like an Austrian Deer Valley when the world-renowned hardcore terrain of St. Anton was just up the road. His response — a succinct, "Trust me; you'll see!" — turned out to be 100% correct.
While Lech's reputation as a haven for Porsche-driving Masters of the Universe can't be argued, it's only part of the story. The more important bullet points — (a) a huge interconnected ski area, (b) reliable snow, (c) a vast amount of off-piste that sees very little traffic (i.e. virtually no competition for untracked powder), (d) a picture-perfect traditional Alpine village, and (e) a storied downhill skiing history — add up to one of the world's great winter destinations. Equally important, two visits during consecutive winters showed me that you don't need the financial resources of the Top .5% to have a memorable vacation there.
Lech: Very Gemütlich
Following a mid-morning landing in Zürich and a 2.5-hour express bus transfer to Lech, I dropped off my things at the hotel and headed out for a jet-lagged stroll through this quaint onetime farming community. The bustling main street runs parallel to a gurgling creek that's crossed by bridges and lined by an onion-domed church, high-end hotels with top-shelf restaurants, a few atmospheric boutiques, and a pricy ski emporium. And just in case you forget where you are and what time of year it is, signs on the sides of many buildings (Vorsicht! Dachlawinen!) warn pedestrians to watch out for roof avalanches.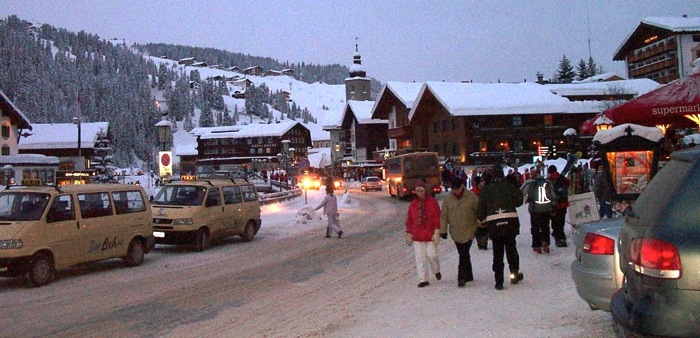 As expected, the resort's target demographic skews toward an older clientele interspersed with some younger families. By late afternoon, the village was humming with sedate, but jovial après-ski festivities in sidewalk bars. Instead of feeling exclusive, the village radiates a sense of warmth and coziness — German speakers would call it "gemütlich." Adding to the charming old-world ambiance is the fact that pretty much everything in Lech is run by coterie of high-profile families (no chain hotels).
While Lech's reputation for pricey accommodations and restaurants is well deserved, there are also comparatively reasonable options, including the three-star hotels right in the center of town where I stayed during two visits in 2005 and 2006. At the time, the late-January rate of $900 at our hotel included seven nights of accommodations, access to an onsite spa, and half board: breakfast and dinner every day in a comfortable wood-paneled hotel dining room. Both meals featured an extensive all-you-can-eat salad bar, a well prepared main dish — for non-carnivores like me, they made sure to provide a great vegetarian or fish option — along with a fantastic dessert.
Crowning this package was a six-day Ski Arlberg Pass (map) covering Lech and Zürs, along with St. Anton, Stuben, and Sonnenkopf, which are accessible via the regional bus service at no additional cost. For those keeping score; the ski pass alone is a $300+ value. These all-inclusive hotel deals are a great way to put a cap on expenses, as going out for dinner every night at Lech's incredible array of restaurants would put a serious hurt on anyone's credit card.
The Cradle of Alpine Skiing
Spend a few minutes on any website that mentions the Arlberg and you'll be repeatedly hit over the head by the ubiquitous tagline, Die Wiege des Alpinen Skilaufs: "The Cradle of Alpine Skiing" — referring to the significant role that the five villages of the region played in the birth of our beloved sport. Throughout the ski area and towns are numerous signs and vintage photos celebrating this proud history, which includes the Arlberg Ski Club (founded in 1901), the first ski school — led by the legendary Hannes Scheneider, who later fled Europe during the rise of Nazi Germany and emigrated to northern New Hampshire — and the 13-mile White Ring, the longest ski race in the world. In addition, Lech claims to be the only town that has produced four Olympic downhill gold medalists (all still alive) while nearby St. Anton was home to the first cable car built for winter use, the Galzigbahn.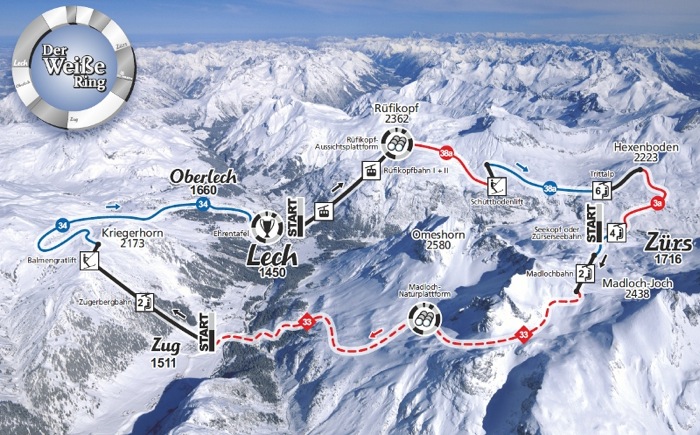 Closely related to the development of downhill skiing is Kästle, the first ski constructed of ash wood. Founded in 1924, Kästle became known as the "Arlberg Ski" and has been a favorite of high-level Austrian skiers over the decades. To honor the brand's history in the region and its triumphant return in 2007, a Kästle Mountain Museum with free admission is now located at the top of the Rüfikopf II tram, featuring historical exhibits and ski models from days past.
Big Snow and Empty Off-Piste
From a terrain perspective, the Arlberg has a well defined split personality. All of the serious on-piste challenges and powder-day feeding frenzy — similar to what you'd run into at Salt Lake City's Alta and Snowbird — are found on the St. Anton side. Lech, meanwhile, is an upper-intermediate paradise. The photo at the top of the article, a gorgeous run through the Schüttboden sector leading to the village of Zürs in the distance, is representative of the stunning views found there on a sunny day. You can spend hours cruising the rolling, consistently pitched trails, most of which are serviced by an arsenal of high-speed lifts. Unsurprisingly, given the well-to-do clientele, more than half a dozen of the chairs are equipped with heated seats.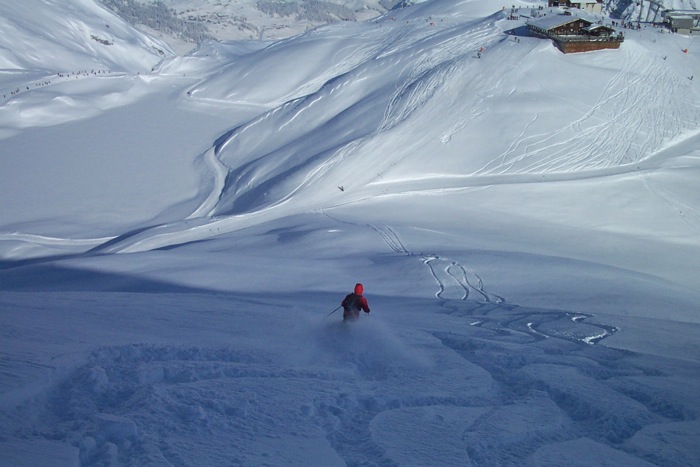 Cutting to the chase, what makes Lech such an underrated destination for skiers crossing the Atlantic is a combination of three interrelated factors: an impressive snow record (the well-regarded Weather To Ski website ranks Lech as not only the snowiest major Alps resort, but also one of the Top 10 snow-sure), a dizzying assortment of off-piste terrain, and an overwhelming majority of guests who wouldn't leave the groomed pistes even if you offered them money to do so (in all likelihood, they don't need your money).
In short, all that glorious untracked snow, even a couple yards away from the marked trails, will stay that way for a while. At the same time, the frequent overnight top-offs help counteract Lech's predominantly east- and west-facing exposures. And in a perfect example of the rich getting richer, for the 2013-14 season, the new 1.2-mile Auenfeldjet lift will connect Lech to neighboring Warth-Schröcken, the undisputed snowiest ski area in the Alps (410 inches every season — and that's measured at the base) and, until now, one of the quietest.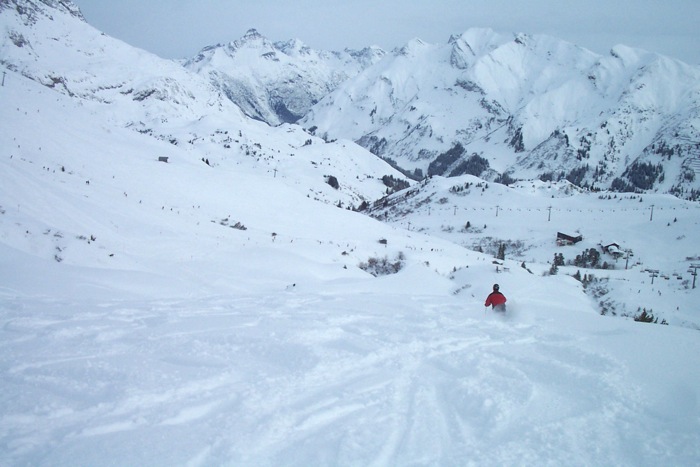 Anything to Complain About?
Honestly, not much… and that's why an annual Arlberg trip is a hallowed tradition for so many skiers, often at the same hotel, with the same group of people, and during the exact week every year. Given that this region seems to have it all — terrain, snow, food, amenities, atmosphere, history, and no riff raff — most see no reason to go anywhere else.
That said, one issue that U.S. powderhounds need to keep in mind is that the treeline in the Alps is far lower than in North America, which presents a challenge on big storm days. Whereas Americans can, even at high-altitude elevations out west, always head to the woods when visibility is limited, a considerable number of ski areas in the Alps like Lech (where 99% of the terrain is treeless) have nothing for you to use for visual orientation other than small trailside markers. Brailling your way through a blizzard can turn one of your hard-earned vacation days into a vertigo-filled misadventure, and while the Arlberg doesn't have the glacial hazards of places like Chamonix or La Grave, there are a fair number of off-piste DFU zones and traverses, so buyer beware. For that reason, it's best to follow the lead of many European skiers, who start the après–ski festivities early when it's dumping, knowing that the payoff will be piles of easy powder scores in the following days.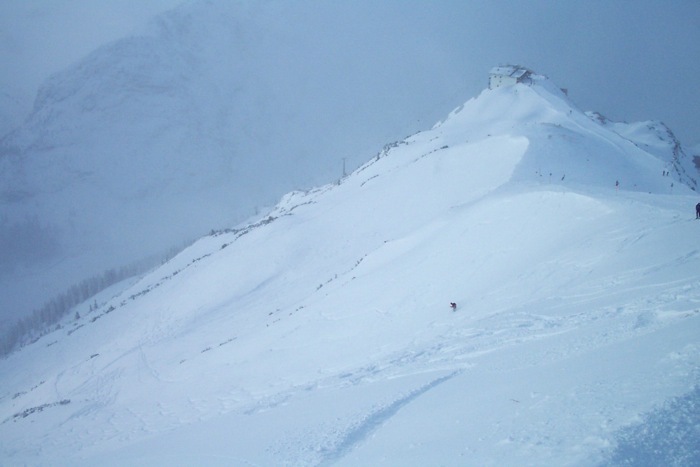 Thumbs-Up from MRGers
After the final run of our 2006 trip, while clomping through town back to the hotel, we ran into an American couple having a beer at an outdoor bar, both with Mad River Glen stickers on their helmets. For the husband's 45th birthday, these self-described "Vermont hippy dirtbags" had decided to go against type and spend a week in the polar opposite of their beloved hometown mountain. Their rationale was, "Mad River is the cathedral of northeastern skiing, so maybe we should try the cathedral of European skiing." For the next half hour, we traded stories about the lines we skied, the powder we shralped, and the views we marveled at, then commiserated about how difficult it'd be to go back to the farm after we'd been to the Arlberg.
The husband mentioned that he had brought a dozen MRG "Ski It If You Can" stickers to plaster on lift towers — just to teach those snobby Euros what real skiing is all about — but he quickly realized that would be like a Catholic traveling to Rome and spray painting graffiti all over the Vatican. The stickers stayed in his suitcase.
Before saying goodbye, the wife confided that she'd never admit it to the single-chair crowd back home, but she actually liked the heated chairlift seats.
---