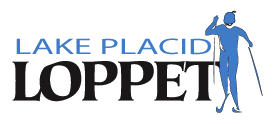 Friday morning at Mount van Hoevenberg, it was quiet. Only the squeak of our skis on wicked cold snow broke the silence. My friend Colin and I had van Ho to ourselves for the ritual pre-race warmup. The Lake Placid Loppet loomed.
Adored and cursed, the Loppet has been my muse for over 20 years. The hardest race in the northeast, it's the standard by which I judge the difficulty of any other race. Although I've had some good finishes, I've not yet made my coveted goal of a three-hour finish, and time's running out for that.
The Loppet basically follows the 25 km loop used for the Olympic 50 km race. You ski it once for the Kortloppet, or twice if you're a damn fool with an inclination to suffer. Each loop features four hors categorie climbs, multiple category 1 and 2 climbs and innumerable little hills that, to paraphrase Paralympian Bill Henry, just wear you out.
Originally a freestyle race, the organizers changed things up some years ago to attract more skiers. You can sign up for either the 25 km Kortloppet or the full 50 km sufferfest, and you can choose to ski either distance classic technique or freestyle. The organizers stagger the start times: Fifty km classic goes out first, followed by the 25 km classic; then 50 freestyle and 25 freestyle.
With all possible technique and distance options, a pre-race bash and a great post-race banquet, your entry fee is a great value for a citizens' race in the U.S. Let's not forget the door prizes at the banquet. Not to mention one of the most challenging race courses in the U.S, and all the great people you meet.
When I was younger and perhaps less foolish than now, the first race I signed on for was the Loppet. All 50 km. One of the guys that I looked up to then had skied all the big citizens' races of the time. Lawrence was tall and lean and I couldn't keep up with him. He'd knocked off the Tug Hill Tourathon, the Lake Placid Loppet, and bagged a gold medal in Canadian Ski Marathon, among others. The idea of gliding through the woods at a fast pace appealed to me, and I signed on.
At the start of that first race, I didn't know what hit me. The rest of the field bolted away as we left the stadium. With deficient technique, I struggled in the uphills. On the descents, I fell at least two dozen times. It took almost 6 hours to finish second to last.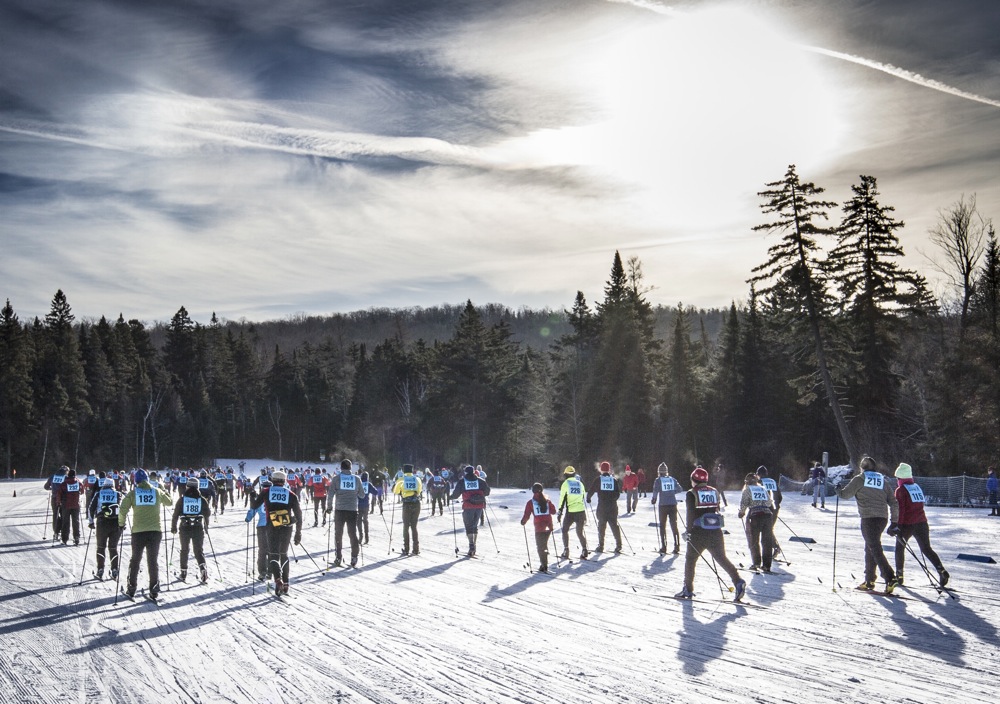 And I thought, damn, I can do better than that, and I got hooked bad. I've gone back there almost every year for something over 25 years. I can't remember them all, but I look forward to this race every year with the fervor of Midwesterners who ski the American Birkebeiner.
Well, I'm a little older and a somewhat better skier, but I'm still foolish enough to want to race 50 km. Saturday morning, I awoke while it was still dark, mildly anxious.
In September, I sprained a knee in the roller ski race up Whiteface. Since then, I haven't been able to train the way I'm accustomed, and on top of that I've felt on the edge of getting sick for 10 days. In a nutshell, I haven't been able to taper the way I like before this race. So I got jacked up on coffee, microwaved a lumberjack-sized portion of oatmeal, and got dressed.
When we started at 9 AM, the stadium was zero Fahrenheit, with bluebird skies and no wind. Perfect, if cold, conditions for a ski race. The forecast called for a high of 15 degrees – a great temperature for racing. Combined with the cold, an inch of fresh snow overnight made for slow skate conditions, but the classic tracks were fast. Double poling out of the stadium, I settled into a train that accordioned over the rolling terrain heading out East Mountain.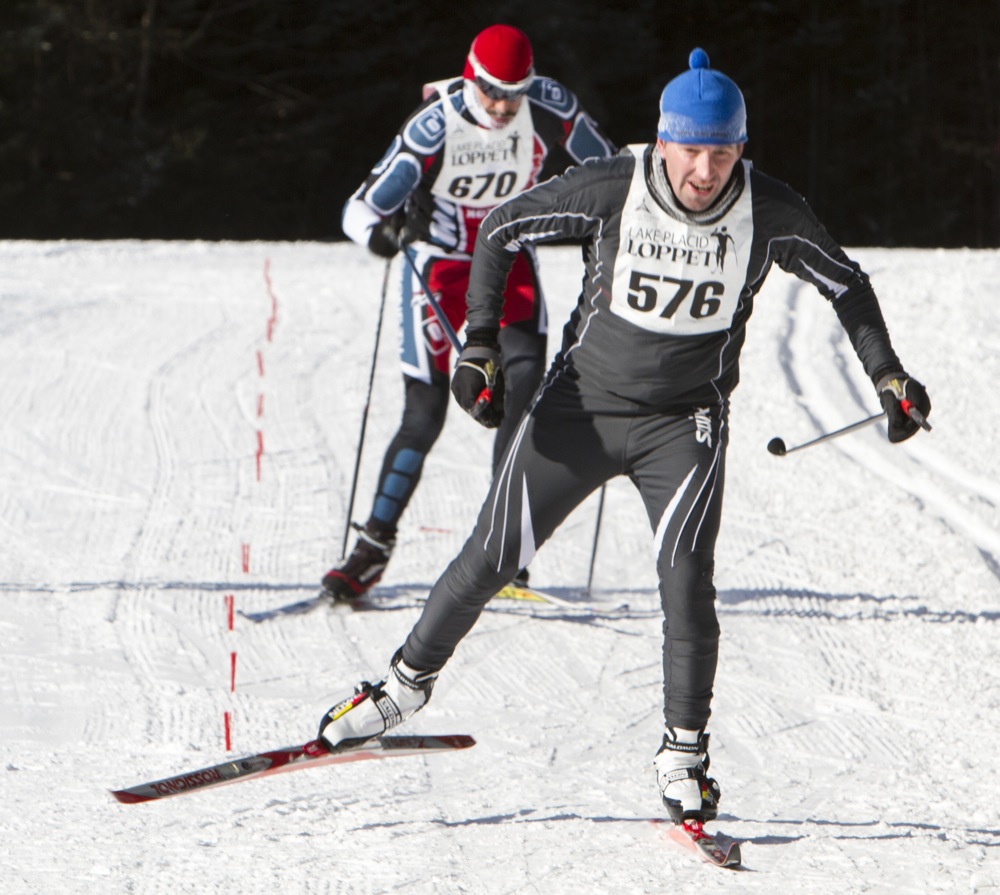 But within the first three kilometers, I went off the back on the first grunt hill. I could go reasonably fast, but my body wasn't ready to go any harder. Today wasn't meant to be my day.
Despite feeling off, I sensed that I was placed well. Top 15, maybe even top 10. If I skied steady, I had a shot at a good position, although a personal best time seemed out of the question.
Most of the first lap, I skied in no man's land – with no one around to draft or pace. And then, an hour into the race, my hip began to hurt. The immobile right hip that my physical therapist has worked over for the last three years. The hip that's given me conniptions when running, but never before while skiing. Pain radiated to all points of my body.
James Coulton, the eventual winner of the 25 km classic, blew by me somewhere on Ladies' 5. Minutes later, Bob Underwood, the 2d place finisher in that event, passed. Other than four more 25 km classic racers, I was on my own as I left the stadium on my second lap.
At the beginning of the Porter Mountain Trail, I stopped to touch up my kick wax, and three skiers went by in a flash. There goes my top 15, I thought. I forgot about my hip as I jumped back into the tracks. It was now a race.
I reeled in Andrzej Wojton on the first of Porter's monstrous climbs. At the banquet later, I learned that he was having knee issues. Further out Porter, I caught Mike Sheridan. With good glide, I left him on a long downhill. I had the third guy, Wes Lampman, in my sights, but it took a long time to catch him. I was faster going uphill, but he skied the nausea-inducing roller coaster descent off Porter silky smooth. I finally snuck by him somewhere on Ladies' 5.
Heading out to the biathlon side for the last eight km, Duncan Douglas and Jason Hettenbaugh, the eventual one-two finishers in the 50 km skate, rocketed past, tucked low and skating downhill. By this time, I was gassed, and grateful for the relatively flatter terrain of the biathlon side. All I was thinking was "Only eight k. Top 15, top 15."

Mike Sheridan caught up with me, and I couldn't mark him when he passed. Just ski as smooth as I was able, and gun it the last 400 meters in the uphill finish.
My time was a long way from a personal best, but I ended up 13th overall, a good finish for me. There's something about the survival aspect of the Lake Placid Loppet that will keep me signing up for 50 km as long as I'm able. I'm already looking forward to racing next year in this beautiful, evil place.
---
All photos courtesy of Evan Spinosa, ORDA