I saw something once, something big and monstrous and unbelievable. I'm not talking about Bigfoot or the Lochness Monster, which I can't bring myself to believe in. My monster was more mundane then an eight foot tall North American ape or a leftover brontosaurus. What I saw does exist. Nobody disputes that; it just wasn't supposed to be where I saw it.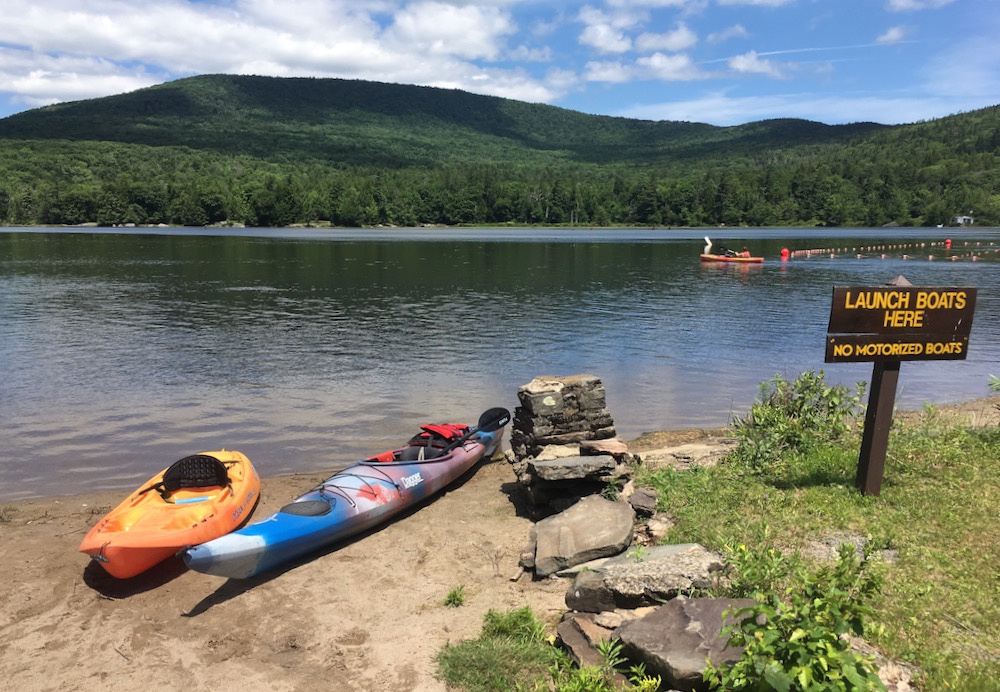 It was five years ago, while padding on North South Lake, upstate, in the Catskills. I had the whole family out on the water, enjoying a sunny afternoon in our canoe. There were lots of folks out that day camping, picnicking, fishing, paddling, swimming and hiking on the footpaths around the lake and in the surrounding woods.
My youngest was in the bow, my wife was behind him, paddle in hand, then my older son sat behind her, using our little blue cooler as a seat. I was in the stern, paddling and steering. As we crossed over an area of submerged water lilies, my wife and kids were looking right but my attention was pulled in the other direction by some people on shore, loitering around a little stone bridge. I thought one of them might jump off the bridge into the lake, which I didn't want to miss. When that didn't happen I turned my attention back to paddling.
On my next stroke, just as I inserted the blade of my paddle into the water, it appeared. It swam silently, emerging from beneath the canoe, right under my wife's seat. The biggest damn turtle that anyone has ever seen; it was a beast. It swam away from us at an angle, just beneath the water's surface above a bright green bed of seaweed growing on the shallow bottom. The water was clear as glass and it didn't disturb the surface a bit. It was unreal. Just like that; one moment I'm paddling along, and the next I'm looking at something out of a Godzilla movie.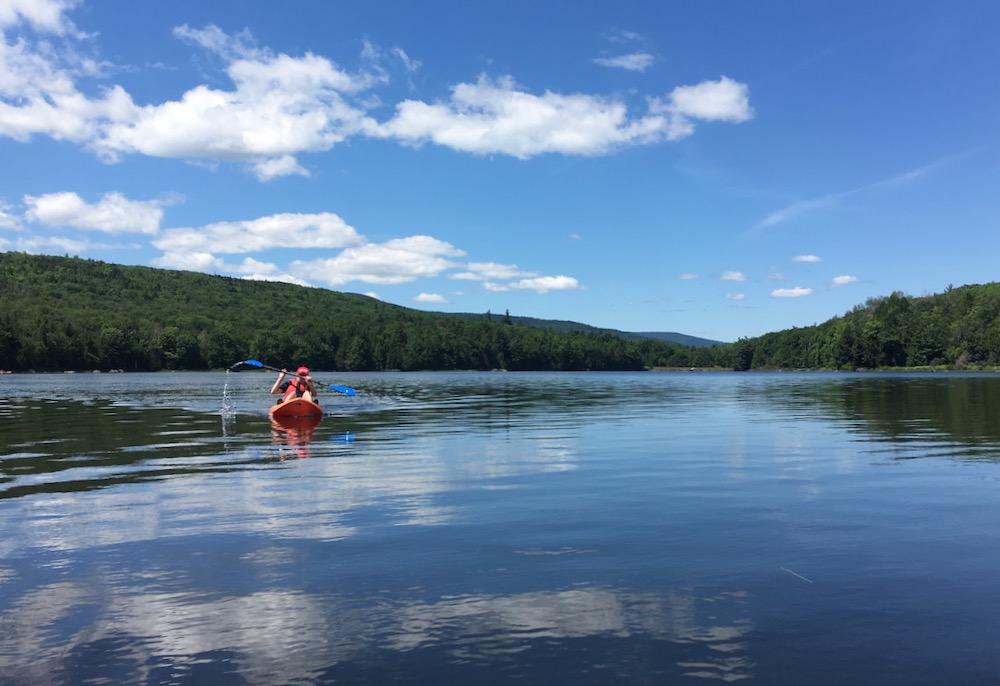 I was gobsmacked. The shell was four feet across with a GIGANTIC head and a big meaty tail that looked like it belonged on a dinosaur. It had big spiky ridges across its shell, bits of bright red and yellow spots and long claws hanging from the ends of its feet. I can still see those claws in my mind's eye. For a moment, it was close enough to reach out and touch if I were quicker or less surprised or completely stupid.
And just like that it was gone. With all four of us in the canoe I couldn't turn around quickly. I drove my paddle into the water to stop and calmly asked my family if they had seen the snapping turtle. They hadn't. I managed to get the canoe turned around as I explained what I'd seen. I asked my wife if she had her camera along. She questioned my judgement in pursuing a turtle that was large enough to tip our boat over.
"Turtles don't eat people" I assured her as I scanned the lilies for another sign of the monster. Desperate, I called out to the people on shore, "Did you just see that snapping turtle? Did you see where it went?" They shrugged. It was gone and after a while before I gave up looking. We enjoyed the rest of a beautiful day on the Lake. But in my mind I was riding an emotional roller coaster, processing what I'd seen. We packed up the truck and went home.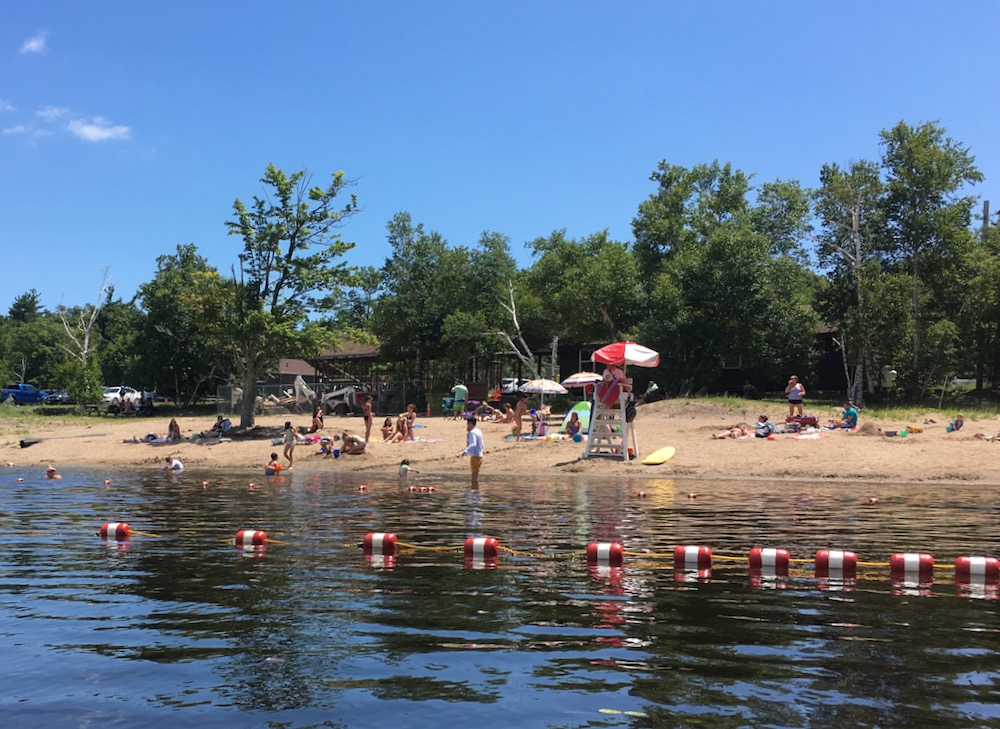 The first thing I did when we got home was to start researching snapping turtles. The Common Snapper that lives in New York doesn't get as big as the one I'd seen, not nearly as big. Then I found his cousin, that lives in the south, called the Alligator Snapping Turtle. Alligator Snappers, I learned, grow much bigger and when I started looking at pictures of them I was fully convinced that this was what I saw. I searched "alligator snapping turtle in NY" and found an article about one found on Long Island and removed by Animal Control. The article stated clearly that it had to be released as a pet because these turtles do not live in New York.
Like other people who have seen something incredible, I couldn't shut up about it. Anybody who expressed the slightest interest in boating, fishing or really, anything outdoorsy, would hear my story. I'm not sure anyone believed me, including the three who were in the canoe with me. The reactions ranged from polite, patronizing to skeptical: "I doubt it was that big, probably just a regular snapping turtle." I've seen dozens of common snappers over the years, going back to 5th grade when I first saw one pulled out of Belvedere Lake near Oneonta.
Common Snappers are a dull green and, while they have pointy protrusions around the edge of their shell — called a carapace — they don't have the multiple rows of (alligator-like) ridges running front to back across the top of their shell. Common Snappers shells are rounded and relatively smooth.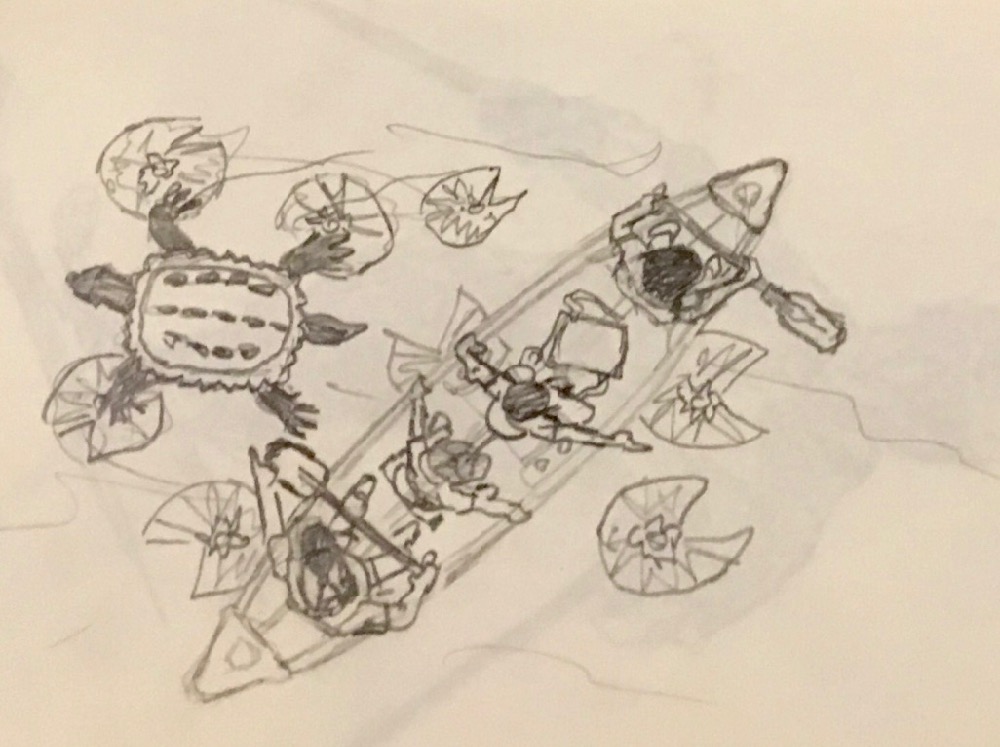 I understand the skepticism. How could a turtle be that big? What I saw would be near the size of the largest Alligator Snapping Turtles on record. According to Wikipedia 249 lbs is the largest ever verified. There is one unverified report of a turtle over 400 lbs and estimated to over 160 years old. There are also reports of Alligator Snappers, presumably pets, being found far outside of their range in Oregon, Germany and the Czech Republic.
North South Lake has been a tourist destination for a long time. It's the site of the Catskill House, which was built in 1823. The state took over the tract in 1929 and eventually razed the hotel site in 1963. It's not impossible that the pet-released-to-the-wild scenario took place there years ago, maybe before World War One when North South was still two separate lakes. My turtle remained undiscovered, peacefully living the life of an apex predator (and growing) on the bottom of the lake for a hundred years.
Eventually I grew tired of people looking at me like I was full of it or prone to hysterics. I felt like one of the guys on cable who make a whole show out of walking through the woods at night in search of Bigfoot. Every episode, one of them turns to the camera and says "Did you hear that? That's definitely a squatch!"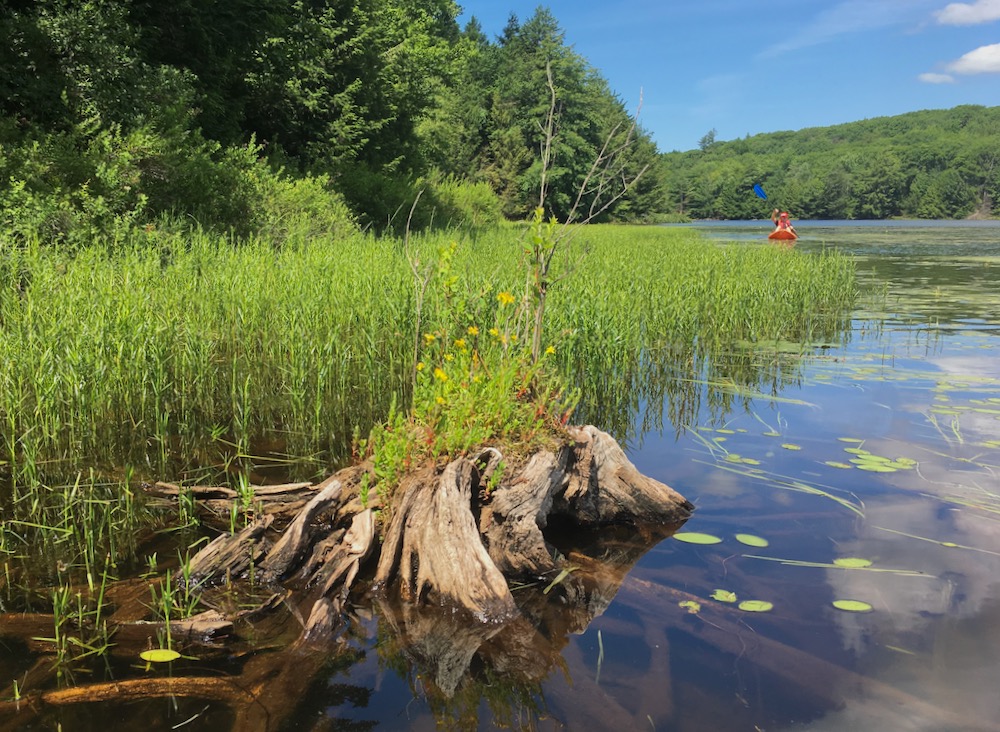 The experience gives me sympathy for people who sincerely believe they've seen a Bigfoot or a UFO. It doesn't matter what the rest of us know to be true. Like them, I know what I saw in that lake. That's all I have — no proof other then my own non-expert witness testimony.
So I stopped telling people about the giant turtle. At some point we found new places to camp, paddle and explore. It had been several years since I visited North South Lake. I started thinking about it again when I purchased an Empire Pass this spring. I bought it primarily to access Nyack Beach, one of my favorite Hudson River kayak put-ins but the pass meant I wouldn't have to pay to park at North South or a number of other state run facilities.
I figured I would go back and poke around a bit, this time with our lifeproof-encased iPhones along in case I got a glimpse of my turtle. On a recent Saturday when Junior and I had nothing better to do, we loaded two kayaks on top of my truck and headed for the Catskills. We parked on the North Lake side and unloaded our kayaks.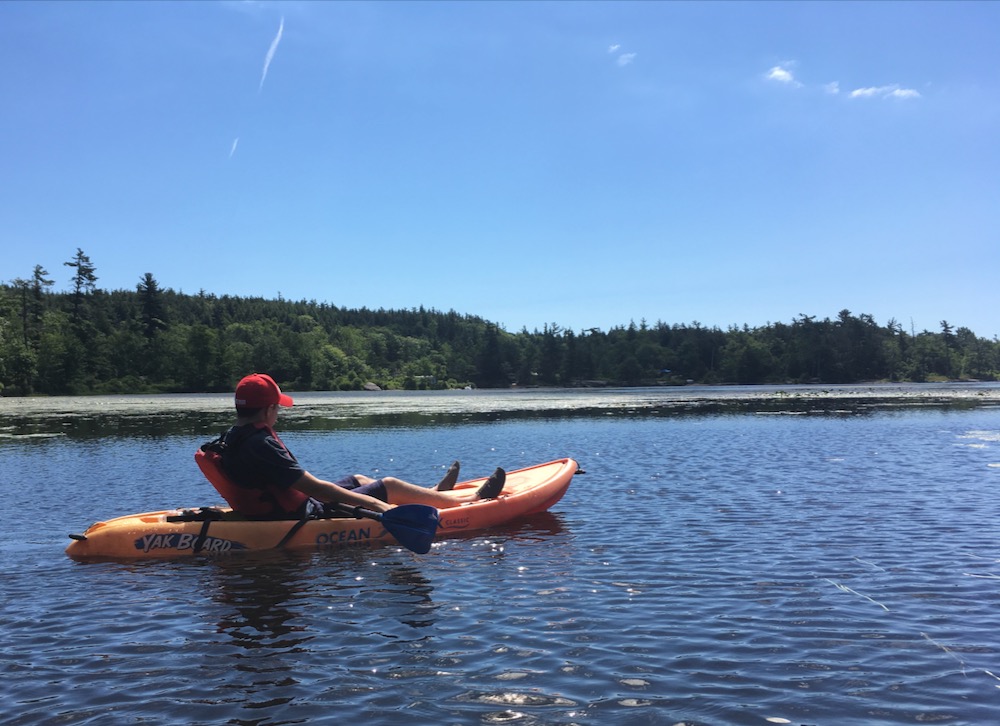 Junior's favorite boat in our fleet is a maneuverable little no-nonsense 8 footer called a Yakboard. I brought the shorter of my two touring kayaks for myself, a red, white and blue Dagger we call "the bomb pop." If we got lucky and bumped into our monster snapper, I'd do my best to get a picture of him with one of us in the shot, even better. We could use the length of our boats to estimate size.
It was another beautiful day to be out on the lake. We had a great time and paddled every inch of that lake, taking our time to pay special attention to where I'd seen him the first time and places with similar vegetation and conditions. We saw some very small turtles. We saw ducks, geese, a beaver and eventually, one small common snapper. We also had an epic water squirter battle when we got bored with our search.
Like most monster hunters, I came home with nothing but a story. Like most monster hunters, I put in a nominal, superficial effort and gave up quickly. I knew it was a long shot, but my lack of success hasn't diminished my certainty about what I saw all those years ago. We had fun looking and now that my turtle is front of mind again, I'm thinking about going back again. Maybe I'll bring the grill and some burgers and go back out for an afternoon search as well. It doesn't really matter. I know what I saw.