Mount Washington's summit was covered in clouds as I drove towards Jackson, NH. Everything's bigger in New Hampshire: much as I love the Adirondacks, the White Mountains a positively gargantuan in scale.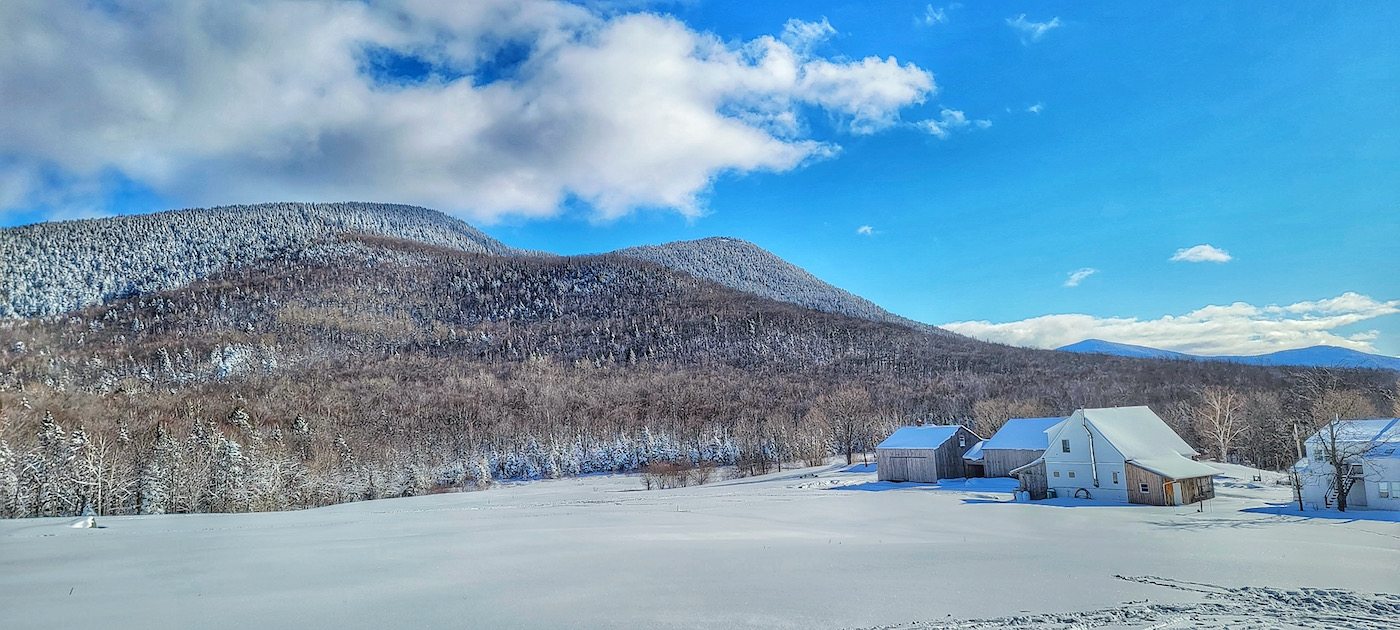 Decades ago, I drove to the western Catskills on a Friday night. On Saturday, I roller skied around one of the reservoirs with three other people, including a nordic athlete who'd gone to the Paralympics. That afternoon, I drove to Virgil NY and camped out near a bullring where dirt track race cars snorted and roared.
The next morning, I took off on a trail race that started by going straight up the fall line on the back of Virgil Mountain, and I nabbed an age group podium. It was a magical weekend, and I fancied myself the endurance athlete version of a ronin: the itinerant athlete.
For my most recent trip, initially I planned on a 3 day jaunt to ski Rikert Nordic in VT. At the last moment, I got a Saturday off. Destination changed, first stop, Jackson NH.
I stayed at The Notch Hostel, in North Woodstock. 60 miles from Jackson, it's highly recommended. This whole trip was already something out of the ordinary. I've gotten so hidebound and fixed in my habits, it was a relief to do something totally different.
Jackson NH has an extensive trail system over 150 km, with multiple trail heads. In the summer, there's destination golf. I wanted to ski the Prospect Farm loops. Outgoing executive director Thom Perkins waxed rhapsodic about this high altitude land parcel when I interviewed him for Faster Skier in 2014. He solicited the sale of that parcel from the landowner for some years until they finally gave in.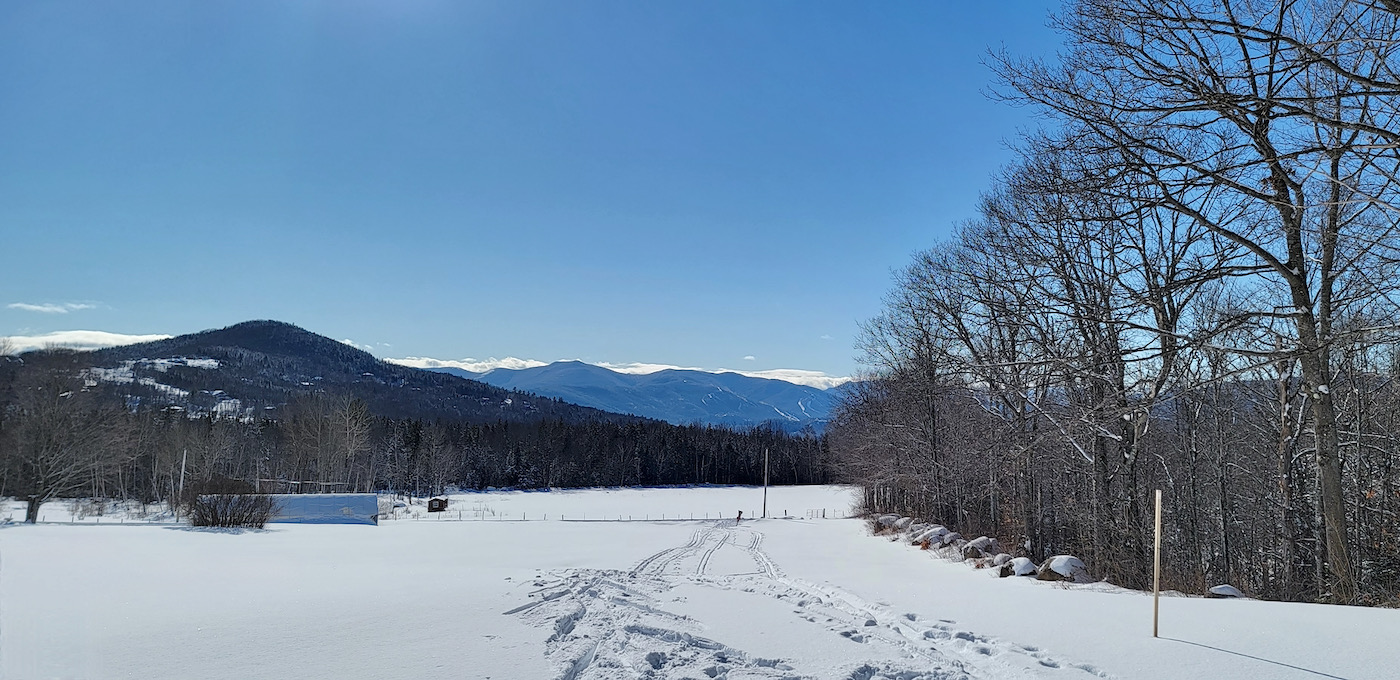 When I arrived at Prospect Farm, it hadn't been groomed. Likely, the Jackson organization devoted their grooming resources to a citizens' race that started earlier that morning. So I drove back down to village center, clipped into my skis, and set out.
My prior experience at Jackson was racing the White Mountain Classic 30km, twice. The first time, a good race. I fell short on the last 2 km, on sunbaked golf course trails that slowed my skis down and wore me out. My second race was forgettable: shortened due to cold and wind. I messed up the kick wax, pulled a hamstring 1500 meters after the start, and fell twice.
Today, after the disappointment of Prospect Farm, I clipped into my skis and set out from the ski center in the middle of town.
Part of Prospect Farm's appeal was, no golf course skiing. Tough bunnies, there I was. Down low, ya gotta deal with Jackson's golf course skiing – which is gentle and rolling, but far from terrible – to get to the good stuff. I followed the trail from the lodge up to The Yodel, a long, nasty climb that would fit in with the new World Cup trails at Mt van Ho. At the end of The Yodel, I had to get outta my skis to cross a road.
I looped around another golf course to get to The Wave, an FIS homologated ski trail. Here, I was going on instinct. Trails that I'd been on — what, 10 years ago, give or take? As I was climbing, I heard someone shout, "Left!" and a young woman in Colby College kit blew past me. Sigh… years ago, I used to be able to almost nearly ski that fast.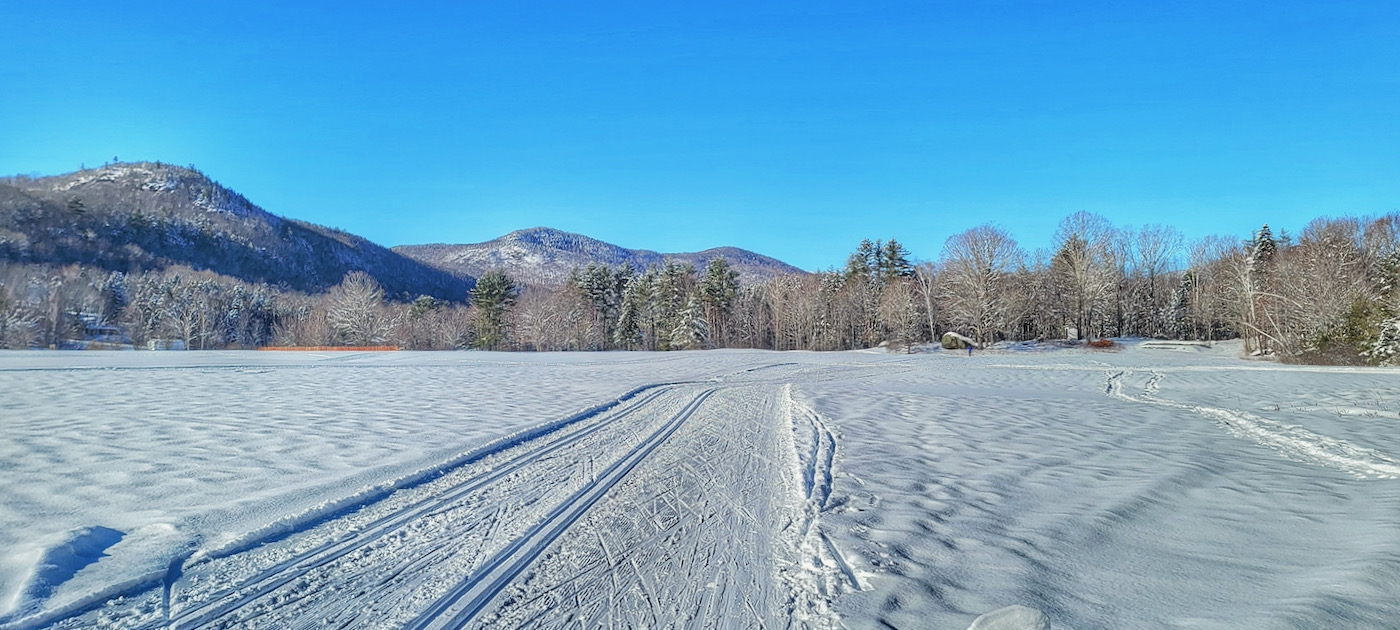 The Wave isn't as hairy as the new FIS trails at Mt van Hoevenberg or Gore, but one of the downhills ate me up that last time I raced there. Today, I just managed to stay upright. I skied around, following my nose, heart rate in the stratosphere. Eventually, I landed back down to the golf course, and found my way to The Yodel.
As crazy as the Yodel is going up, it's also crazy going down. I checked speed, stayed upright, and made it back to my car for lunch. Seventy-five minutes of hard skiing was enough. I ate lunch, worked up a pair of classic skis, and headed back to the hostel.
On the way back, I passed Bear Notch, a nordic center that seems to fly under the radar even as it gets good snow. Attitash, Bretton Woods Cannon Mountain…. I badly wanted to return and scope Bear Notch, but logistically, it was in the wrong direction. Next destination: Craftsbury.
---
NYSkiBlog is joining with The Indy Pass to bring exposure to independent mountains.
This piece is part of our effort. For more information visit the Indy Pass.
---