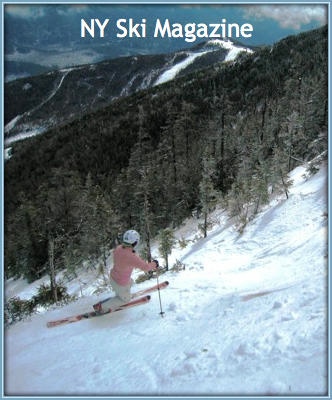 Today NYSkiBlog Introduces NY Ski Magazine. Our new online publication, which will be written and edited by Jamesdeluxe, provides us with a format suited to more in-depth features about specific ski areas and regions.
Starting today, NY Ski Magazine will be posting exclusive new articles, along with features from the archives going back to 2004.
James prefers smaller, off-the-beaten-path ski areas from both the East and West that don't usually get the big headlines. And when he does cover a popular resort, it's usually about a lesser-known part of the mountain: like Apres Vous at Jackson Hole. And for lost-ski-area fans, there are articles about three northeastern mountains that have closed over the last few years: Mont Glen/Mont Shefford QC and Bobcat NY.
As part of our magazine launch, we're premiering an article about a ski region that I really hadn't been aware of until last winter: Québec's Eastern Townships. Between now and the beginning of the season, we'll be posting features about Burke VT, Monarch CO, Le Massif QC, and Snow King WY, as well as adding new articles throughout the season.
If you have comments on individual features, please post them beneath the appropriate articles. For questions regarding the magazine, contact James: [email protected].