A foot and a half at home, and Greek Peak also reported 18 inches. When I drove down my unplowed driveway snow billowed over the hood and into the windshield. Subaru face shots in the driveway!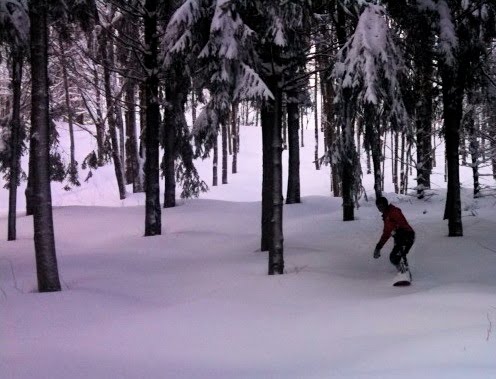 I was surprised to see a lift line up 15 minutes before opening. I got on the 5th chair. I thought yesterday was great, today was even better. The snow was light and powdery and DEEP.
I started out alone and skied top-to-bottom without stops, visiting all the ungroomed and untracked places. I ran into Marilyn on Chair 4, and we hit Chair 5 just as it opened. There was a lot of fresh snow on the trails and in the woods on the east side. I did 5 laps until Alsops and Arethusa were completely tracked out.
Acidchrist was busy with an injured, infamous, long-time Greek Peak skier. Marilyn left and I found Kelly, who I dragged all over for fresh snow. We skied it until it was tracked out.
Even hiked a few laps up to the closed Chair 2 to get freshies for our last 2 runs. Snowboarders had some trouble in the low angle powder with no poles to keep them going. It did keep me entertained. Should be a good weekend!