The afternoon was quiet in the office, with everyone at meetings. Emails were sent and it wouldn't be until tomorrow that they would get read. A rare sight out the window: blue skies and sunshine with temps near 30. Two more inches of snow fell at Greek Peak in the last 24 hours. The hill was calling.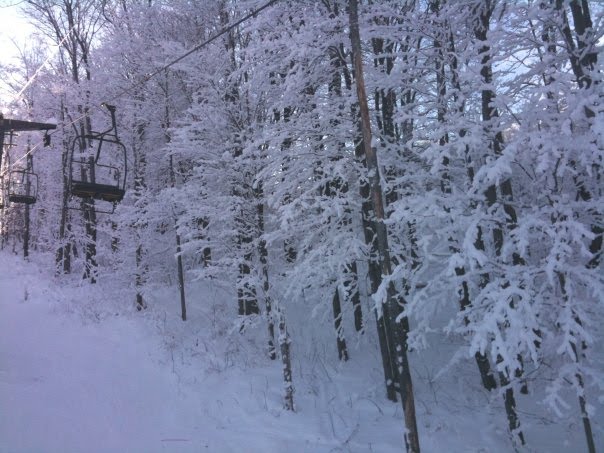 In fact it has been snowing 2-3″ every day for the last 2 weeks. A very dry and light snow. With the sunshine, the snow seemed to shrink quite a bit today, but it was a worthwhile trade-off from the near zero weather we've been having.
My friend and full time ski patroller, Acid Christ, spent the afternoon with me, skiing in the woods, finding fluffy stashes of powder here and there and flying down steep groomers at mach speed.
They made snow on Zeus and Hercules. Herc was open and is a very steep fast cruiser, good for a high speed adrenaline rush. Zeus was not yet open, as they were trying to preserve the snow that is on it for the upcoming holiday weekend. We did 4 laps in Aesop's glade and swept it for the evening. I even got to turn a gate to officially close the trail.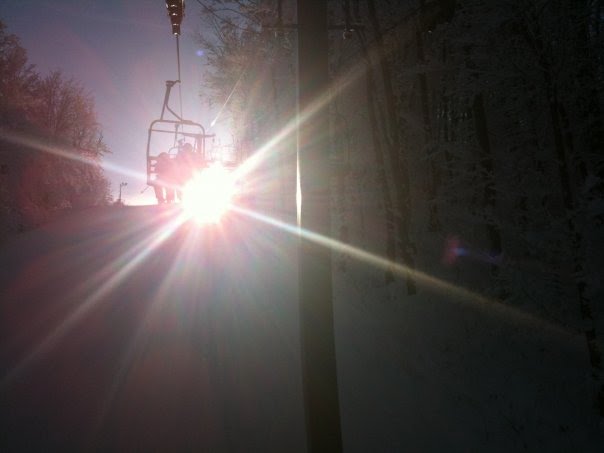 The woods next to Eleysian Fields contained soft snow and we tracked up most of the fresh snow that was leftover from the day. Every trail had super packed powder conditions, with the right side of Eleysian Fields, left natural, turning into soft bumps.
I left Greek Peak around 5:30 as the busloads of kids were let loose on the slopes. When I got home "shop night" was just getting started. The guys stoke the stove in the barn on Wednesday nights and are building stringed instruments. I switched jackets and boots, slapped on the xc skis and took the dogs on a nice tour of my land.
The inner loop is about 30 minutes and boasts 200 vertical feet with some really fun and fast hills with sharp turns at the bottom where the skier hits terminal velocity. It's a real hoot, and conditions are so good right now, that these runs are fast and easy to control in the turns. I can tele-turn all of the fast turns on my Fisher Rebounds. I got warm and the dogs had a good romp.
Bowls of dog kibble were poured and a bowl of soup heated up replenishing all and a soak in the hot tub warmed the core and soothed the muscles. A quiet night curled up on the couch with some dogs and the laptop on my lap, a nice end to an active day.