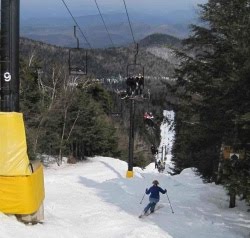 I noticed something this year I hadn't seen before. The High Peaks chair had run for two straight weeks, after President's Week.
I had a some back and forth with Mike Pratt via email:
NYSB: Mike … did the High Peaks Chair run for two weeks straight?
Mike: Actually it was 18 consecutive days – from March 4 through March 21.
NYSB: Does that represent a shift in strategy?
Mike: It was simply great snow and our belief that this was the most likely operational strategy to both offer great experiences and attract the most visitors.
NYSB: But I mean you KNOW how cranky it makes Gore diehards when the Dark Side is down right?
Mike: It is a difficult decision when we limit operations mid week, but we are developed on 9 sides of 4 mountains and obviously the lift and trail capacity is much greater than the midweek crowds.
NYSB: So it's a purely an operational decision, and has nothing to do with the importance of the terrain to the Gore Core?
Mike: The High Peaks side is a key component of both the winter and spring operational strategies. Snow cover, weather, and the size of the crowd are all considered when we make our operational decisions.
NYSB: Ok. If you're going to open the Dark Side for 18 consecutive days in March… we'll take it. But I swear I saw you over there on Saturday with a big grin on your face. Thanks for the time.