With ORDA budget issues looming and the early pass deadlines near, Gore passholders are weighing their options. For some Gore skiers, central Vermont is an enticing option that isn't that much further than the southern Adirondacks.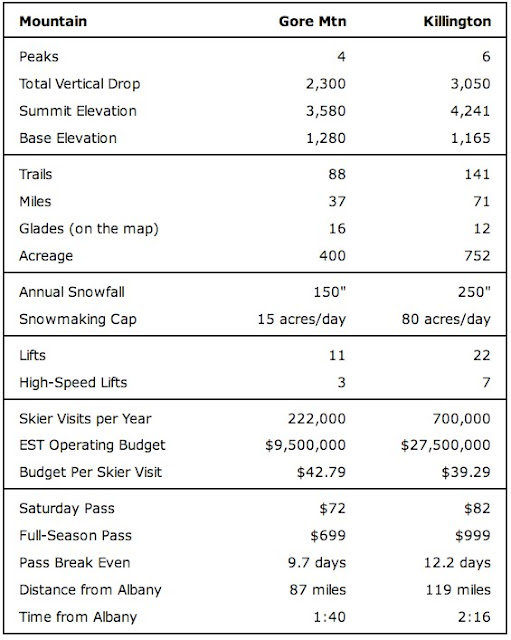 I thought it would be interesting to look at the numbers for Gore and Killington. I'm using Killington because it's relatively close. And Kmart is loaded with some of the specific things that Gore skiers crave … operating budget, snowfall, and snowmaking.
This is not to imply that the mountains are comparable. They aren't. Comparing Gore to Killington is like comparing Hickory to Gore. This is about looking at the pros and cons of spending more and driving farther to ski in Vermont.
Many caveats on the above chart. Numbers above are primarily from the websites. The four peaks at Gore, won't actually be true until next season, if plans come to pass. I'd appreciate corrections/input on the variables measured. (I couldn't find a number for miles of terrain at Gore, so I based it on acreage – anyone have a number?)
The implied skier visits/acreage ratio makes Gore look less crowded. But the real question is … how many skiers are on how much open terrain? That would be a very useful number, but not easy to come by … skier visits/open acre/day.
On the face of it, Killington's got some tangible advantages. Lots of extra capacity for that extra $300: a potentially earlier opening date, a later close, more natural and manmade snow, more terrain, more lifts, more vertical.
And, while the Killington operating budget is estimated, I believe it's in the ballpark. If that's true, then it shows the huge economies of scale in the business. By tripling the size of the mountain, Kmart can spend the same amount per skier, and deliver a lot more snowmaking.
One thing about drive times … in my experience, the numbers don't really tell the story. Mapquest has Killington as 36 minutes and 32 miles farther, from points south. I'm sure those numbers are "accurate." But to me that drive feels farther than an extra half hour. Maybe it's because it's at the end of the drive. Also .. I think there's more potential for traffic congestion/delay on the route to Kmart. The drive to Gore is pretty and pretty easy.
Mountain preference is subjective, and numbers can't possibly tell the whole story. There are amenities at Killington. Rutland is almost a full-blown city. And, if you're looking for it, the party scene at Kmart is unrivaled.
Gore on the other hand is surrounded by wilderness and wild forest. Navigating the base area is much simpler. And when the ski day is over, Gore skiers head home … to a full time residence or a second home in the area, or downstate. Main Street in North Creek is pretty quiet most nights by 10pm.
What measurable variables are we missing? What intangibles? What do you look at to make your decisions? Comment below.