It never really totally stopped snowing last night. Ultralight flurries fell overnight adding up to maybe an inch. I was up about 5am. At 6:30 the wind picked up and it started to snow. It was about 5 degrees when I headed toward the mountain at 7:30. In the parking lot everyone was expecting snow: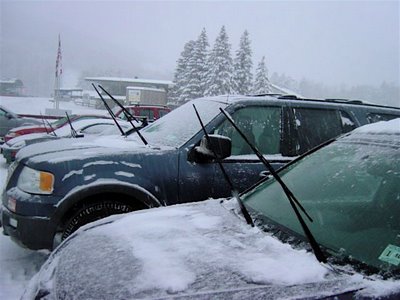 In the time it took me to walk from the parking lot to the lodge it started to dump bigtime. And it dumped pretty much all day: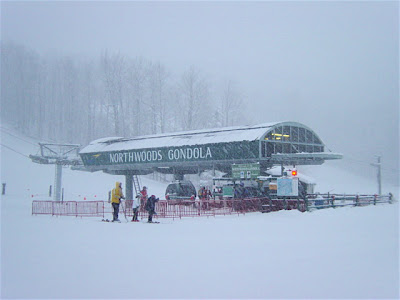 I went in and got my gear on. It was about 8:10, and I was yammerin on about something to some poor soul. The Gondi light went green, I excused myself and got my self into a cabin.
Over to Foxlair hoping to "bomb the gap" to Showcase. Surprising with all the new snow, I did it with speed to spare. Nice surface on the way down….groomed with a few inches on top.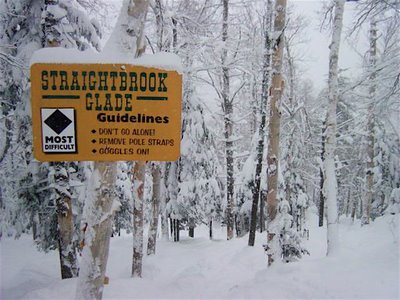 Next Gondi to the top, summit ropes were down. Pine Knot and into Pine Brook. Pine Brook was the only spotty coverage I saw all day. It had been hit hard yesterday. Scratch.
Up the Straightbrook, working 'em in order. Upper Chatiemac to the Straightbrook Glades. Sweet first tracks.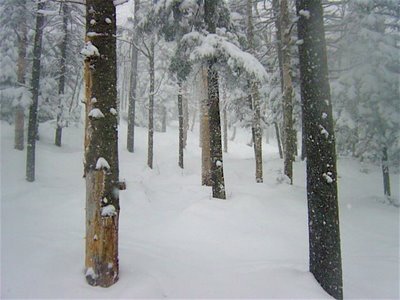 Then Hawkeye to Chatiemac to the Chatiemac Glades. Not first in, but very nice.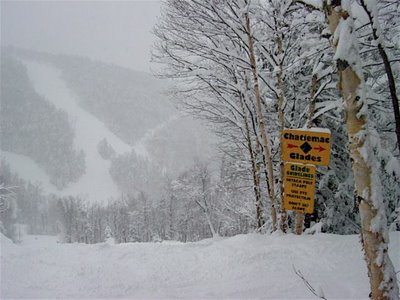 Then Upper Chat to Lower Hawkeye to Double Barrel Junior. This is one of my favorites for pitch, bump configuration and snow quality. And it can really take a pounding and still ski well.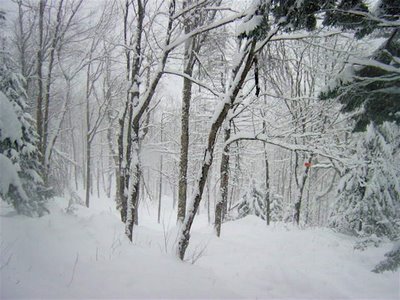 Back up to the top, skated over to the Dark Side and ran into Steve C and his crew. They were pondering taking the plunge down to the North Chair. Together we hit Hullabaloo. As it has been for a week…good coverage except for the headwall. Let's see, how can I say it…I did a somersault over the edge and came up ok?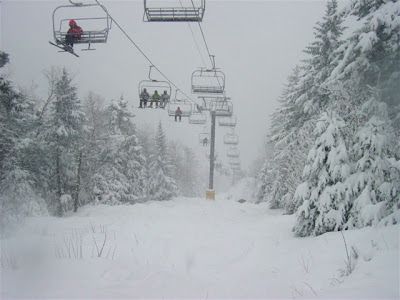 We bombed Wood Out and didn't really have to work to hard to get down to the North Chair. Back up and into the Tahawas Glades. I couldn't get a shot of Steve -he didn't have time for a photo shoot. I did get this guy meadow skipping his way down: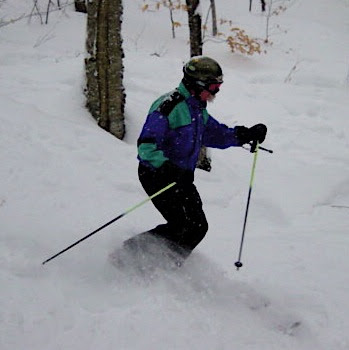 Steve's crew really wanted to see the new BRQ terrain…and I was content enough to do multiple laps on Tahawas. It was really perfect for tele in there. If anyone was doing telelaps in Tahawas today, I'd love to hear from you. Best conditions I've seen in there in a while.
Took a break in the saddle to defrost and have some cocoa. I knew I hadn't done Echo yet and tomorrow was going to be a short day. I figured, I'd better do it now, and end up back at the summit at days end. Hopefully the ongoing snow would continue to pile up.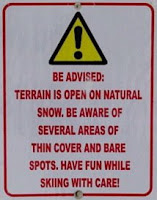 My plan was to hit Echo, so I could say I did it, and to see what it was like. It certainly looks interesting from below. But as I was flying over the top of Sagamore in the BR Quad, I had to do a run on it.
It was a good decision. Conditions were great. It was dumping, there was no wind and really no people. I didn't see any thin cover.
Sagamore is really unlike any other trail at Gore. It goes on and on….reminding me more of Whiteface than Gore. I'm starting to think that the new pod is going to be a great addition to the mountain.
Me and this guy had it all to ourselves: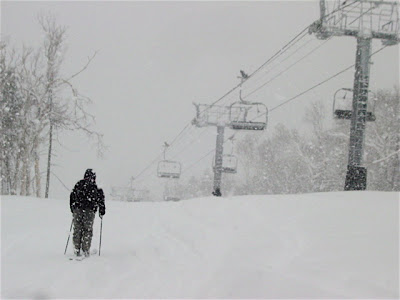 Next lap was going to be my Echo. I came zooming around the corner and it looked like a death march. I sidestepped back up to the top and took Hedges back into the trees and up the North Chair.
Down to the Gondi…the place was really empty now. I had a cabin all to myself: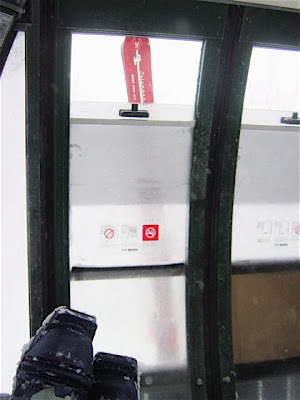 Down Pine Knot…back to the summit for greatest hits…Straightbrook, Chatiemac, Double Barrel Junior… down Tannery …up Topridge. I made a break for Twister hoping I could get to the Glade before Skipat shut it down. At 3:45… it was still open. Probably due more to limited patrol manpower than anything else.
Picks of the Day had to be my first tracks in Straightbrook, Sagamore, Tahawas Glades and Twister Glades. Twister Glades were surprisingly good: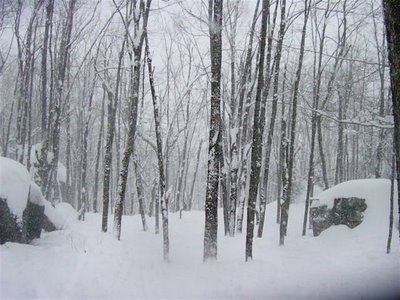 Actually it was all pretty sweet. Back to the car…here's what fell…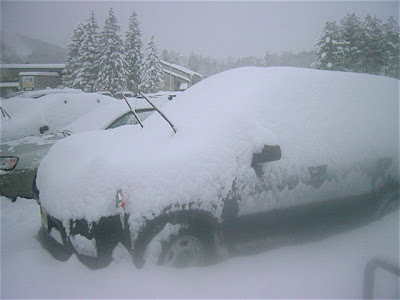 I'll go with the 12 inches Gore posted and add it to the MegaTotal. Anyone skiing tomorrow? I am. Better get while the gettin is good.