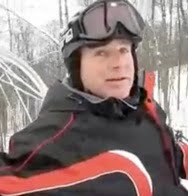 January's Interview with Mike Pratt was one of the most widely read pieces ever published on NYSkiBlog. At that time, he promised to allow us to follow up in the offseason.
I had a chance to connect with Mike this past week on issues related to Gore, the ORDA budget, summer projects, the rebirth of Little Gore, parking and of course snowmaking.
---
NYSkiBlog: What projects you are working on this off-season?
Mike: We're performing our annual maintenance on the lift grips and line machinery.
We're preparing for the Scenic Gondola rides and the Mountain Bike operation with some new, exciting terrain. We're making trails easier for the cross country bikers and giving the downhillers more options. We will be opening Sat and Sun May 22-23 and 29-30.
And we're working on the new bridge over Roaring Brook – back filling and preparing for the deck installation. We'll accelerate construction after we complete our annual maintenance.
NYSB: There are rumors that budget issues may affect the planned opening of Little Gore. Do you still think the Ski Bowl lift will operate in 2010/2011?
Mike: Yes, I do.
NYSB: What are you hearing about the NY state budget process and its impact on ORDA and Gore?
Mike: The NYS budget situation is not good no matter how you look at it. ORDA and Gore are continually analyzing and evaluating our operations and watching our expenses.
NYSB: What are the plans for paid parking next year? Will it continue? If so, what modifications will you make based on this year's experience? Will you publish a paid parking schedule in advance of the season?
Mike: There will certainly be paid parking again next year. The schedule will be similar to this year: weekends and holidays. And we will publish an official schedule before the season.
NYSB: What is your feeling about leaving more trails to bump up? What trails do you think would work as semi-permanent bump trails? Would you consider a low angle trail for beginning bumpers?
Mike: We are not against having moguls. The permanent bump trail concept is weather dependent. If you remember Sagamore two seasons ago, the bumps were great, but the trail was closed more than it was open. If grooming opens a trail, we'll groom it. We want good snow on our trails; whether it's bumped or groomed.
We have allowed extended moguls on Chatiemac, Hawkeye, Rumor and Lies on the summit; Topridge and Fairview on Bear; Sagamore on Burnt; and the Arena, Little Dipper and Quicksilver on the East Side. We'll continue to offer bumps when it makes sense.
NYSB: We've heard that the requirements for racing dictate the use of Twister or Echo. Is it possible to use other trails for racing?
Mike: Topridge is certified for upper level Slalom. Twister is certified for Slalom, Giant Slalom, Super G, and entry level Downhill. Echo satisfies the standards for Slalom and Giant Slalom. We'd need to widen and modify other trails for them to use them for racing.
NYSB: Does topography allow for a traverse through the bottom section of Sagamore glades, making it easier to access the BRQ? Would it be possible to keep the race course above such a traverse?
Mike: The topography doesn't allow for traversing to Burnt Ridge.
NYSB: This was a tough year with less than average natural snow. (We counted 120 inches of snow this year vs Gore's seasonal average of 150). In our interview last January, you indicated that the current limit on snowmaking was pumping capacity.
Are there current plans or a timeline for upgrading Gore's pumping capacity to keep pace with terrain additions? Any other upgrades to snowmaking planned for next year?
Mike: The simple answer is that natural snow really makes a difference – especially for expert skiers. Generous natural snowfall allows us to target the steeps without having to work across flats.
We are always making behind the scenes improvements to the snowmaking system that allow for better production.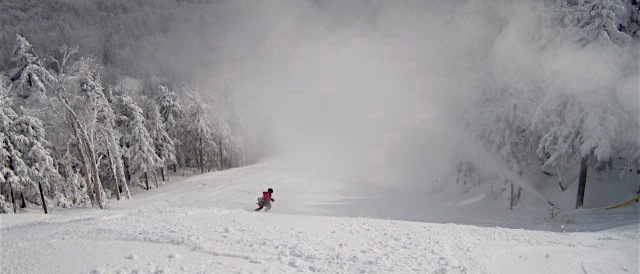 NYSB: Can you tell me what will happen this summer on snowmaking? Any new guns?
Mike: It's too soon to claim more than modifications and efficiency improvements. But, I hope to be able to give you some news on this soon.
The next big capacity increase will require more pumps. And we'll need to modify to our intake manifold and a transformer to feed a new motor control center. This is all a coordinated process that we are working towards, but I can't commit to a time frame now.
NYSB: Last January you told me Gore can blow 15 acres of snow, a foot deep, in 24 hours. What would it take, and how much would it cost, to double that to 30 acres?
Mike: The improvements described above will allow for that type of dramatic increase. Ultimately, an investment of at least $1.5 million is required. This includes intake, manifold, pumps, starters, electric service, etc. Some of that can expenditure can be stretched out, but much of that money would have to be spent upfront.
NYSB: People REALLY want to understand why Gore would expand terrain without adding more pumping capacity. Does the money for terrain come from one place and snowmaking from another? Is terrain more marketable than snowmaking? What is the reasoning?
Mike: Terrain does market better. But that's not really what this is about. When we had the chance to develop Burnt Ridge and reopen the historic terrain at the Ski Bowl, we took it. I don't know too many other mountain managers who wouldn't do the same.
We continually analyze our carrying capacities to match and balance each. This is why we didn't build the new parking lot "F" until after the Northwoods Lodge was in place. I think we've done a good job of sequencing modernization, increasing capacities, and expanding. We continually challenge ourselves by creating the next limitation.
Our last increase in pumping capacity was 3 or 4 years ago. After this season we'll have expanded close to our legal terrain/lift limits. Going forward pumping capacity is a huge priority.
One important point about the addition of Little Gore Terrain: The Ski Bowl trails, will be fed directly from the Hudson River Pump House,  so the additional pumping requirements are already accounted for.
NYSB: So you're saying the pumphouse at the river will handle all the snowmaking for the Ski Bowl, and Little Gore does NOT add to the load on the upper mountain system?
Mike: That's exactly right. We have two separate pump houses: One down at the Hudson and the other right below the North Quad. We can run either system independently or both systems in series. The upper pump house can be supplied from our reservoir or the river. The reservoir refills naturally, but we use the river to replenish the reservoir when we are blowing at full capacity.
NYSB: Mike – I think this is an important point. It means that adding the Ski Bowl terrain is a no brainer.
Mike: Yes, the Ski Bowl trails, including Eagles Nest, will be supplied directly from the river.
NYSB: How much of the new terrain will be piped for snowmaking for this upcoming season?
Mike: Eagle's Nest, Oak Ridge and Peaceful Valley will get plumbing this year. It's also possible that 46er will also have snowmaking this year.
NYSB: Midweek terrain continues to be an issue with passholders. Personally, I like the idea of committing to the High Peak chair on Thursdays or Fridays to try to capture more destination skiers. What do you think about this idea?
Mike: It's a good idea. We'll consider anything we can do to get people to extend their stays. We work with over 90 properties now and are trying to grow our passholder base, as well as our destination business. The promotions we have target slower (mid-week) days. We really try to work with local lodging to make North Creek a great choice for winter vacations.
A thread on the SkiAdk.com Gore Forum was posted to collect suggestions to improve the mountain. Many good ideas were posted, but based on the budget situation, I'm going to limit the following list to those that have little or no additional cost. What do you think about:
Suggestion 1: Running paid parking perpendicular to last year's alignment to allow early birds to park close.
Mike: The one way loop works really well. We are discussing shape and impacts, but, in my opinion, compared to other mountains, all our parking is close to the lodge.
Suggestion 2: In/Out signs on the double lodge doors to reduce confusion and congestion.
Mike: OK, I haven't heard that one before. We think the changes we've made to the base lodge in the last two years have really helped the flow through the lodge. The next big improvement for the traffic patterns in the lodge will be moving the BBQ off the other side of the patio, expanding the northern vestibule, and installing a second set of double doors. This should happen next summer.
Suggestion 3: A separate lounge for racers – like the newly opened area in the bottom of the lodge – to reduce congestion on the main floor.
Mike: The front area congestion is something we are trying to control. During race registration, we will do a better job of communicating where to congregate. We need to work with big groups too.
Suggestion 4: A "kids glade" next to Wild Air or Showcase.
Mike: Wild Air it is.
NYSB: You're going to do this? That would be very cool.
Mike: Yes we'll do it.
NYSB: We noticed you posted our revised trail map a few days ago. It's got BarkEater on it, another huge glade, that may be second in size only to the Cirque in the state. It's a beauty.