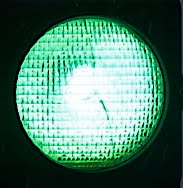 I wasn't anticipating Ski Day 1 when I woke up this morning in the flatlands. The plan was to have a relaxed drive. Get some lingering pre-season chores done. I had definitely wanted to stop in at Gore, and even take "a run." But I wasn't going to call this opening day. Opening was tomorrow at Whiteface.
On the drive up, it snowed pretty hard at times. I did a successful test of NYSB's new mobile posting capability when I posted a pic of a squall from the rest area just south of Albany.
I got to the mountain at 2pm. The improvements to the main lodge looked really good. There's more space, and the bathrooms are all done. So smart to put the Showcase Shop up front. It's really nice inside, with a deluxe view of the mountain.
Goals for the day were to pick up my daughter's daycare pass, ride the Gondi to check on snowmaking, head back to the cabin.
I started with the Gondi. I took my skis with me purely out of habit. I'm not a rail guy. Actually I was tempted to try the rail when I got up there…. but I thought, why end your season so soon?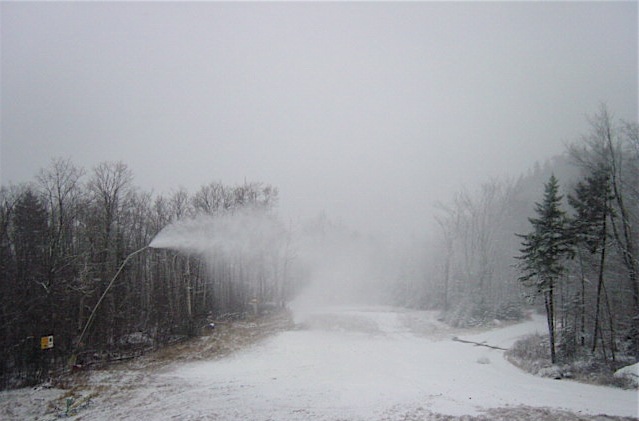 I could hear the guns blasting on Quick Silver, but I couldn't see anything. It looked like Wednesday's weather had taken it's toll on Sunway.
At the top, Gore had done what they could under very tough conditions. They'd staked out the top of Bear (3200′) and hammered it. It looked like Gore took advantage of temps on Monday and Tuesday. They'd hit the top hard and probably worked down Ruby Run and Sunway at night.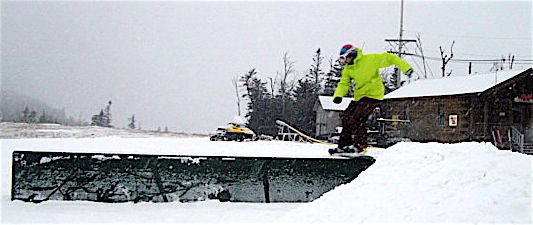 But they couldn't lay enough down to maintain T2B coverage through the rain. I think with cold temps tonight, lows in the teens …. they might get down from the Gondi for tomorrow.
I got to the summit of Bear.  Now I understand what a rail is all about. You can use a flat spot, like the summit of Bear…you just need a pile of snow to get a little speed to jump up. I guess I was thinking halfpipe. I haven't been paying attention in jib class.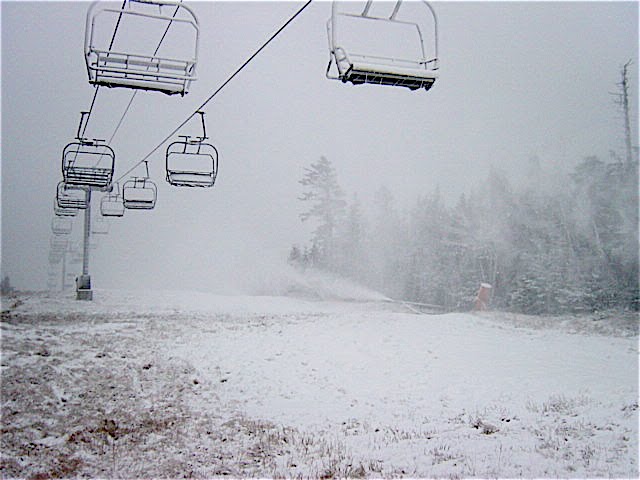 They were actually sliding off the Gondi unloading area, which is higher than the surrounding terrain, when there is no snow. I skated out to check out Foxlair, Topridge and Pine Knot.
The top of Ruby Run had the best coverage I saw. It was sucking people in. They'd ski over and some even skied down, and then walked back up. Love the passion.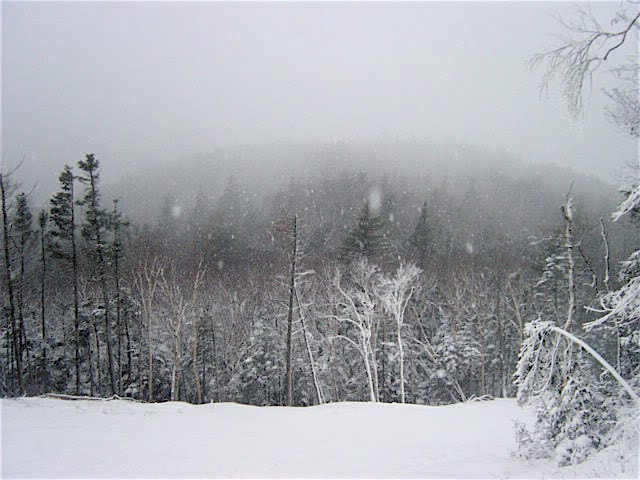 I headed down to check out Jamboree. Sunway Chair to the mid-station might be 250 vertical feet. I wasn't expecting too much.
Once I did a hut trip out in Colorado, and the guides were constantly teaching you stuff. But the only formal "drill" we ever did, was to ski without poles. It really helps you get your upper body together. For reasons not worth explaining, I was without poles today. While it felt weird, it was actually a really good way to start the season.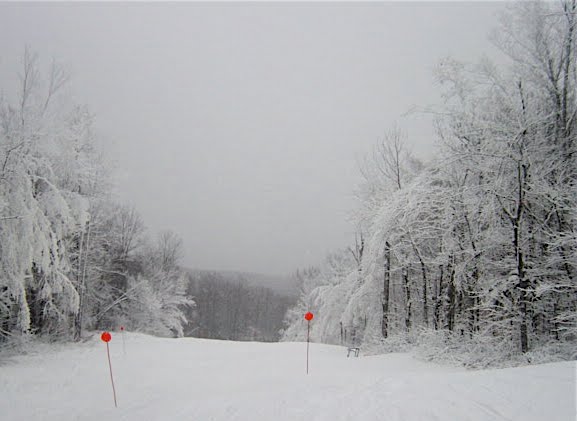 I did 6 runs on Jamboree. The snow was legitimate manmade mixed with some wet slushy in spots. If the run had been getting more traffic, it would have been icy. But it was pretty sweet. I was facing the fall line, arms forward, and having a blast leaping through the small moguls that had developed. The surface was really nice. I think I hooted once.  I saw a couple of telepatrols, they were lapping it too.
After seeing the FIS guys ski on grass with a few inches of natural on top, I'm starting to rethink my notions of proper coverage. Didn't hurt that I was on my TM22s, now my third string skis.
So I say today was Day 1. Five or six short but sweet runs. A winter feel with snow in the air. And a thousand miles from where I came from this morning. That was enough for me today. I'll be back on Monday.