I've gone into this season flat footed, not really ready in any way. Life was especially difficult this offseason and without significant blasts of cold air to focus my attention, my preseason prep was non-existent.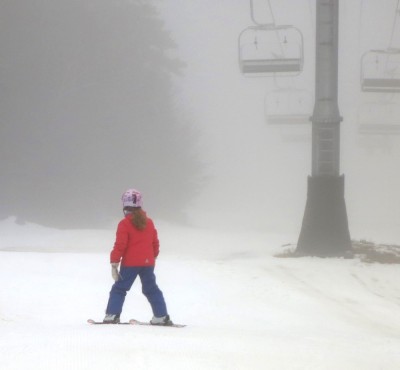 The car thermometer read 61 degrees driving up Route 28 towards Gore on Friday. I almost didn't care. One benefit to my lack of prep: I'd left my mountain bike up at the cabin, and it paid off. The trails were in great shape.  We rode and walked after we settled in.
Saturday morning was foggy up high in North River. The afternoon had the potential to get sunny and I wondered, for a moment, if we should wait to let things soften up.  As is my way, we headed over early and it was the right call.
Snow was carvable to a point from first chair, and it continued to soften with traffic.  You could see that the thinnest cover was not going to last all day.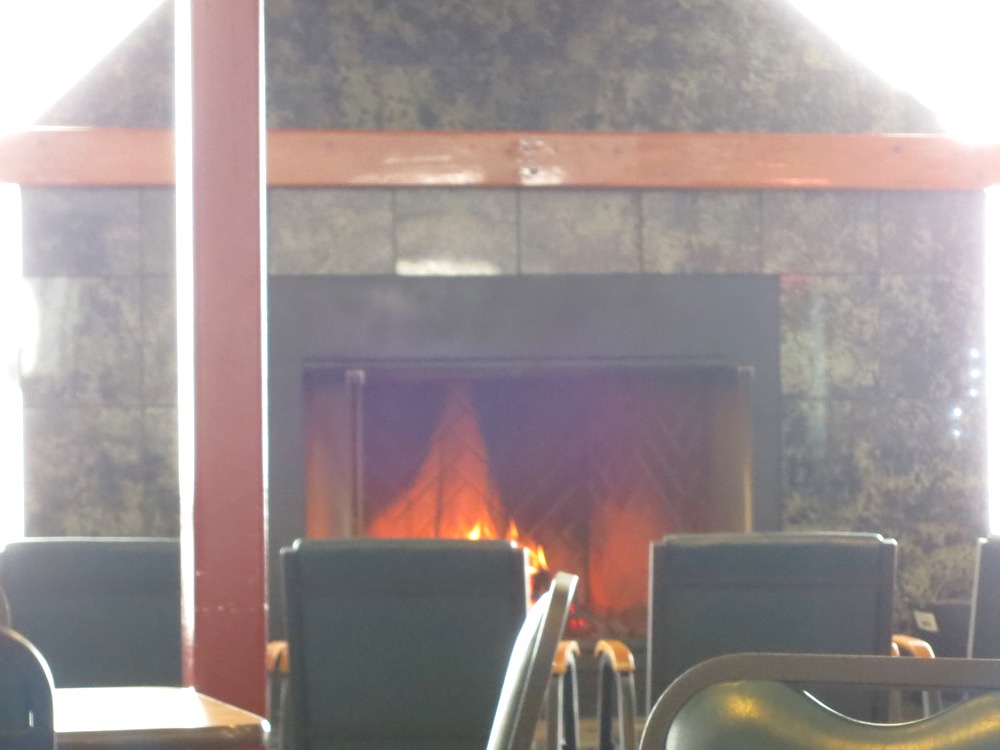 Neve rocked, skiing quickly, always ahead of me. We were actually skiing about the same speed, but my legs were jelly.  Too much work and not enough exercise has left me with some work to do.  Neve was frustrated waiting for me.
If you can only have one route down at Gore, I love the choice of Showcase. It's the shortest distance from point A-to-B for snowmaking, with lots of vert. It's good early season terrain.
By mid-morning there were some bumps developing in spots with taters all around. I was really whipped by noon. We skied seven laps which is just about 10k of vert and called it a day.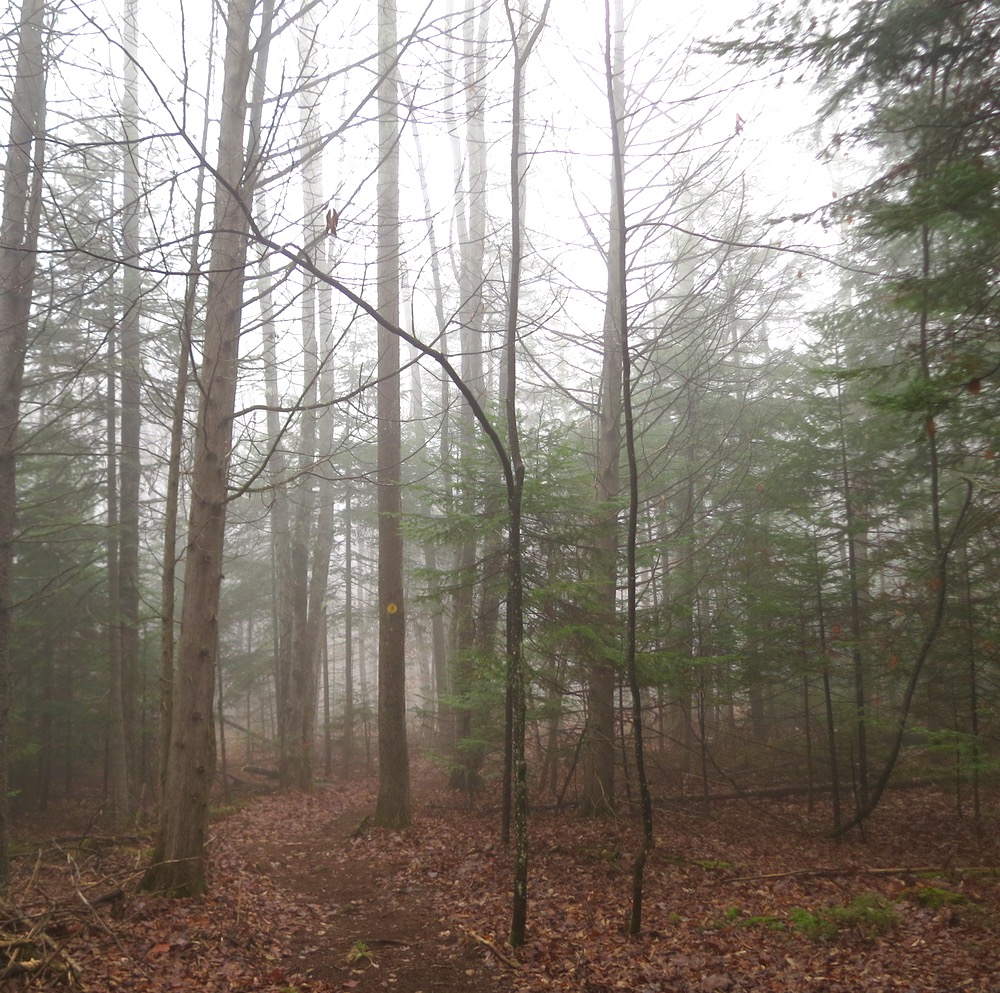 I couldn't help thinking that the mountain biking would be really good back at the cabin. Plus there was some newly downed stuff that I wanted to clear before the snow fell.
The fog never really lifted during the daylight hours, but it was great to be out in the woods.  We had dinner up at the lodge and came home to an early night's rest.
Temps were finally dropping, but still it seemed that we could get through the night with only a small electric heater. At 8:30 I got word from the mountain that snowguns were lit, but not all the way to the base.  It was 28 degrees and still pretty humid.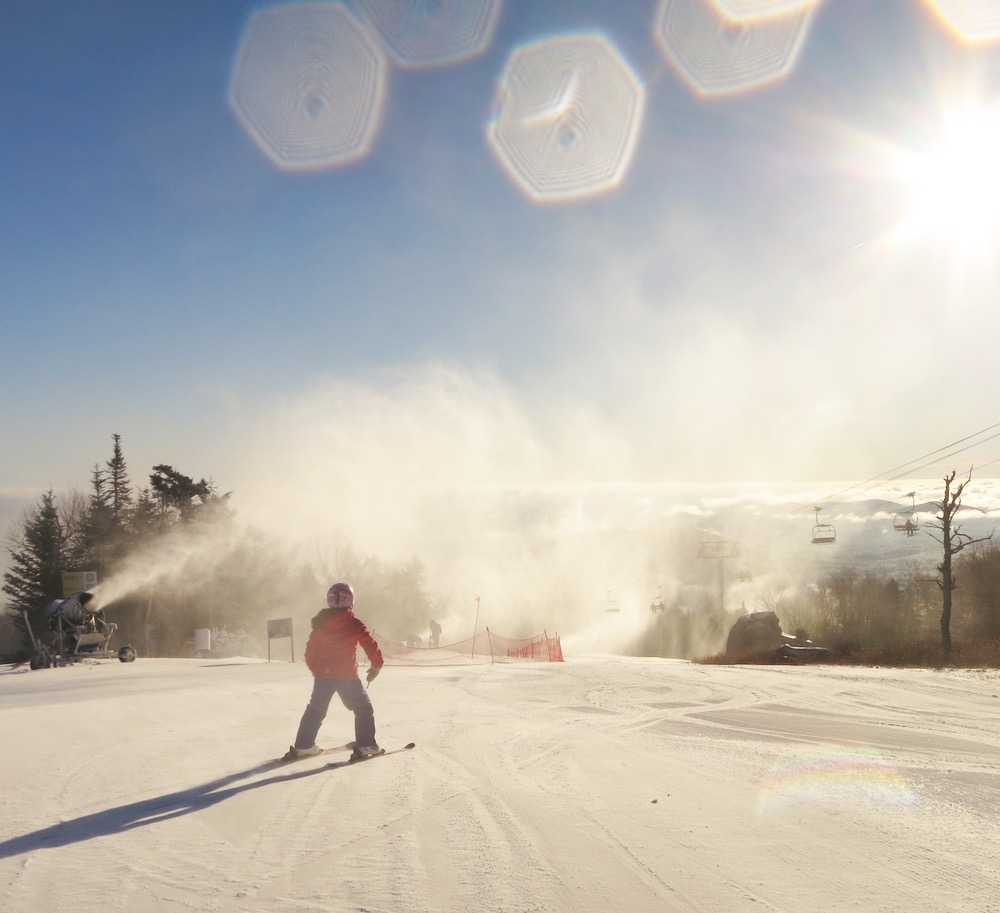 Neve was gungho for another early start and with Sunday being a travel day, it's a no brainer to head over as soon as the coffee is done.  The morning was clear and cold, and it was fun to come around the big curve on the access road and see the manmade cloud of snow rising from the East Side.
The skiing was pretty good in spots. It was especially fun to slarve through the relatively dry powder that was coming off the big fan guns positioned in the saddle.  Things were gaky in spots down below and after an initial digger, Neve really got the hang of staying upright.
While conditions could fairly be called marginal, it was great to be out. From a personal point-of-view it was great to see Neve thriving, unafraid, confident and happy. Regardless of what El Niño brings this season, we'll be skiing the east.