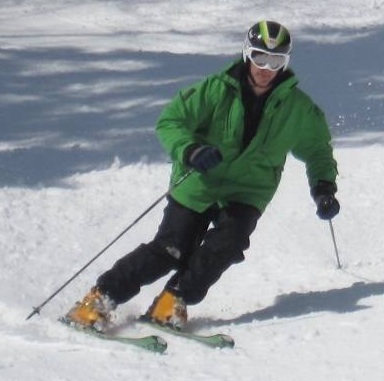 This morning started partly cloudy and 18 degrees. The sun was flashing in and out until about 10am, and then the clouds moved in.
Our first 4 runs were on Gore's famed Front 4 – Twister, Showcase, Sleighride, and Quicksilver. They were midwinter groomed with some sweet corduroy. Skiing was fast and empty. There was a huge uphill wind on all sides of Gore. I hit Chatiemac and it was still all cord.
Next stop the Darkside. Lower Stielhang, Hullabaloo, and Lower Darby were in excellent shape and had not been skied off. The bottom of the High Peaks Chair was one of the few places on the hill where the wind was quiet.
On the Straightbrook side, Lies was junky at the top. We hit Hawkeye twice. It was skied off with a coating of chalk.
Into the Saddle Lodge at 11am for a Clif bar and some water. I was back out in 15 and pounded the lower mountain until 2pm. The lower 1/3 was starting to soften.
There were a lot of kids on Wildair, and there was a photographer with some strobes shooting the jibbers.
I took my last run down Topridge and it still was firm. The temp was 24 degrees and windy. Today wasn't as good as yesterday, but all-in-all a good weekend. I guess I'd rather ski frozen granular than stay home.