I should probably call today Ski Day 1. Some big firsts, for our family. Our daughter Neve had her first real day on skis. Zelda had her first Day on alpine gear and her first day of the season. For us it was pretty exciting.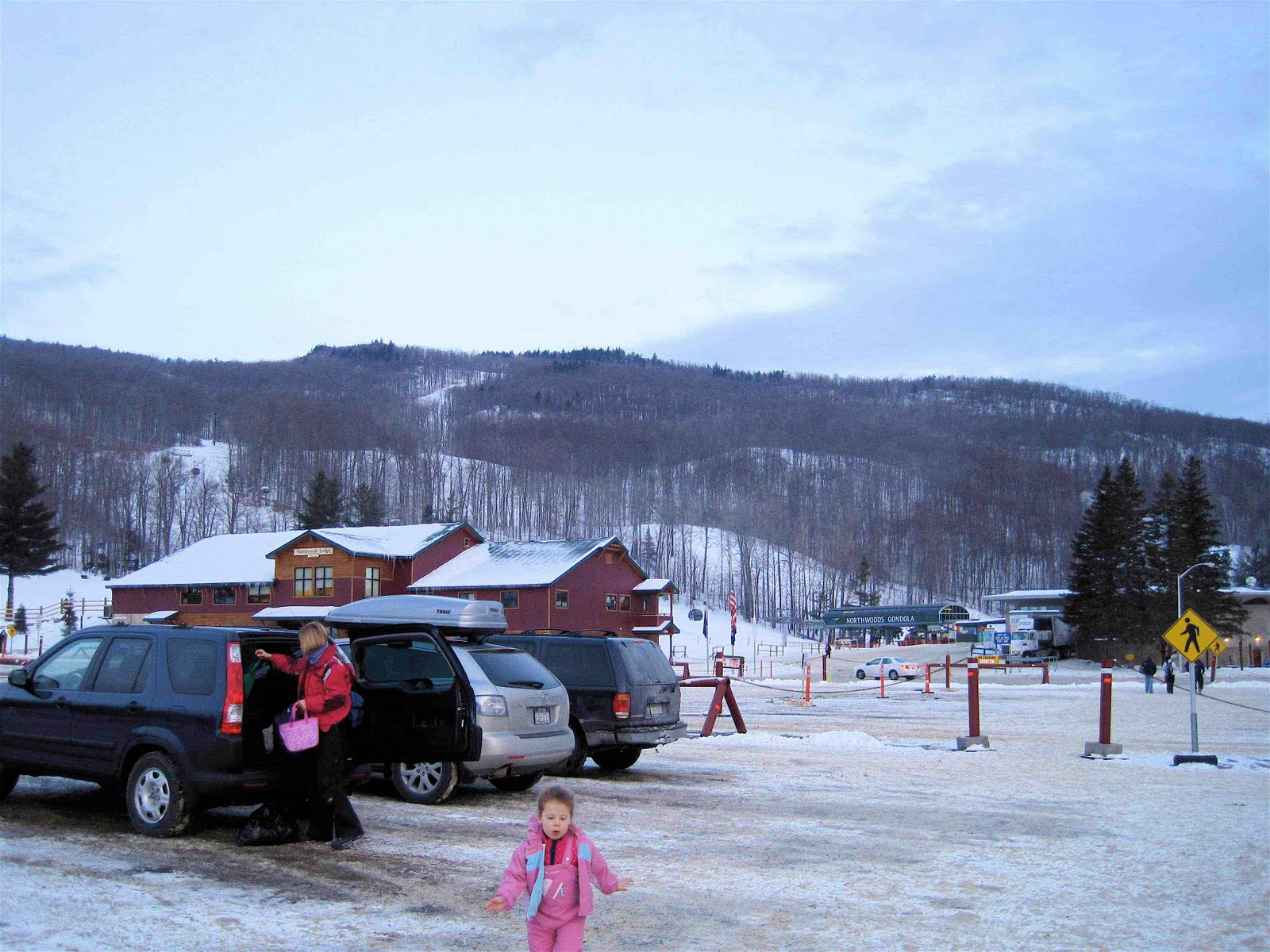 I really don't want this entry to be about paid parking, but I do have a few things to say. Essentially what paid parking has done to our day is move it up by about 45 minutes. We really wanted to have our gear and car close at hand, so we left for the mountain at 7:00 am.
To make this possible, we decided to have breakfast at the mountain instead of at home. It was amazing how much I relaxed once we parked around 7:15. In the end it paid to be "upfront." I counted 5 different trips to the car.
We told Neve we were going to a restaurant for breakfast. She said "you don't go to a restaurant for BREAKFAST!" We had two breakfast sandwiches and three OJs for about $20 bucks, Oddly I have no problem paying a hefty premium for food. I'd definitely rather buy breakfast the ten dollars for more convenient parking.
I would recommend to Gore that they open food service earlier. The parking is clearly driving some people to come in earlier, and I wasn't the only one trying to order breakfast before they were open.
We met BJ – Neve's instructor – and all around great person – in front of the Northwood's Lodge at 8:30. Neve got shy, but BJ did a great job bringing her out. I was pretty nervous about the lesson. I kept thinking .. if she likes this … I'm GOLDEN!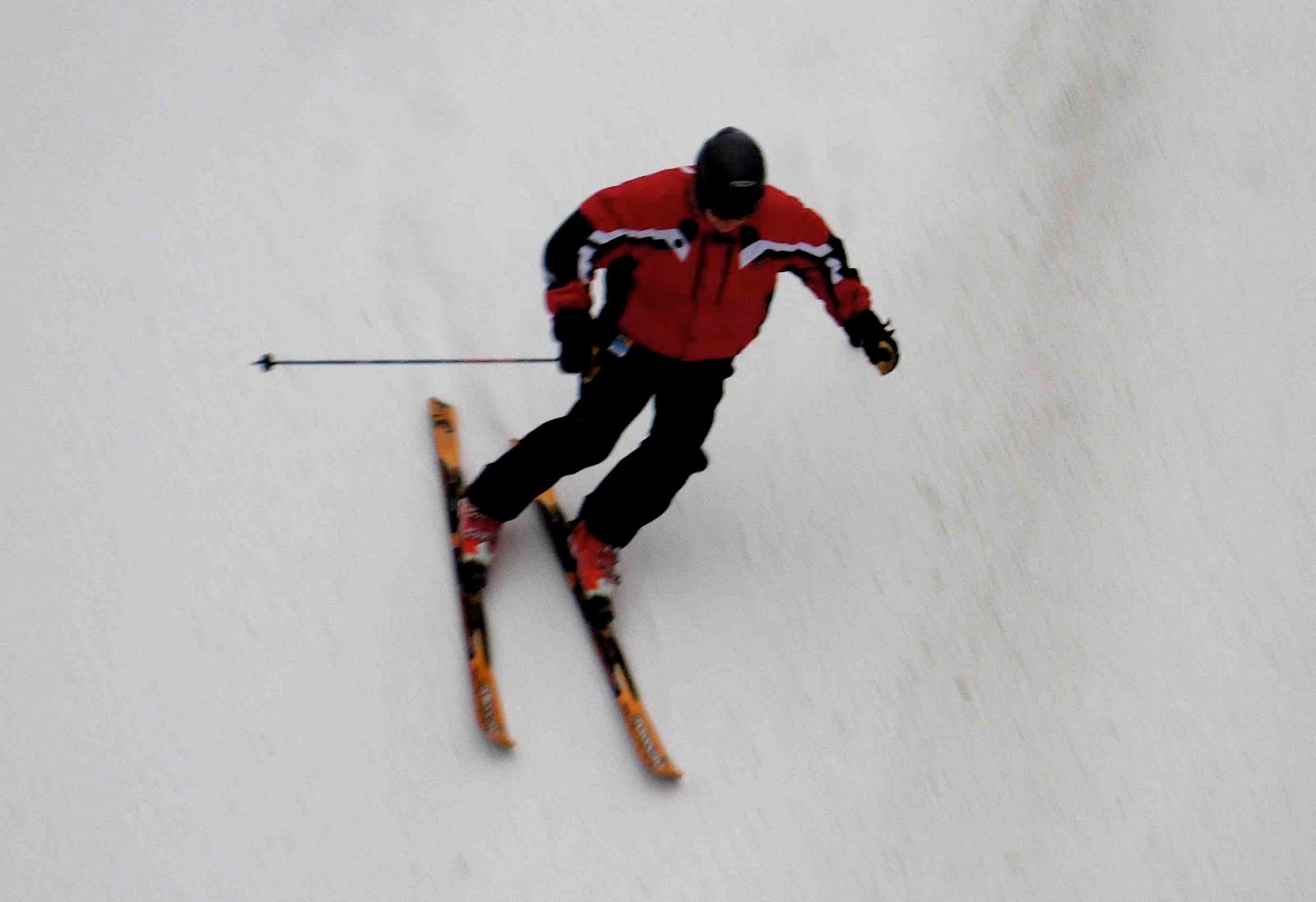 Zelda stayed to watch the lesson and I headed for the Gondi. Gondi had been green for about 15 mins when I got on. Surprised to see no line. Could have been in a cabin by myself.
Foxlair had really good snow. The had the webbing extended so far down Sunway, that there was no way to cruise it up to Showcase. Sunway also had very good coverage. QuickSilver had it's moments of soft manmade and bulletproof.
Zelda and I agreed that I'd do two runs and then reconnect after our daughters "30 minute lesson." Second run, I went straight to the Adirondack Express to save time. Under the chair, some good skiers were ripping the corduroy.
It looked like Twister was open, but no… I was redirected to Sleighride. In all my years at Gore, this was the first time I ever rode Sleighride with no park features on it. I cut over to Wild Air, interested to see the new park and maybe run into tBatt. The best manmade snow on the lower mountain is over there right now. The park looks cool to me, but what do I know. Later in the afternoon I hit the jumps that are next to the rails, and stuck a few landings.
At the bottom of my second run, I headed back over to the Northwoods Lodge and Neve sees me. Daddy! Daddy! You have to watch me! Then if I tried to help: No! No! I can do it myself! I'm telling you the kid has balance. For real.
After her lesson she DID NOT want to go the Bear Cub Den. "I don't WANT to be with the babies. I want to ski!" It was hard leaving her.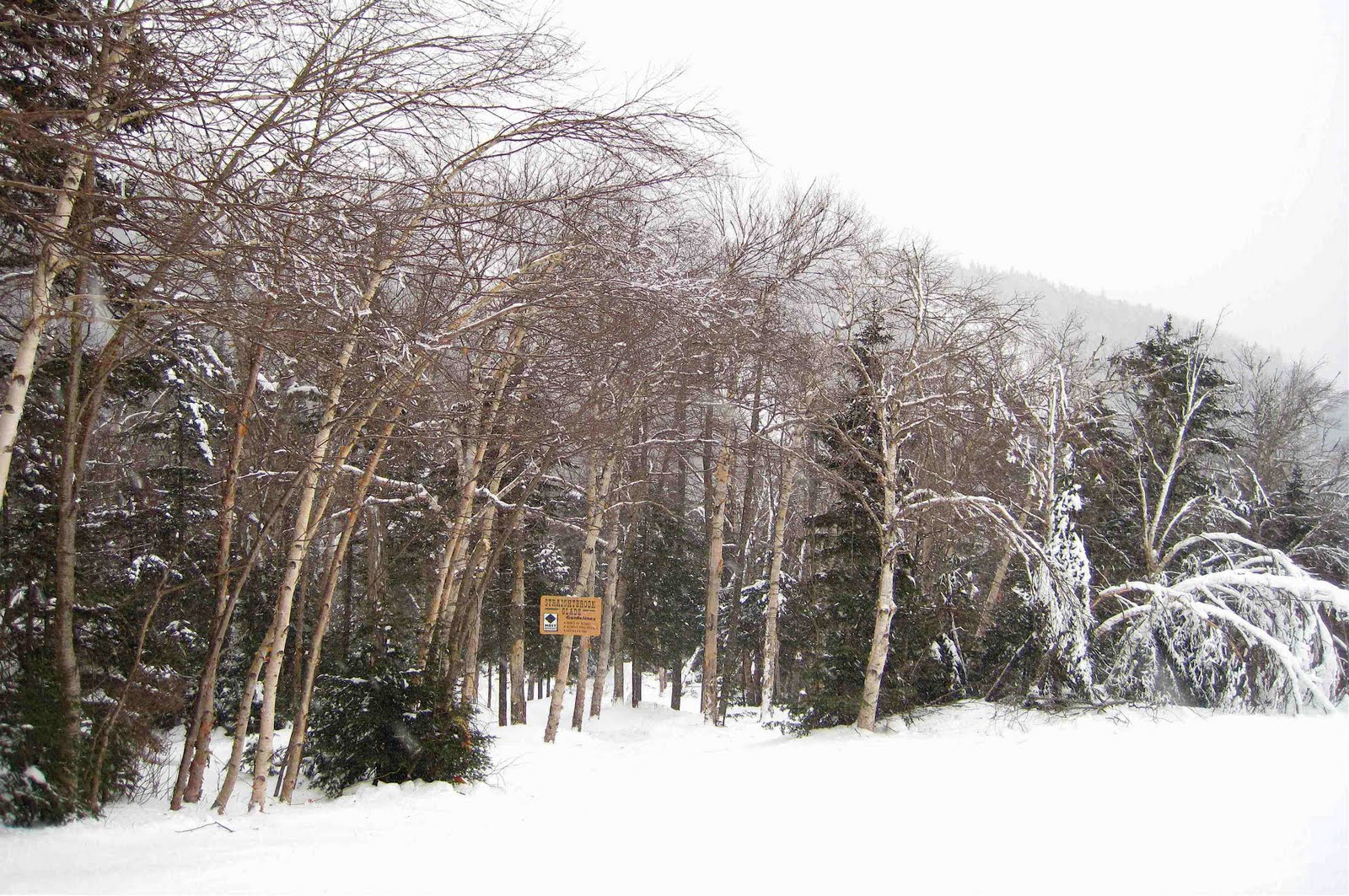 Zelda was on her new gear and we did some more lower mountain. On the lower reaches of Sunway we actually found two inches of untracked which I didn't really understand. Last snowfall was at least five inches, maybe more.
I'm ready to admit I'm a bonehead for not putting Zelda on alpine gear sooner. She was immediately a better skier. Her weight was back, she was much more upright and in a much better, vertical body position.
We decided to go up top. Pine Knot was in pretty good shape, but you could tell it would be a tough stuff by lunch. Up the Quad and we hit Chatiemac. The Chatie headwall was borderline between hardpack and something harder. I knew we wouldn't come back.
I recorded the moment of my first entrance in the trees this year.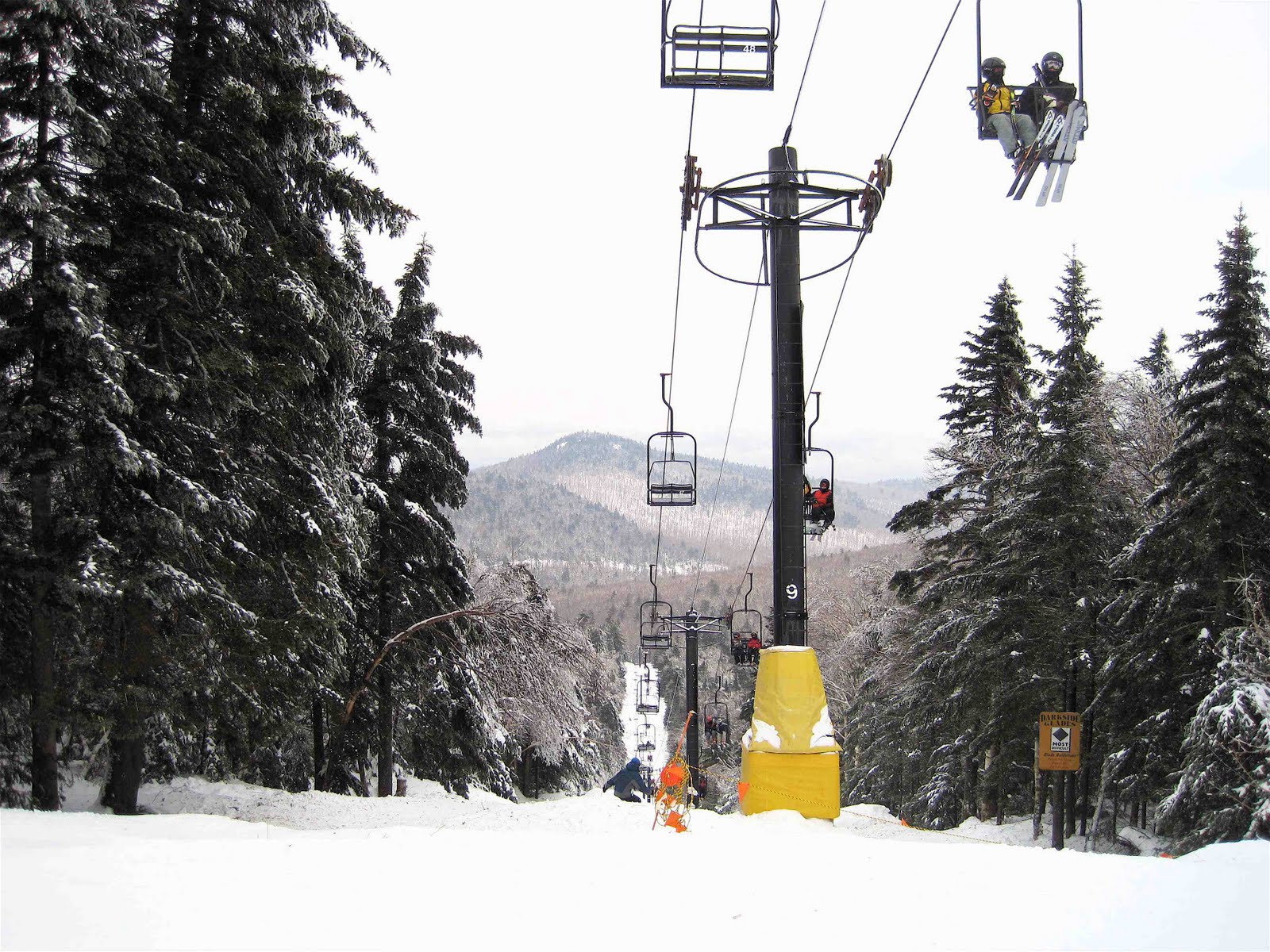 The trees were really tough. I mean I was doing it. Hitting my spots, and skiing without much regard for my bases. If you aren't going to ski that way, you got no business being in there. I feel like I am rocking on my new stiffer boots.
I give Gore credit for opening the trees. Straightbrook, Cave, Dark Side and KHS really made the day more fun. But they should be marked with Double Black Diamonds right now.
We moved over to the Dark Side. Upper Cloud needs more snowmaking asap. The gentle pitch was clogged with crashed and crashing skiers.
CB skied Cloud to Santanoni. I knew Darkside had only one day of skiing on it. I was hoping for better cover than I found in Straightbrook. It was better, but you had to be ready to dance the crustbuster. It was funner than hell.
I hit KHS. It had the best snow, the best coverage, the fewest tracks. One last morning run … Cloud, Headwaters, Tannery, up the Topridge Chair. The only snowmaking I saw all day was on Uncas.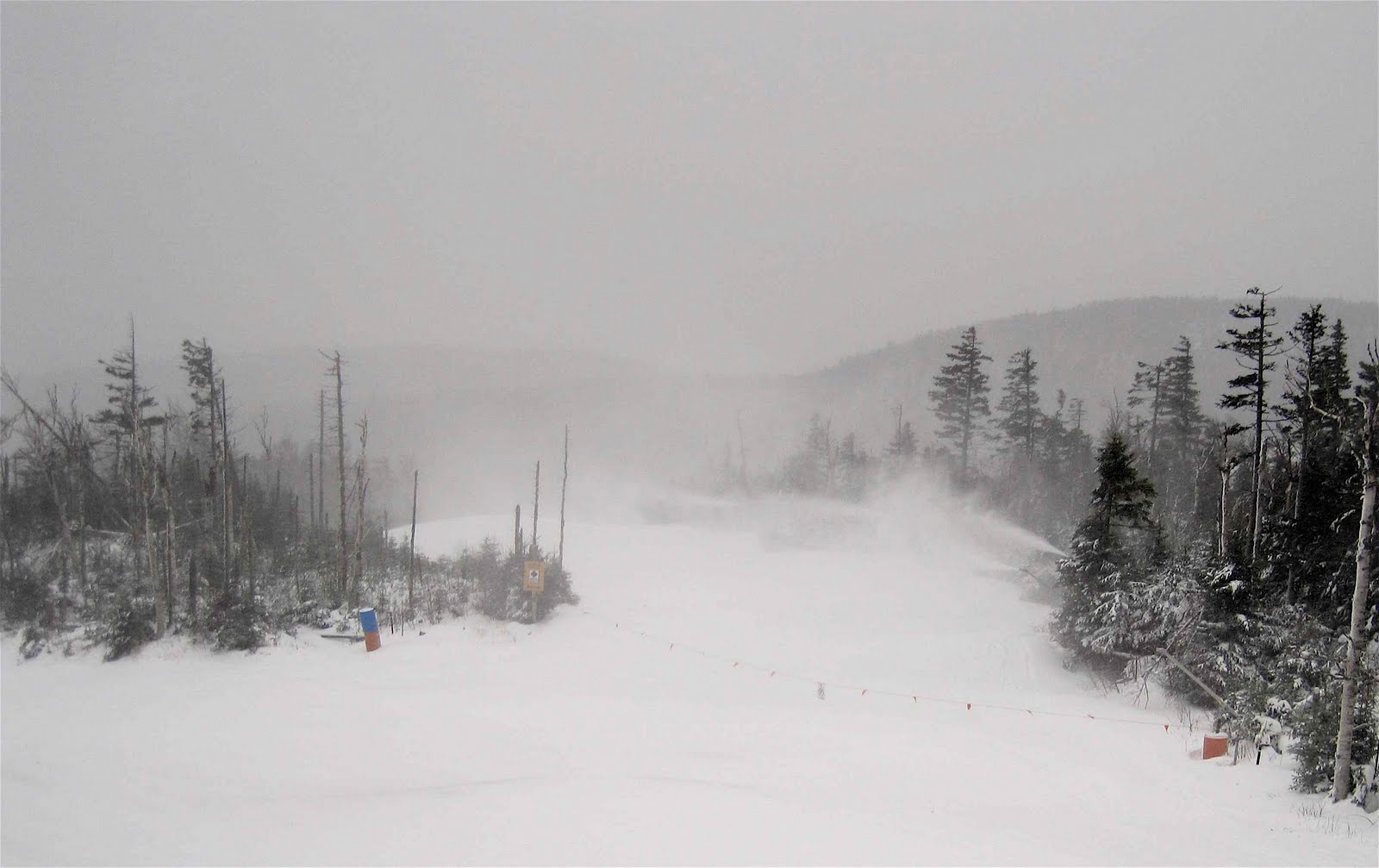 Into the Saddle for lunch. It's not the same without Vickie. After lunch we did some lower mountain. CB hung it up at 1:30 and I hit the top another time. More DarkSide and KHS. I have to say while there was plenty of bulletproof around, you could ski soft snow if you stuck to the sides and the trees. A lot of the best snow was on the lower mountain.
Summary: Lots of hardpack and ice. Lots of good soft snow down the sides, especially on the lower mountain. Snowmaking on Uncas, and only a few other spots. Even five inches of new snow would really help the trees. One new piece of gear I hadn't noticed before … a permanently mounted fan gun at the Saddle.
As for my goals and expectations for the day, it was a home run.