We did the exact same drill as yesterday. Left the cabin at same time, parked in the same spot. I ran into Matty in the parking lot. He'd read my TR from last night. He showed me his rocks skis. He looked ready to do battle.*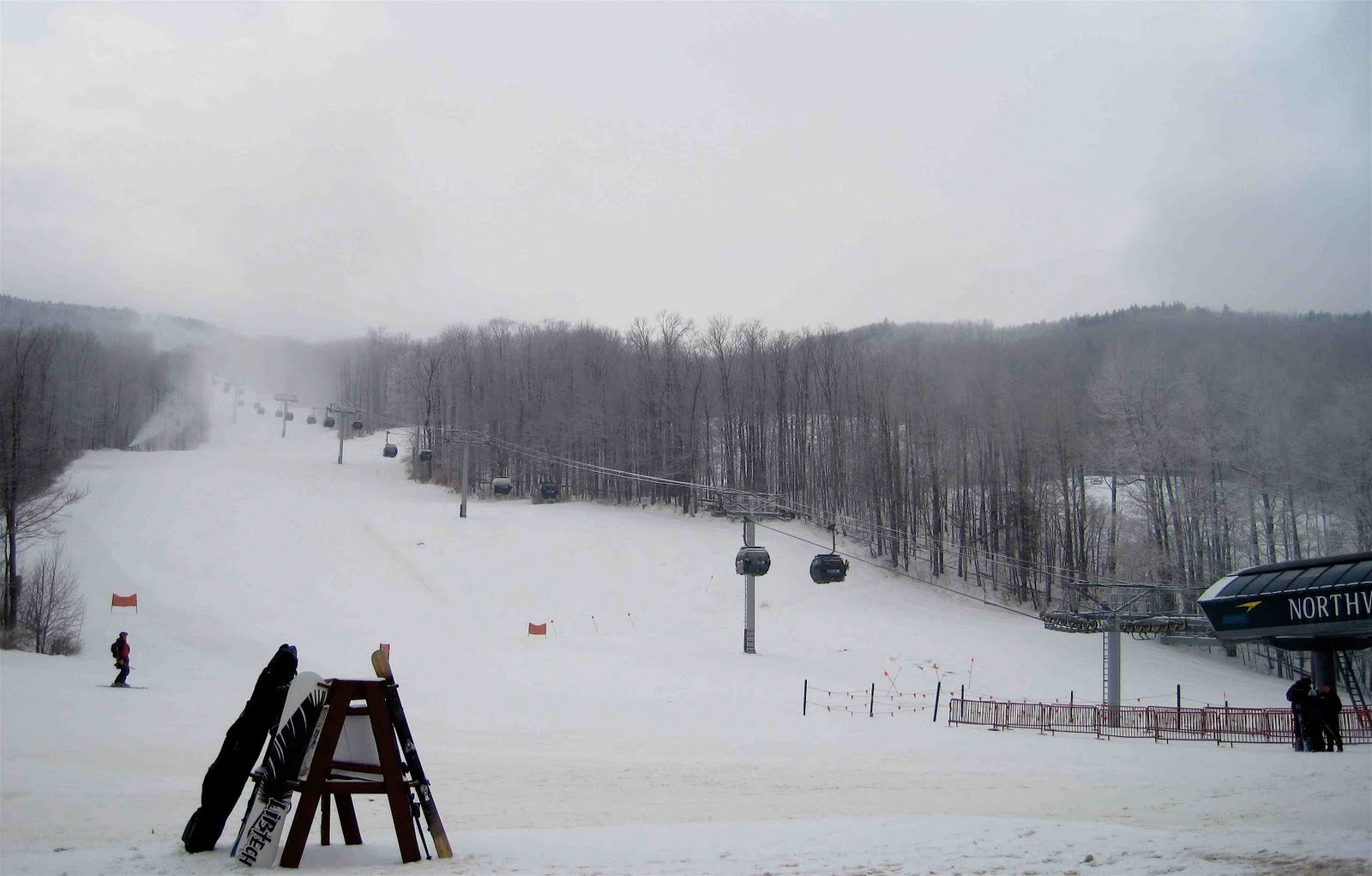 There was an attempt to put some fan guns in positions at the base in the morning which I thought was a nice touch. But the questions about snowmaking remain.
After getting our daughters lesson going, I hung out to watch and CB rode the triple to get some lower mountain runs. I figured I had time for one Gondi ride, if I came back down Foxlair to Sunway. Both were in pretty decent shape at this early hour.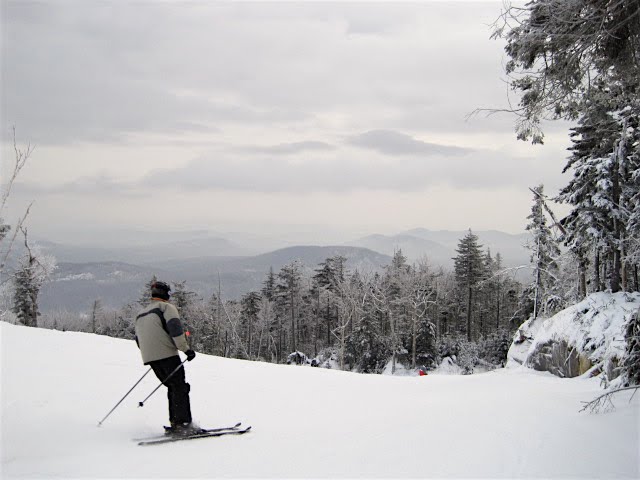 On Lower Sunway, I scored. Lesson was in progress and N riding the learning slope with BJ – she'd made it up the POMA lift. Yes! I got pics of the whole thing.
One more run on the Sunway chair, some crust busting on Twin Fawns, and down to meet the end of the lesson. After getting the Bear Cub Den thing delt with, CB and I met at the Gondi and headed up top.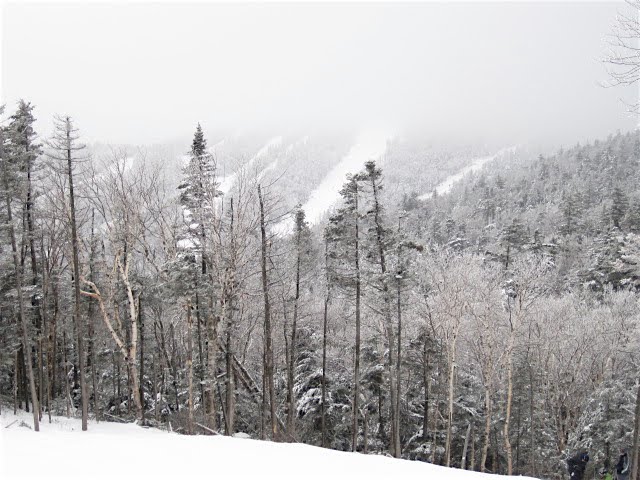 The whole summit was in a cloud for a good part of the day.
Chatiemac was borderline bulletproof in all the steepest sections. There was definitely some places to turn, but you had to be on the lookout.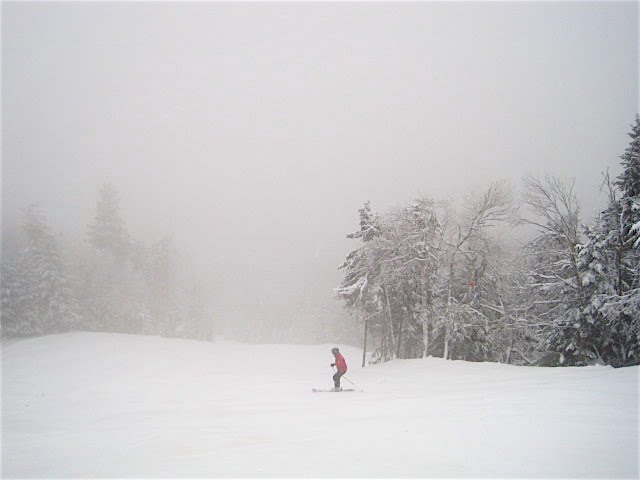 The Straightbrook trees had ok cover, measured on my new sliding scale, that assumes that things are getting thinner by the minute. Christmas week, not much new snow… it's a reasonable assumption.
We headed back up top and moved over to the Dark Side. Not much fell overnight. It was still a mixture of packed snow, crust with a few inches of powder on top, rocks, and twigs.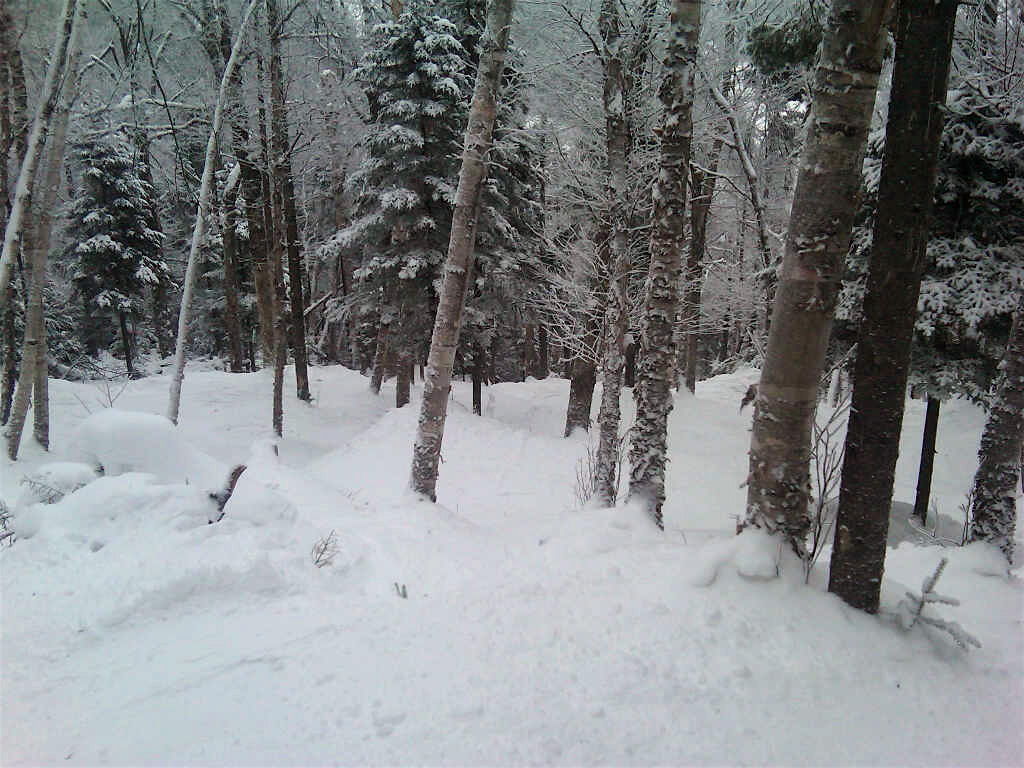 We hit Topridge and took a break for lunch. Had heard the bottom of Topridge was decent and from about halfway down on skier's left there was plenty of loose snow.
We took a lunch break. Saddle Lodge was deserted considering it was a holiday. After lunch Zelda and I did a run on Wild Air that was still sporting the best snow on the mountain. It was a highlight. She skiing comfortable down the right and me doing my Eddie the Eagle impersonation, hitting the kickers and sticking tele landings.  Plus there were some pretty good acrobats hitting the bigger jumps.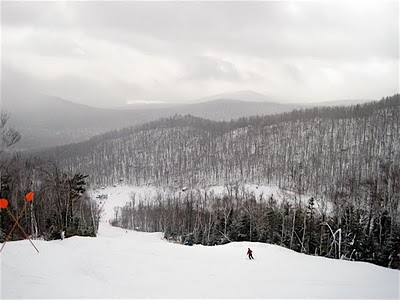 After we split for Harv's afternoon tree fix, I pointed down Wood Out and rode the High Peaks chair. As I went over the Dark Side entrance, patrol was shutting it down. I guess it just got too thin. I think it was around 2pm.
Up top, Lies was now closed. That was the right move too. While there was good snow below, the headwall was unskiable. There's more to this story but that's where I'm going to end it.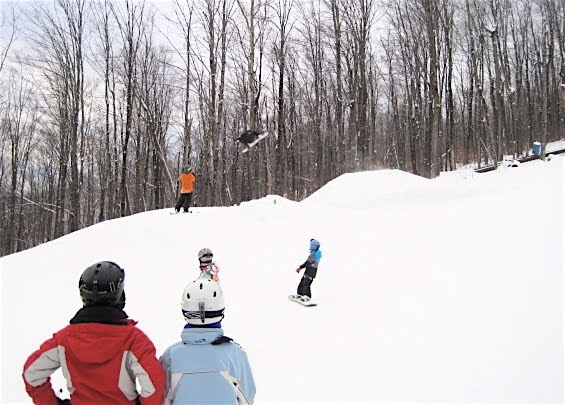 Summary: A few guns here and there plus morning time blowing on Uncas. No significant new snow to speak of during the day. (Had maybe an inch last night.) Surprising continued lack of snowmaking, and all KINDS of rumors about why. We need new snow. There is some in the forecast, but it doesn't look like enough.
I've got to be honest, I still had a great time. Based on conversations I heard, I could tell that people were not having the fun that I was.
I'm getting more aggressive. The added stiffness of my new boots is taking me places I only dreamed about last year. I had no fear in the trees, which were basically deserted due to the thin cover. I'm not saying it's elegant, but I am in the game.