Today was getaway day. I got everything loaded into the car and pipes drained by 7:30 – a new record. Made it to the mountain by 7:50. Plan was to meet Jeff in front of the Gondi at 9am.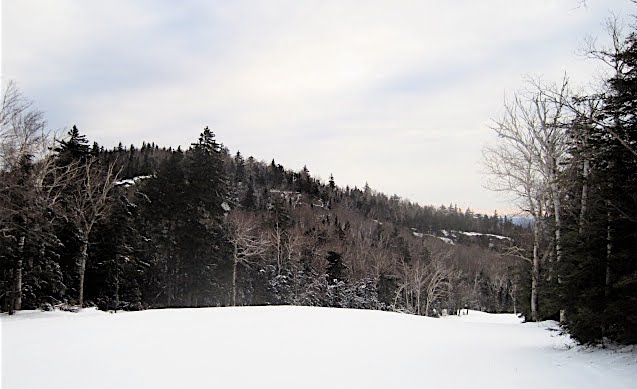 A couple of solo runs down the front, a Twister and a Sunway. I hadn't been on the trails up front at all yesterday. Twister, open officially for the first time was firm, but without ice. A few bare spots.
Jeff and I are living parallel lives. Two tele guys, with little kid(s), demanding jobs and understanding wives. We've got a lot to talk about.
We went up the Gondi, down Uncas to the quad, and hit Straightbrook and Chatiemac Glades. Uncas was excellent. From the looks of it from the bottom – much better than Pine Knot. Straightbrook was actually in better shape than Chatiemac.
Lies was pretty good on an absolute scale, but nothing like the Nirvana of the last few days. Dark Side proper looked very hard hit. Other less obvious parts of the DS were in better shape.
At the top of Lies we ran into EDeO, Powderqueen and the entire gang. I was getting ready to call it a morning, to begin doing battle with 87 and my return to real life in downtown NJ. The pull of the group was too much. We did a few runs off Headwaters. Conditions were definitely softer on some of the less popular stuff.
My fatigue from skiing bell-to-bell on both Friday and Saturday really caught up with me. I could barely get my skis around in the tight stuff. When Jeff and I were skiing together, alone, I was lagging. He was very understanding and supportive.
With the big group I definitely a liability. Around 11:30 I bid goodbye to that accomplished group and struck off, down Tannery, to begin the end of my Birthday sojourn. Thanks to everyone who made the weekend special… Powderqueen, Matt, Matty, Pam, EDeO and Jay, Jeff, The whole gang at The Gear Source in town. I had a great time.