As days get shorter, hours become precious and I was determined not to waste my final summer trip to Vermont by recovering from a late night wedding party. After a slow start, I headed to an area near Route 2 and the Long Trail that has long held my interest.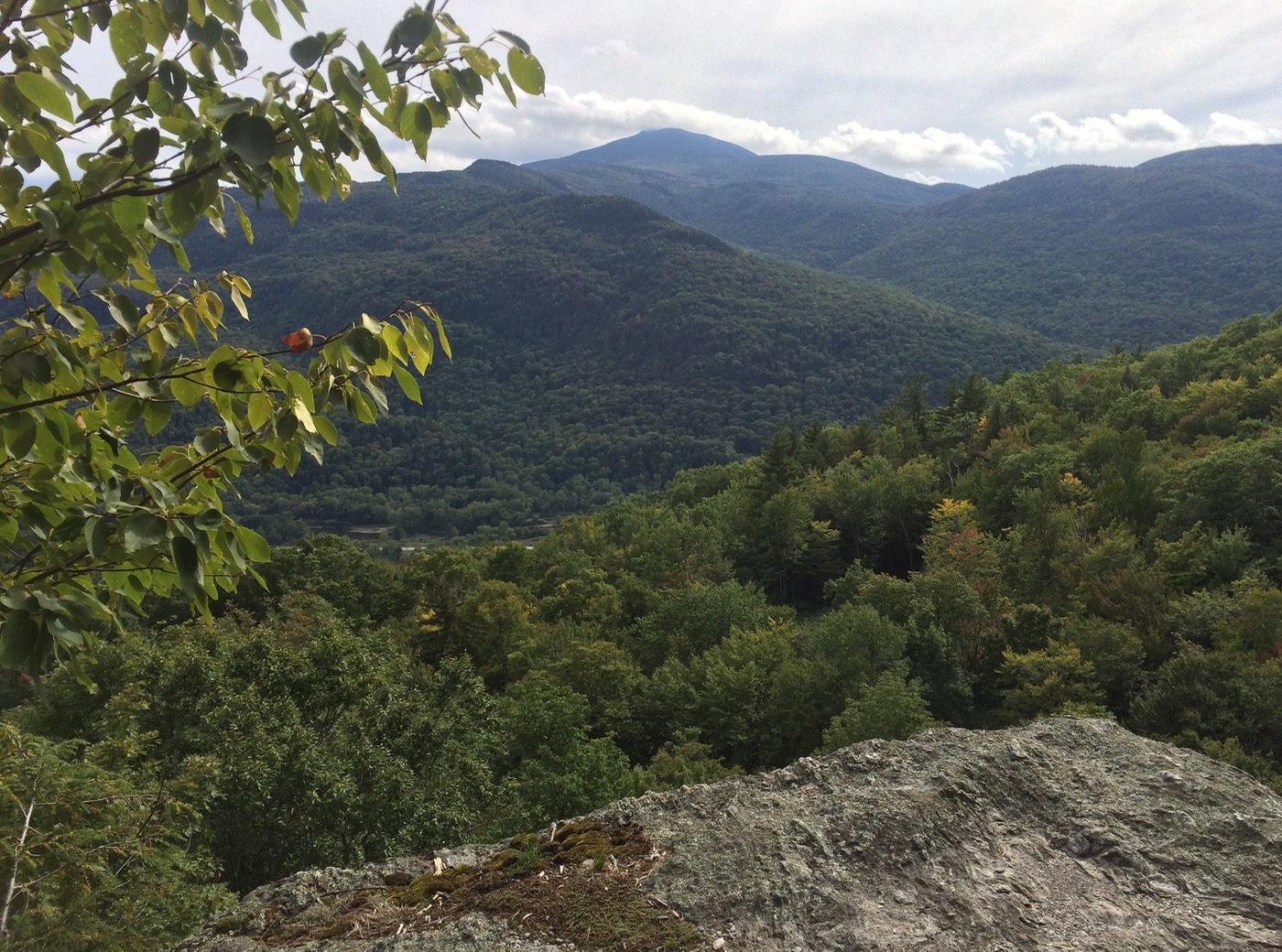 There is something remarkable about this spot. The lowest point in the state is nestled directly below Camel's Hump, the tallest undeveloped peak. The long vertical and steep terrain always holds surprises, and going up Bone Mountain is a great way to check out the views.
The parking lot at the end of Green Mountain Road was deserted but even alone, I decided to bring my climbing gear in case I ran into a friendly climbers. On that list was Travis Peckham's Tough Schist. It's one of my favorite guidebooks and I thumbed its well used pages to get a closer look at the topos to find Cat Crack and The Dwarf Wall before I left.
I was still within earshot of Interstate 89 when a funny thing happened. I approached my turnaround but I couldn't stop hiking. The trails were so soft and the air was so fresh. Each breath was full of mint and pine. I wandered up the hillside, catching glimpses of the mushrooms I hadn't seen all summer. I came across a climbers ladder and decided to keep heading uphill.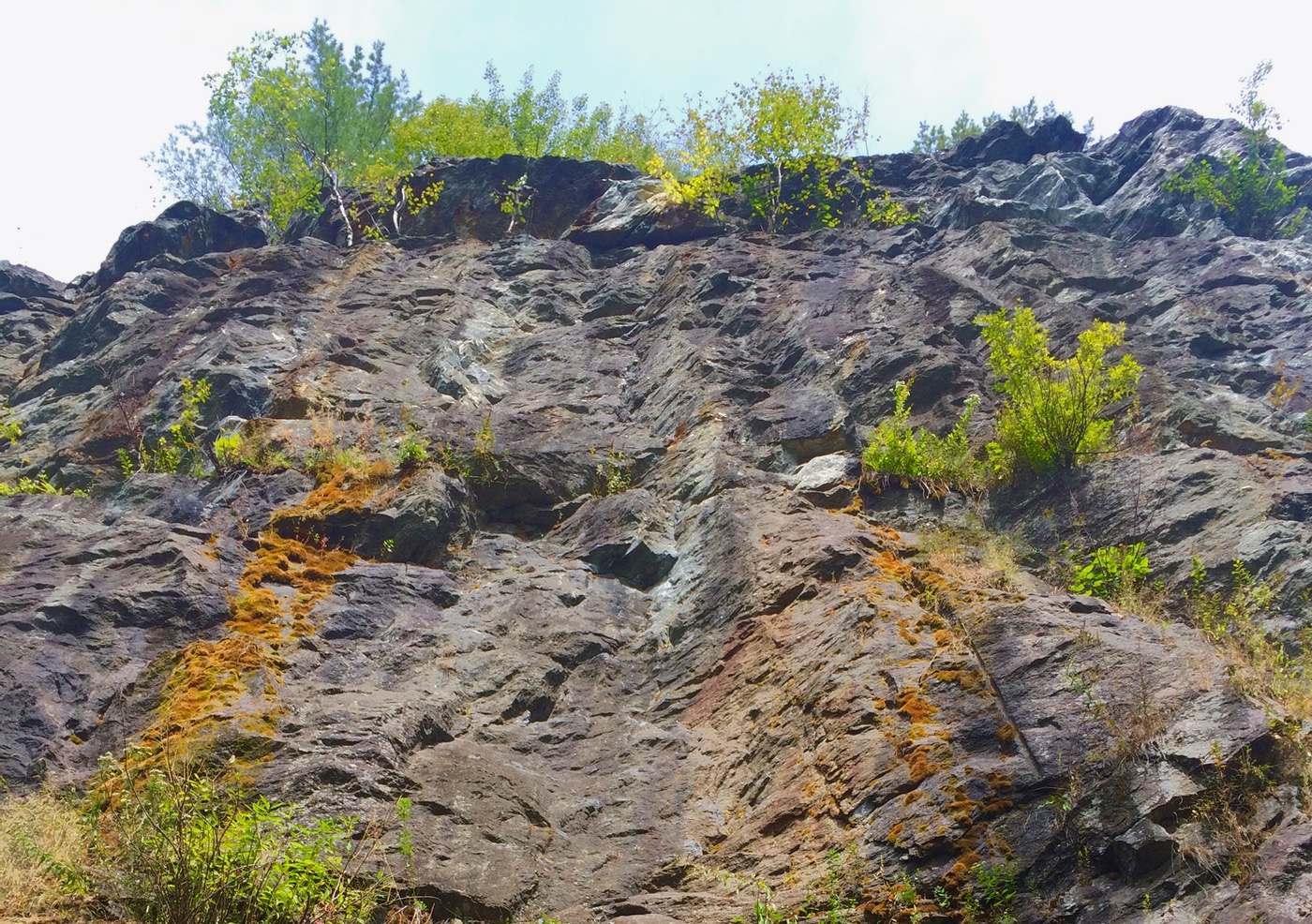 As I continued on the steep switchbacks of a work road, I ran into some No Trespassing signs. It was at that moment I remembered that I had a guidebook in the Rakkup app on my iPhone. Embracing the new technology, I put the first edition print back in my pack and clicked through the trail guide. The GPS showed I was slightly off course, so I wandered back and hit the go button to navigate to the top with some turn-by-turn.
This was not roughing it. My confidence grew with every step. Keeping an eye on the battery, my solo hike with no plan was transformed into to a new experience.
Like many people, I have long taken Google Maps for granted, but getting detailed information for hiking and climbing routes as I walked through dense woods felt like the future. It was a powerful moment.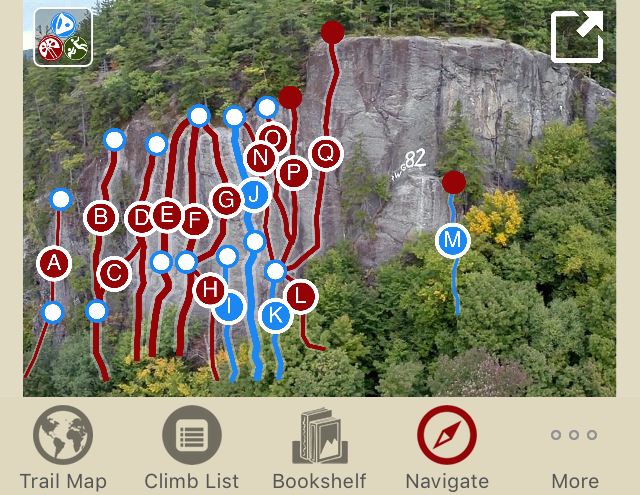 When I arrived at the uppermost crag, a rope hung from a ledge beckoning me over the canopy. Even with my fancy tech, the rope route was as much adventure as I would want to handle on my own. I harnessed up, pulling my Gri Gri and prussik through as I climbed up in my hiking boots. At the top I found sunshine, superlative hard climbs like The Doggfather, and the horrible graffiti I'd seen from the highway.
I rappelled down and loaded the app one last time to avoid the private property and get back to my car. I marveled at the turn-by-turn: continue straight for 50 feet than make a slight left. It's only a matter of time before we see more technology in the wilderness, and with companies like Rakkup getting it right now, I won't rue the day.
A wise photographer from a previous century once said that the best camera is the one you have with you. I think we can safely update that cliche to include the best guidebook as well.