It's natural to want to close it out at home, skiing that last day of the season on your turf. I did it this season at Plattekill, and I came pretty close at Gore, skiing both Friday and Saturday before Gore closed on Sunday. Connecting with friends, the weather was sunny and the snow was soft, a closing day feel.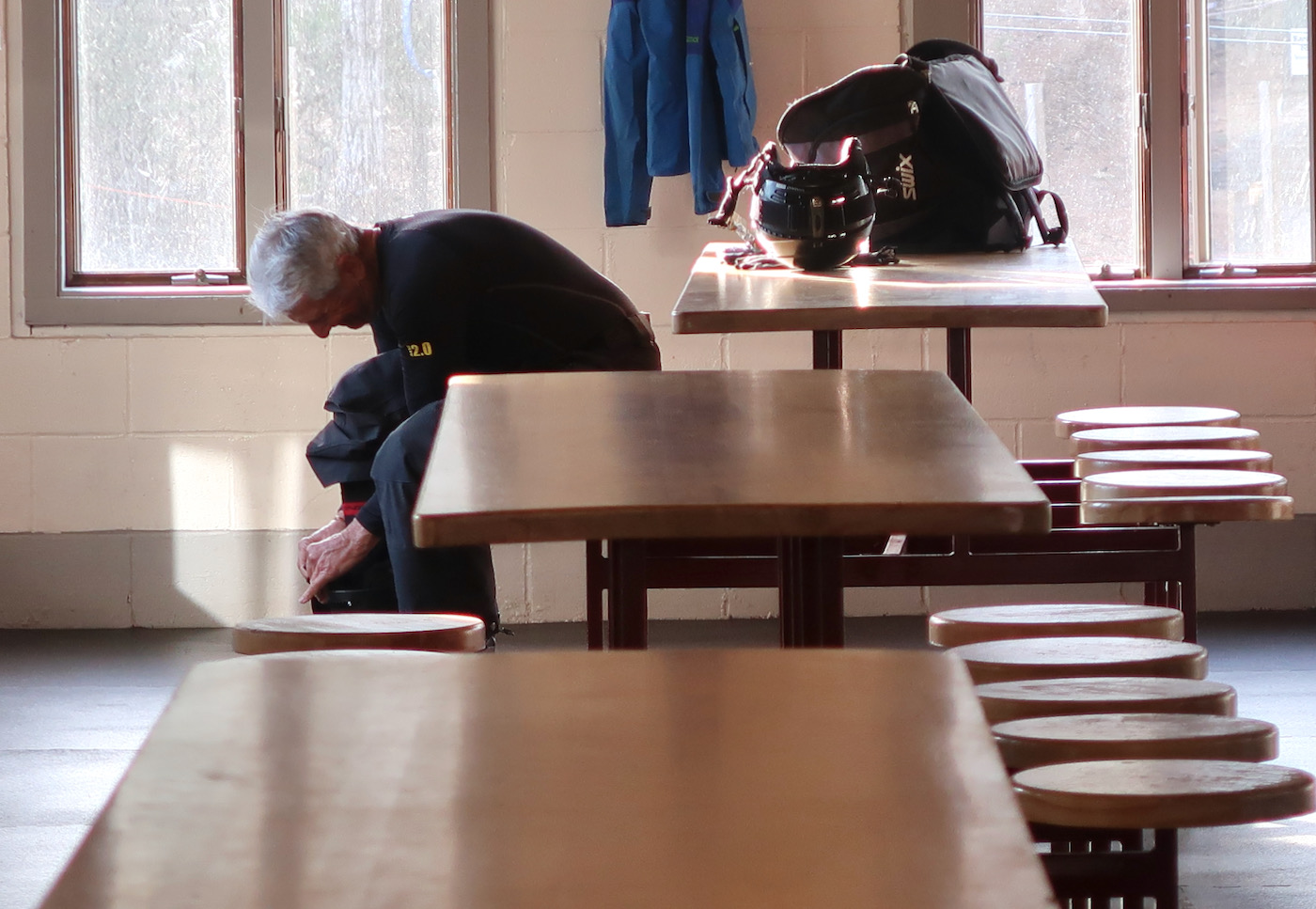 I'm starting to believe a home mountain is a responsibility of sorts, a little like having a nephew or niece. You want to be there on big occasions, like opening day, powder days, perfect spring days, maybe the pond skim, and yes, closing day.  Beyond all those specific occasions, you need some minimum number of ski days at home to actually be a part of the community. At least I do, and it's more than ten.
Gore and Plattekill are my home hills.
We've had a camp near Gore for more than twenty years, and I've been a SKI3 plus Plattekill guy since I discovered Plattekill in 2010. It works for me; each week down here in the flatlands, watching the weather, I've got options. I can day trip the Cats or overnight the Daks to max out quality ski days. Plattekill's uncrowded weekends and holidays are a big plus in that pursuit.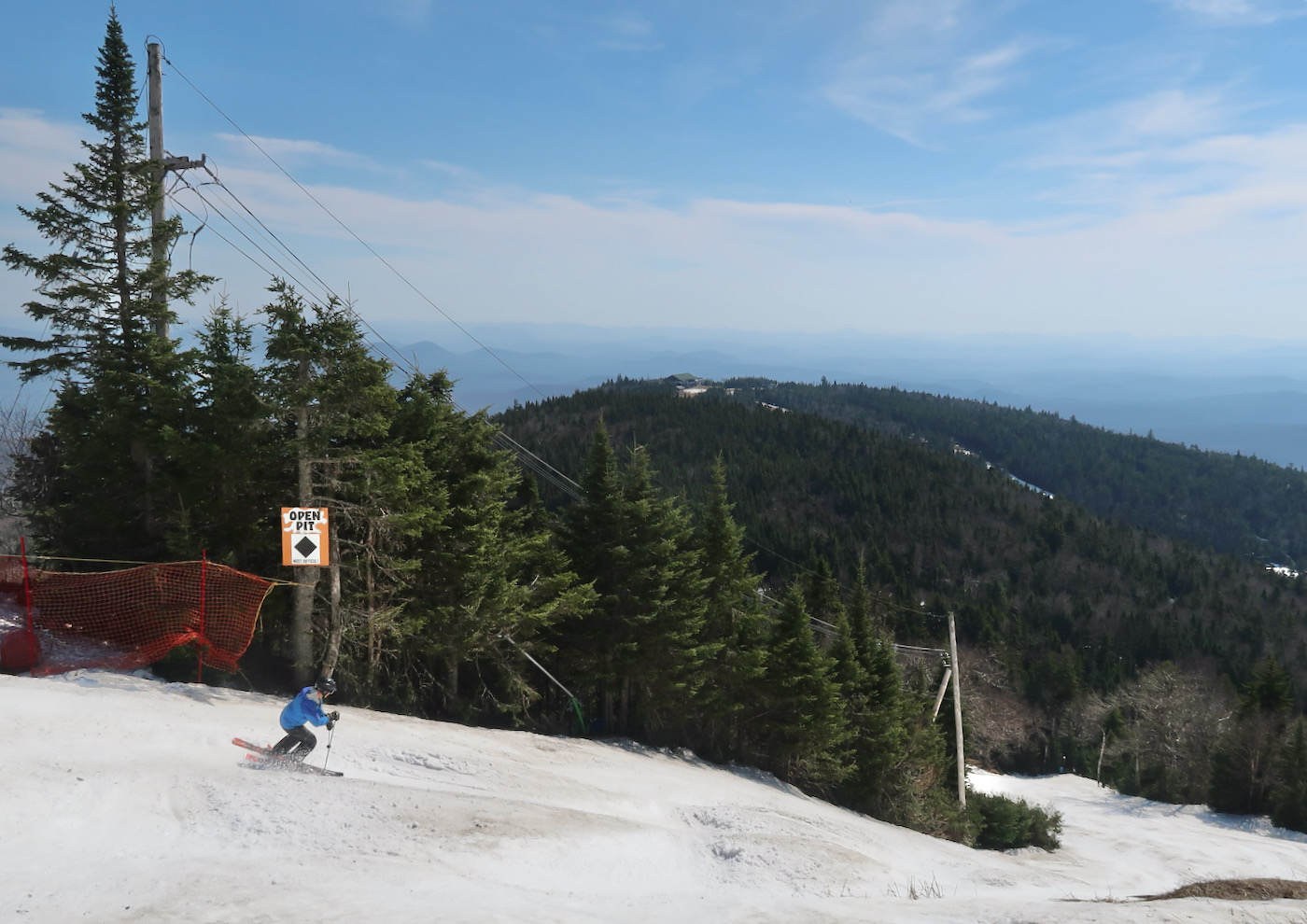 When I sleep at our camp, I usually ski Gore. If a bit more travel will get me some additional new snow, I'll tack on extra miles in the morning to hit McCauley, Titus, Snow Ridge, Whiteface or VT. This season I've skied 12 days at Gore, seven at Plattekill, three at Belleayre and one each at McCauley, Titus and Hunter. I added three days of nordic in the woods.
To step back for a minute, the reasons I ski are pretty simple. Yes, I want to feel the forces; a ski pushing back, or those delicious moments of weightlessness in powder or bumps. Just as important, I want to be part of a community, connecting with my home mountain each season is key.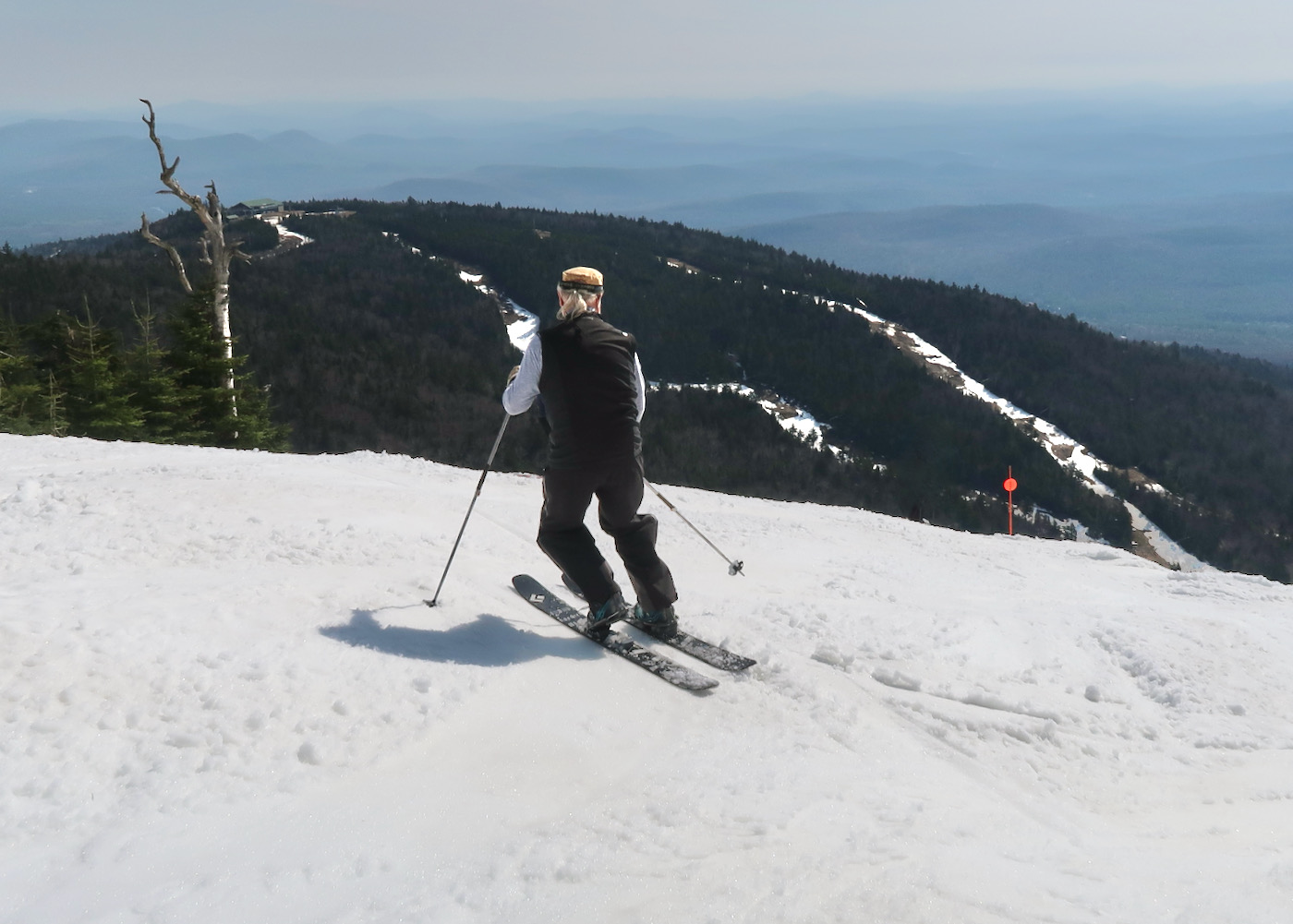 With two home mountains, it's more complicated, especially if you want to write about it. Averaging 28-30 days a year, it's for me hard to feel I am getting "enough" ski days at either hill.  I've said "I don't get enough days at Plattekill" but it's also true about Gore. I'm in awe of Dean, a first chair at Plattekill guy, who's a passholder at Plattekill, Bromley and Mad River Glen.
So skiing. On Friday and Saturday, I arrived a hour before first chair. On true corn days, when overnight temperatures drop below freezing, this is overkill. But if the temp never falls below 45F overnight, first tracks is actually the correct strategy. Groomed cord was divine-ish and most skiers seemed to agree the early skiing was best.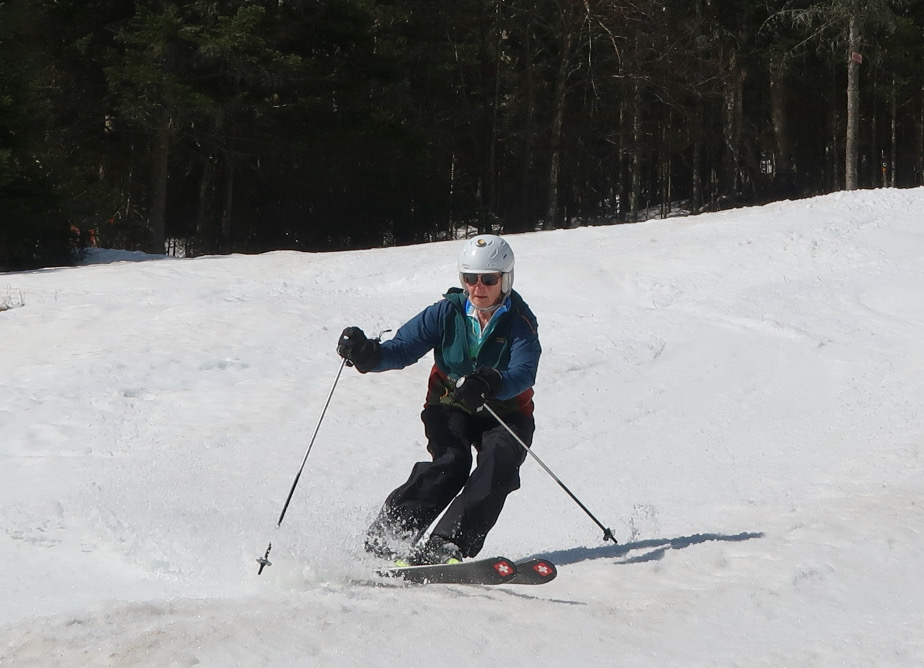 Each day, I spoke and skied and feasted and toasted with the people I was hoping to see.
This season Armon has been a great new ski partner for me. He loves trees, and he never wants to quit. None of these guys do. I got to know Big Eric and Big Dave better.  And I finally met Gail. Before that moment, Gail was part legend the way the guys talked her up.  Then one day there she was, and she skied all day long. And another day after that.
We skied the bottom first, and went up top as soon as we saw the rope drop. There were good reports from the Dark Side, but I stayed in the sun all weekend. Chatiemac, Lies and Open Pit were my picks for best in show.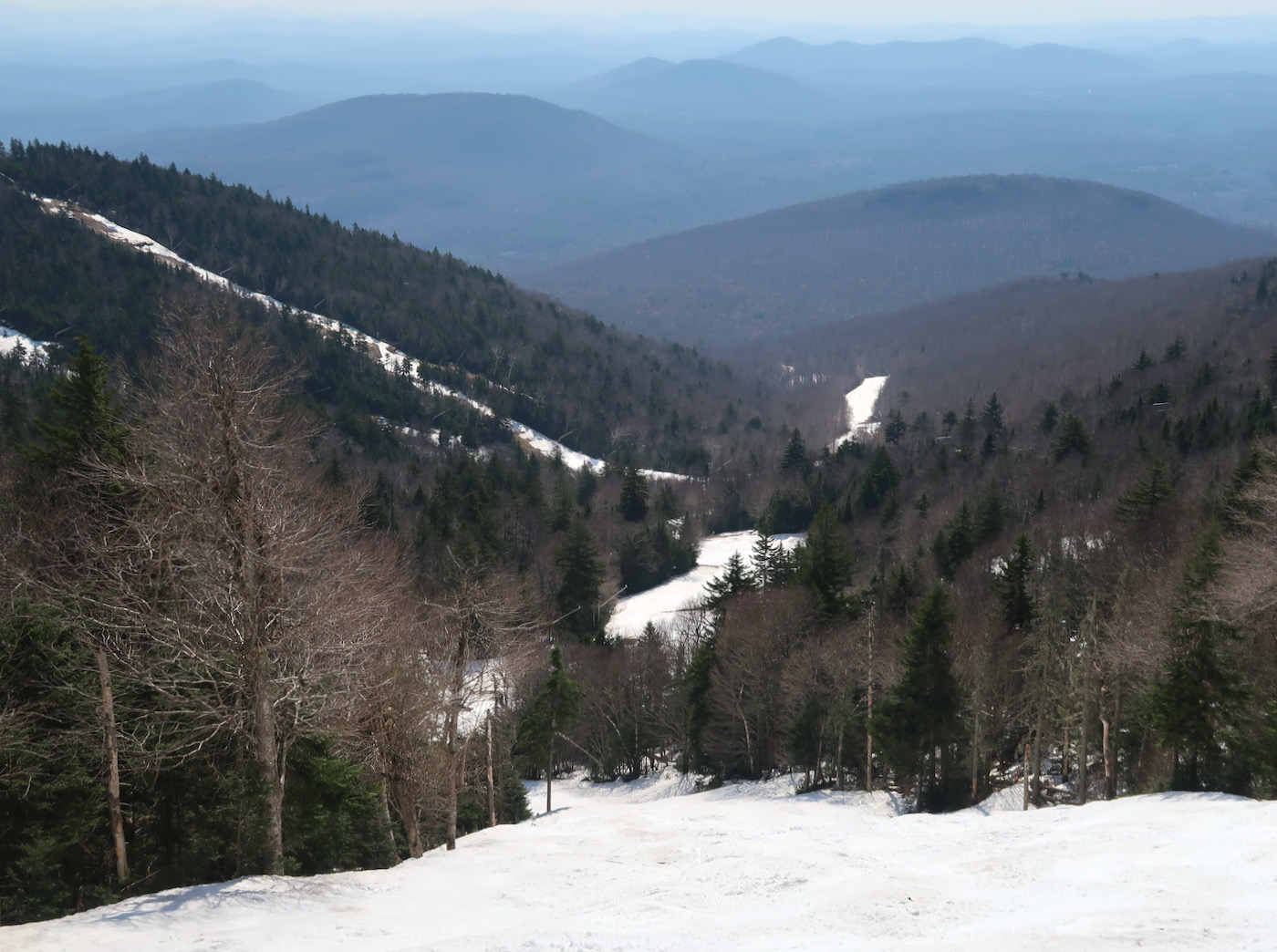 EdeO was in the house.  I haven't really skied with him much over the last few years. When I was showing up at Gore 20+ days a year, invariably many of those would be weekend and I'd run into Ed quite a bit. I miss it. He's always pushing the envelope in one way or another.  It's often better than you think, and Ed makes it fun.
Near the end of my ski day on Saturday, I was alone, taking it slow, taking it all in, taking pictures. During the season, I plow ahead without a thought about the end, until it's very late.  Then something grabs me and wakes me up. This time it was a moment of loud silence on Lies.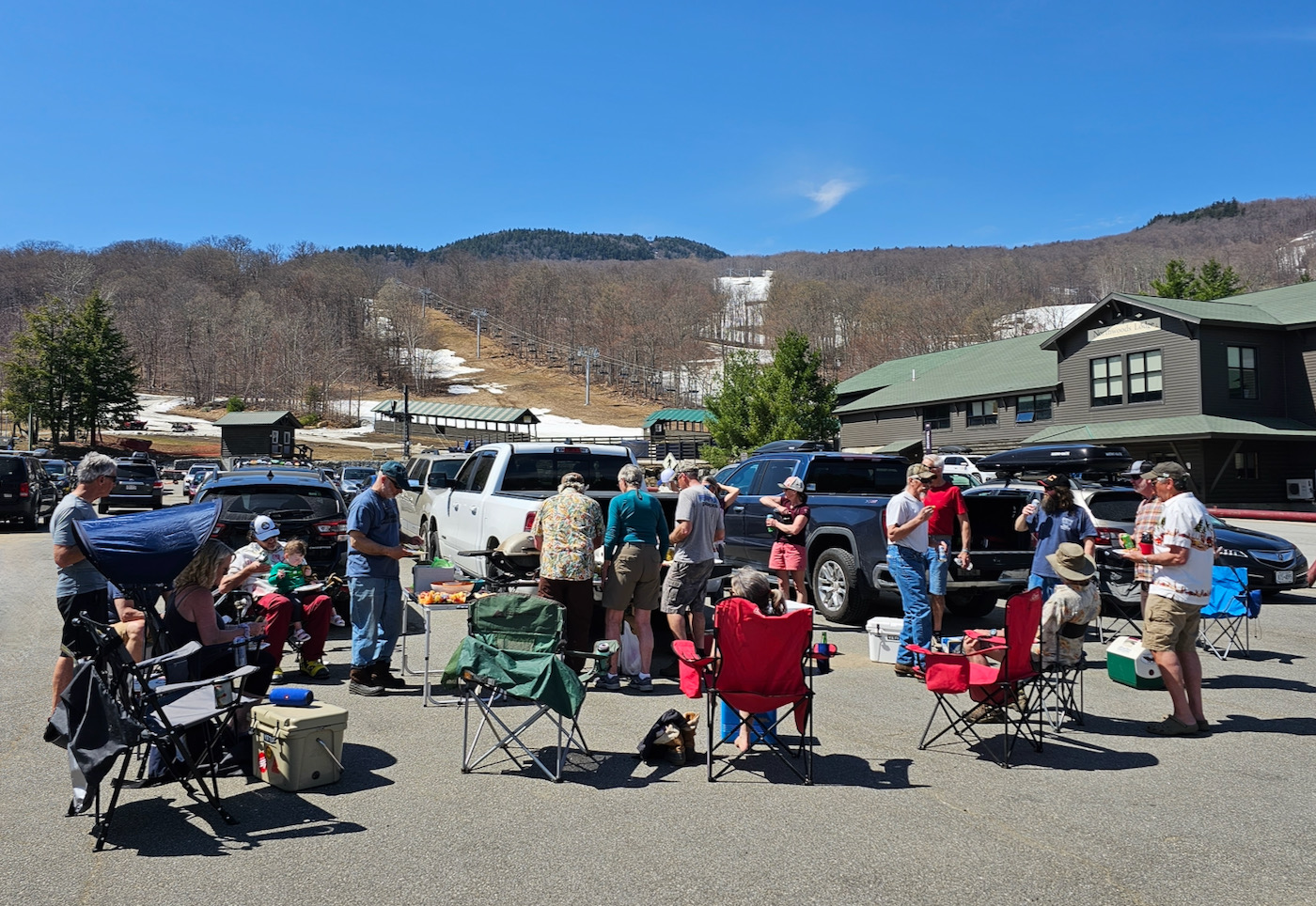 All weekend the heat was turned way up, and the melting snow was making quite a racket cascading down the mountain.  There was no way around it, no way to ignore it, winter was being washed down the Straightbrook drainage. I faced the fact I was almost done, with a good chance for some Superstar.
I skied to the base area to close out my day, my weekend and my NY season with a burger at Cork's annual birthday cookout tailgate in Lot A. It seemed that everyone I wanted to see, showed up. Gore peeps share what I think of as a love for the real. Skiing for skiing sake.
I'm glad to be part of it. I really appreciate all the runs we've done, the stories we've told and the glasses we raised, together.