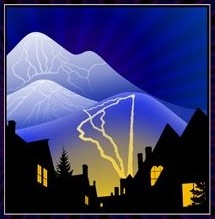 It's been suggested in some quarters that the expansion of Gore Mountain onto Burnt Ridge and down to the Ski Bowl is short-sighted. In my opinion, it's actually long-term thinking.
While Gore is a lot like a business, it really isn't one. It's more like an "attraction" run by the state.
If Killington were able to raise $4 million for capital improvements, the people in charge of the quality of the skiing product — from GM on down — could recommend to the owners the best way to spend the money. That's not how Gore's expansion happened. Gore got money specifically for terrain expansion from the State of New York.
Few skiers would question the wisdom of this new, fantastic terrain if Gore had 2 or 3 times the snowmaking firepower. We believe, in the years to come, they will. We wouldn't be surprised by a 50% improvement at the end of the next five years.
The terrain is here now. If we get cold temperatures and good snowfall we'll use it. When Sagamore opened, it was on all natural snow, and it was one of the best ski days of the season. If it dumped 20″ today, Gore would be 100% open, on all 400 acres. There is a huge amount of great terrain that is potentially available now, and access will continue to improve.
Consider the new Gondola. When it first went in, it was a expensive new lift that delivered skiers to Pine Knot and Foxlair. At that time many said "what a waste." But now, with Topridge, Uncas, Fairview and Ruby Run in place, the new Gondola is the heartbeat of the mountain. While many try to minimize my rides on the Gondola, we love the way the setup spreads skiers out across all of Gore's terrain. Within the framework of a long-term plan, the lift really makes sense.
In our opinion, long-term, the terrain expansion will look smart. The grumbling of the next few years — and there will be some — will be forgotten. In the future, we see a great, big, 400-acre mountain operating close to capacity by mid-January.