When I got the email Friday night that Saturday's little league games were cancelled due to weather, I knew what to do. I loaded up the truck and headed to Vermont for one more last day of skiing.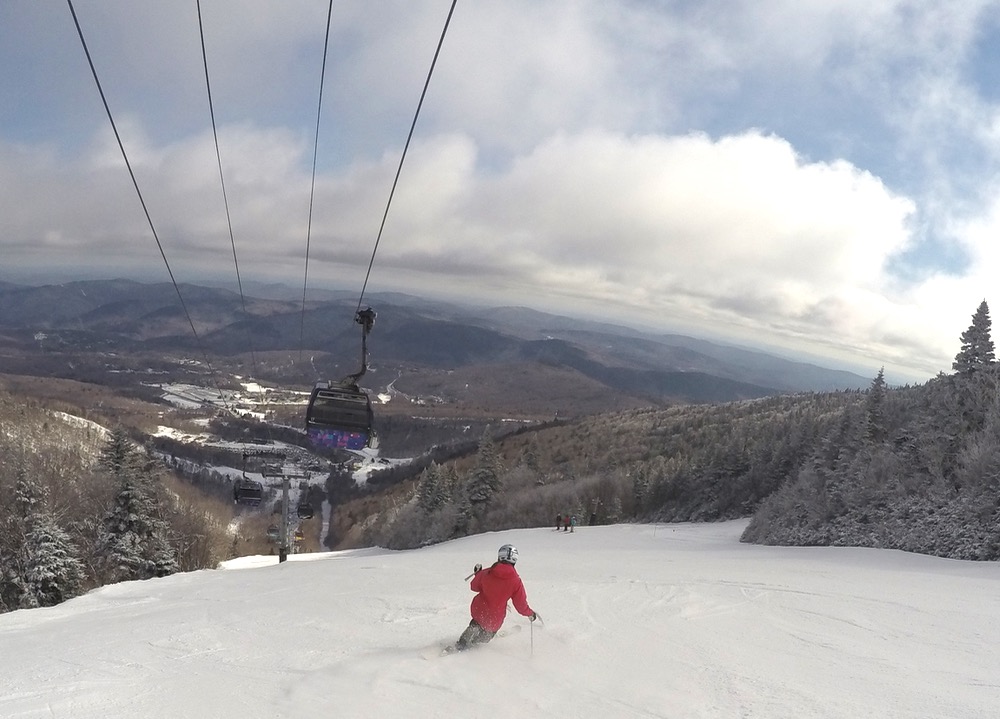 Barring another schedule clearing miracle this was likely the end of my ski season. So at 9:30 on Friday night I set out for The Beast of the East.
Saturday was also the day of the Bear Mountain Mogul Challenge. It says something about the year we're having that the event wasn't held on Outer Limits, for possibly the first time in history. Bear Mountain is closed for the season and the event was being held at Killington Base Lodge.
The morning sun woke me up around 6am, and I sat watching a groomer make it's way up and down Superstar enjoying my coffee. Security people, lifties and patrollers were getting ready for the day, as vendors humped their supplies up to the lodge, getting ready for the party.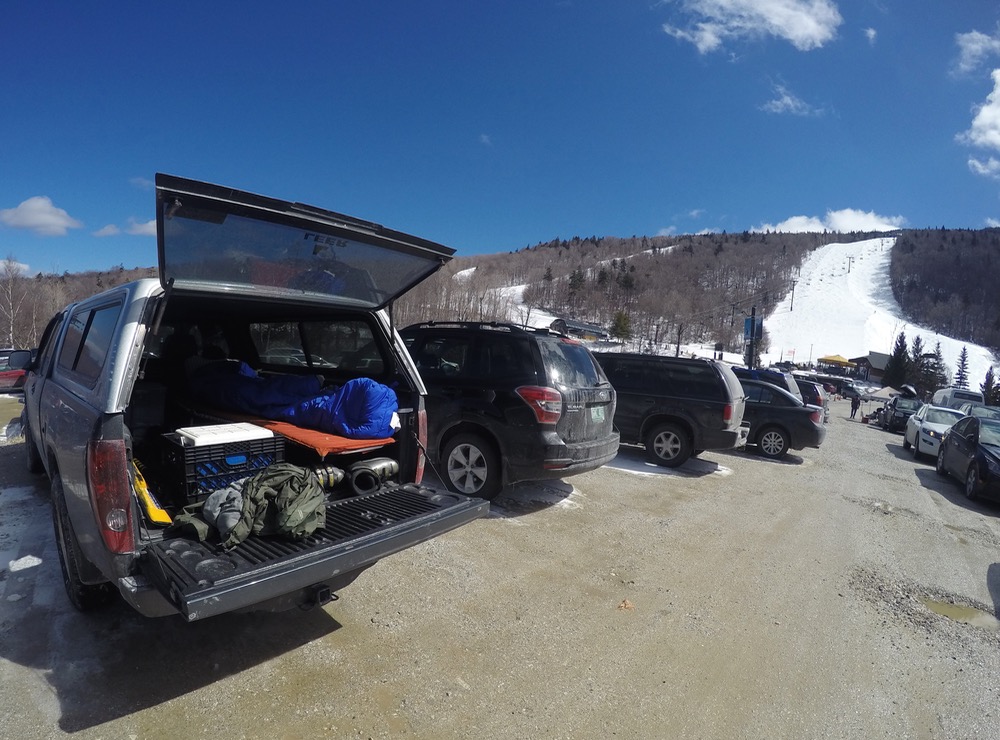 Killington attracts the obsessed and I was not the only one waiting for them to start loading the K1 gondola at 8 AM. I climbed into the second cabin and then headed towards Needles Eye, looking for some morning sun.
As I'd feared, the Needles Eye area was also closed, upsetting my normal Killington routine. I did a couple of runs off Superstar instead. Coverage was good but Superstar itself was chattery, frozen, shallow corduroy with small chunks littered around the trail. It was skiable enough, but I decided to head for the canyon early and made my way back to the gondola.
I  lapped the Canyon quad until I was ready for lunch. Conditions were nice on Cascade. The snow was soft without many icy spots. It was foggy at the very top but the sun was trying to break through. It wasn't crowded.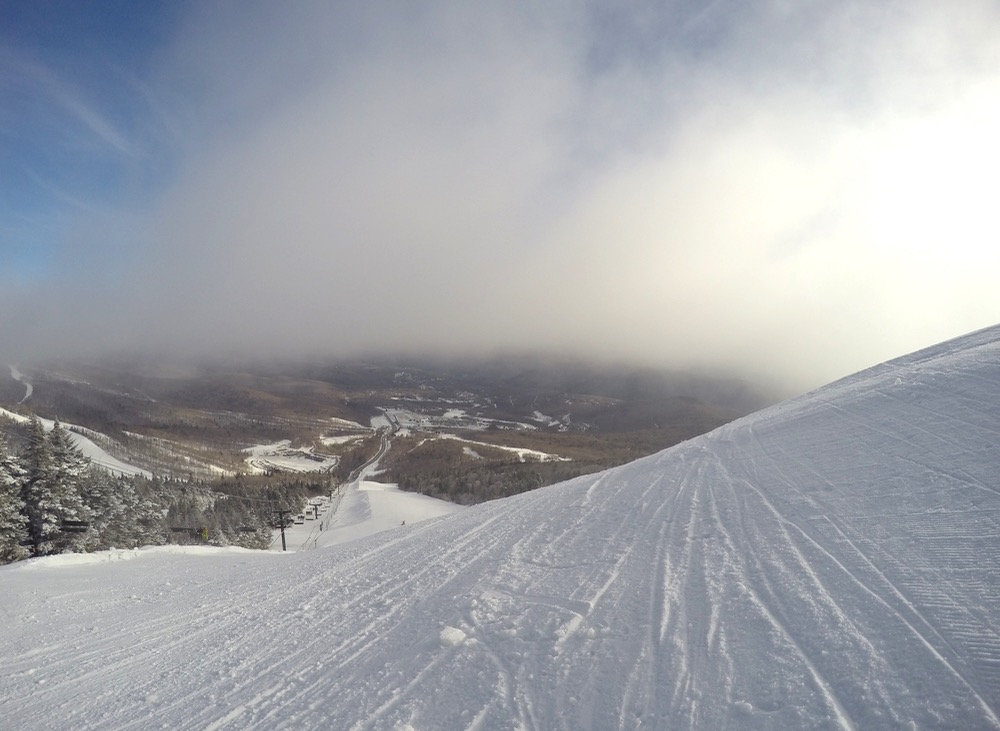 East Fall was in decent condition too and the intermediate trails at the top of the quad were just a blast. My morning was either a bomber run down the intermediates to access East Fall or a quick traverse left to get to Cascade and then one awesome run after another.
When I returned to the base area for lunch, I was surprised how many people were still showing up. The lot was packed and a steady stream of people were marching in. Some didn't even have skis, just there for the party.
After lunch, I spent a few minutes looking around; the party was in full swing. The race was happening on High Line. Getting to the bottom to watch required a decent amount of hiking up from the base lodge. I wasn't motivated to put in the effort so I watched from a distance.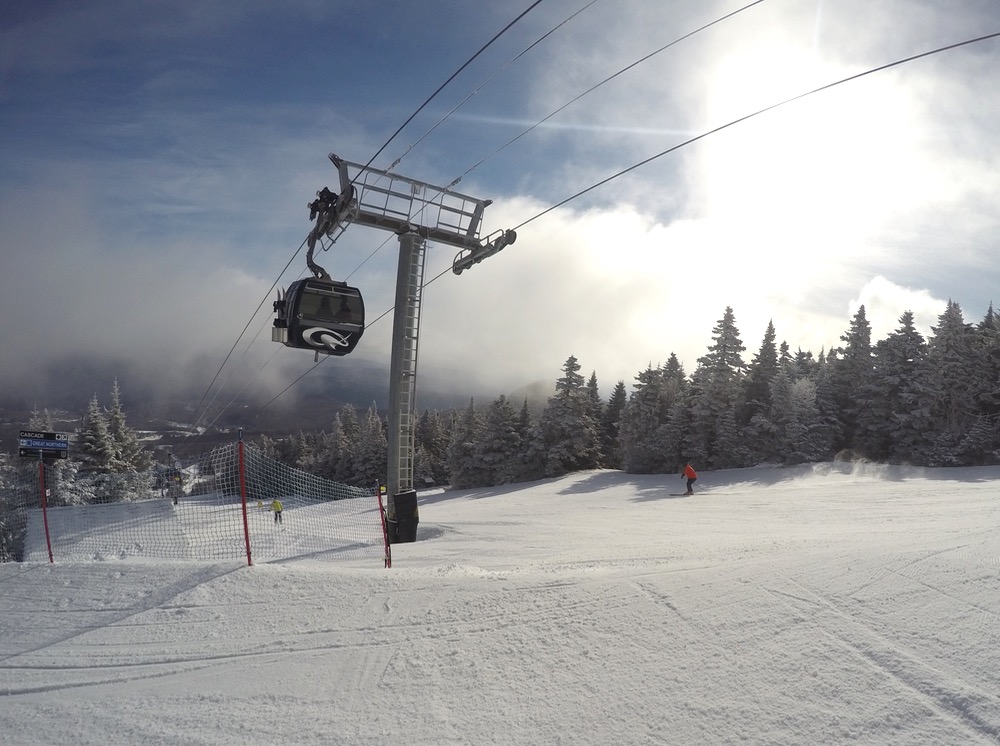 The afternoon skiing was a little tougher. Superstar was skiing a bit better but started getting icy around 1 PM or so. The blue trails around the Superstar area were in good condition.
I headed back to Cascade and got a couple decent runs before that started to get skied off, then settled on East Fall, where the shaved off snow was piling up in big soft piles. Crowds had been growing steadily all day and, as more and more people came to the same conclusions I did, the real estate on East Fall was in high demand.
Mid afternoon, I came across a skier who'd gone down about two thirds of the way down. There were a few people standing around him. I asked if they needed me to call but they said somebody already had.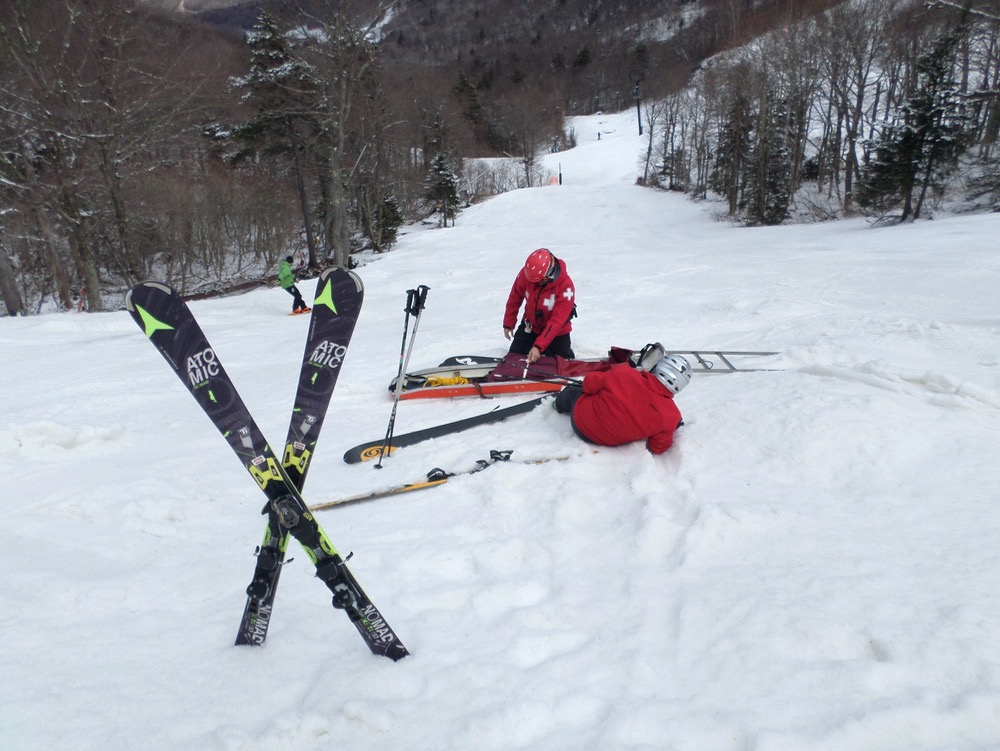 The guy on the ground said he heard his knee pop and had tried to get back up and ski but couldn't. Okay, I said, I'll hang here with you guys until patrol arrives.
I turned around and all of a sudden I was the only one left with the poor guy. Shit. Now I felt vulnerable to being hit from above. He was trying to get his skis off so I popped out and released his bindings for him and then climbed up above and put them in a proper X, and stood there so people could avoid us.
A few people paused and asked if everything was okay. I said no, we're waiting for patrol. We could use another body or too for more visibility. Nobody hung around.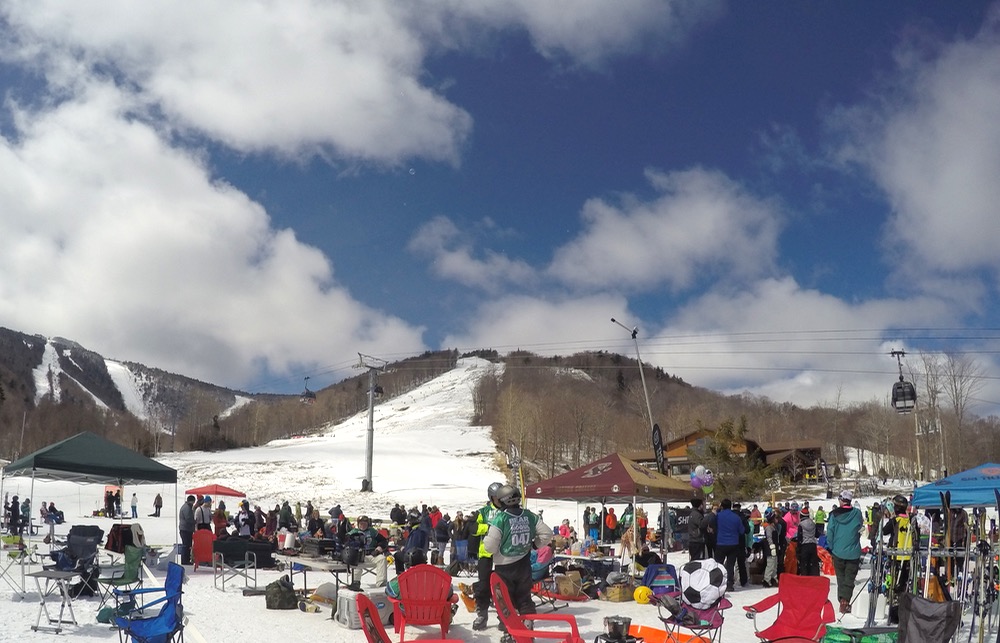 Eventually a guy who said he used to be a Killington ambassador stopped and hung around above us until a patroller showed up with a toboggan. We all had a nice chat while we waited and the guy who needed rescuing offered to buy me a beer if I could find him at the end of the day.
A couple more runs and I was getting tired, though I didn't want to give in. I caught a tip on something inside a big pile of corn snow on East Fall and had a pretty spectacular fall myself.
One more run after that and I was done for the day, maybe for the season. I wandered around the base lodge for a little while, checking out the party but didn't hang for vey long and headed back south, happy to have gotten another day skiing.