Happy Valley Ski Area was on Route 244 (Belmont Road) just to the north of Alfred NY in a snowy part of Western NY. It was built on a back side of a hill that was home to the local school. It was a family place to such an extent that the school bus would stop at the hill in the afternoon, and kids would ski until their parents picked them up.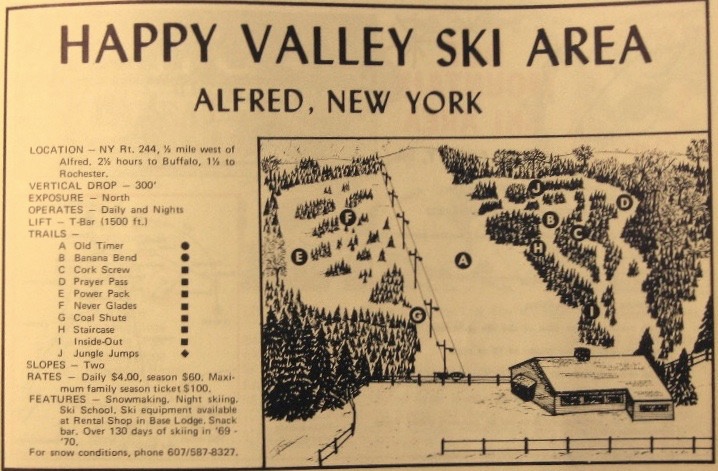 The ski area opened in 1960s with two lifts, a rope tow and a t-bar serving 300 feet of vertical and ten trails. There was also an early precursor of a "park" — a jump built on a base of hay bales — that reportedly set the stage for huge air. Ultimately the ski are closed in 1981.
---
Happy Valley Ski Area
Alfred, New York
LOCATION — NY Rt. 244, 1/2 mile west of Alfred, 2 1/2 hours to Buffalo, 1/2 to Rochester.
VERTICAL DROP — 300′
EXPOSURE — North
OPERATES — Daily and Nights
LIFT — T-bar (1500 ft.)
LIFT — T-bar (1500 ft.)
TRAILS —
A Old Timer
B Banana Bend
C Cork Screw
D Prayer Pass
E Power Pack
F Never Glades
G Coal Shute
H Staircase
I Inside-Out
J Jungle Jumps
SLOPES — 2
RATES — Daily $4.00, season $60. Maximum season family ticket $100.
FEATURES — Snowmaking, Night skiing, Ski School, Ski equipment available at Rental Shop in Base Lodge. Snack bar. Over 130 days of skiing in '69-'70.
---
Sources: