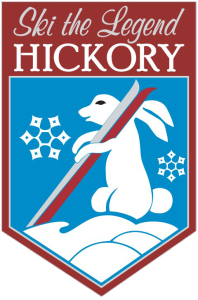 Hickory Ski Center, located in Warrensburg NY, is a hidden gem that is most commonly passed by while heading north to other ski areas. Rising above the Hudson River at 1,200 vertical feet and 19 trails, Hickory in the eye of the average recreational skier is a failed attempt at a 1950's ski mountain. But in the eyes of a born and raised Hickory skier, or someone lucky enough to have stumbled across it on an epic powder day, it is the epitome of what northeast skiing should be.
Filled with generations of original hickory families, views of Warrensburg and the Hudson River, a lodge straight out of the 50's including a fire that no other ski resort has anything like. The terrain at Hickory is something that most northeast skiers have never seen. And that's just on the trails! Get it on a good powder day, and the tree skiing at Hickory is what really sucks people in. Hickory lives off only natural snow, which adds to the vintage ski experience that people are looking for. This is the place to be on a major dump.
Then there is Hickory's front porch. A porch that bring people together. It runs the entire length of Hickory's lodge, looking up at Poma 1 and Hickory's main slope "The Hunny Run." This is the perfect sun spot for a lounging lunch or après ski drinks with everyone at the end of the day.
This mountain may be small at only 1,200 vertical feet, but all the fresh tracks are waiting for you on a Saturday morning since Hickory is only open on weekends. Their three surface lifts provide you access to all different types of terrain. The majority of this mountain is hand cut by its members, ski patrol, and Hickory enthusiasts. All the woods trails strategically placed with years and years of hiking around to find just the right line. One of the best things about skiing this mountain and its hand manicured trails, is that even on a powder day, you could either have a trail all to yourself, or the complete opposite. Everyone at Hickory is so tightly knit that on most days; they all go up the lift in a line together, wait for each other at the top just so they can all ski together in one big posse.
Hickory is by far not a resort. The people who ski Hickory have two different set of ski clothing. We have what we call "Resort Wear" and "Hickory Gear." You will always need Hickory skis, because you don't actually want to know what you skiing over. And an older jacket maybe with some duct tape in case a warm spring day causes the 1950's Poma Lift drips some of its grease on you.
Hickory is known for its family friendly atmosphere. Most members are of a second or third generation of Hickory skiers and can call Hickory home. It is safe to say that you can come ski as a family, or leave the children in the lodge for a few runs on your own.
Sadly, at this time, Hickory Ski Center is closed. This includes a prohibition on uphill traffic.
by Chelsea
---
---
Hickory Ski Center Trail Map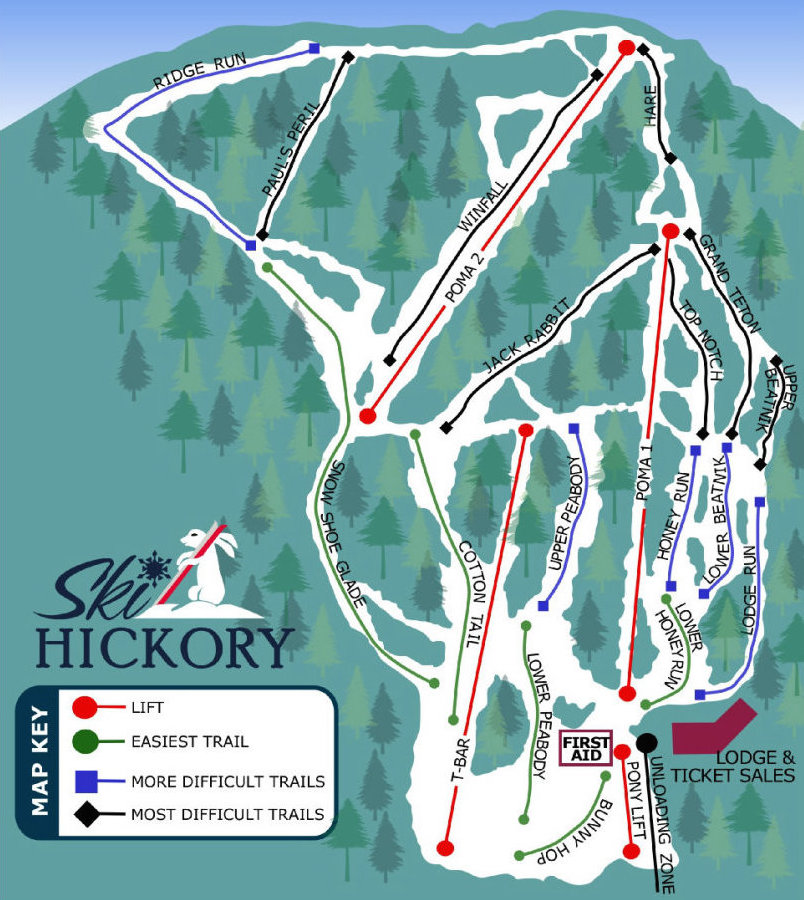 ---
Hickory Ski Center Stats
| | |
| --- | --- |
| Summit Elevation | 1,900 feet |
| Base Elevation | 700 feet |
| Vertical Drop | 1,200 feet |
| # Trails | 19 |
| Trail Miles | 3.6 miles |
| Longest Run | 4,460 feet |
| Skiable Area | 225 acres |
| # Lifts | 4 |
| Uphill Capacity | 1,800 / hour |
| Annual Snowfall | 75 inches |