"I wasn't ready for this," Leonard Plunkett said in the gusting wind outside Whiteface Mountain's iconic castle. We were recovering after the Climb to the Castle, the annual roller ski race up the Whiteface toll road.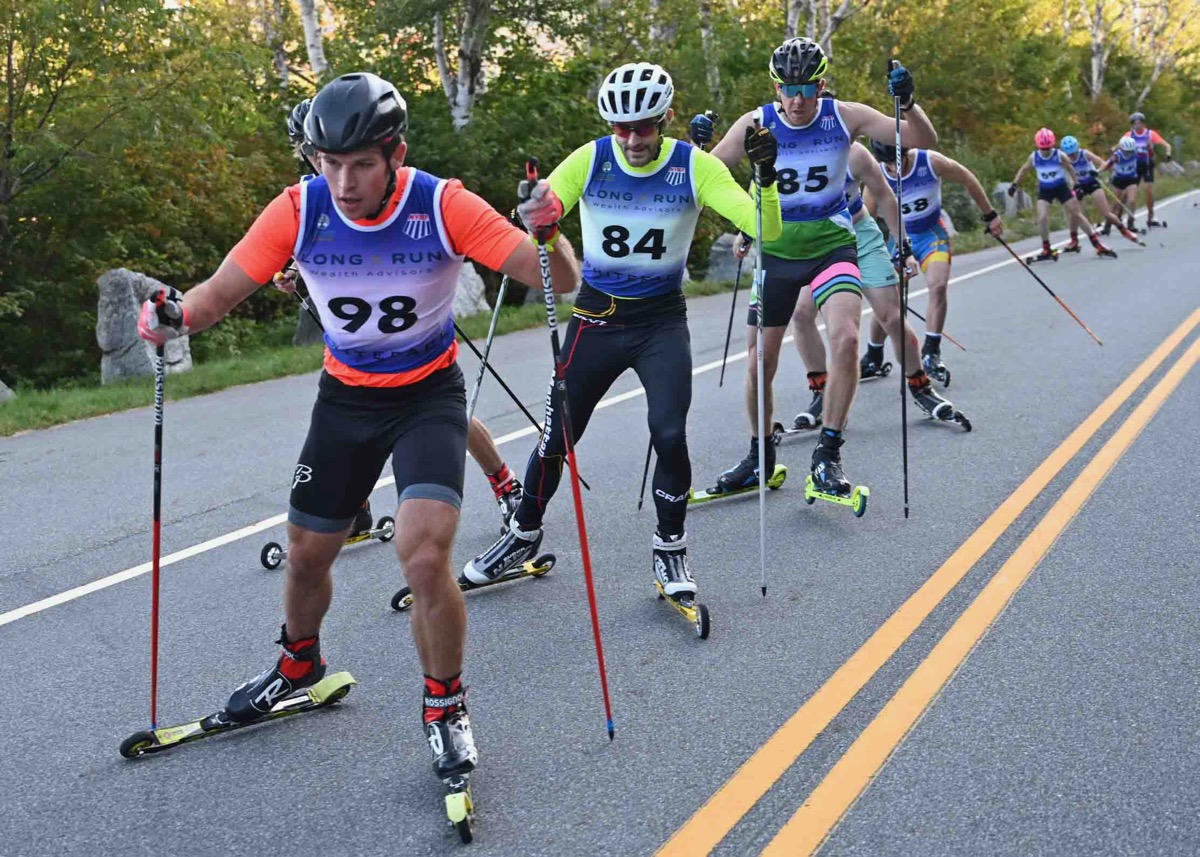 "Nobody's ever ready," I replied. "But now that you've done it, you know what to expect next year." He smiled, and I hope that I planted a seed for his return next year.
On Friday, I'd met Leonard and chatted with him at one of the more civilized bib pickups I've been to. He was up from New York City with three other skiers representing Manhattan Nordic. A big shoutout to the Madshus rep for pouring pints of Big Slide.
The Climb to the Castle (C2C) started as a hard workout and fundraiser for NY Ski Education Foundation (NYSEF) when, for a few years, the US cross-country, nordic combined, and biathlon teams all programmed Lake Placid training camps in the same October week. Some college athletes came and local masters showed up too.
The race runs 5 miles, from the Whiteface toll gate up to the castle. With an average grade of 8 percent, it's no pushover. As if that wasn't enough, one year, I saw now-retired Olympian Liz Stephen dropped off at the four-way stop sign in Wilmington. From there she skied three miles up to the toll gate as a warmup. Sick.
I wrote about the front of the race for Faster Skier. This year, race organizers made a concerted effort to attract master skiers – those of us 30 and over – and many showed up. Some of us were regulars at C2C; for others, like Leonard, it was their first time.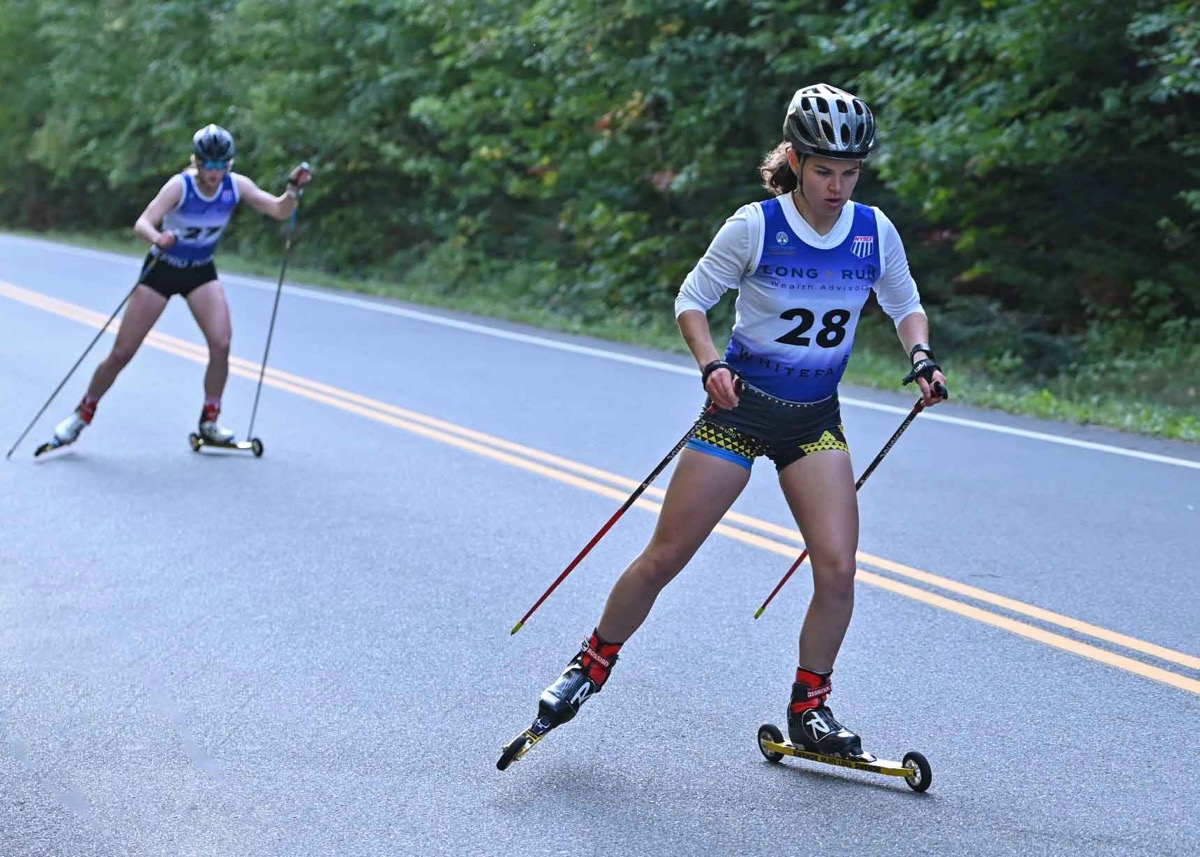 There's Steve Crafts, who drove over from Burlington. "You didn't write anything about master skiers last year," he said to me. So I'm trying to pay him back.
There's Josef Iwan, who skied World Cup biathlon for Poland back in the day. He still races with an aggro edge; he's fearless on downhills where I check speed.
There's King Milne. Seventy-five years old and still bringing it, he morphed from alpine to nordic skiing in mid-life, and took up biathlon at age 59. He's an assistant coach with Champlain Valley Union High School. After he finished the race his first year, we hung out in the castle chatting. He looked around at the crowd waiting for results and awards. "I've coached some of the kids here," he said, nodding towards a group of college students.
The first time I raced C2C, the race was on a Wednesday rather than a weekend. I left home at 9 PM, and got four hours' sleep by Chapel Pond before continuing to Whiteface in the morning. With the cream of the nordic ski community toeing the line, I seeded myself at the back. The starter said, "Go!" and we double-poled 100 feet before beginning to skate. My first time there, it felt like I was being repeatedly punched in the solar plexus. But I finished.
This year, it was sunny, 55 degrees, and windy at the start. A far cry from last year's tropical temperatures. The previous two years, I had really struggled, so I wasn't sure what to expect.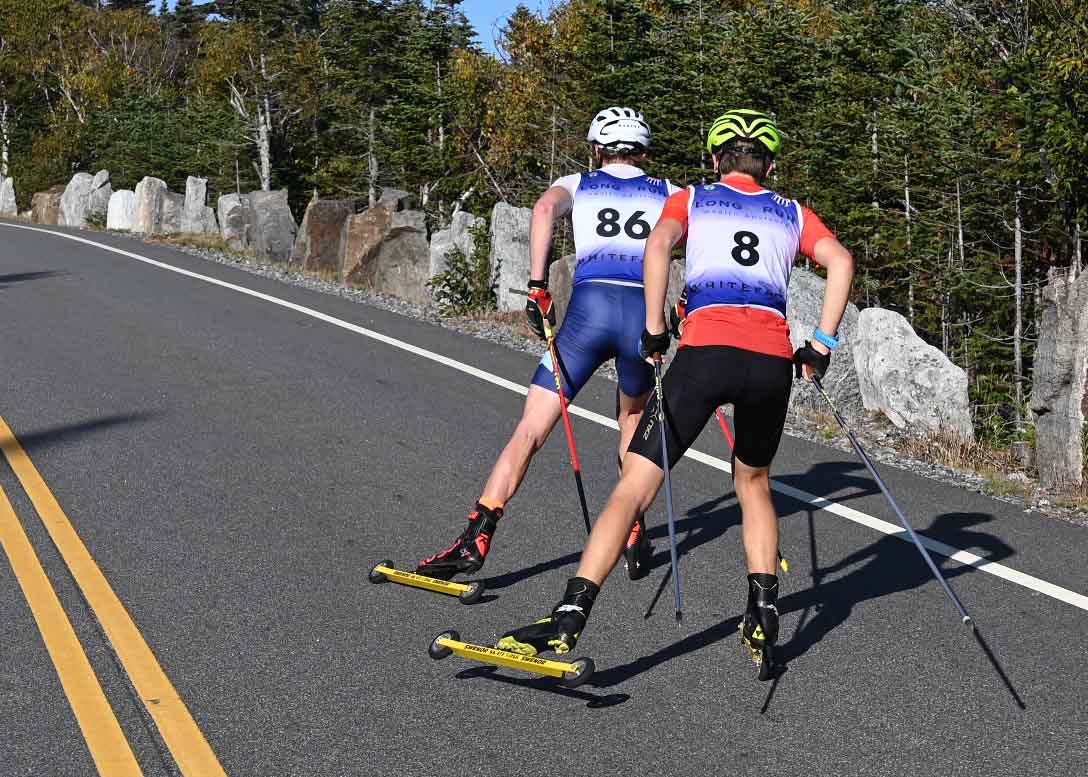 First, the athletes who'd raced in the previous day's sprints at the ski jumps went off in pursuit format. Then the open class athletes went. The front of the pack — a bevy of biathletes and top junior skiers — pulled away from me. It's OK. The road goes straight up, and there's no place to recover if you go out too hard.
I've lost count of how many times I've done the Climb. One of the benefits is, I have a decent sense of where I am. First mile takes about 13 minutes? No problem. I worked on skiing smoothly and diaphragmatic breathing to manage my heart rate. Inhale through the nose for a big belly breath (fuhgeddaboutit if someone thinks you've got an oversize gut), then exhale through your mouth. This is a good way to manage heart rate, which I'm finding is key as I get older. I can't just go at absolute redline any more.
After settling into a groove, I checked in. Motor? Not overly taxed. Legs? Fine. Overall, I felt good. Not like the magical year I'd had three years back, but my legs and my motor weren't overtaxed.
At around halfway up the road, Brian Delaney of High Peaks Cyclery was running a feed station with young volunteers. Talk about badass masters? Brian threw down at the App Gap Challenge roller ski race just a week after completing the Lake Placid Ironman. I fumbled and dropped two gels before managing to grab one and get it down.
We passed mile three, and I kept my eyes peeled for what I call the Hall of Pines. Not long after, around 3.5 miles, we hit the Lake Placid Corner: a big left turn with sweeping views of the lake. Here, the gusting crosswinds turned into a tailwind. With the wind pushing me and a big V2, I passed one junior skier and began to reel in another.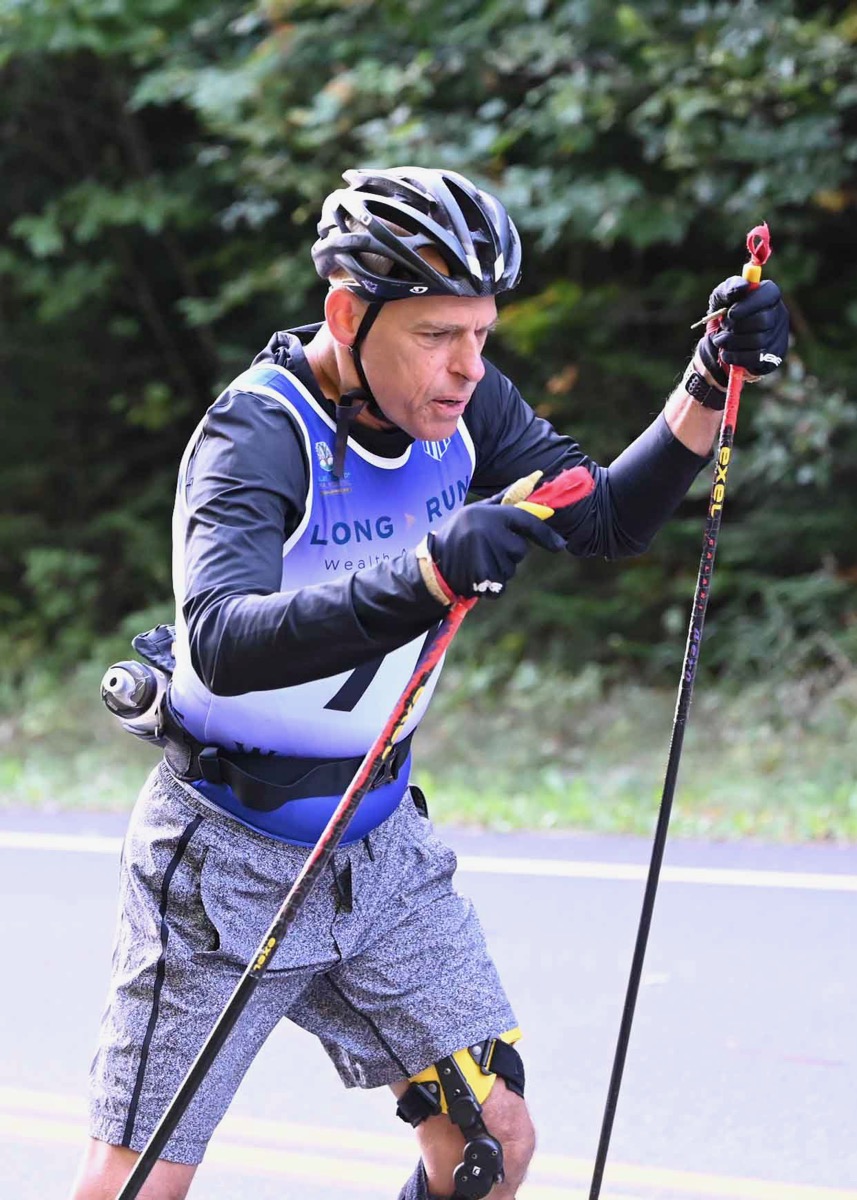 The payment for that nice glide came at Windy Corner. The tailwind became a headwind shrieking through a rock chute. Just planting the ski poles became a challenge. Fighting that wind, I suddenly realized how tired I was. The juniors I'd gained on pulled away, and I couldn't mark them. Just keep putting one foot in front of the other. Go through the chute, see the big retaining wall. See the castle. Another hundred meters, there's a bit of shelter from the wind and I mustered enough energy to gun the last 30 meters the finish line.
Steve Crafts described the last quarter mile thus, as he tried to chase down Manhattan Nordic master skier Sproule Love: "By the time we got to the big banking right hand turn that leads into the wind tunnel I was close but not close enough to draft. There was a massive headwind and I just settled in and pecked my way along pretty much resigned to the fact that he'd finish ahead of me. I've always found the last 1/4 mile to the finish brutal."
Steve and his club train on the Bolton Valley access road periodically. I with I had something like that in my back yard.
After catching my breath, I changed into dry clothing and went into journalist mode, interviewing the men's and women's top finishers. Awards were handed out, and we rode downhill in NYSEF vans.
With a toddler screaming a nuclear meltdown at a nearby table, I transcribed interviews with the help of a fine dark roast at Around the Lake on Main Street. Then I banged out a rough draft. The thrill of beating the crap outta myself replaced by the thrill of reporting breaking news. Then it was time to head home.
Every year, I finish this race thinking, I'm getting too old for this. Along about spring, I begin to get stoked for the Climb to the Castle.
---
All photos by Kelle Rose