Bruce McCulley is the General Manager of the king of New York State ski mountains: Whiteface. We had a chance to catch up with him this past week, just before the opening of the 2010-2011 season.
NYSkiBlog: When and where did you start to ski?
Bruce McCulley: I started skiing here at Whiteface when I was 19. I was hired in July 1981, one year after I graduated from high school.
NYSB: What were your positions at Whiteface before you became GM?
Bruce: I started as a lift attendant. I've been a snowmaker, on the trail crew, the night snowmaking foreman, lift supervisor and the assistant General Manager.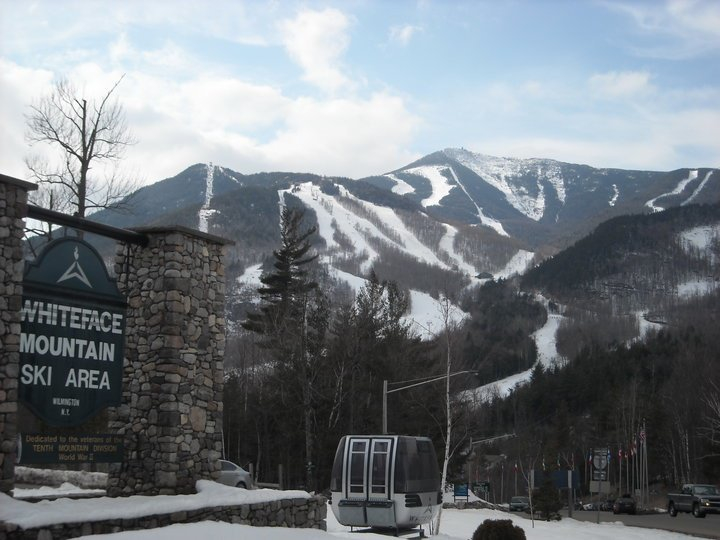 NYSB: What gear do you ski? How many days a year do you get out?
Bruce: I ski Rossignol all-mountain skis. I get out almost every day during the season.
NYSB: How would you describe your mountain management philosophy?
Bruce: We push quality over quantity, maintaining our existing plant and improving the overall aesthetics of the buildings and trails. We try to focus on staff development. Having spent 29 years on this mountain, in a lot of different positions, I value the people who work here, and I try to bring out the best in our staff.
NYSB: What is your favorite trail at Whiteface? Why?
Bruce: I'd have to say The Wilmington Trail — I love the remote feel of it. I spent a lot of time walking it for two years before it was cut and during construction, so it is kind of near to my heart in that way.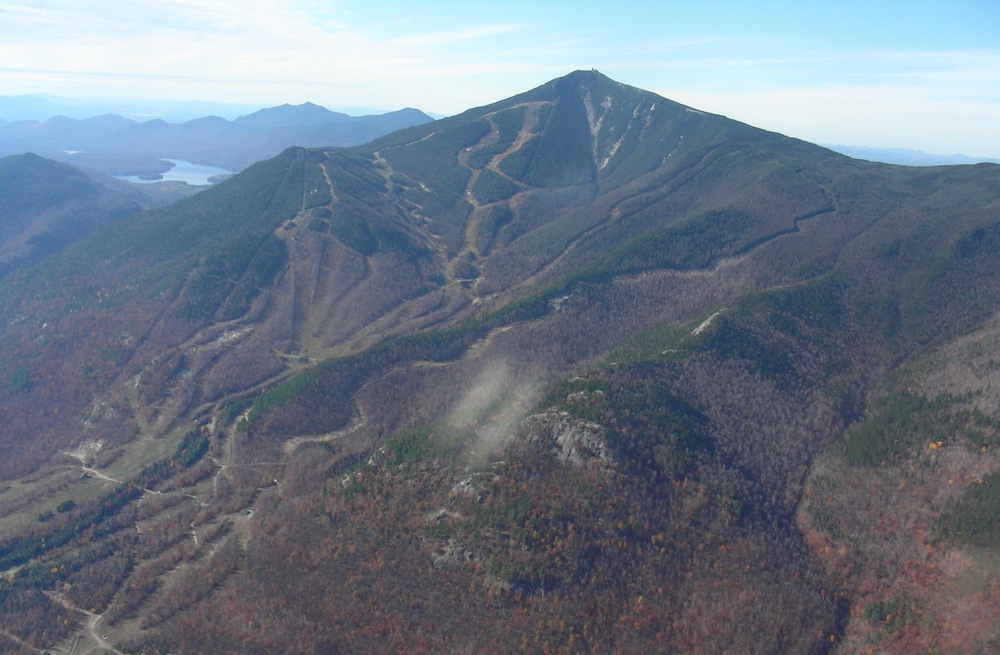 NYSB: After Whiteface, which is your SECOND favorite east coast ski area? Why?
Bruce: I really like Gore, but I haven't been there since Burnt Ridge was opened. I haven't skied a lot of mountains. Managing Whiteface is more than a full time job. I really like the variety of terrain at Sugarbush.
NYSB: Which mountains do you consider to be the primary competition for Whiteface?
Bruce: Tremblant, Stowe and Jay Peak. Those mountains offer exceptionally challenging terrain, like Whiteface. And Tremblant and Stowe have strong off-mountain appeal.
NYSB: How have you dealt with NY State budget reductions?
Bruce: We've had to reduce staff, and defer non-essential maintenance. We've reviewed our contracts and purchasing to save where we can. Our goal is to increase revenue,  and we've implemented various marketing initiatives in the US and Canada to accomplish this.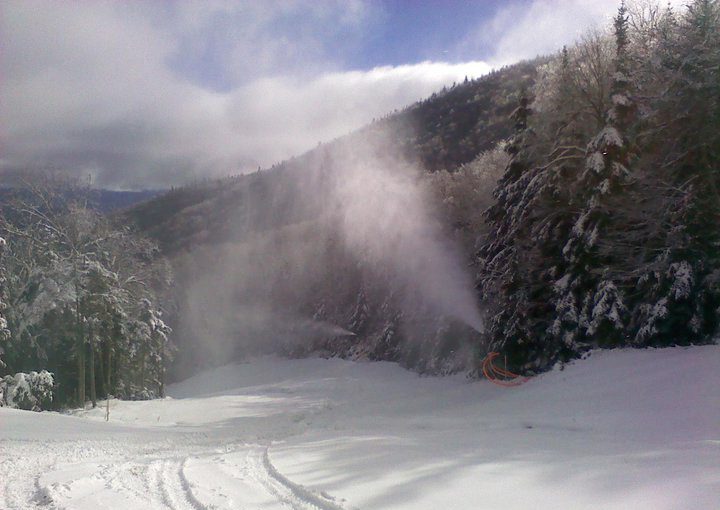 HR: What is the snowmaking capacity at Whiteface?
Bruce: The standard measure is how many acres you can cover with one foot of snow in 24 hours. In ideal weather, we can cover 32 acres with a foot of snow. Once again, this is under ideal conditions, and there are a lot of variables such as temperature, the types of guns used, return lines, backwash strainers, etc.
NYSB: Some people think that Whiteface is too conservative about opening The Slides. What are the criteria? How do you decide to open or close them?
Bruce: Ski Patrol always has safety in mind. They look at two things: snow cover and stability. It is one thing to have a group of experienced backcountry skiers making a run down The Slides, but a vastly different thing to open them for our everyday guests. The amount of traffic and the experience level of many who access that terrain from the lift require us to be cautious about opening The Slides.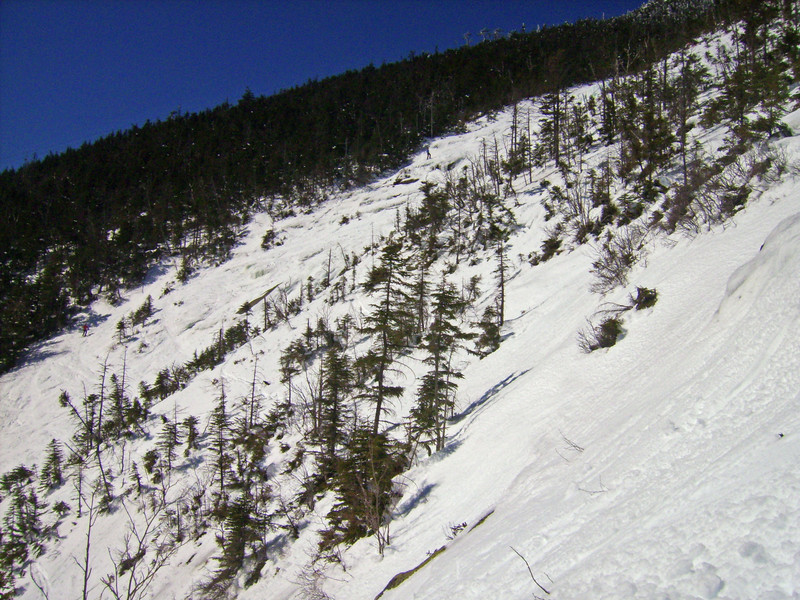 In the last couple of years, the Ski Patrol has been monitoring The Slides very closely. When possible, we try to get a limited number of experienced skiers to ski the terrain early in the season to help stabilize the snow pack. Last year, The Slides were open for 11 consecutive days, the longest period that I can remember.
NYSB: Is it legal for skiers to go up the Toll Road and drop in to The Slides from there, even if the ski area hasn't officially opened them?
Bruce: It is not illegal. We actually have a sign posted at the Tollhouse asking skiers intending to ski The Slides to call the Whiteface Ski Patrol to inform them of their intent. The Slides are within the ski area boundary and as such, Whiteface Ski Patrol has a responsibility to monitor and enforce safe skiing laws.
This means that the Ski Patrol may address guests coming out of The Slides as is necessary to maintain the safety of everyone.
Additionally, anyone within the ski area boundary is required to have a valid lift ticket or season pass.
NYSB: What is the official count for annual snowfall at WF? The website gives a three-year average, but what's the long-term number?
Bruce: Our ten-year average is 201 inches.
NYSB: Gore Mountain, also run by ORDA, opens terrain under many of their chairlifts when conditions permit. Why doesn't Whiteface do the same? There's terrain under the Freeway and Lookout chairs that looks great.
Bruce: If a lift line is used as a trail, it would have to be added to our trail count. As you probably know, the state constitution only allows us to have 25 miles of trails. When the fourth trail on Lookout is added, we'll be within 3/10th of a mile of this limit. Opening the lift lines would require closing other trails.
NYSB: When do you think the fourth trail on Lookout will be cut?
Bruce: We're hoping within the next two years.
NYSB: What's the one public perception about Whiteface's mountain ops that you feel is either unfair or inaccurate?
Bruce: We constantly fight the perception of inferior snowmaking and grooming. I feel that on both counts we've really improved in the last number of years.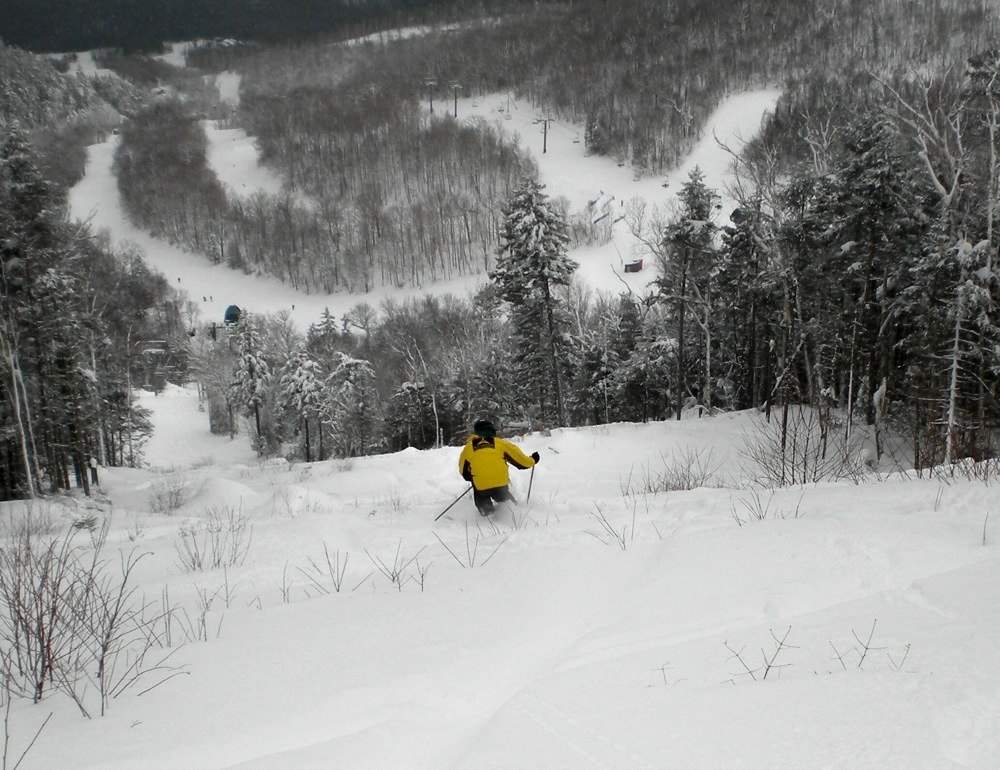 HR: When will there be snowmaking on Hoyt's High?
Bruce: We would like to see it ASAP. This is most dependent on increasing revenue and skier visits, so it is really hard to tell. Our current goal is to make up for the reduction in our budgets. If we can accomplish that, we'll have a better feel for investing in capital projects.
NYSB: Every new building seems to be log-sided, is the plan to renovate all buildings with log siding in the future?
Bruce: This isn't decided. Most likely we won't side all of the buildings with logs.
NYSB: What are you looking forward to this season?
Bruce: Achieving our goals — delivering excellent snow conditions and guest service. We expect to bring new skiers and riders to Whiteface and show them the best that we have to offer.
NYSB: What are your goals for the next five years?
Bruce: Our top capital projects for the next five years are to: a) install snowmaking on Hoyt's High, b) build one more trail on Lookout Mountain, c) finish the Sugar Valley Glades and rehabilitate Porcupine Lodge, d) implement a new five-year Unit Management Plan for the Ski Center and the Veteran's Memorial Highway, e) replace the Little Whiteface chair, f) continue to improve snowmaking production, g) perform maintenance on the Veterans Memorial Highway, including a facelift on all buildings and signs, and h) increase efforts in staff development and training.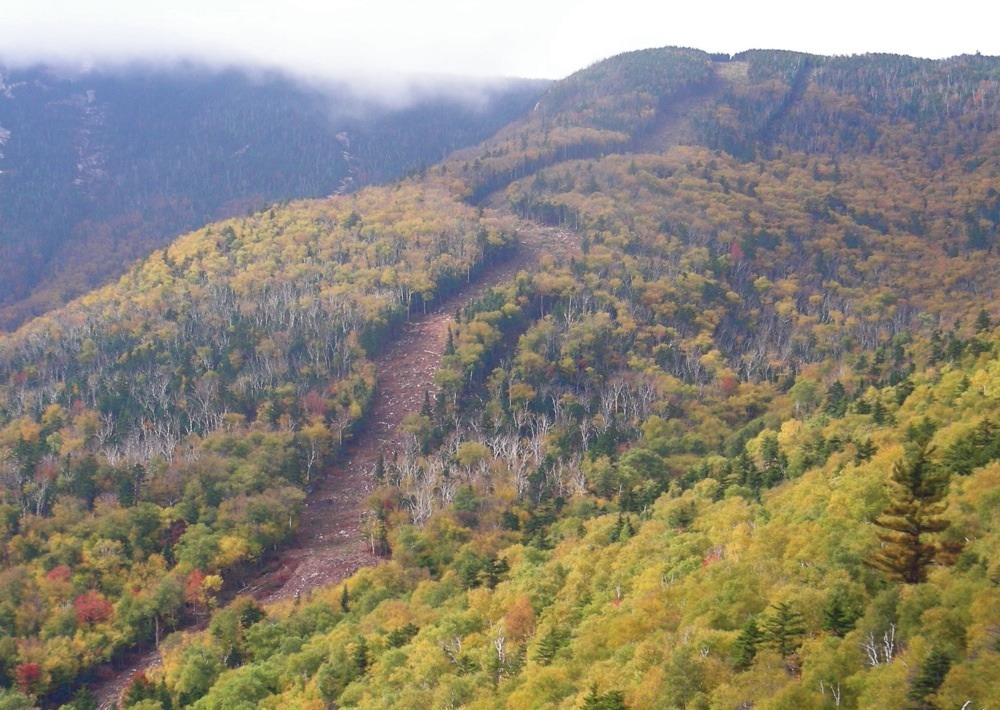 NYSB: What are you most proud of over the past five years?
Bruce: The Lookout Mountain expansion has been a great addition to our offerings. Our crews finished a huge amount of work in two short summers. Another important accomplishment has been the improvements in our snowmaking plant. This has greatly increased our snowmaking capacity and efficiency.
NYSB: Thanks for your time Bruce, we really appreciate it.