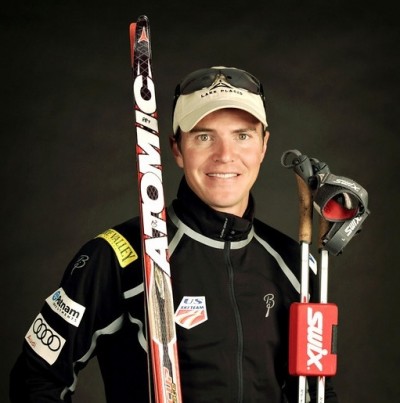 Let's face it: at best, nordic combined — where athletes race cross-country after jumping — is not on most Americans' radar.  When Johnny Spillane won the U.S.'s first World Championship gold in 2003, it didn't elicit a yawn outside the nordic ski community.  But when the U.S. broke through for four nordic combined medals in the 2010 Winter Olympics, it got people's attention.
In Vancouver, Vermontville NY native Bill Demong skied to gold in the large hill/10 km event and anchored the U.S. to silver in the team event.  Johnny Spillane, now retired, had two individual silver medals in that Olympics and shared team event silver.
Demong is no overnight sensation.  Vancouver was his fourth Olympics, and he follows the footsteps of a program that has yielded several World Championship medals and fielded strong skiers for over 30 years.
At the USANA Health Sciences convention in August, Demong took time to speak with NYSkiBlog.  USANA Health Sciences, one of Demong's sponsors, is a direct selling company that develops and sells nutritional and personal-care products.  We thank them for making Demong available.
---
NYSB: How's training been going so far this year?
Demong: It's been a pretty hard summer of training.  It seems like the whole cycle is coming full circle again, knowing it's an Olympic year.  I'm excited to train and enjoy the fact that this is what I get to do for a living.  Maybe it's an age thing but I'm still finding new ways to try to get better.
NYSB:  Is it harder to travel now with children?
Demong: Traveling is much more difficult. I try to plan my trips to be gone for about two weeks.  Once or twice a year, I'll be gone for three or four weeks.  It makes it a lot easier to travel, knowing that it's not something I'll be doing for another 20 years.  I look forward to spending more time at home, for sure.
NYSB: The last two summers, the U.S. NoCo team traveled to France in July to cycle the mountain stages of the Tour de France route. Does the training benefit of the trip to France offset all the travel?
Demong: Absolutely. Travel is just like anything else. The more you do it, the less effect it has. When I go to Europe in the wintertime, even for 10 days, I can race 100%, two days after I travel.
Going to Europe in July, it's a great opportunity for us to do a lot of equipment testing and meet with manufacturers.  We go over for a week to 10 days before we go to France just to test equipment and do a lot of high quality jump training.  In the second week, we ride bikes in France.  There's a threefold benefit.  One, it's great training.  Two, as you get older, you find fun, out of the box things to do. Riding bikes is a break from the normal routine.  It keeps things refreshing and motivating.  And number three, it's a fundraiser for junior development — the National Nordic Foundation.  It's a successful event where where we engage our donors.  The trip benefits up and coming skiers.  People pay a pretty good chunk of change to help support our effort to become the best in the world.
When we get to France, we do a couple of jump sessions but prioritize riding before we come back in August and start increasing the intensity load.  We just finished our first intensity block.  We have it worked into our schedule so that we get a benefit from those big hours in France.
NYSB: Can you calculate the impact of your Vancouver results on juniors in the development pipeline?
Demong: We're seeing more kids in the nordic combined program.  And kids are growing up with different expectations. Bill Koch's medal was a one-time thing that showed us that it was possible, but it wasn't a frequent enough thing where kids grew up thinking we were as good as the Norwegians.  Now, skiers I watch coming up think, "Yeah, if Kikkan [Randall, two-time sprint World Cup winner] can do it or Billy can do it, I can do it."  That's an important benefit in building a long-term legacy of success for the sport in the U.S.
NYSB: Does the ski jump at Sochi have any distinguishing features?
Demong: Sochi is actually is a pretty normal, modern venue.  Jumping has become a more controlled sport, more evaluated in terms of homologation of venues.  Sochi is very similar to Park City, Torino, Vancouver.  What I like about it is that it's closer to sea level like Vancouver was, where thicker air makes it a little more fun to fly.  The winds have shown to be fairly limited.  I'm sure there'll be an event in the Olympics that is so windy that it's almost cancelled or postponed.  But it's an outdoor sport.  It'll offer really good competition with fairly limited influence from the weather.
NYSB: Do you think we'll see women's nordic combined in the future?
Demong:  I hope so. I think it's really early on right now. They're participating in the Olympics in jumping.  We've already seen girls are growing up in a program that offered both, or focused on nordic combined early on.  It gives you more of a choice when you get older. "Do I want to be a cross-country skier or do I want to jump or do I want to stay with combined?" I don't think we're too far out, maybe 5 years from having a legitimate domestic field and it'll be interesting to see how the world develops in that direction.
NYSB: What are your goals for Sochi?
Demong: I think we have a very strong team. Taylor [Fletcher] is basically the fastest Nordic combined skier in the world at this point; Bryan [Fletcher, Taylor's brother] is one of the best jumpers.  I think it's a group where we're as strong as we were in Vancouver, if not stronger.  So I think we're going into this with very high expectations.  As an individual, there's only one thing I want to do and that's vie for the individual podium again.  But I think as a team, we have a shot at a gold medal.  We have very high hopes; we want to build on the success we had in Vancouver.
NYSB: Have you been able to ski at Dewey Mountain recently?
Demong: I didn't get back there to ski this year, but I have been running and biking there.  In fact I was back there and rode my bike at Dewey as well as the Wilmington 100 k mountain bike race [qualifier for Leadville 100 mt bike race.  Demong finished 8th overall].  Happy to report that the trails are in far better condition than when I was growing up; makes it more fun for novice skiers as well as better racing conditions for experts.
NYSB: Any chance that we'll see you in the Climb to the Castle at Whiteface in September?

Demong: "There's no chance [laughs]. I'll be there for the nordic combined national championship in October.  I'm really hoping that we have some sort of a public race course.  Whether it's on Main Street or somewhere around Mirror Lake.  That would be a really good Flaming Leaves event.