With freezing rain forecast for Sunday in southern Vermont, I decided to catch up on sleep and stay local. I don't mind skiing in that stuff, but I'd prefer not to drive in it. After a leisurely breakfast, I set out for a run in Wildcat Ridge Wildlife Management Area (WMA) in Rockaway, NJ.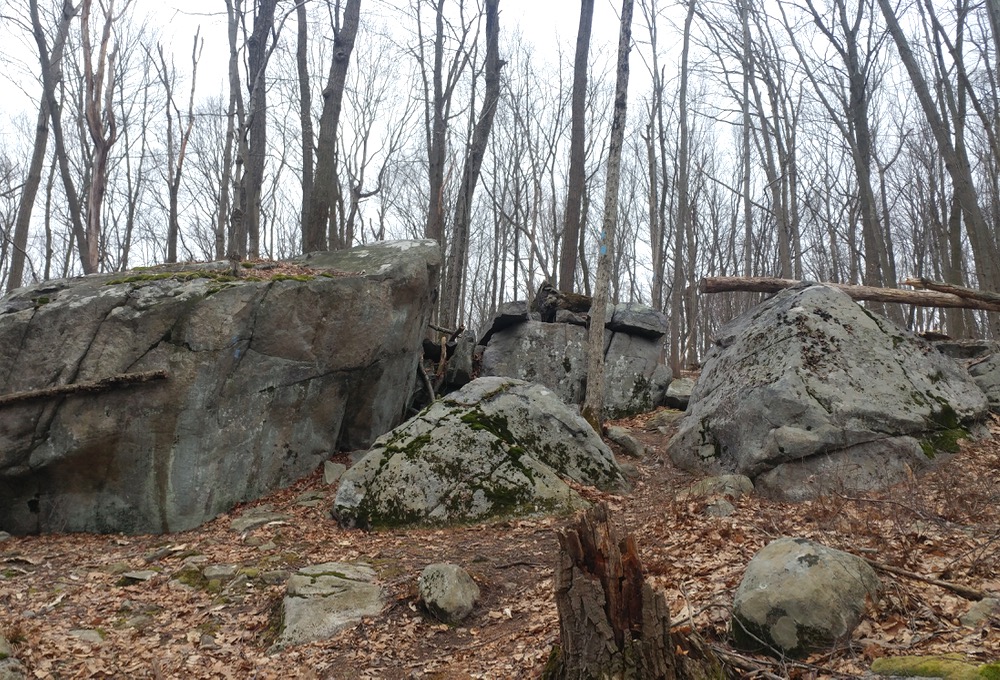 Wildcat Ridge covers about 3700 acres. With the nearby Mt Hope Park, Picatinny Arsenal, Mahlon Dickerson Reservation, and the Rockaway Valley WMA, you're looking at around 17,000 contiguous acres of open land. Compared to New York's big parks, that's a drop in a bucket, but there are plenty of opportunities to run, mountain bike, and, at times, in the winter, you can even ski. If you're ambitious,  you can go off trail to look for signs of the old ski jump at Lake Telemark.
For years, Wildcat Ridge was my go-to destination for Sunday overdistance runs. The hiking trails intersect with old roads dating back hundreds of years. The area had iron mines that supplied the raw material for Revolutionary War cannons. You can see the gated opening of one of the original mines, the remains of a blast furnace and a 19th-century cemetery abandoned when the local parish closed.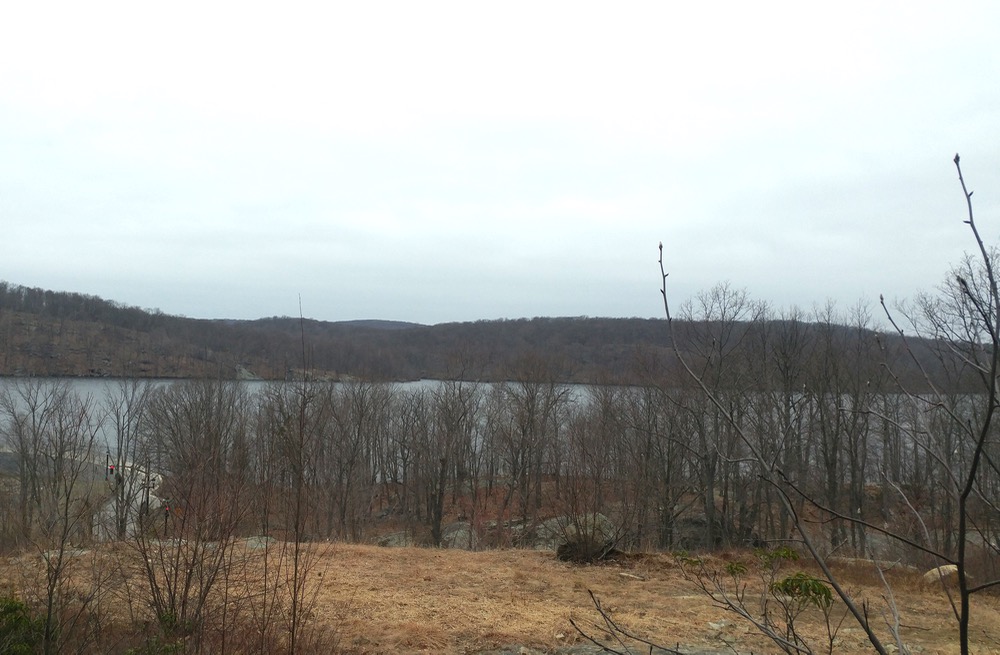 Last Sunday, I parked along Meriden Road and set out on an old woods road that leads up to the base of the dam at Splitrock Reservoir. I don't know this section of the park well; usually I start from the trailhead on Green Pond Road. After Saturday's 80-degree high, it was cool, cloudy and humid. Running half a mile, I turned on to a trail marked blue, crossing the Beaver Brook, which is the outlet of Splitrock Reservoir.
There's plenty of up and down, especially around the reservoir. Twice I've tried to circumnavigate the reservoir, and I failed both times. The first time, I went clockwise, but the trail kind of faded away and I had to struggle to find my way back.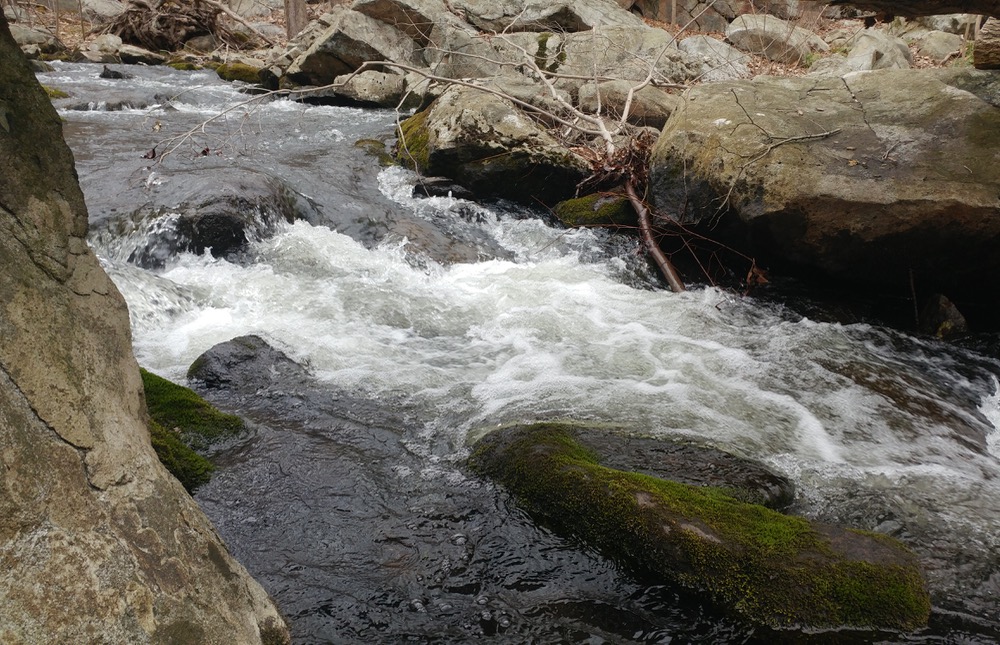 The second time, I went counterclockwise. Below the houses of the Smoke Rise development, I couldn't find my way around the north end of the reservoir and ran out of time. As my knees have broken down, today's goal was modest. Get out, have fun, see stuff I haven't seen before.
In this part of New Jersey, the woods are strewn with boulders. Like a giant threw them all up in the air and let them drop. With no understory to speak of – a high deer population despite hunting – boulders and dead leaves covered the ground. In places I was hopping from rock to rock; looking for the next trail marker. In other sections, there was a discernible trail. I passed a bungalow-sized glacial erratic and recognized it with a start: 15 years ago, when this was more of a bushwhack, I'd seen a coyote here.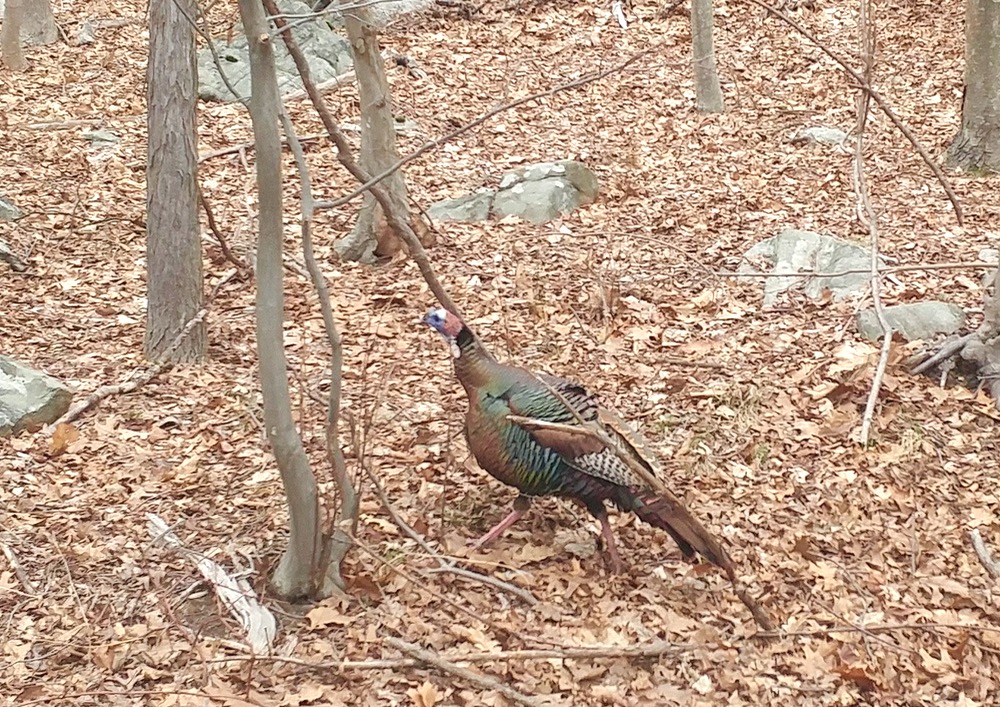 Today the only wildlife was a lonesome tom turkey – I just missed a photo of his full display – and a small deer herd. I used to see plenty of bears, but the reinstated bear hunt has changed that.
The trail wended uphill, and as I topped the ridge, I recognized the landscape. The nameless blue trail dead-ended into the Four Birds trail, a main north-south route in these woods. Having run Four Birds countless times, I turned back.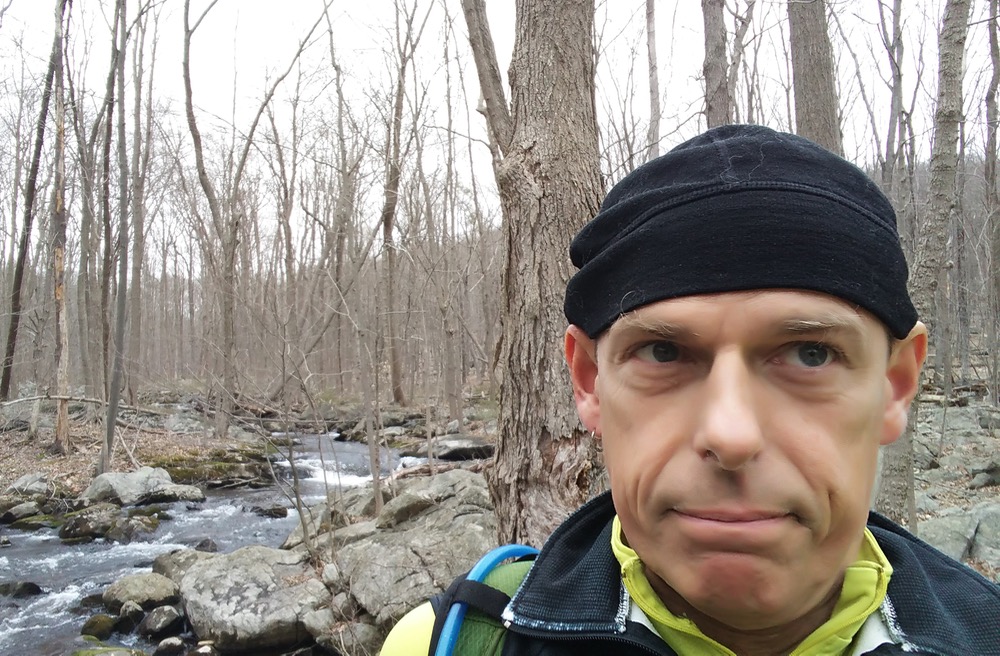 I crossed the brook and continued east of the logging road. Again it went up. In some places easy running, in other places I walked. The trail intersected with the green marked Righter Mine trail, and I turned north on that. Four Birds and Righter Mine have nice signs, but the poor blue trail didn't get much love from the state. I went another half mile, and saw Splitrock Reservoir glistening. Then I descended down to within a couple hundred yards of the reservoir. Mission accomplished; I hadn't seen Splitrock from this angle before.
The temperature was dropping, and it was time to turn around. It's not always easy to get up to the Adirondacks or the Catskills, and I'm fortunate to have a big woods in my back yard that after 25 years, I haven't fully explored.