If you're reading this you probably know the story: Warren and his guys started the tradition of making ski movies and touring the country to show their work in local —sometimes improvised— theaters, providing live narration and commentary. It grew into a traveling celebration of skiing and mountain culture.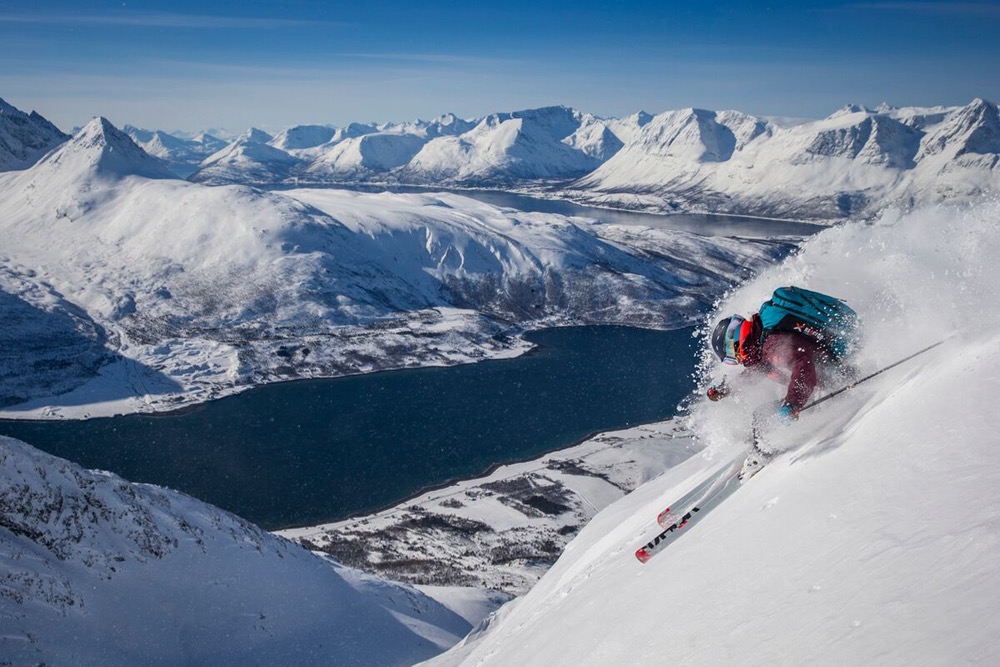 As ski mountains and gear manufacturers noticed the impact that ski films had on their customers, they started offering free lift tickets and other goodies for Warren to give away at these events. Attending a Warren Miller movie today can easily end up being a net-positive financial transaction if you take advantage of everything in the Schwag Bag.
Over the years, this business model has more or less prospered while remaining largely unchanged. Technology and budgets have increased, while the vibe has persisted. For many dedicated skiers, the annual event is the unofficial start of the season, a vital stoke-building exercise with a sack full of ticket vouchers, door prizes and raffle giveaways.
This year I took my boys to the showing at the Tarrytown Music Hall in Westchester County. We arrived early and found a guy named John Egan signing Sugarbush posters in the lobby. I didn't know who he was but he seemed like a cool guy so I took one and chatted him up. The boys scored stickers from the good folks at the Belleayre table.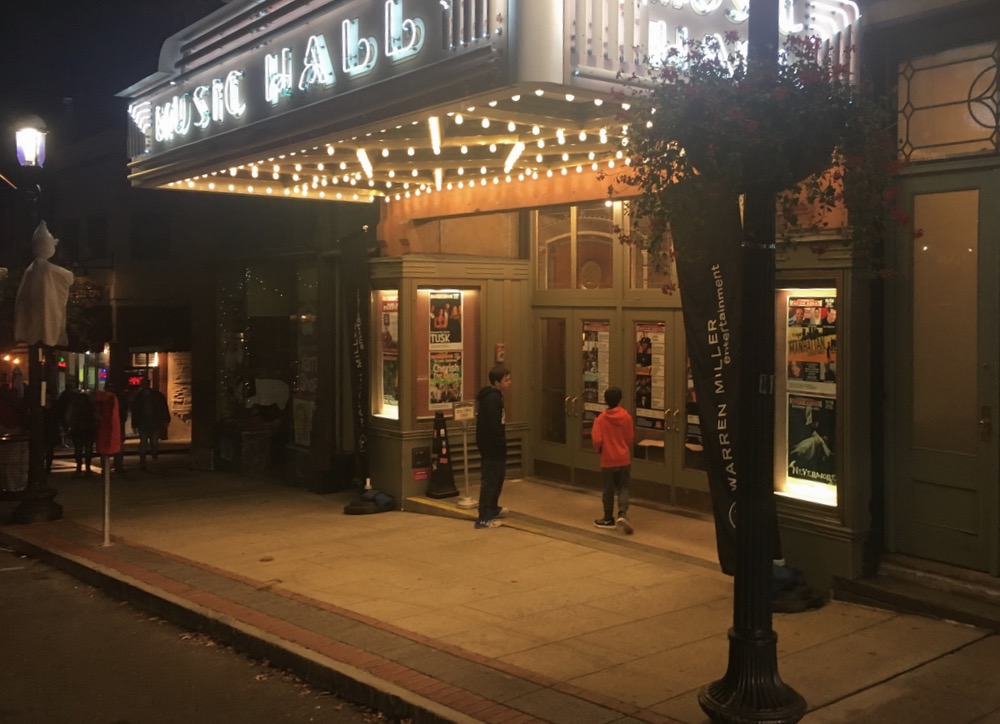 Inside the theater there were more tables where movie sponsors promoted their products. My eleven-year-old ended up with a couple fistfuls of Esther-C. I'm an Emergen-C guy but now, as I bang out this report, I'm drinking Esther-C instead. They may have a new customer.
Once everybody was in their seats, Justin Miller (no relation to Warren) introduced himself as MC and kicked off the night. We learned that John Eagan is the Director of Recreation at Sugarbush, had appeared in 17 Warren Miller movies, and is a 2016 inductee into the Ski and Snowboard Hall of Fame. After pumping up the crowd and promising more swag at intermission, Justin cleared out and the movie began.
Over the last few years, the knock on Warren Miller movies is that they're over-produced, over-scripted and they push the limits of product promotion farther than they push the limits of skiing. Critics will find plenty more raw material to work with in Line of Descent.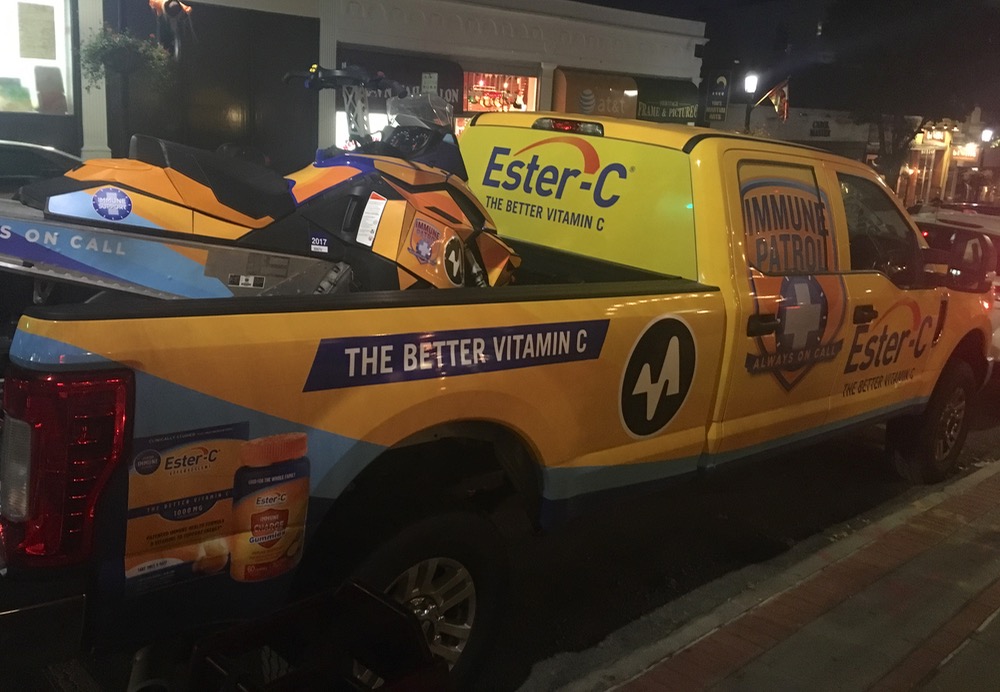 Once Warren Miller stopped participating in the company, WME would insert bits of old narration into the movies in between segments narrated by Jonny Moseley. It was phony and I'm happy to say they've stopped doing it. There is a short bit at the beginning where Warren talks about his first pair of roller skates and his ideas about freedom. It didn't feel contrived and honestly, I love hearing from the man. In my book, nobody is cooler than Warren Miller.
The movie opens with a segment shot at Jackson Hole featuring Tommy Moe. There is some inspiring footage of dropping into Corbetts with some sick POV, really good stuff. The skiing is incredible. Some great shots of the tram too, which is always gratifying for an ex-liftie like me.
The grooming crew at Steamboat gets some love early in the movie as well, also very cool. I love that every year, Warren Miller Entertainment continues to pay homage to the working-stiff ski-bums that keep the industry moving. The footage of the snow-cats cruising around the mountain in the dark of night was great.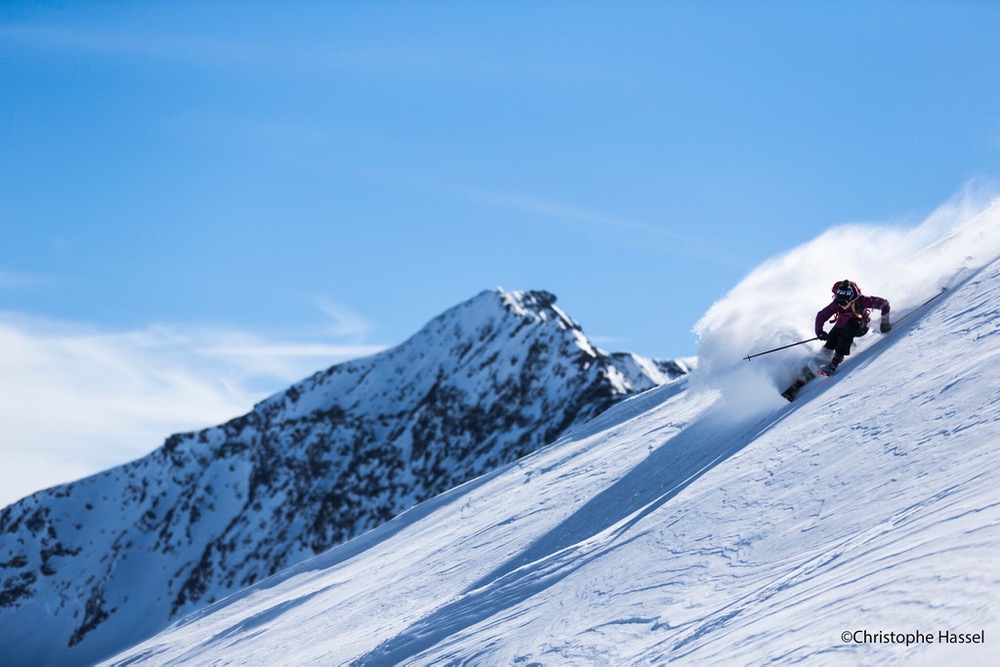 There is confusing stuff on either side of the intermission created by aggressive product placement and the aspirational pursuit of novelty that infects a lot of ski movies. There was a long segment featuring Jeremy Jensen and his buddies riding powder on their binding-less snowboards.
They're riding with a cat-skiing outfit called Mustang Powder in British Columbia and the footage is awesome, with beautiful shots of floating powder with spectacular backdrops. But there are so many early cutaways as they land jumps that you wonder if these boards are all that good for tricks. Apres, there's footage in the lodge playing pool, and drinking Goslings Rum while one strums a guitar. I wasn't sure if I'm supposed to take part this seriously or if he's playing the guitar ironically. I really don't know. And they suck at pool.
After intermission there's a segment featuring "Bird" Shaffer and Kalen Thorien, road-tripping in an Airstream trailer (sponsor) pulled by a VW (big sponsor) but then they throw in a couple of awesome Ducati motorcycles (sponsor) with ski-racks attached. They seem to be implying that they're using the Ducatis to shuttle up the mountain but they're each riding their own bike so I don't really understand how that works. They do show them doing some touring (cool) and then they make their way to Beartooth Pass for some spring skiing (very cool).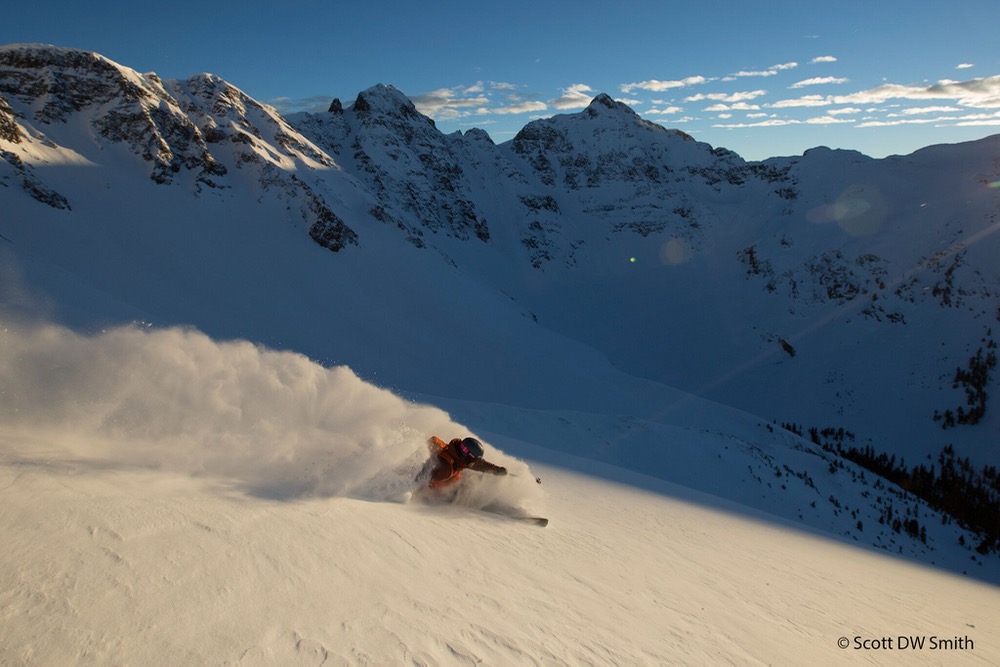 Eventually they work their way to a segment of "Bird" flying around the mountain with a paraglider. It's pretty spectacular but I'm always a little confused by segments like this, not sure if I'm supposed to want to try it myself (I admit that I do) or just admire the guy's skills (which I also do). The guy does a barrel roll for God's sake. I wish I could do a barrel roll with a paraglider.
There's a lot more fun stuff in places like Tahoe, New Zealand and Silverton, and some Euro-skiing. They hit all the bases. Everybody in this movie skis better than I do. It's humbling; even Tommy Moe's kid owns me.
Is there an insane amount of product placement? Yes. Did the editors milk the overtime? Sure. Too much use of CGI and visual effects? Yup. But it was a fun night and my kids loved it. We got some cool stuff and some folks won new skis and a bunch of other cool stuff from the raffles. I recommend you attend one of the upcoming shows. And definitely buy a new Helly Hansen parka and some POC goggles too.