As you drive northwest from Montreal through the Laurentians, there are a number of family ski areas right alongside Autoroute 15. While these smaller hills can't compare with the region's big destination area, Tremblant, in vertical, skiable trail acreage, or base village amenities, they offer great access, no-frills ambiance, and affordable rates for families on a budget.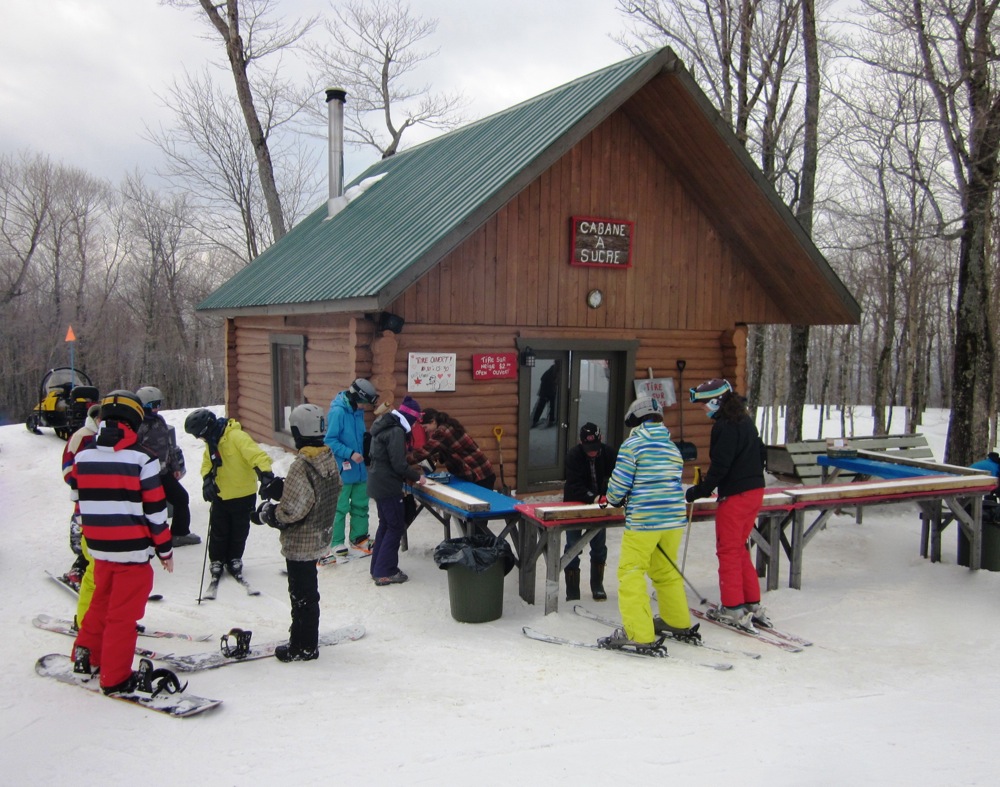 Mont Blanc is a prototype Laurentians area. With a reported 1,000 vertical feet, it has the same general footprint as Greek Peak, but a more consistent pitch. With easily edgeable hardpack on the menu, the skiing was fast and fun, so we worked our way across the hill, skiing every trail and dropping into a few glades to mix things up.
There were a few busloads of junior-high students out enjoying a day on the snow and since Tuesday was Ladies Day, all members of the fairer sex skied for $20. Men get the same deal on Wednesdays.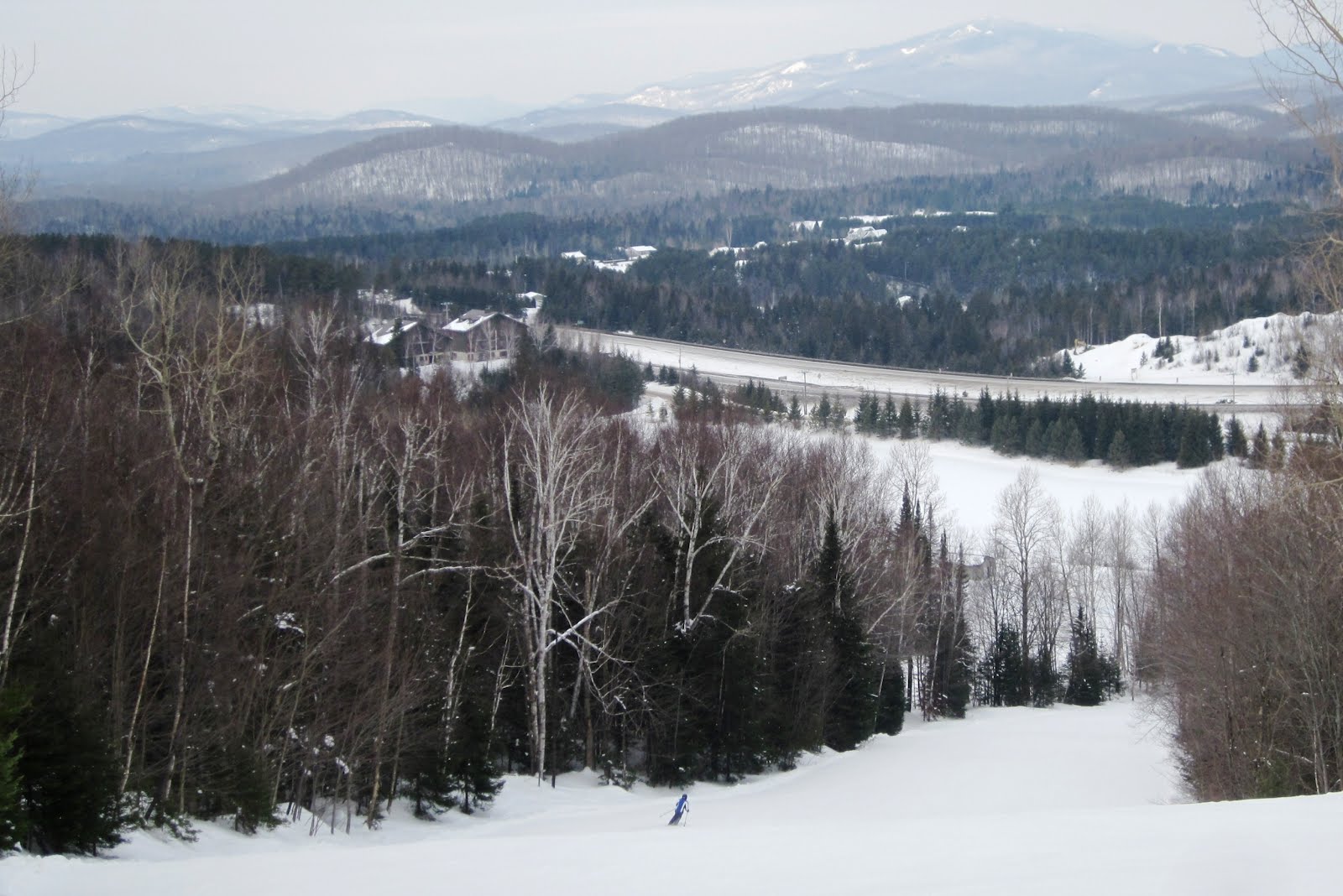 At one point, we came across a father and his three-year-old daughter in the trees. Not only was she using poles (a rare sight with really young kids south of the border), but she was also bombing through the glade like a pro.
But the high point of the day was a visit to the bustling cabane à sucre (sugar shack) at the summit. If you've never been to one, the big treat is tire sur neige, aka maple taffy on snow. They heat maple syrup to more than 200 degrees and pour it onto snow in rectangles.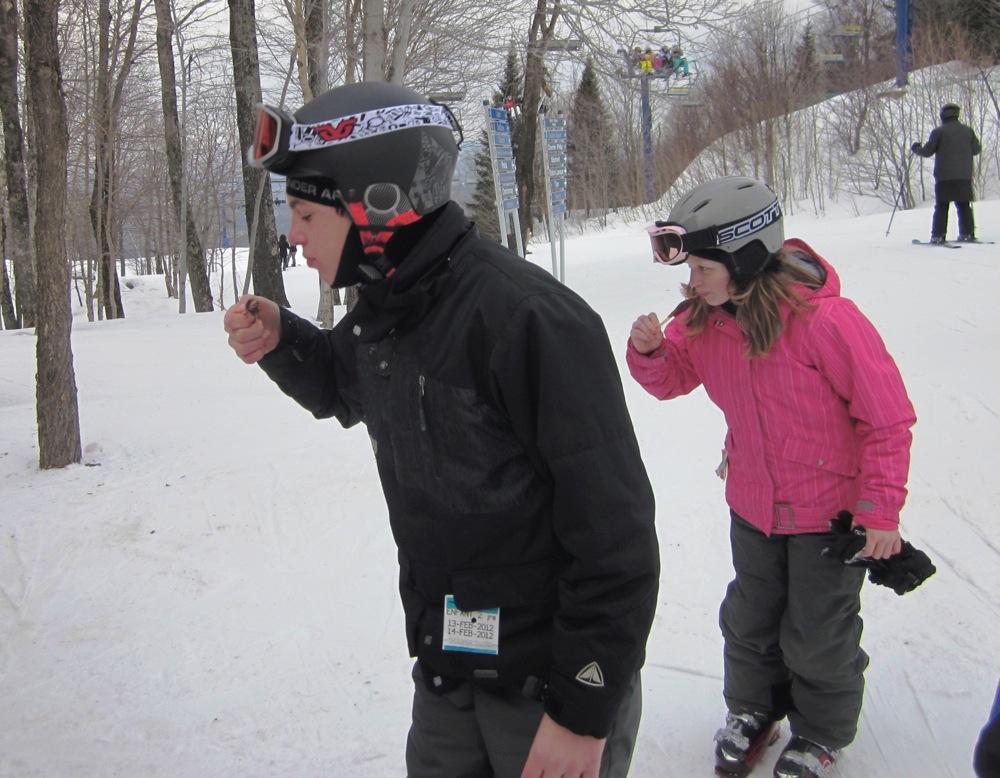 After letting it cool for 30 to 60 seconds until it solidifies somewhat, you roll it up with a popsicle stick and quickly devour.
My wife and I were laughing when we turned around and saw everyone in the same pose as the kids in the above photo. I don't recall ever seeing sugar shacks at a U.S. ski area, which is a shame. I bet that they'd do a decent business and even compete well with waffle stands.