Over the last few years, it's been interesting and enlightening to learn about people throughout the New York/New Jersey region who are constructing new mountain bike trails. Too often, we tend to take for granted that trails exist and don't consider the amount of forethought, time, effort, and resources it takes to design and build them.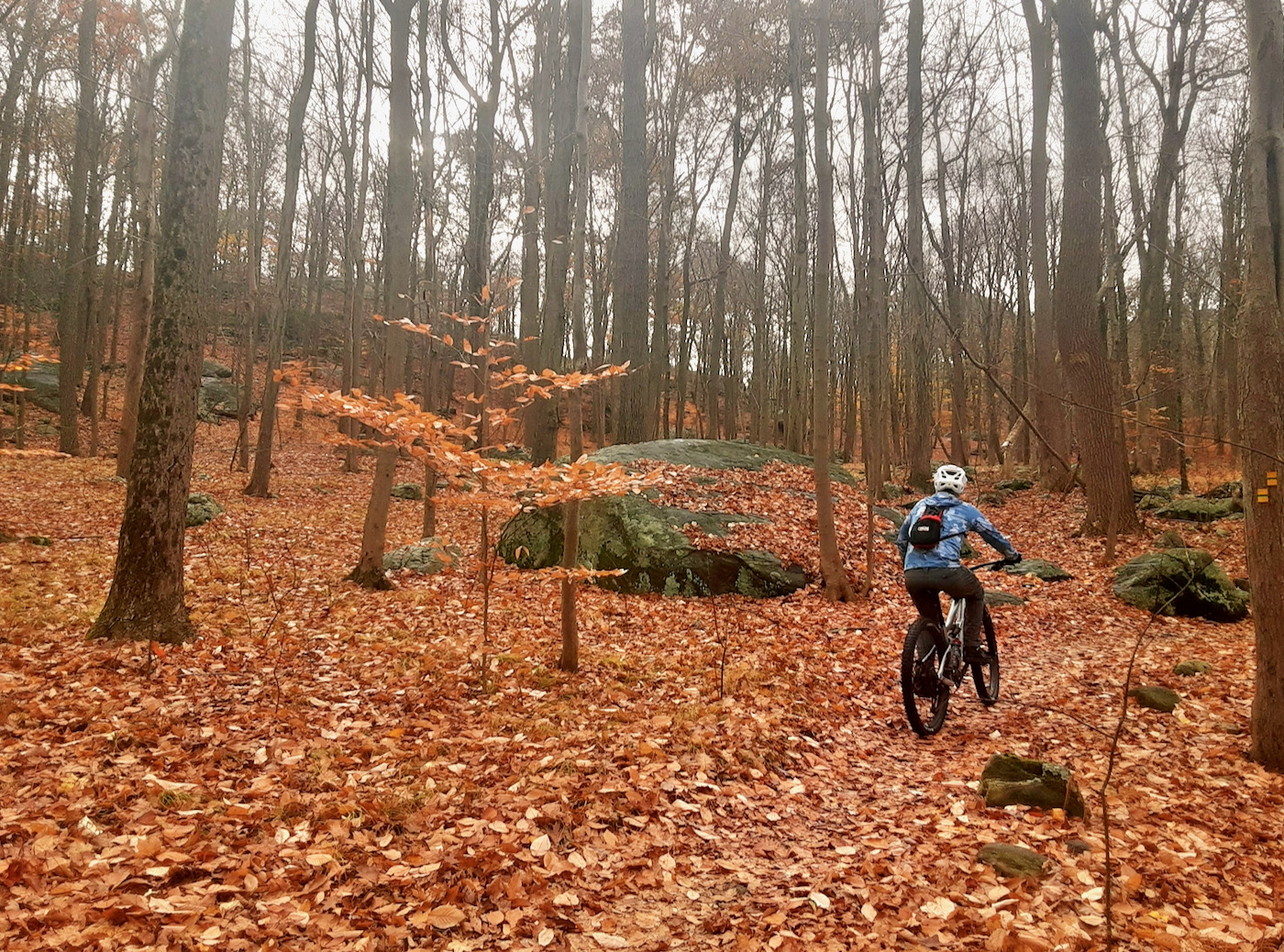 It's been especially exciting to note the increase in mountain biking terrain along the state line, where riders at Ringwood State Park and Sterling Forest have been the happy recipients of excellent new trails. My friend Jason is a big fan of both and invites me along a few times a year.
As we transition into late fall with cold temps and more foliage on the ground than still on the trees, I usually start winding down my mountain biking (and golfing) in anticipation of the coming ski season. However, with the abnormally mild weather lately, I looked forward to joining Jason and checking out how things are coming along at Sterling Forest, which has become an increasingly popular mountain bike destination over the last few years.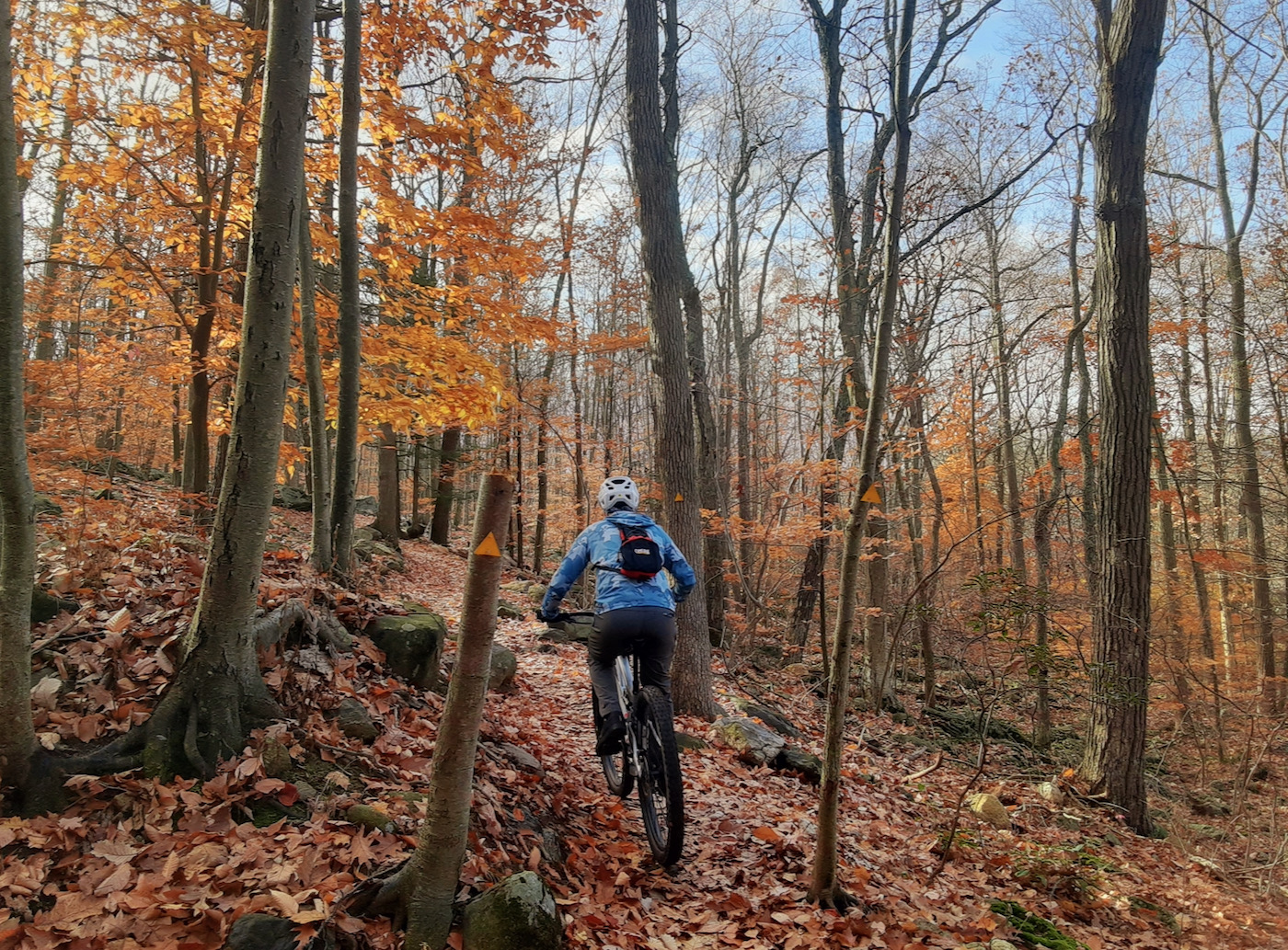 Arriving at the Caretakers parking lot on Saturday, a dozen cars were already there. Our objective was to ride the newly opened Augusta Mine Trail on the far left of the map, which branches off the Hutchinson Trail and skirts a couple large ponds.
With 95% of the leaves down, the hero dirt I've been riding lately at my home area in Morristown, NJ wasn't on the menu. Instead, I had to pay more attention to wet rocks under the colorful foliage covering the trails. Still, I was surprised by how smooth many stretches of this trail are and admired the effort that it must've taken to remove all of those obstacles.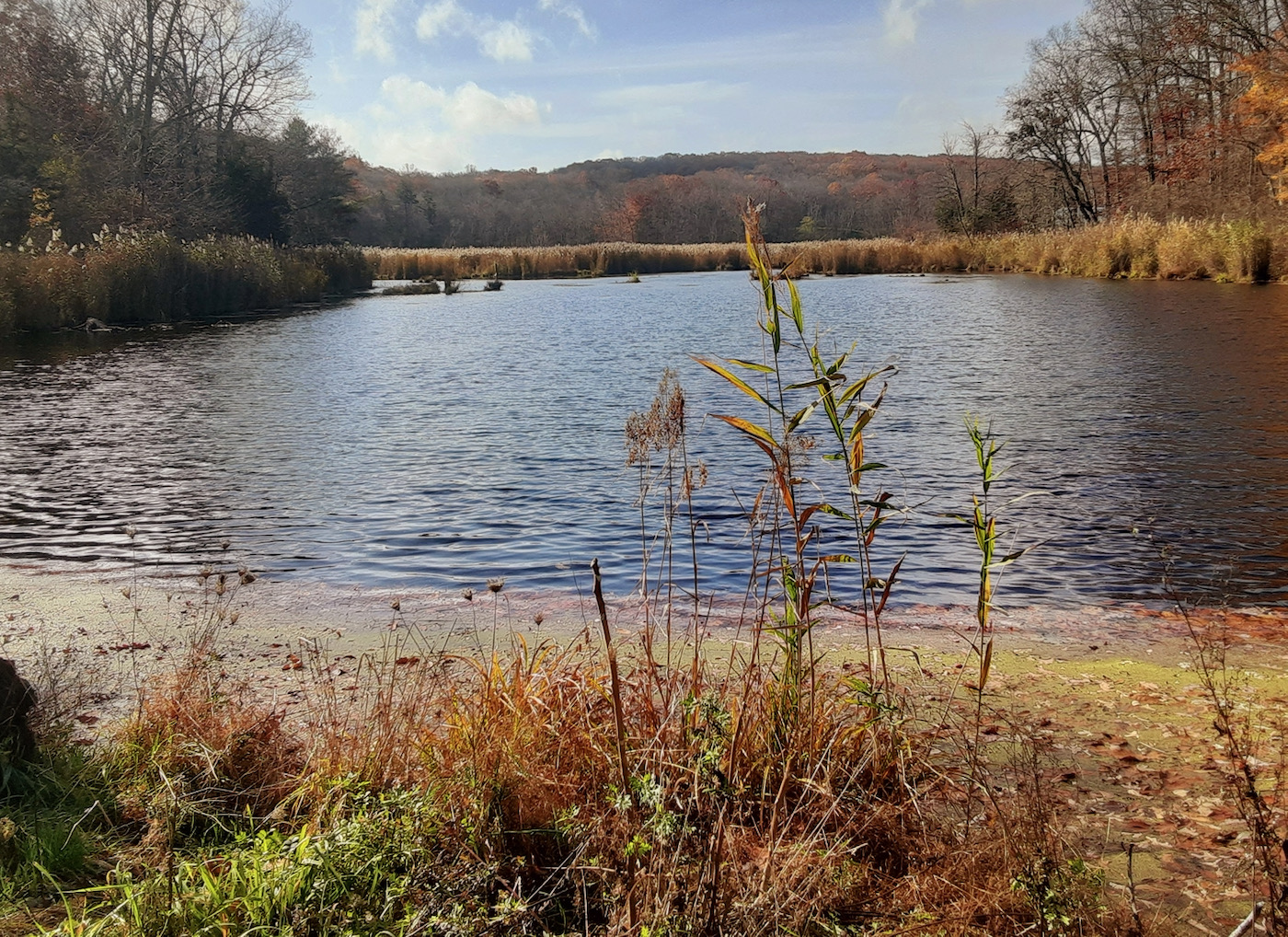 A couple times we rode past people wearing Palisades MTB (PMTB) shirts, the group that's overseeing the ongoing project to build five miles of new trails. As mentioned on their website, PMTB saw that mountain biking wasn't available at many of the parks throughout Orange, Rockland, and Bergen Counties and formed the organization in March 2015 to collaborate with other groups to petition park managers for trail access. They contracted with Tahawus Trails, a professional trail-building company, to expedite the three-phase project with both machine-made and hand-built sections.
The new Augusta Mine Trail offered an intermediate rider like me a nice blend of uphills and some beautifully flowing downhill lines. Meanwhile, Jason took advantage of a few well-positioned rocks to get some air. Between the fun terrain, the balmy temps, and the gorgeous autumn colors, it was a great outing and I look forward to going back to Sterling Forest as they finish off the project.