Recently Bill and I did some exploring in the northern Adirondacks. Our St. Regis Canoe Area loop started and ended at Upper St. Regis Lake.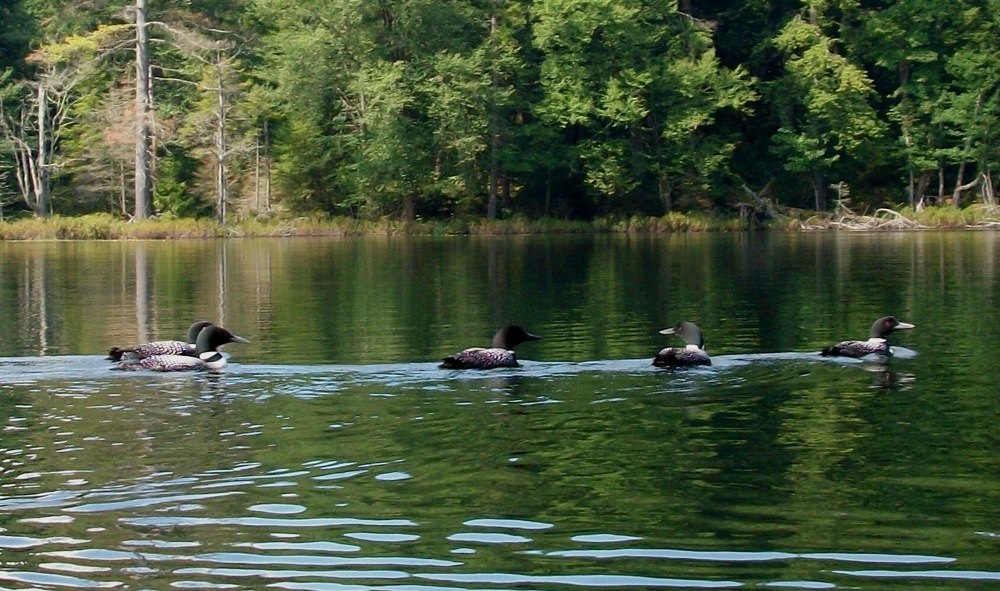 It's a nice enough spot, dotted with expensive camps with motor boats. My wife and I have paddled it before. She enjoys looking at the different camps and boat houses on the islands, but that wasn't the experience Bill and I were after.
Fortunately, it is a short trip from the put-in to the first easy carry over to Bog Pond. I was happy to leave the lake behind. Bog Pond is in a pleasant setting. It's very small and surrounded by a lot of colorful vegetation.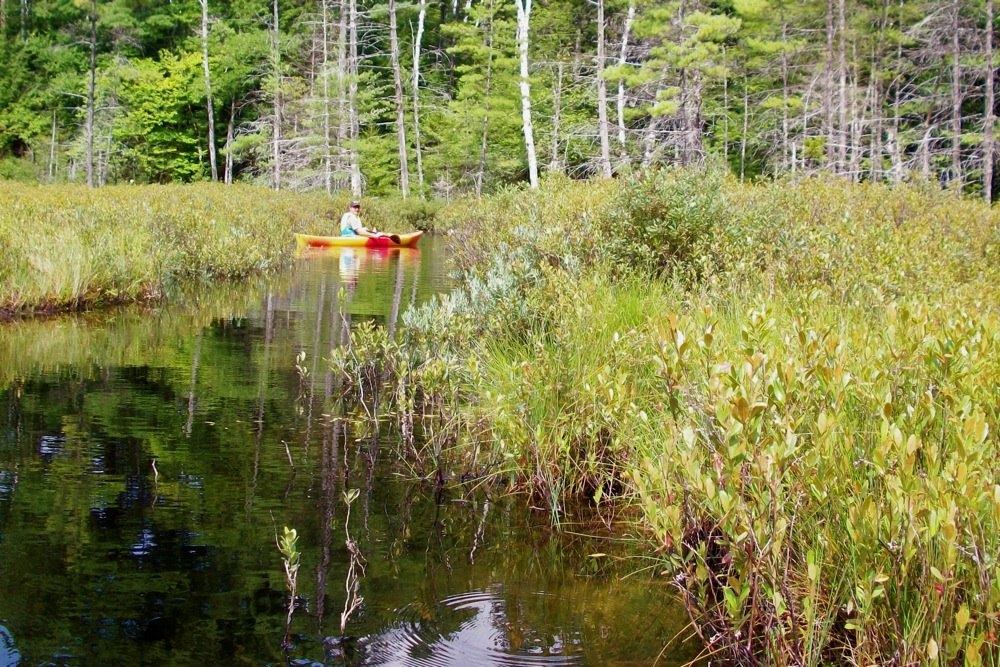 There are narrow, but navigable channels through the vegetation going into the pond and leaving it. If they were not maintained, I'm sure they would fill in quickly.
Bear Pond is deep with clear, calm water. We passed an island with a lean-to. Bill spotted a bald eagle in flight, about 20 feet above us. It was beautiful, but moved too quickly for us to catch on camera.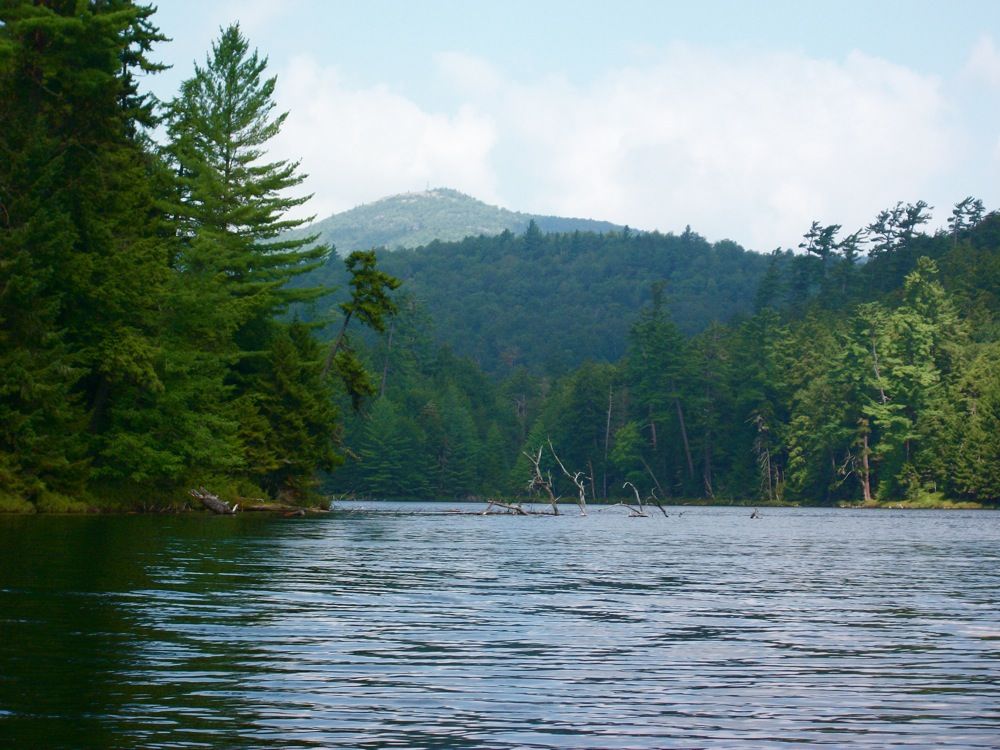 My disappointment was short-lived because at the north end of the pond, we heard the cry of the loon. We found five of them together. We paddled slowly closer, to within about 12 feet, and watched them swim, dive, and call out to each other until they split up. It was the best part of the day for me.
The carry to Long Pond is about a quarter of a mile. The pond itself is about a mile long and narrow. We checked out the loons and campsites. It's a nice long paddle before the next carry.
Green Pond is small, quiet and has a green tint to it. There are two carries out of this pond, and we elected to take the shorter one over to St. Regis Pond.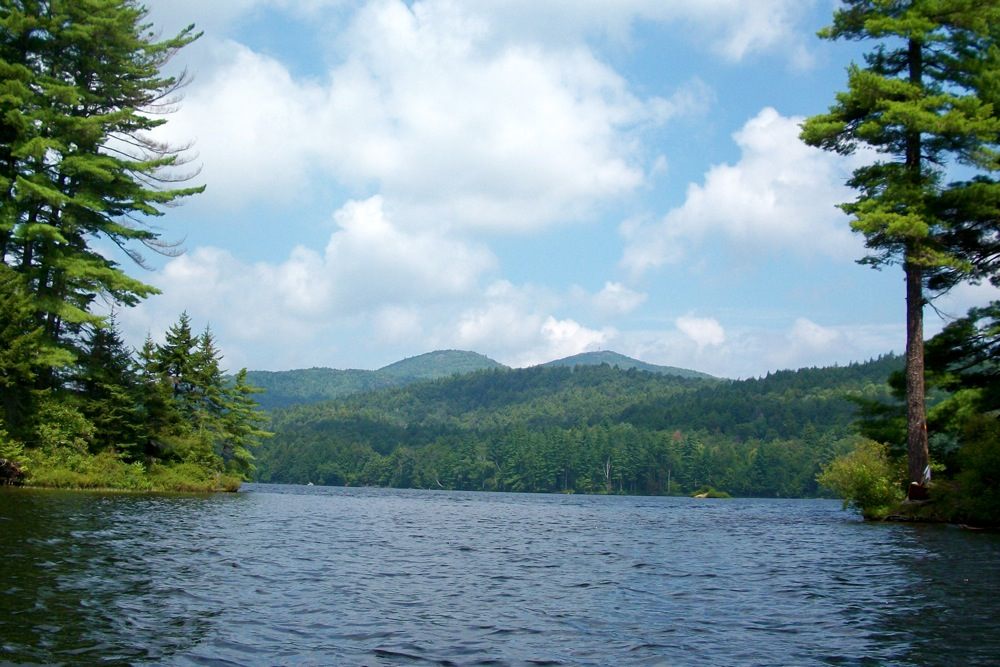 St. Regis was the biggest body of water on our loop and, I think, the most scenic. The water was choppy and the wind wass coming pretty strong at us, but we enjoyed it. In the picture above, taken between two islands, St. Regis Mountain is on the right. We could see the St Regis fire tower on top.
We wanted to explore the shoreline, but decided to continue on. We found a beautiful marsh near the beginning of the carry. Paddling through it was a treat. There is a actually a dock to start the carry. The planks go back about 50 yards through the marsh to get you to dry land: a lavish start to a lengthy portage.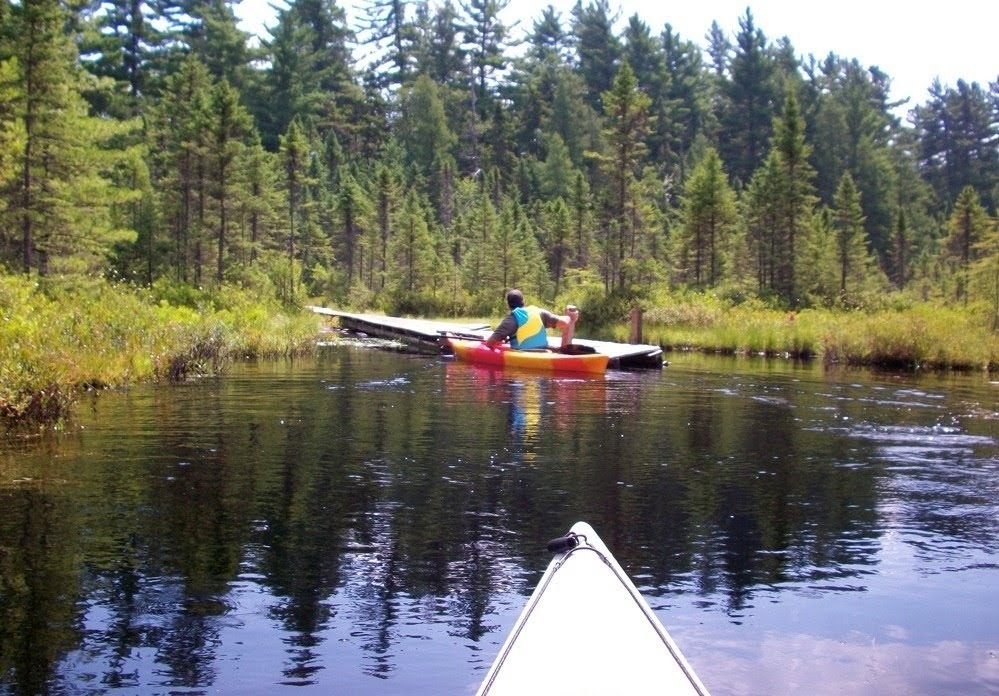 After about a 3/4-mile trek through the woods, we came out onto Little Clear Pond. This pond is relatively big, and we saw and heard several loons there. The fish hatchery uses this water, so no fishing or camping is allowed.
On our map, it showed a carry to a small pond called Grass pond. We looked along the shore, but couldn't find it. Bill, an ex-eagle scout, was determined to find it. The trail was narrow and not maintained, but we decide to follow it anyway. Grass is a nice little pond, but not worth the half-mile carry for limited paddling and a return by the same route.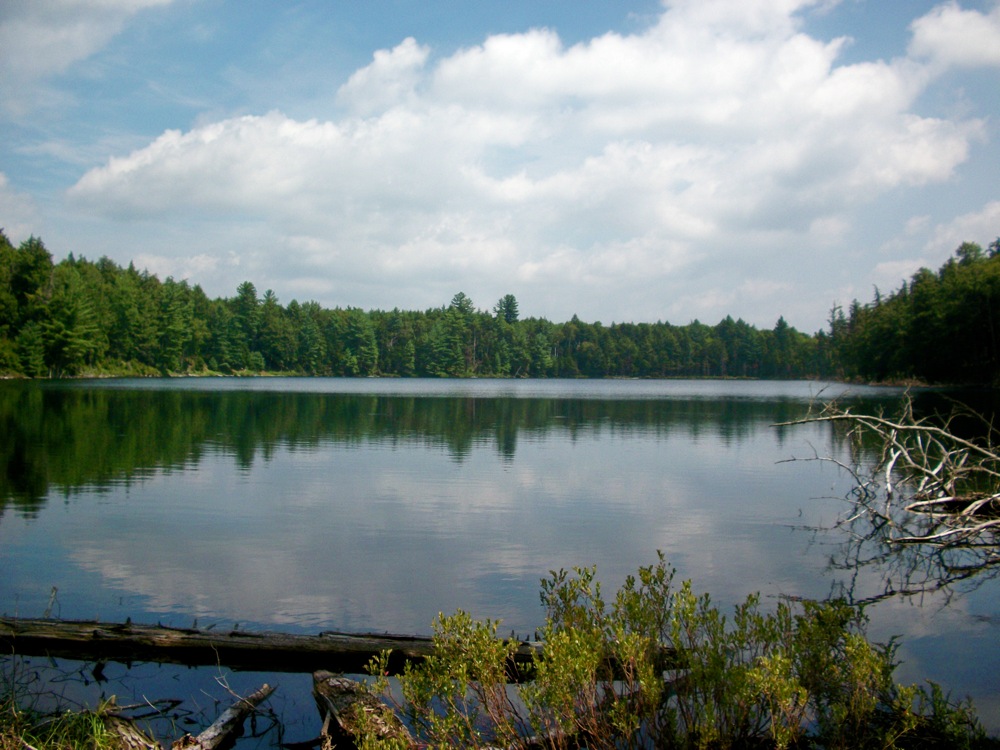 We started working our way back. The carry from Little Clear pond back to Green Pond was the hardest part of the day. It's a mile long, with lots of hills and turns. With a heavy boat or a lot of gear, this will get your attention. Once back on Green, we backtracked through Little Long, Bear, Bog, Upper St. Regis back to the parking area.
Days like these are the best mental therapy.