Just south of South Colton, New York, where Route 56 weaves through a little ravine, there was a one-way bridge with a stop light. As a student at St. Lawrence University, I've probably spent a full hour of my life waiting at that light on trips to Big Tupper or Gore or home to Saratoga Springs.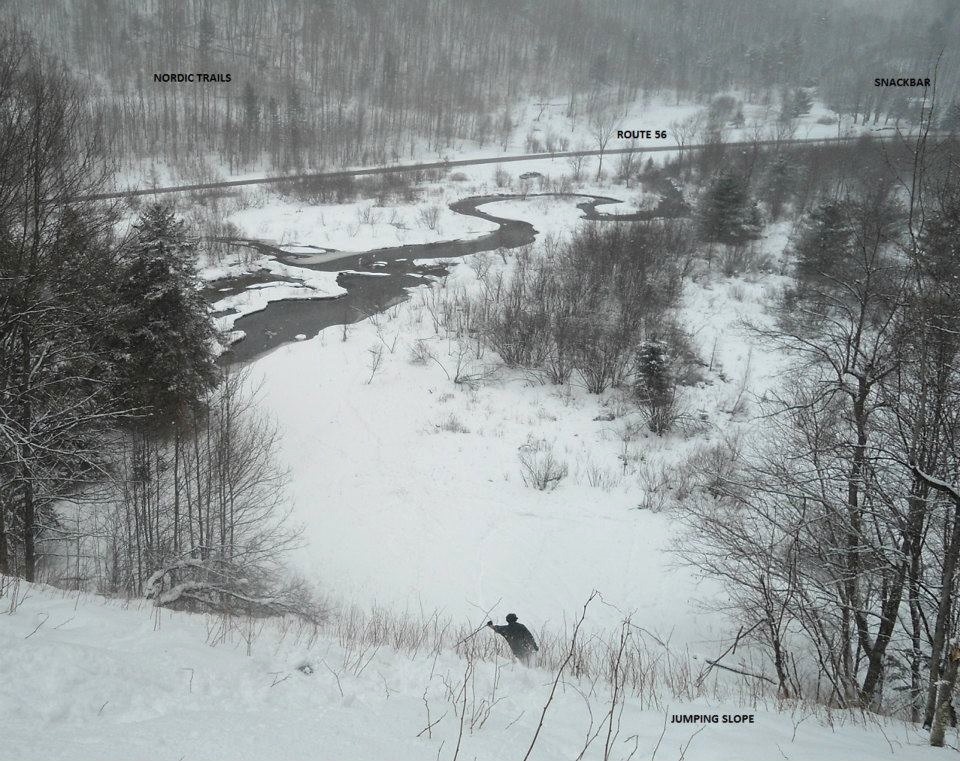 I first noticed the Snow Bowl during my Freshman year. Behind the brook on the west side of the road, I noted potential. There are a few clearings down the fall line of a fairly steep, small mountain.
By the end of that year, I had heard all the stories. That was the SLU Snow Bowl, only closed and sold to the state in the last ten years. It had been home to a couple of rope tows, a snack bar, and some of the most raging college parties in history.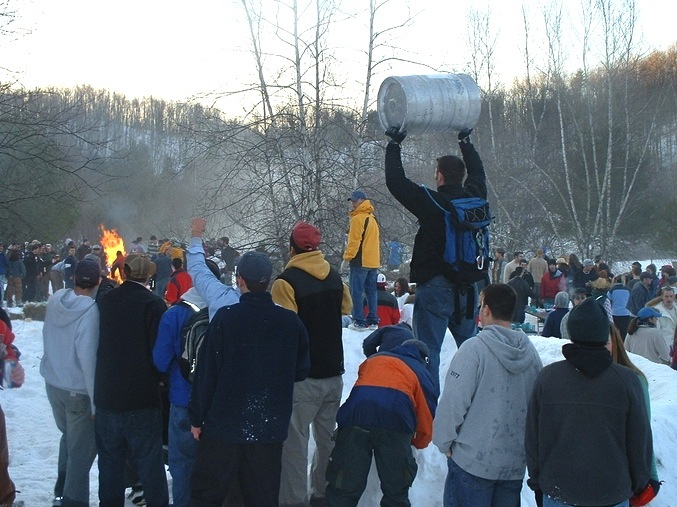 The Outing Club used to host an annual grand-scale kegger there, and in the 1990s Playboy published a piece about The Bowl in their "Top 5 College Parties of the Year."
That party still exists, only now the Outing Club rents out the lodge at Titus Mountain and buses half of the student body to the event. Last Saturday was the First Ever Fourth Annual Great Mount Titus North Country Global Cooldown Weekend Event. Don't ask.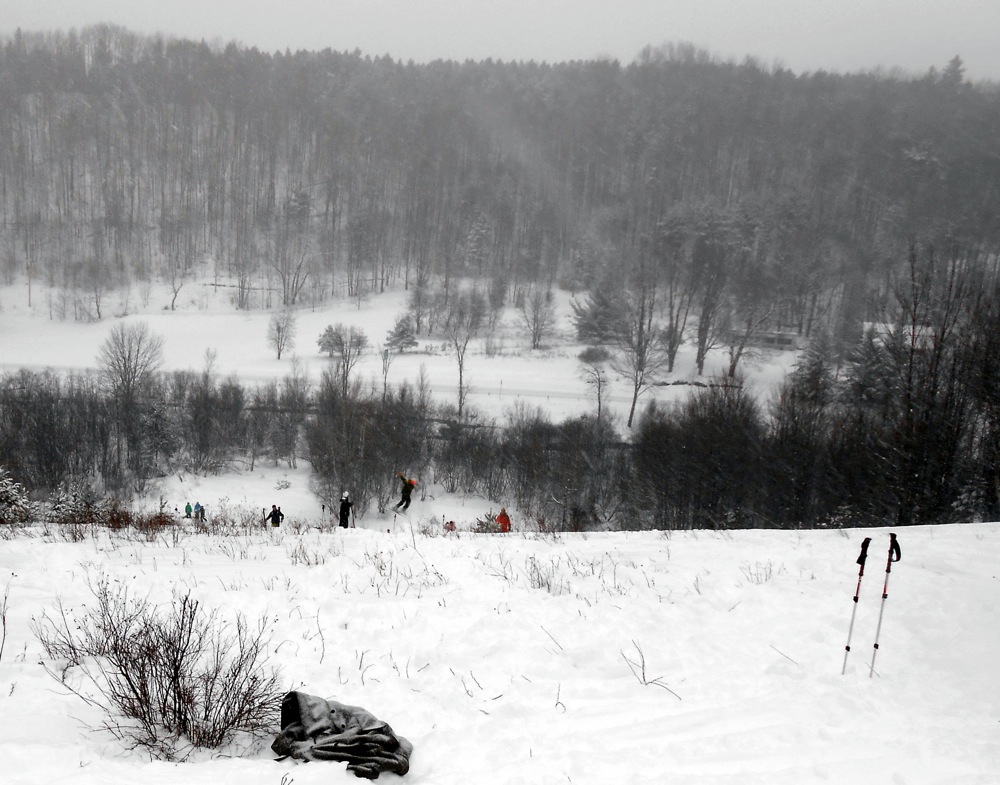 On the way to the Outing Club meet up, I saw my buddy Paxton walking the road, carrying his snowboard. I rolled down the window and yelled "Get in the car!" I ended up bringing three more people as part of a five-vehicle caravan to the legendary Snow Bowl.
It's only fitting that we had a chance to ski the Bowl during the best snowfall we've seen up here in over a month. I woke up for class last Thursday to a healthy six inches on the ground and wondered if the forecast for more would hold true. It did.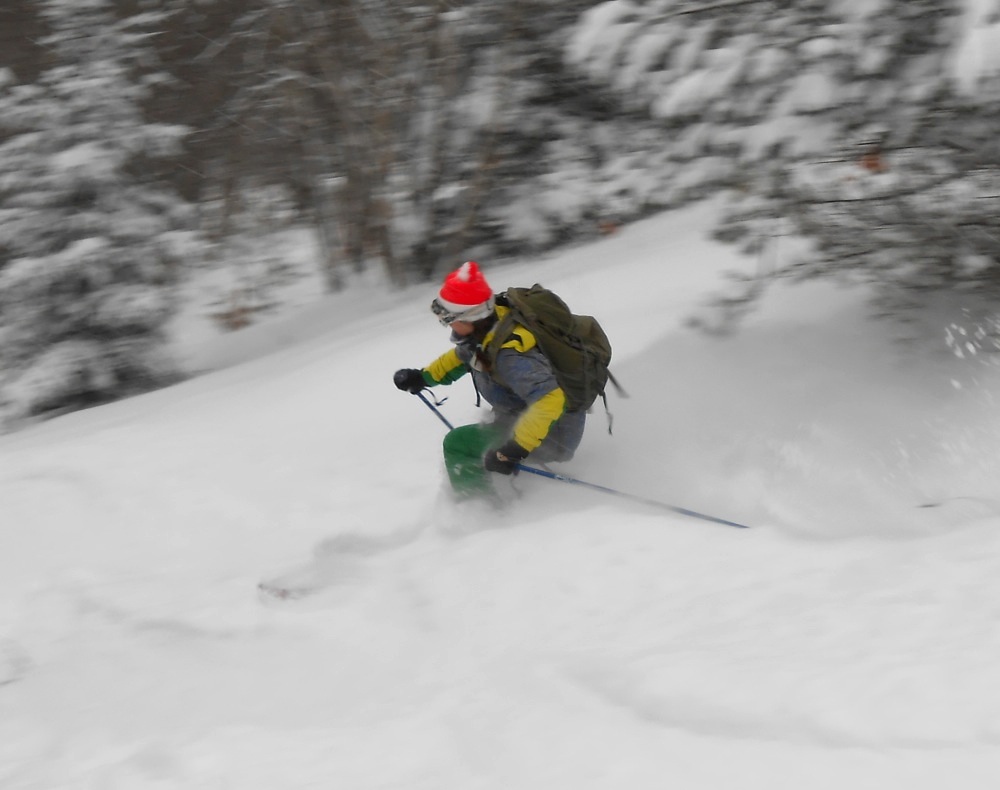 Twenty of us spent the afternoon picking from a variety of chutes and lapping up the fresh powder, which had reached a foot in depth by the time we arrived. There wasn't much base under the new snow, but we made the best of it and had a blast until dusk.
I'd like to think we were the largest crowd to ski there since those mythical, glory days of small-scale skiing and epic partying.