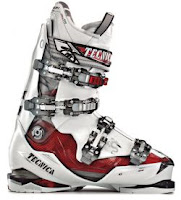 Thus it begins again. A very wise man once said that the best money you'll ever spend on new gear, will be for your girl. This is going to be girl gear year.
On the recommendation of one knowledgeable HighPeaksDrifter we visited Steiner's Sports in Glenmont NY. These guys are known for their boot fitting, and in my mind that's where it all starts when it comes to ski gear.
Boots above are Technica Dragon 100 UFs. Ski's below are K2 True Luvs. I haven't a clue about alpine gear, and would love to hear opinions…is this the gear that will get my girl from brave, motivated beginner to intermediate?