Schuyler Island in Lake Champlain has fascinated me for years. I've taken my kids camping nearby many times and canoed around the Ausable marsh and river area. So when I decided I needed a little solo adventure time, island camping on Schuyler was an easy call.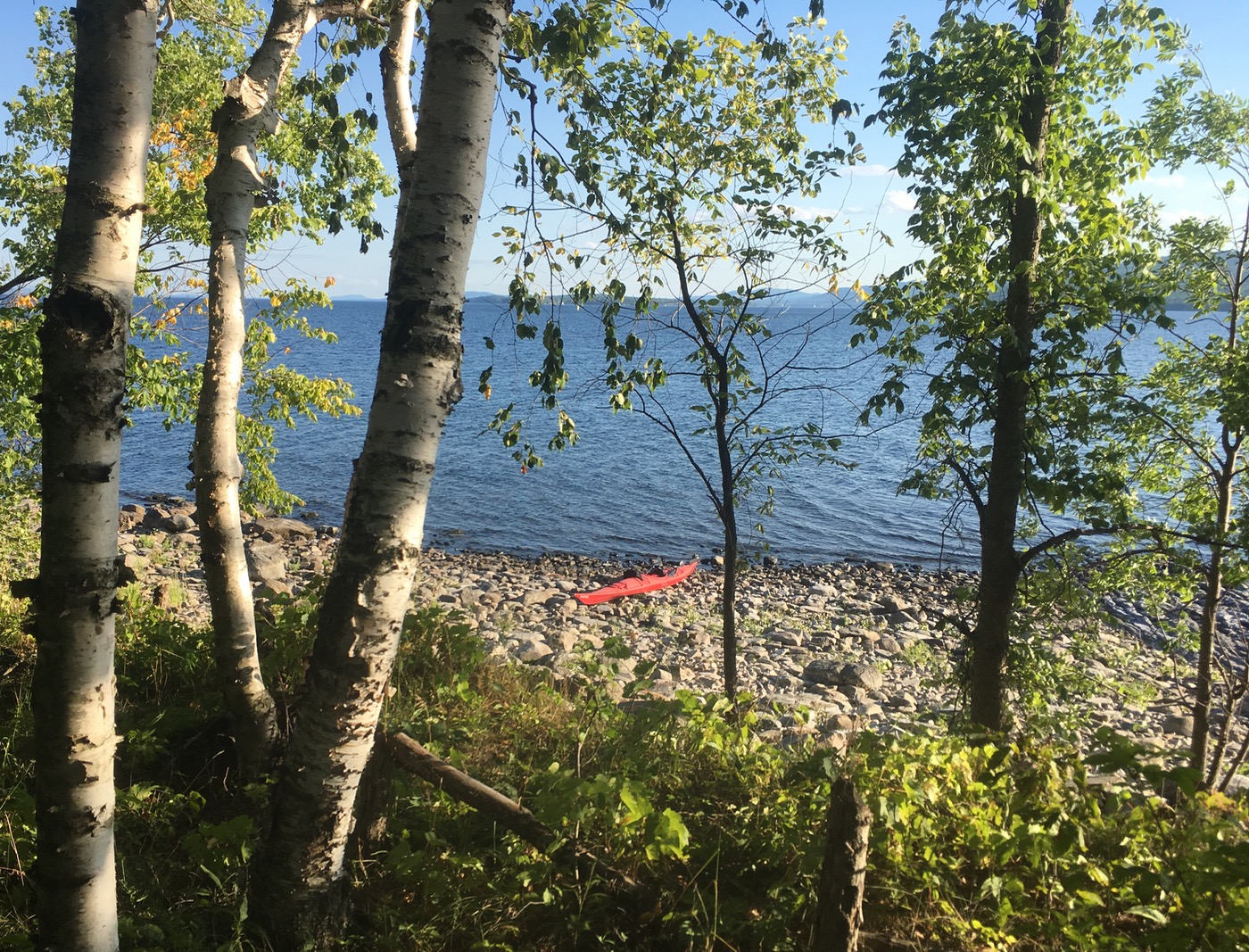 Both Schuyler and Valcour Islands are part of the Adirondack preserve and open to camping. Unlike the Lake George Island campsites and many others in the area, no permits or reservations are required.
Port Douglas was my starting point. I loaded up for a night of camping and paddled north along the western shore of Lake Champlain. When I was about even with Schuyler Island's closest point I steered my kayak east and headed out into the lake.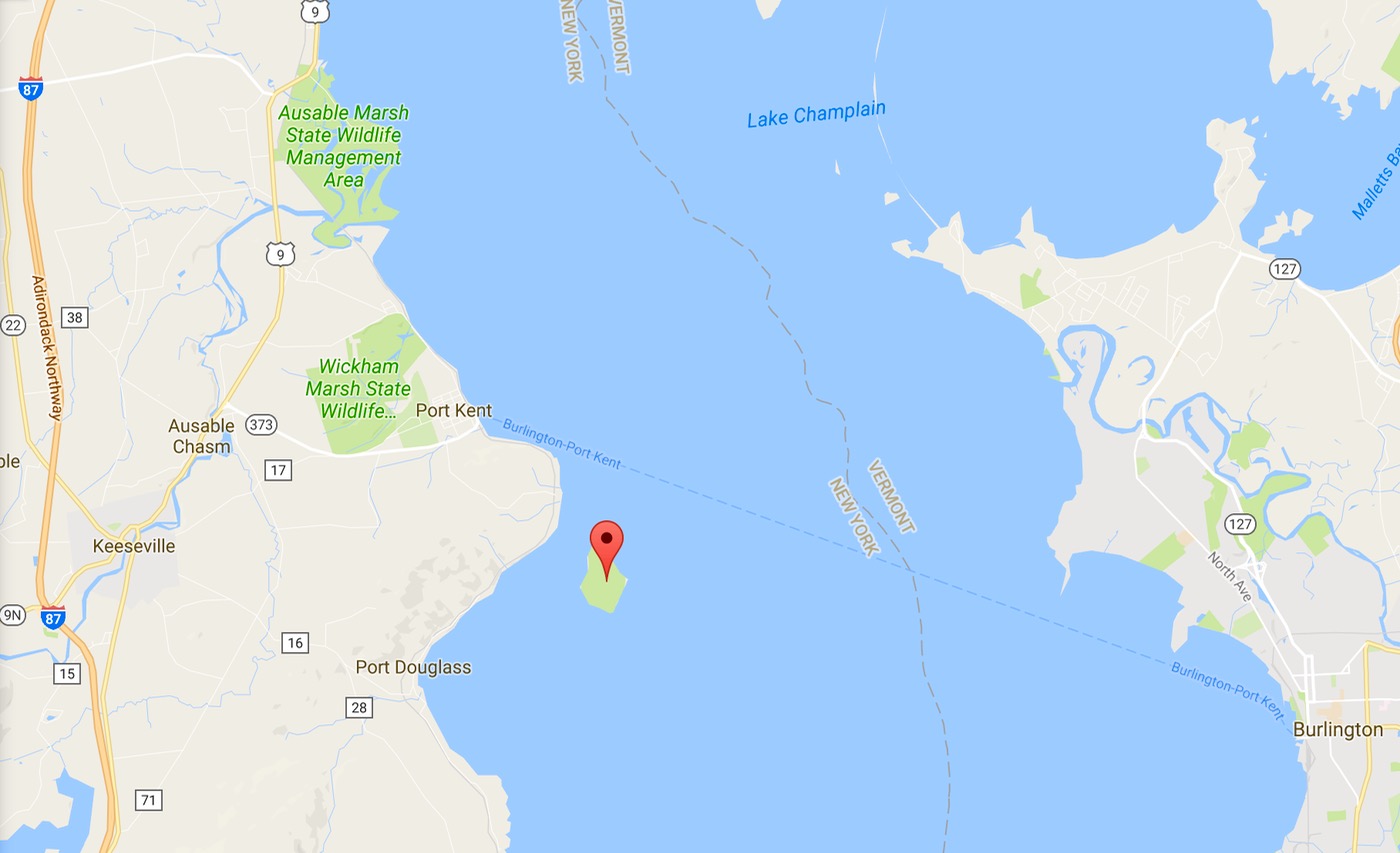 The crossing went smoothly. There were some speedboats and a jetski tooling around the area as well as some sailboats. It was a little choppy that late in the afternoon but manageable.
I paddled around the north end of the island for a full circumnavigation, landing for the first time on the south end of the island. Everywhere I looked in the heavy brush I saw poison ivy so I paddled back to the sheltered side of the island.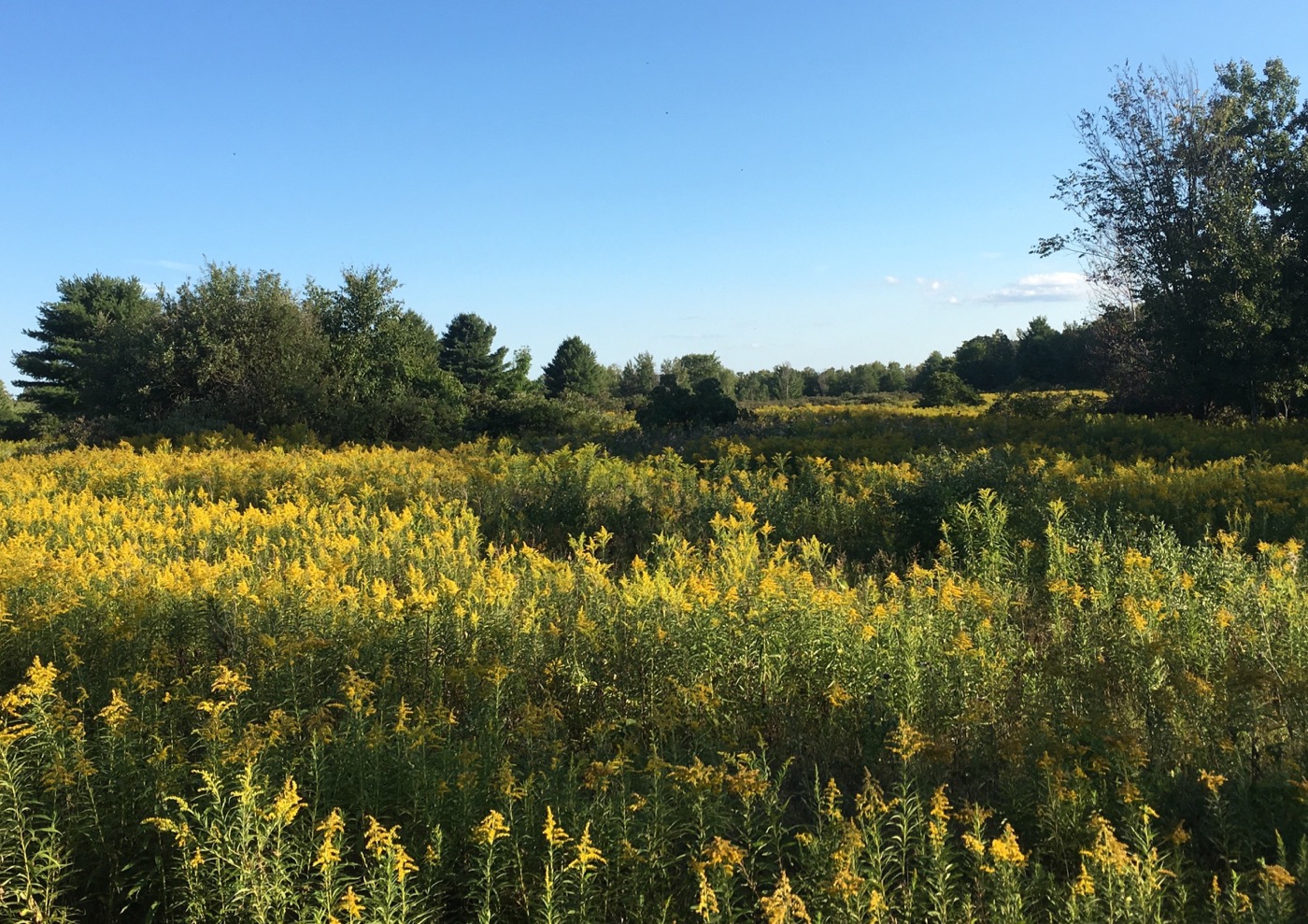 There were a couple of sailboats anchored and two kayaks pulled up on the shore. A couple of small groups, mostly kids, were hanging out on the beach. I paddled past them to land and ventured inland to explore some more. This time I found an open meadow on the island's interior, covered in bright yellow goldenrod or ragweed.
When I greeted the other folks on the beach, I learned that most of them would be sleeping on their sailboats. One family was ferrying kids out to their boat for dinner. The only people camping were the other kayakers, a brother and sister pair from Vermont.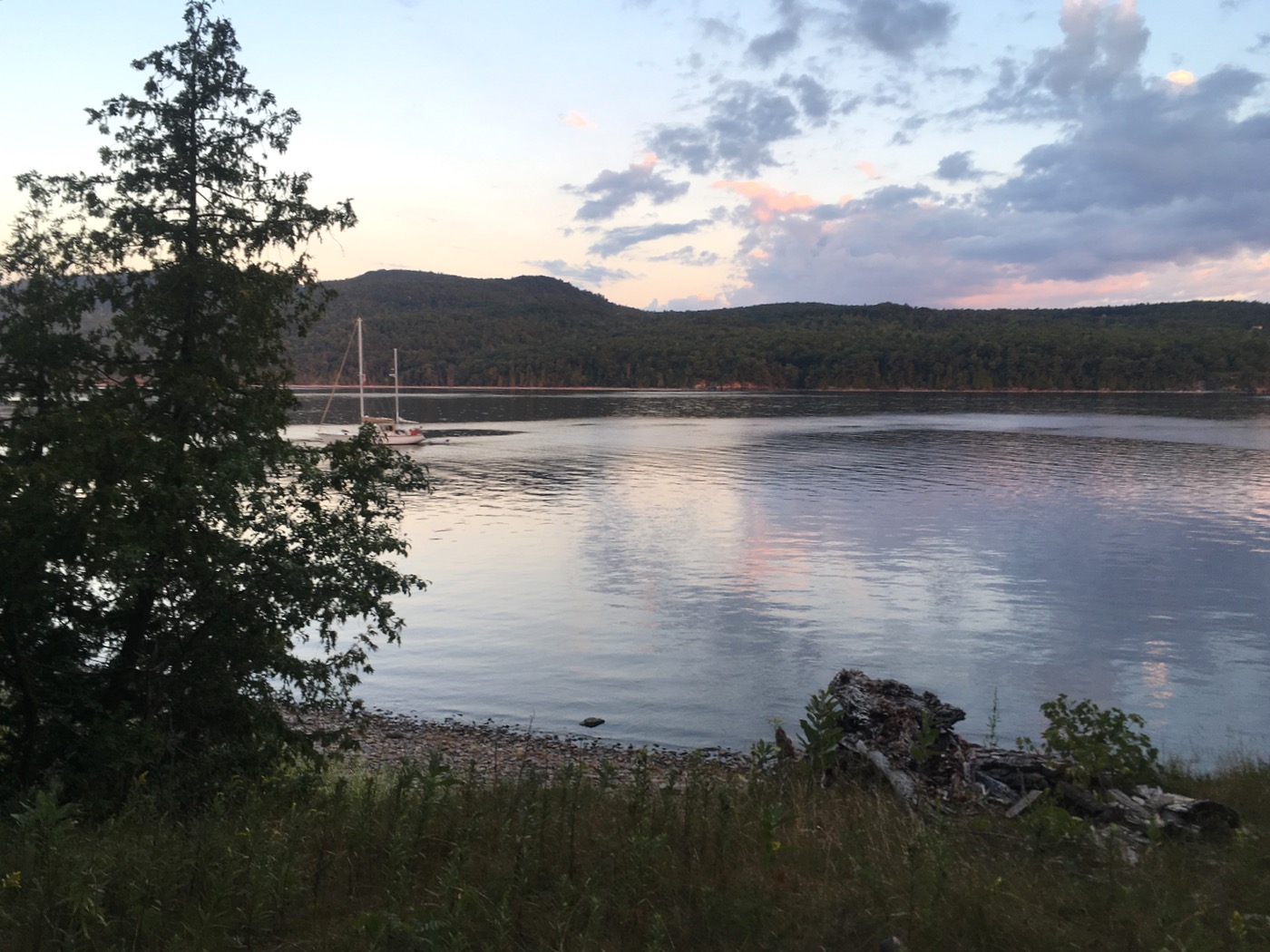 I unloaded and set up at one of the established sites. I'd been snacking on trail mix as I paddled so I wasn't really hungry enough to bother cooking the chili I'd brought for dinner. I ate a protein bar and sat by a shared fire on the beach, chatting with my fellow kayakers as I enjoyed the two cans of beer I'd packed.
We were watching the sun go down when a motorboat pulled up with four guys in their twenties. They anchored and started unloading gear and coolers. I should have broken camp and paddled around to the other side of the island right but I chose the tolerant path instead. They camped right next to me and made a lot of noise all night long.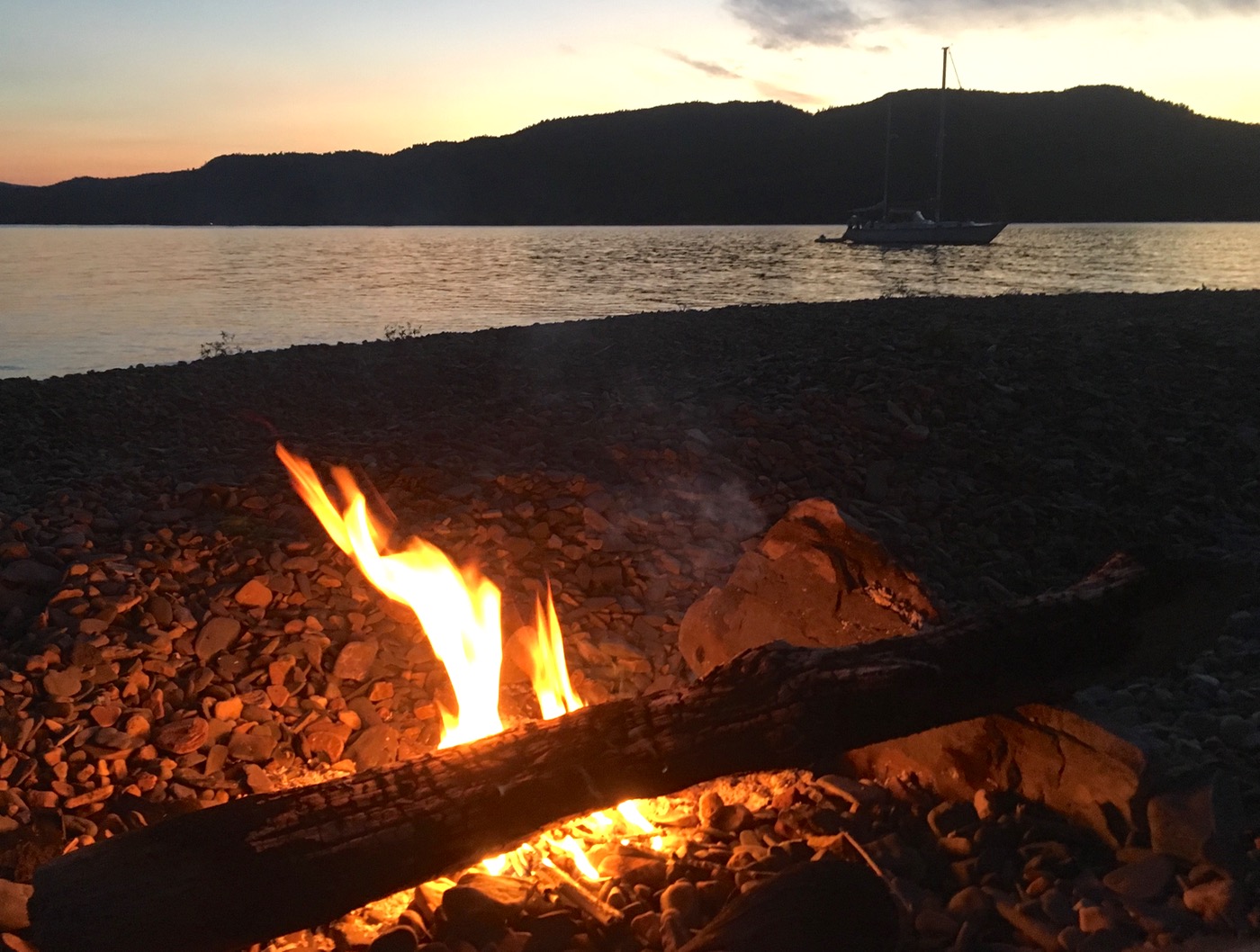 The bright side is that their laughing and yelling at each other kept me awake long enough to go for a walk around 11:00 and was treated to a spectacular show: bright stars and twinkling lights on the shore, all reflecting off the surface of the lake. After my walk I was able to fall asleep in spite of my noisy neighbors.
I woke early the next morning, surprisingly rested. I broke camp and moved my stuff down to the beach where I boiled water for coffee and oatmeal. I was the only thing moving. I'd finally found and savored the absolute peace and quiet I sought.
When I was done eating, I loaded my gear and pushed off for the paddle back, this time taking a straight course across the open water towards Port Douglas. The weather was spectacular both days and the lake was beautiful. All in all it was a good trip.