I first heard Peekamoose Blue Hole was in trouble last year.  I'd recommended the spot to a buddy of mine, and upon his return he told me with a tragic tale.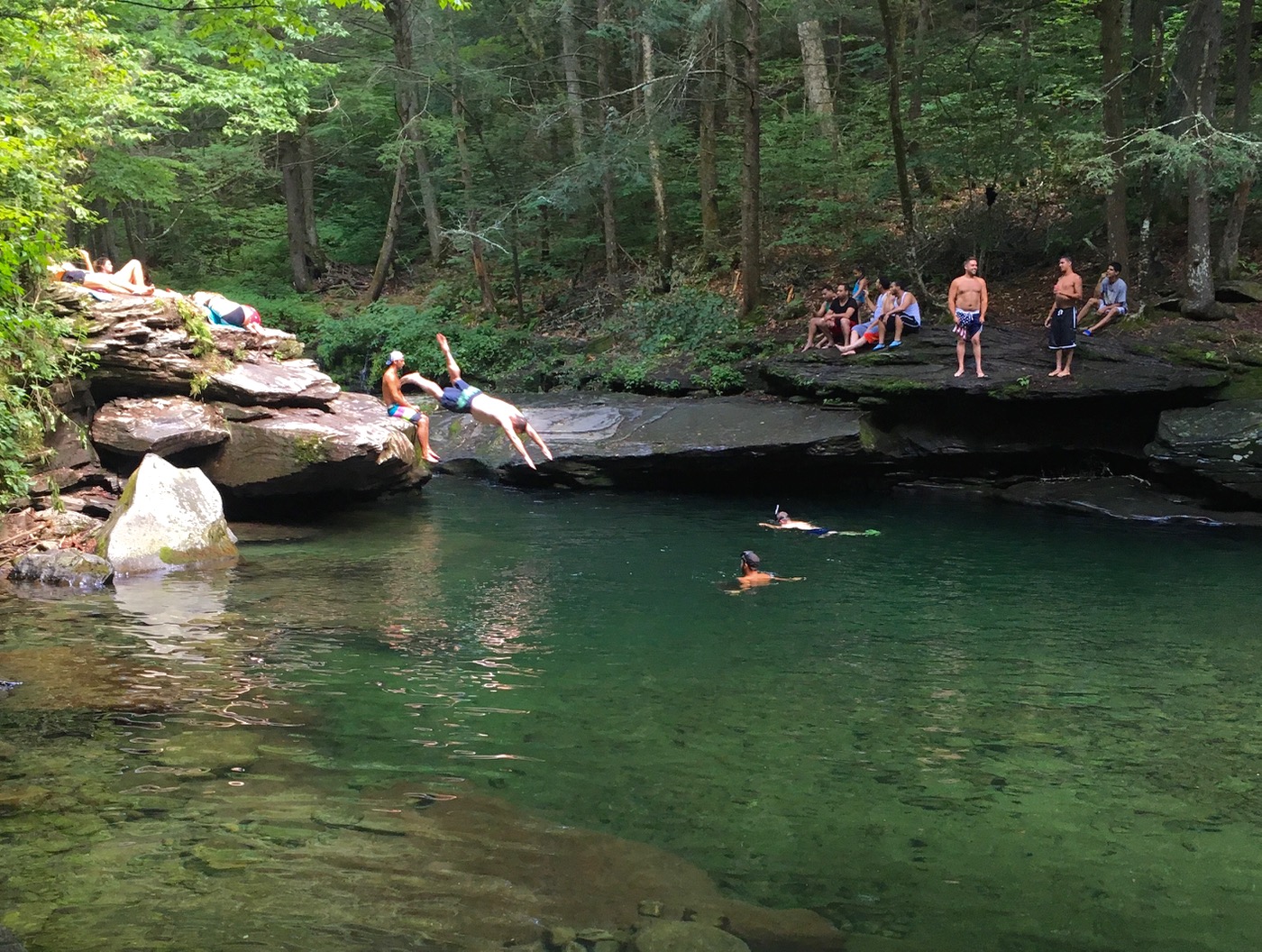 Things were grim: hundreds of people with grills were playing loud music surrounded by broken glass and garbage. He told me there were so many cars parked along the road that it was difficult to drive past it.
Peekamoose Blue Hole, as I knew it, was not supposed to be that way. While it hasn't exactly been a secret since the dawn of the internet age, it's location, lack of services, and the 10-foot deep pool's ice cold water temperature had always limited crowds.
I was concerned, but held out hope that he'd exaggerated.  When I visited last summer, it wasn't anything like what my friend had described. There were more people then I'd seen before, even at noon on a Thursday, but it wasn't alarming to me.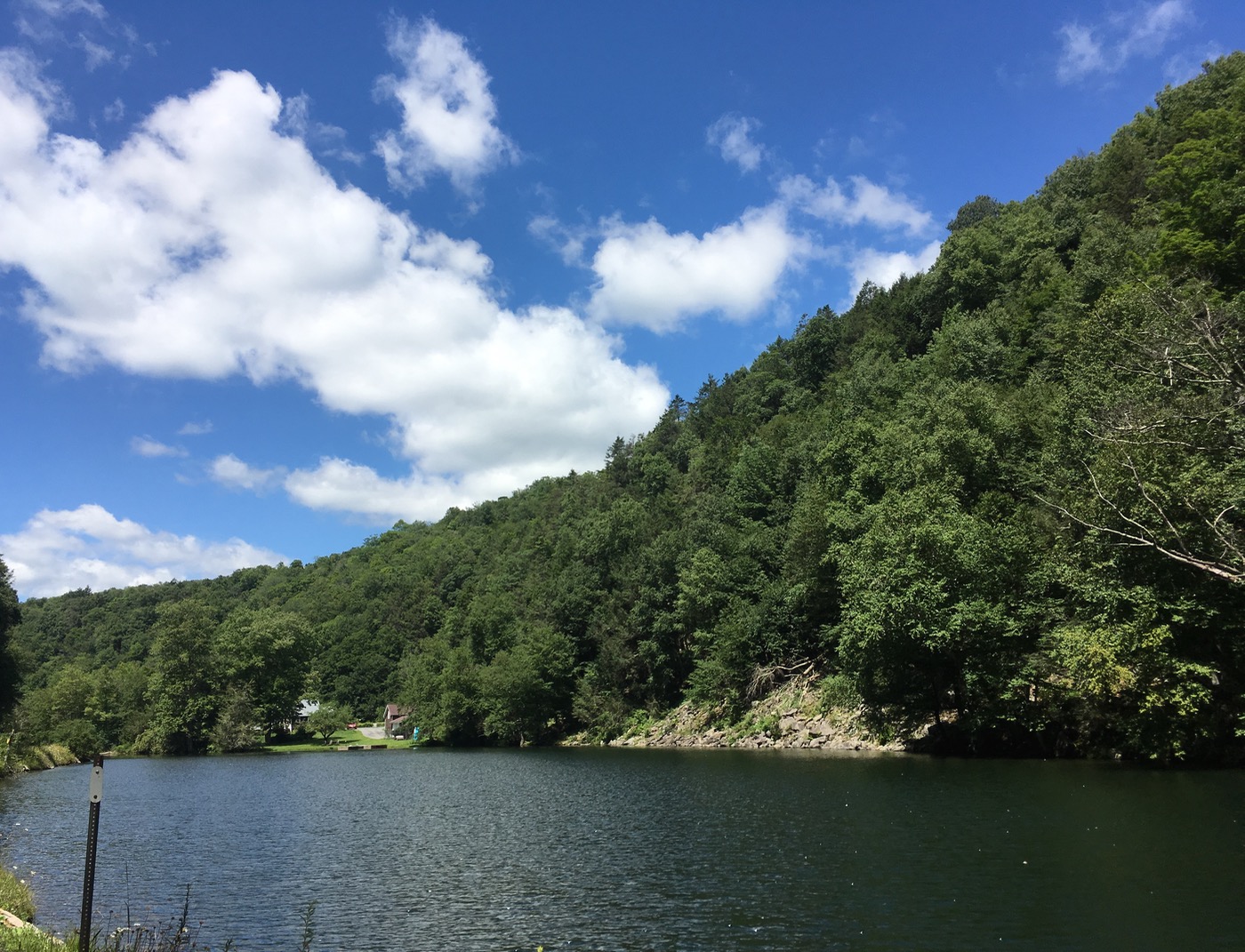 When I planned a recent three day car-camping trip to Peekamoose, I was happy to go mid-week. Before I left, I checked swimmingholes.org. I found references to the recent abuses the area had suffered and emergency restrictions put in place.
A google search of "Peekamoose Blue Hole" revealed articles about how internet exposure, extolling the swimming hole's qualities, was drawing hundreds of people on summer weekends.
This spring the state banned parking along the road, prohibited music and glass containers, and installed porta-johns and a dumpster. There were heart-breaking pictures of food trash, broken bottles and discarded diapers.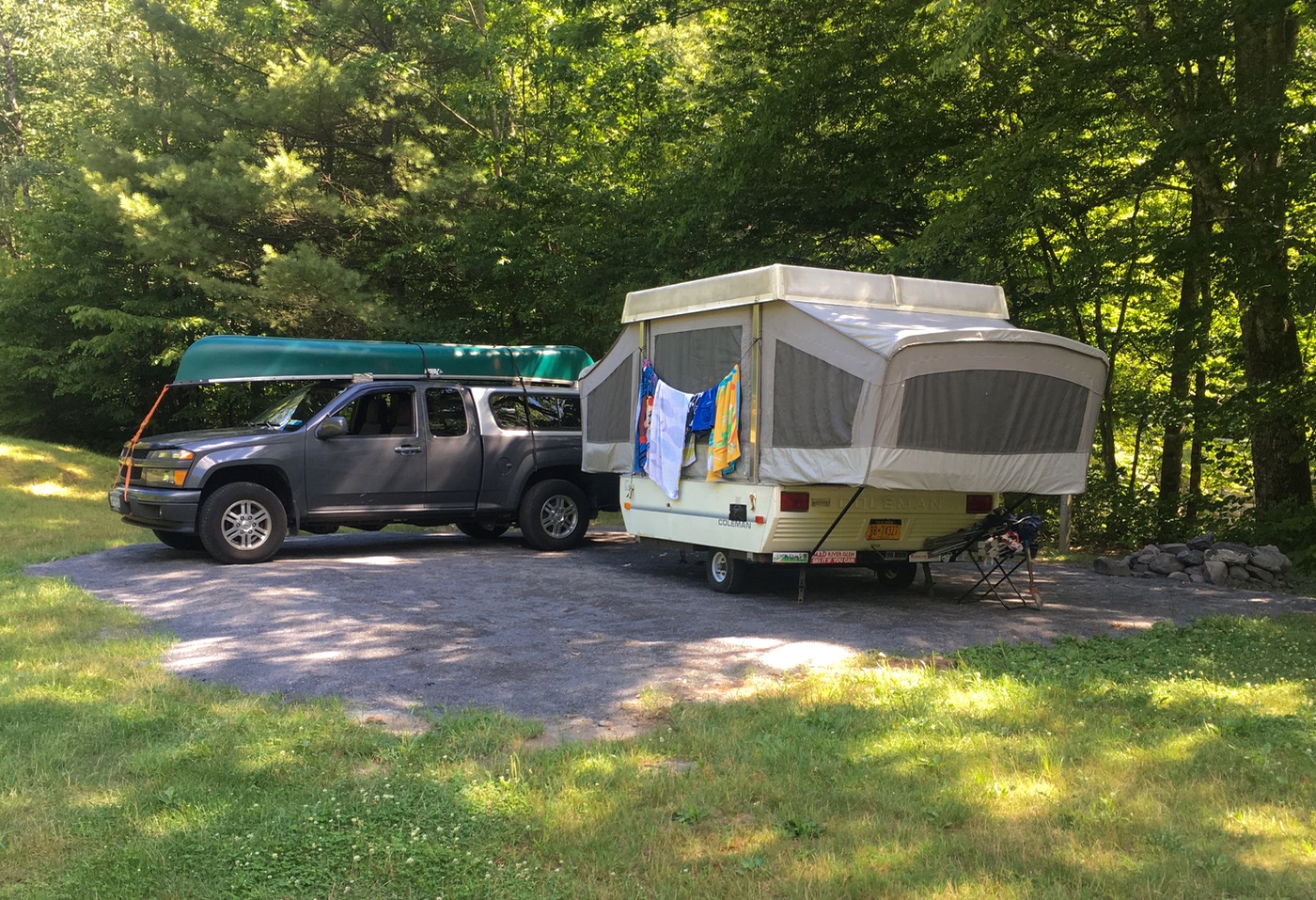 We drove up on a Tuesday morning and pulled into the Sundown Wild Forest trailer field by noon. My kids waded in Rondout Creek, while I set up camp and made lunch. It's an idyllic spot. With steep, wooded slopes on both sides, there's a sense of isolation that's hard to find so close to NYC.
After lunch we walked up the road towards the Blue Hole. I spotted a Forest Ranger and asked him if things had gotten any better since the state had put restrictions in place. He was beside himself, saying they were getting seven or eight hundred people a day on weekends, far more then the area could handle.
People were using it for birthday parties and family reunions and just as a spot to drink and get high. They were writing tickets and doing everything they could to educate people, but it wasn't working.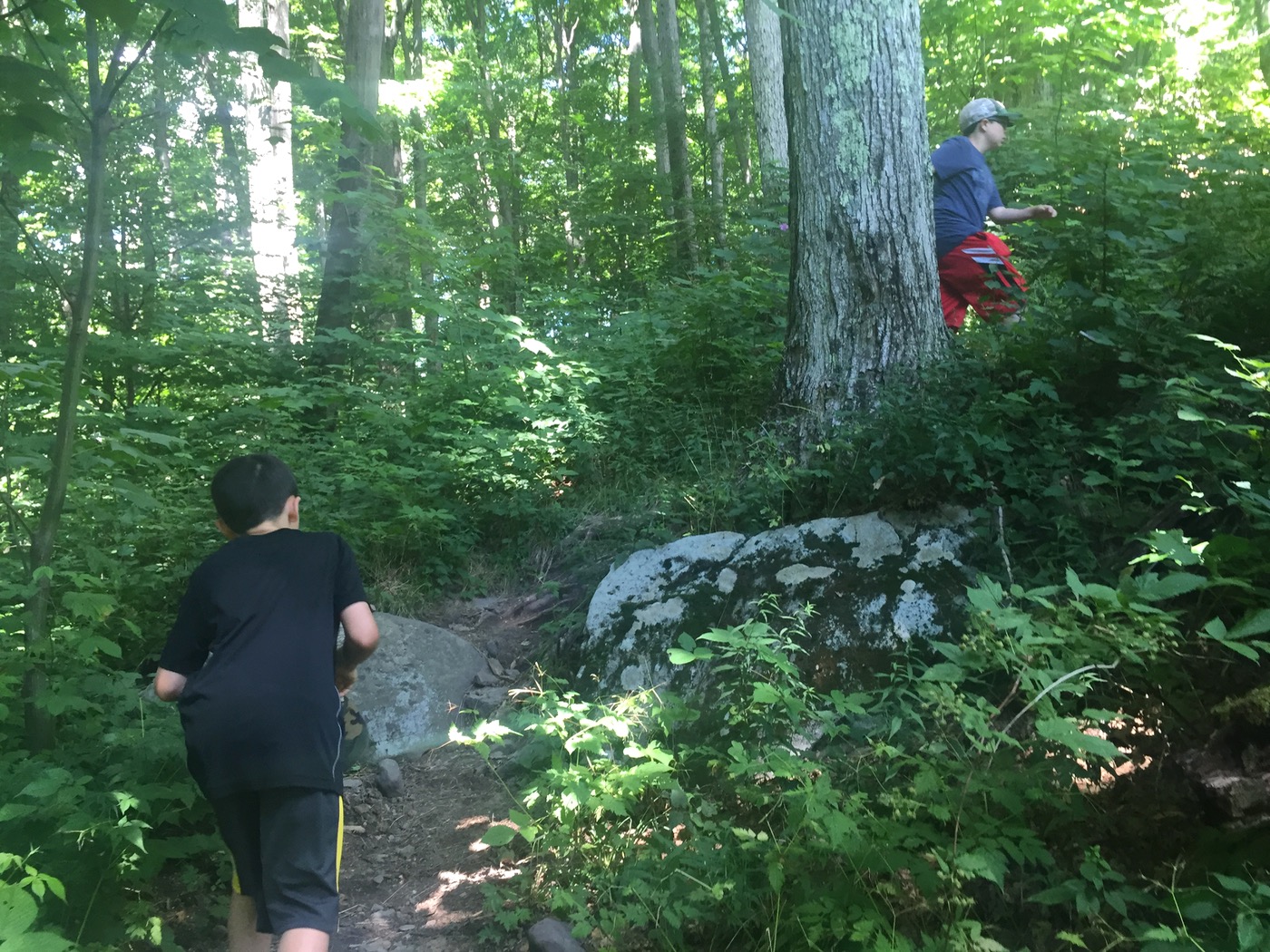 "This is the biggest crisis we're dealing with in Ulster County right now," the ranger said emphatically, "there are only four of us and we're not getting the help we need." My heart went out to him. He clearly cared for the place and was at the end of his rope.
When we got down to the swimming hole, there were maybe thirty or forty people, some from NYC and others possibly more local. The ranger said it wasn't that bad today. He nodded to a group of guys on the other side of the Rondout, drinking beer and said that was the kind of thing that worried him.
My son and I threaded our way between the other groups to jump off the big rocks a few times. The water was as ice cold as I remembered.  If you stay in more then a minute, you start to feel numb but the cold, refreshing shock of hitting the water is what makes it fun.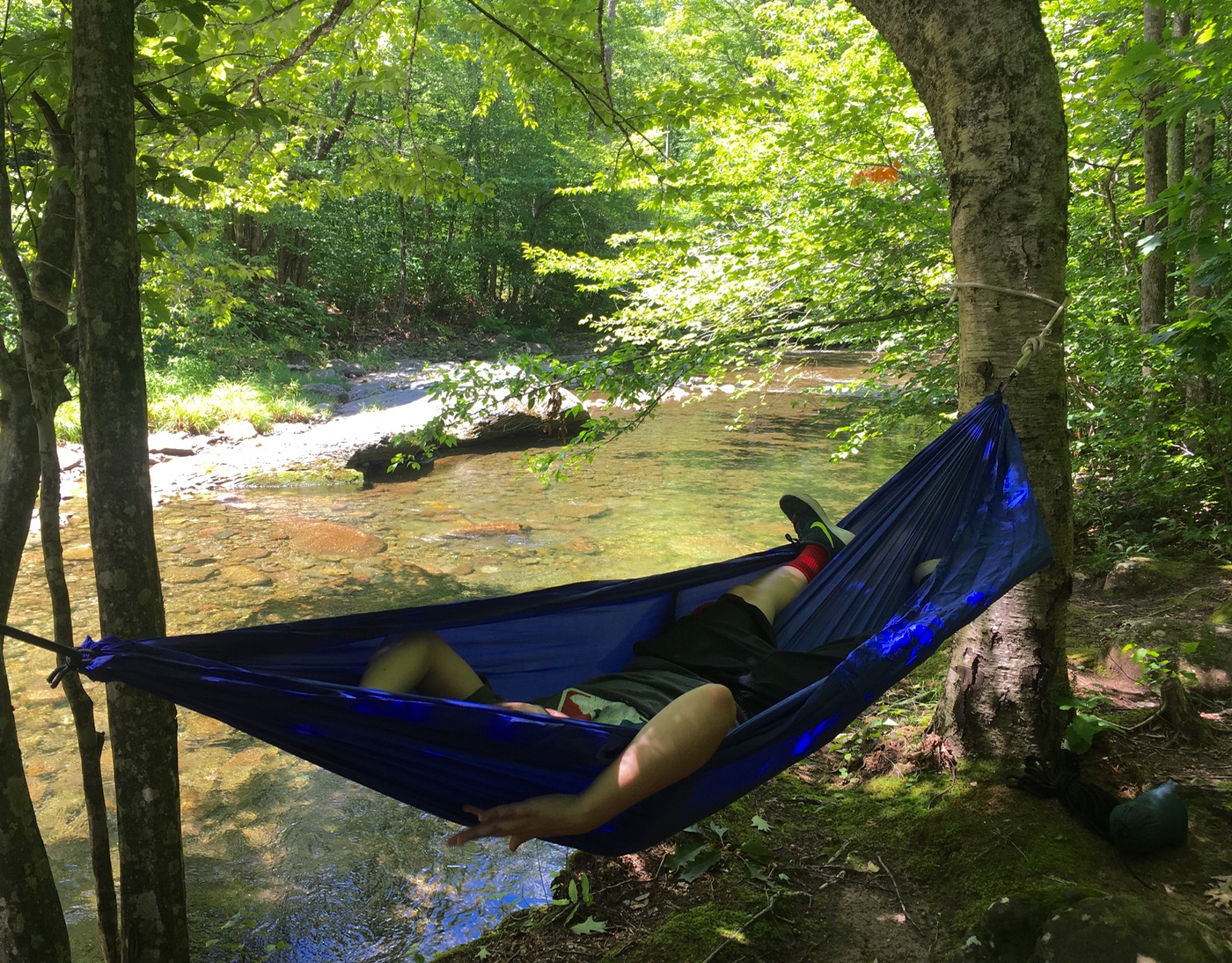 It was the biggest crowd I'd ever seen there and it was Tuesday afternoon. I'm sorry to report that there was garbage everywhere, beer bottles, food containers, wet socks and liquor bottles.
Trying to help in small measure, we filled a shopping bag with trash and brought it to the dumpster. In spite of all this, we had fun. It was still Peekamoose Blue Hole.
As we walked back to our campsite, several people asked for directions to the swimming hole. I tried to put it all out of mind as I prepared dinner and my kids fought over the hammock. After that I had a couple of beers and we made s'mores. As the sun went down I sat by the fire as my kids played in the camper.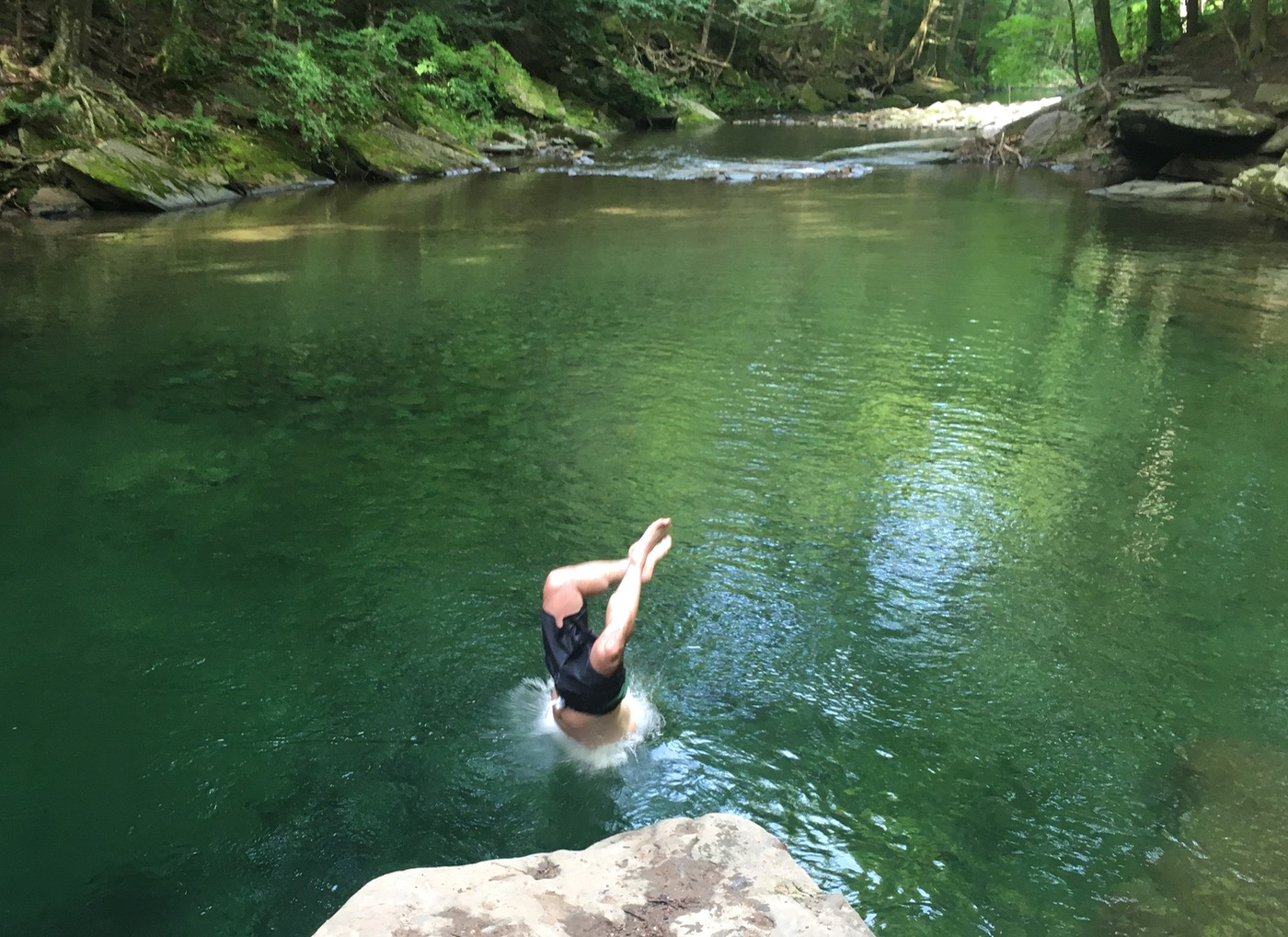 Once it was completely dark, I called them back outside to look at the stars. The mountains here block out virtually all light pollution and it was a clear night. The stars were absolutely spectacular in that way that city dwellers never see.
Wednesday morning we got an early start up Peekamoose Mountain. It's bigger and steeper then my boys are used to so I didn't pressure them to go all the way up.
I figured we would turn around after three hours no matter where we were. In the end, short legs and all the distracting boulders along the way, prevented us from reaching the peak. We made it most of the way and had a great time.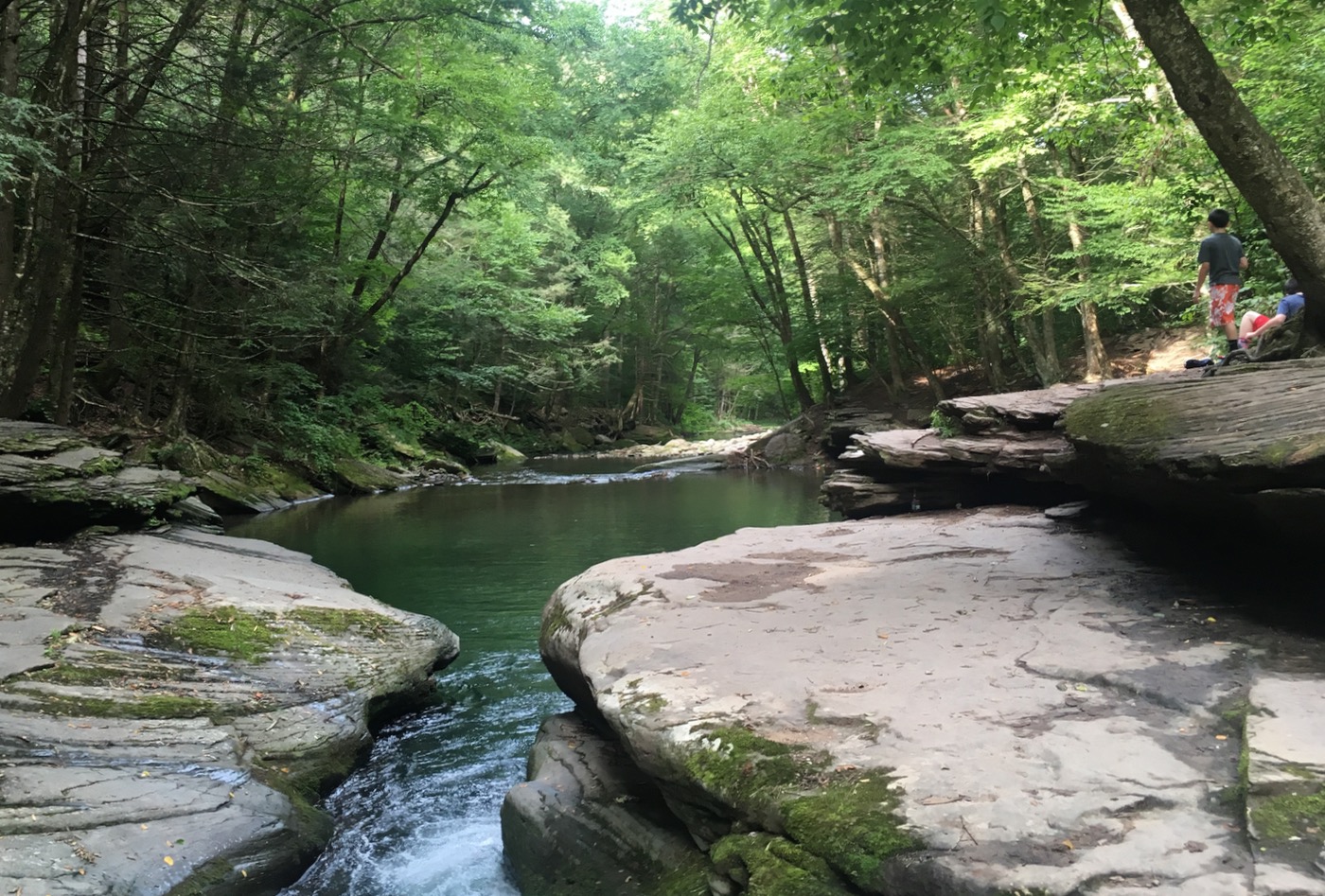 Thursday morning was our last day. We got up and hit the Blue Hole early and it was empty. We jumped off the big rocks. We waded and I actually swam around a bit. Having the place to ourselves was a luxury, as much fun as the first time I discovered the place.
We hauled out some more trash as we left, including a bunch of empties, an empty Patron bottle, more clothes and about a thousand juice box straw wrappers.
I'm worried about what's happening at Peekamoose Blue Hole. I don't know the answer any more then the outnumbered rangers. I don't claim to have any moral authority to decide who can go there and who can't. I've been visiting the Catskills for fifteen years but I learned about the Blue Hole on the internet too. Who am I to tell anybody not to go?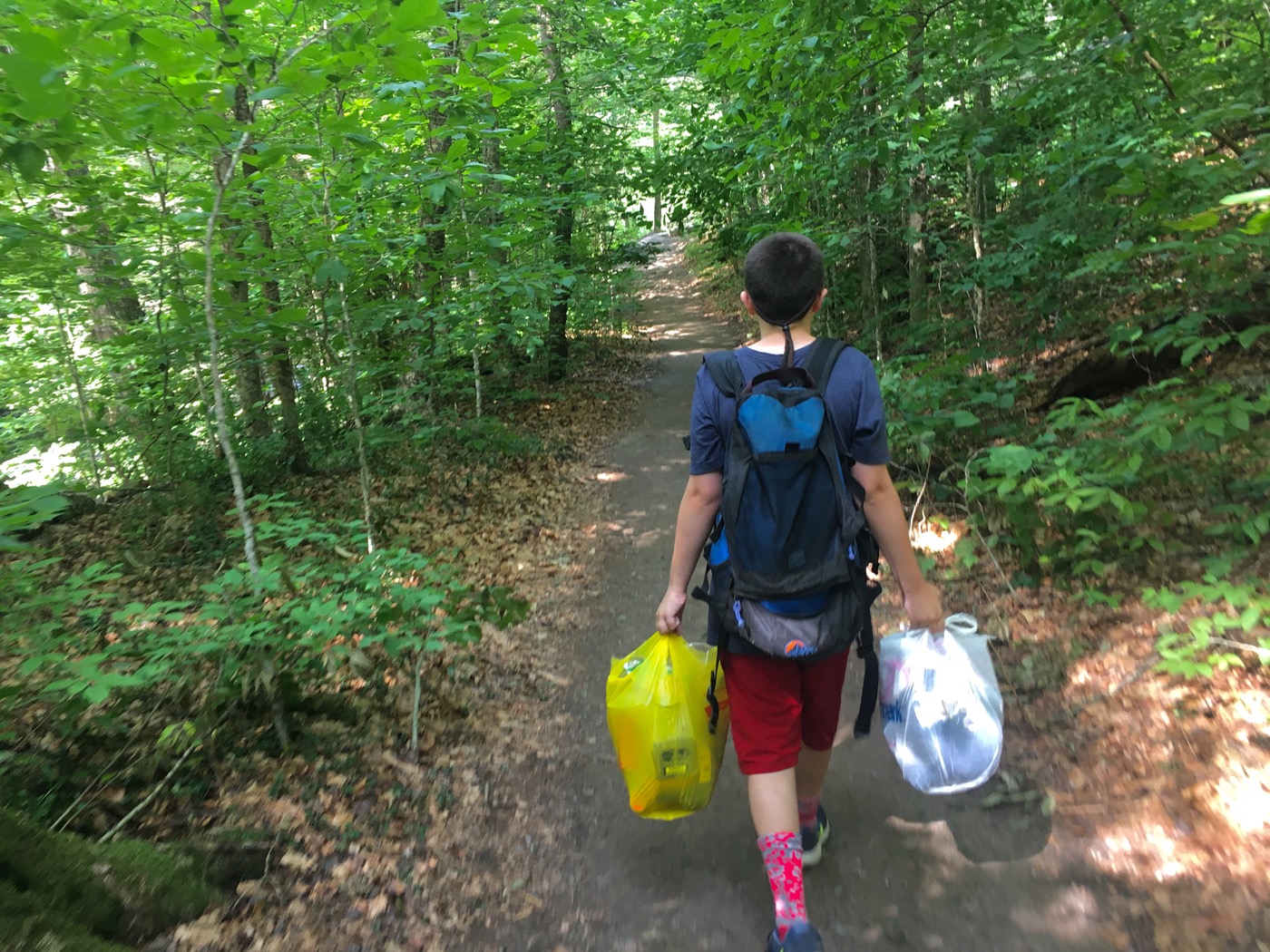 In spite of all that, I think any sane person can agree that what's going on now is awful and very wrong. The environmental abuse that is happening there is an anachronism, reminiscent of the 1970s TV commercial with the tear running down the cheek of the Native American standing on the side of a trash strewn interstate.
Peekamoose Blue Hole on the upper reaches of Rondout Creek, which ultimately empties into Rondout Reservoir. Whatever gets thrown into the pool eventually ends up coming out of an NYC water faucet.
I'm generally in favor of leaving wild places unmanaged but, at Blue Hole it's not working. Unless some authority steps in and gets control, the place is doomed.  I hope that the next time I go back — really early on a week day — Peekamoose Blue Hole isn't surrounded by a big fence.