I put in another work weekend at our camp in North River.  It's not really work to me — stacking firewood and improving our trails — it's exactly what I want to do with my free time in summer.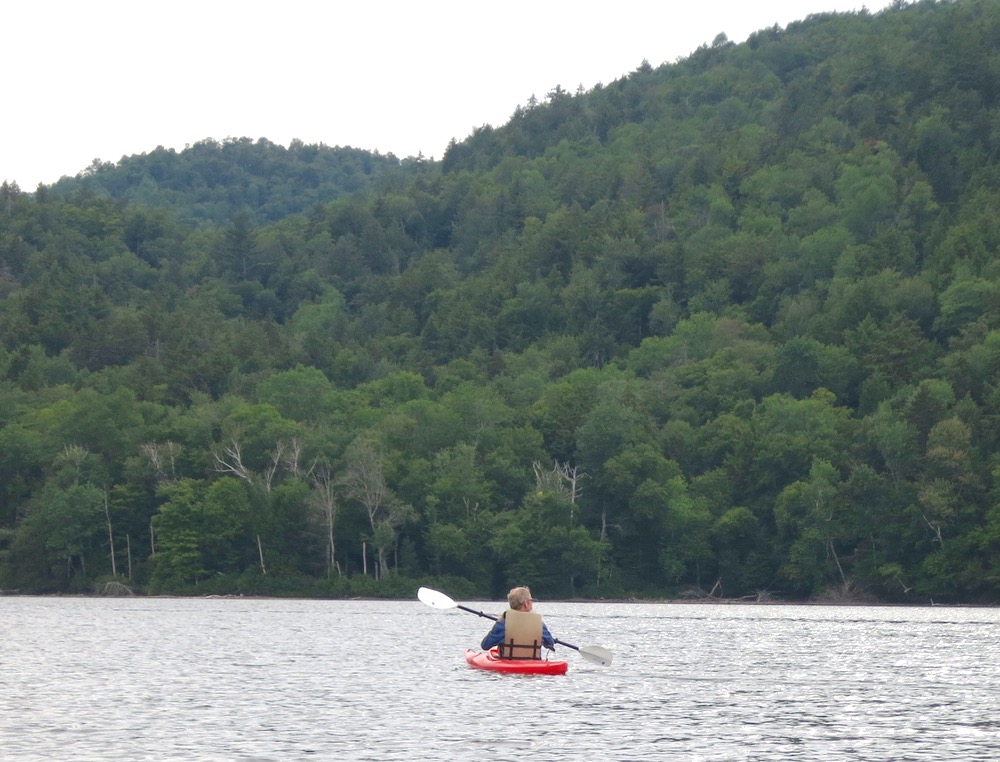 I actually daydream about cabin projects from my desk at work. Six million acres of opportunity for adventure all around, and I'm completely content on just a handful of hectares.
But Thirteenth Lake is practically in our backyard. Big and beautiful and right there, the lake is hard for us to ignore. After working on the Red Trail for the better part of the day we drove to the boat launch and put in. Even on a gray day the lake is a special place.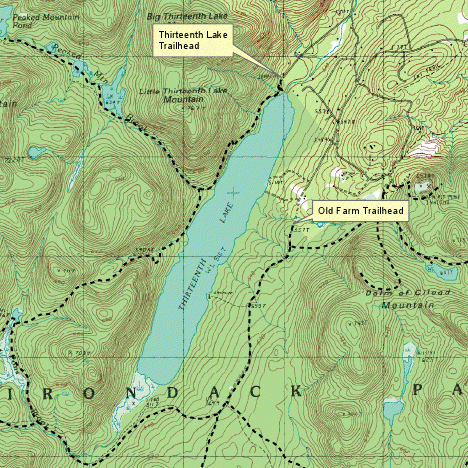 Thirteenth is located in the southern Adirondack town of Johnsburg. It's a good size for a natural lake: two miles long with about 4.5 miles of shoreline, it has 335 acres of surface with a maximum depth of around 40 feet. The deepest spots are along the bottom of a trench that runs parallel to shore down the middle of the lake.
Despite good accessibility, the water remains very clean. Much of the watershed is in the Siamese Ponds Wilderness and the lake completely flushes itself every four months.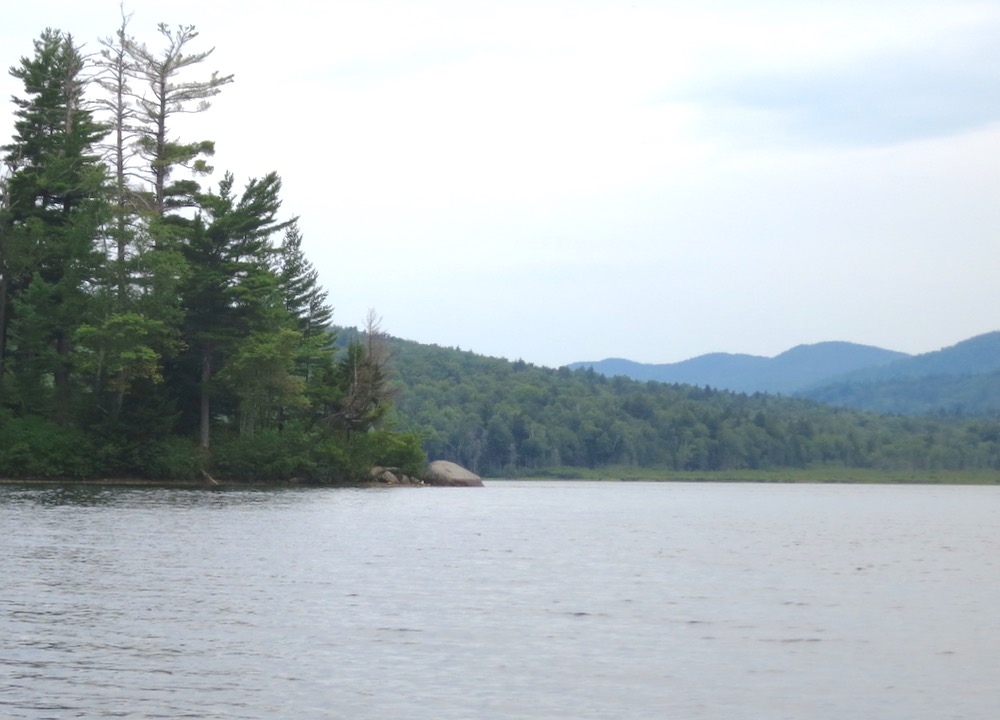 On this day we were doing a photo shoot for the new Garnet Hill Lodge website, so we accessed the lake from the Lodge's private boat launch. About a third of the way down the lake, we set off for Elizabeth Point, one of the notable landmarks along the shoreline.
It seemed that there was no one around and the paddling was peaceful.  As is often the case, there was a bit of a headwind as we headed to the southern end of the lake, and we stayed reasonably close to the eastern shore.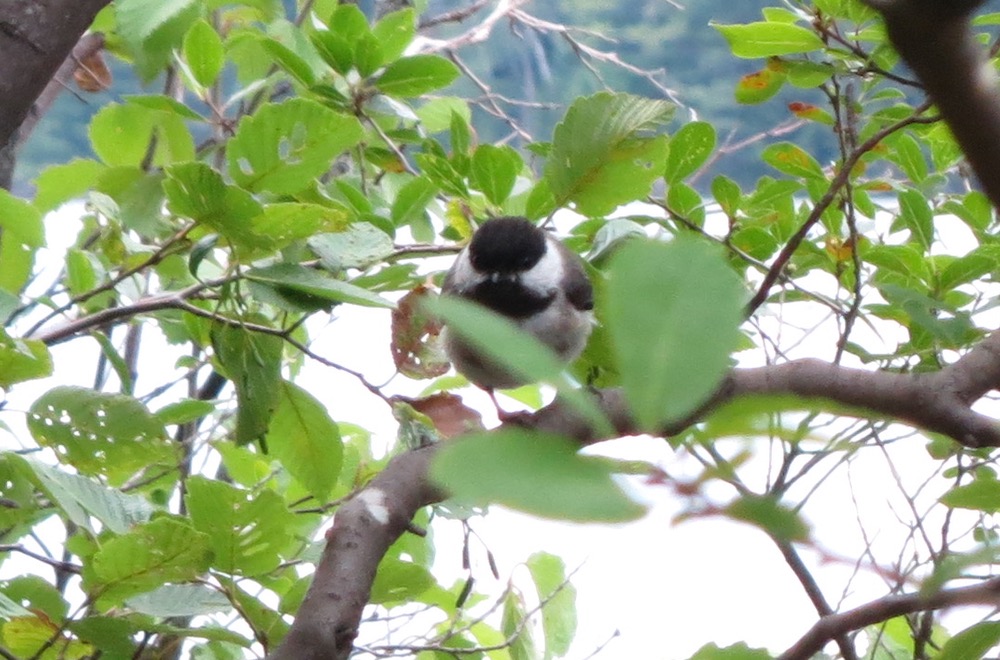 We sat on the big rock at Elizabeth Point to drink in the view. While the campsite is well used (and now sports a privy), if you sit on the point and face the lake you can almost forget about the existence of man and the impact of his tools.
The wind kicked up and we felt a spritz of rain, so we got back in our boats and headed back north towards the boat launch.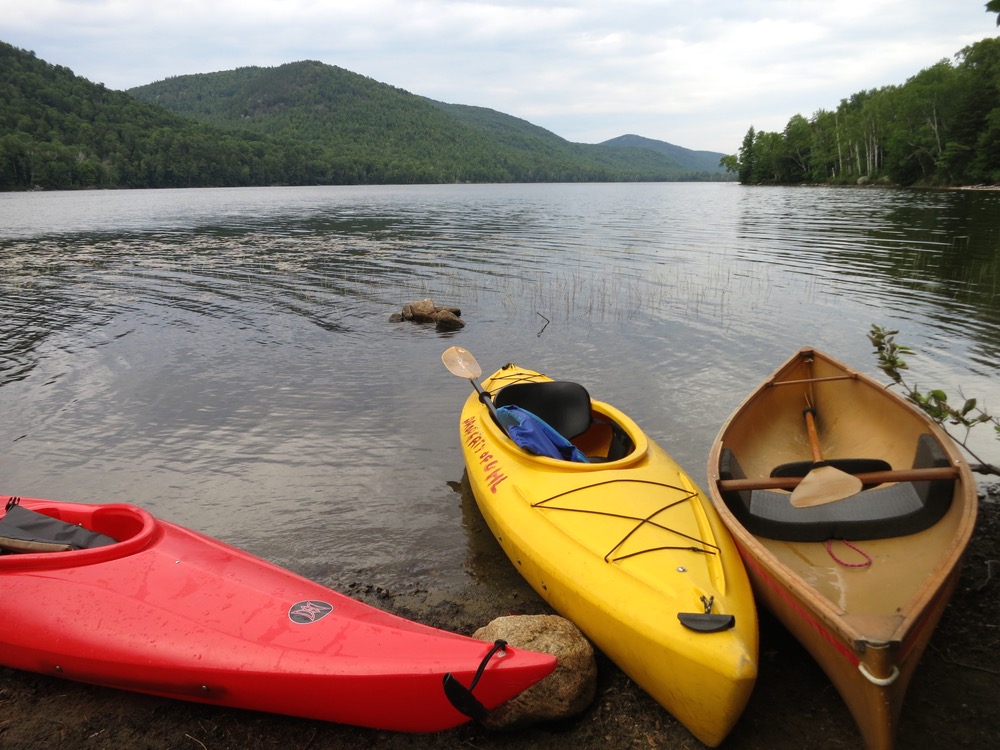 With it's long narrow shape Thirteenth Lake feels sheltered. But I've been on the lake in an open-top, ultra-light canoe when the skies opened up, and it's not an experience I'd like to repeat. For the most part, the rain held off and with the wind at our backs, we made fast progress on the way back.
Thirteenth Lake is a treasure, and we feel incredibly fortunate to have a such a big, deep, clean, beautiful and peaceful wilderness lake so close to our home away from home.