Ask most dedicated skiers what prevents them from skiing all the time, and money is usually near the top the list. Ours is an expensive addiction, and there's often a direct correlation between the cost of any given ski trip and the ability to afford more ski trips.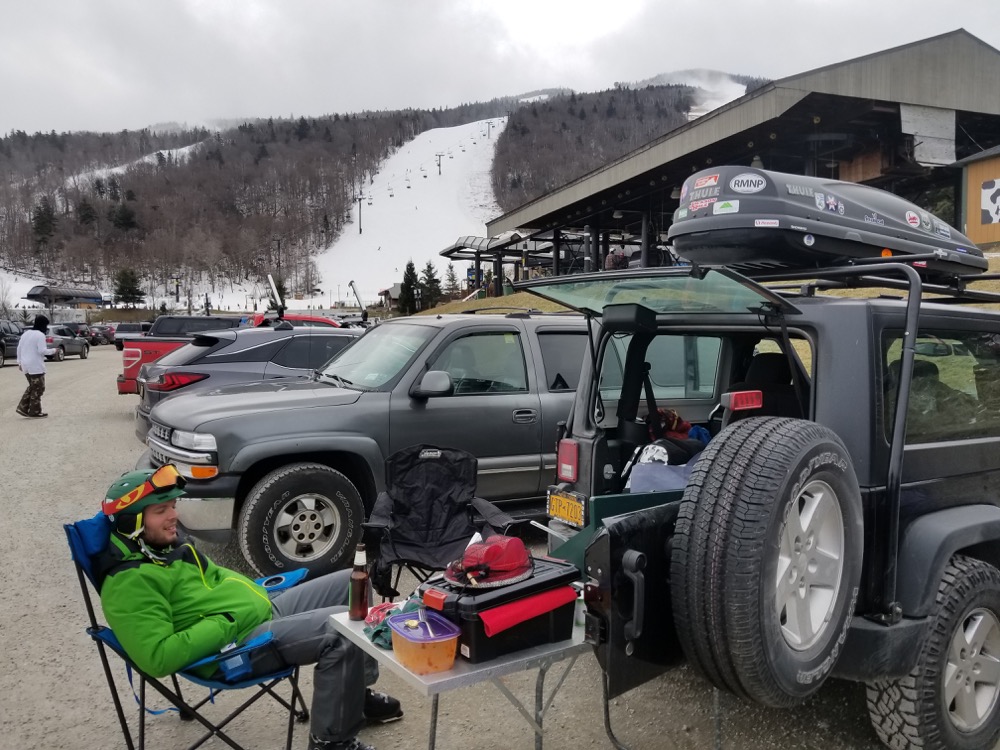 Smart skiers start looking for ideas to save money wherever possible early on in their addiction, yet it took me almost three full seasons until I finally decided to try my hand at ski tailgating.
With the exception of one rowdy affair in the Shea Stadium parking lot before a Mets-Yankees game over a decade ago, I'd never been to a tailgate party, and I've never hosted my own.
But that's exactly what Icecoastchef and I did one Saturday last April, when I hauled my ski gear and tailgating essentials — a Coleman stove and a few camping chairs — up to Killington's K-1 lot to set up lunch out of my Jeep.
"That smell's fire!" yelled one young passing snowboarder as I sautéed some sausage and peppers in my cast iron pan. "You got any left?" asked another skier after we were cleaning up. Lunch for two people, including beers, came to less than $15. Compared to the normal lunchtime tab of $30 – $40, it was a no-brainer.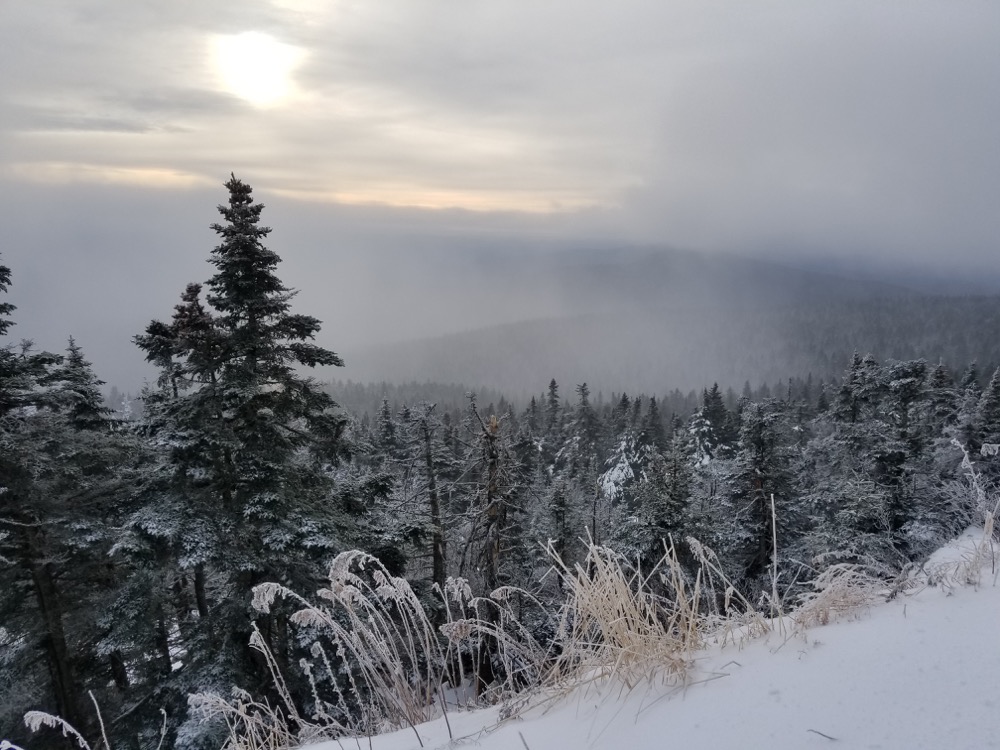 So when I suggested that we again Jeep-cook our own lunch on a recent two-day trip back up to Killington, Adam was on-board. Our friend Brendan — despite having earned the moniker "Sendin' Brendan" — had never actually had a parking lot lunch before, and required a bit more convincing.
But once the chili and fajitas were on the grill and we were sitting in our chairs, basking in the sun and in the compliments of passers-by, Brendan was a convert. "I have to admit, I was a little unsure about this idea," he said sheepishly, "but this is awesome."
Icecoastchef has culinary training and restaurant experience, and I'm pretty handy in a kitchen. Saving money, eating hot food we'd made ourselves and meeting other K-1 skiers — what's not to love? I'd argue that the simple act of cooking out of the back of one's car is one of the best way to meet people and make friends while skiing.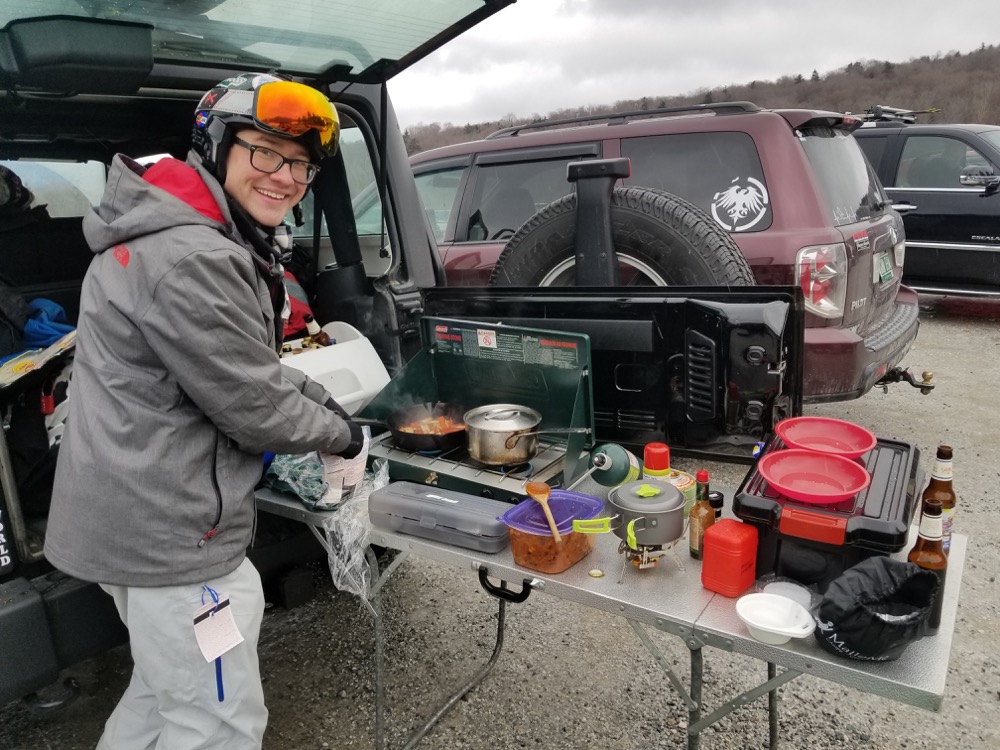 Sure, there are the ubiquitous lift conversations, which present frequent opportunities to chat up others and share opinions about which parts of the mountain are skiing best, but there's something about hot food in a cold parking lot that just invites conviviality. Beers are offered and shared, lunches traded, and stories swapped.
Not every ski area is designed to support a lively tailgating culture, with parking areas that are too much of a schlep to return to midday, and too-tight sardine can-style parking regimens that don't allow for that little bit of extra space needed to set up a few camp chairs, a camp stove or small grill, and folding table. And some hills might have owners are hostile to lunchtime activities that can drain away F&B profits.
But I've found that the places I enjoy skiing most also tend to support a thriving tailgating atmosphere. At Arapahoe Basin in Colorado, slopeside picnics are woven into the DNA of the place. At Crystal Mountain in Washington, some of the lots host both rowdy lunchtime gatherings in their RV-friendly confines, and even rowdier nighttime parties, with bonfires and string lights making the lots seem like small itinerant communities of powder junkies.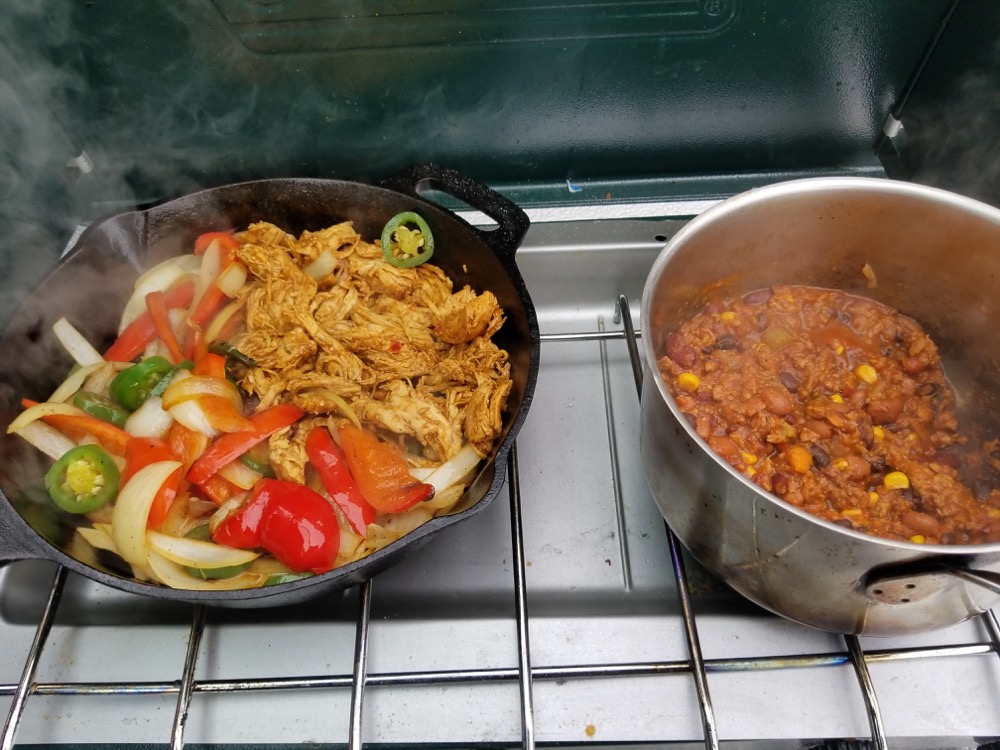 Any successful parking lot lunch requires preparation, and while parking lot picnickers all have their preferences, there is some essential tailgating gear. I like to bring along my two-burner Coleman camp stove, which has built-in wind guards that help keep the flames evenly distributed. Others prefer small charcoal grills – which are great, just remember to bring a can for the used coals. No matter which cooking method you prefer, always have a small fire extinguisher handy.
Folding camp chairs are a necessity. While it is technically possible to sit with the car doors open or on the back bumper in a car with a hatchback or tailgate, the purpose is mainly social – you'll want to keep your group roughly together. Hot mixed drinks, such as mulled wine or a hot toddy are always a great idea, but it's hard to do better than a cold beer.
I bring a small folding table, which acts as the entirety of my kitchen, where my camp stove, utensils, pots and pans, food, and seasonings sit.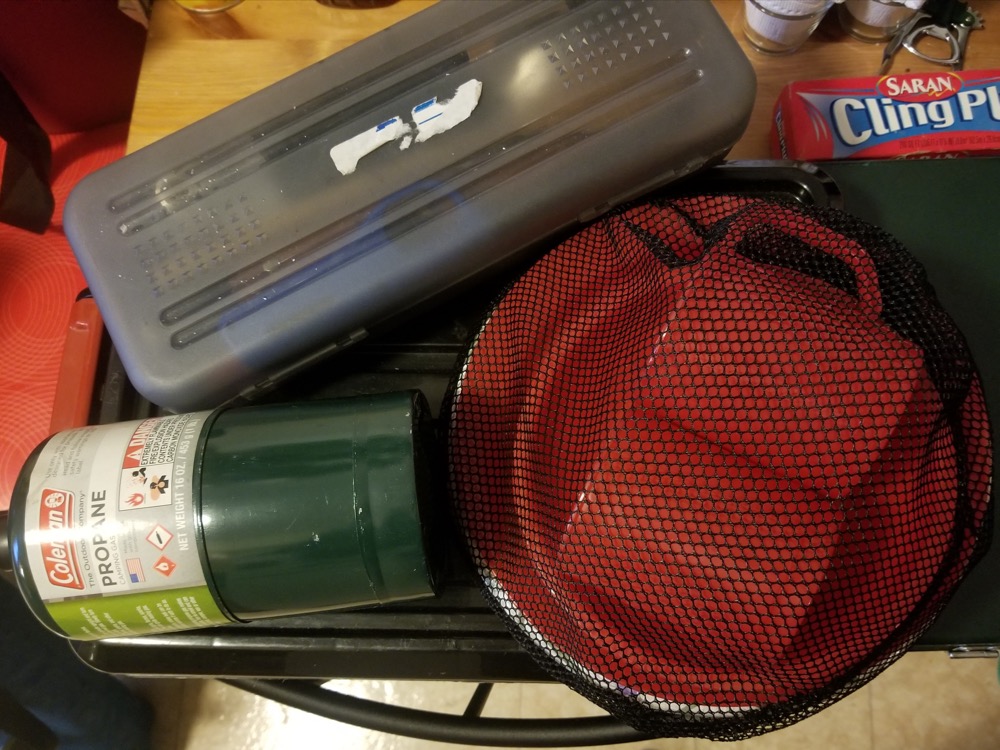 It's important to do any prep work the night before or early in the morning before heading out to the hill. While it's great to spend time cooking and drinking with friends and family in the middle of a long ski day, it's a drag to have to stand there chopping or cutting food items that could have been prepared the night before. As they say in the restaurant biz: you gotta situate your meeze.
And finally, you need music. I bring a small Bluetooth speaker that I can connect my phone to, and I spend a little time crafting a playlist that I think will compliment that day's mood nicely. Curating a playlist for diverse tastes might be challenging, and it's always a good idea to keep the playlist somewhat family-friendly as parents will constantly be walking past with their little ones and it's just not cool to force a dad to explain to his five-year old what "skeet" means when all he wanted to do was teach the little grom how to stand up on his new Burton board.
Try to feel out the culture of a mountain before deciding to tailgate. Some parking lots are better than others, and no one wants to ride a parking shuttle to and from lunch. Be familiar with your destination, or at the very least do a thorough Google search to see if others have tailgated there before you.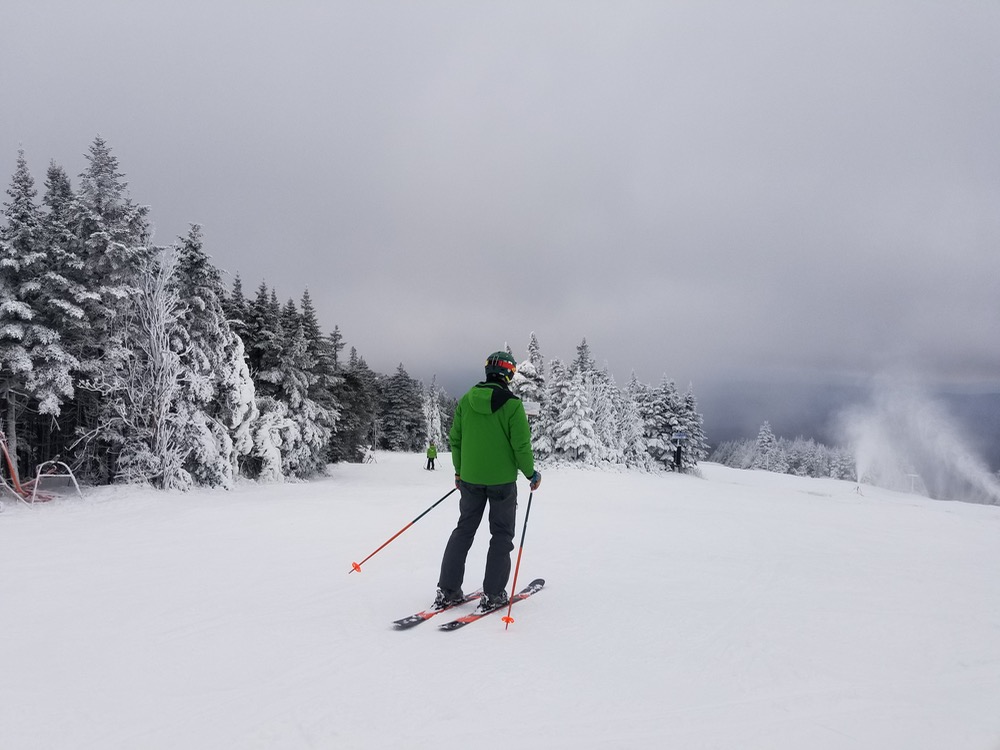 Of course, any tailgate plan is contingent upon the weather and the temperature. No one wants to sit around in 15-degree weather freezing their sausages off, and heavy snow or sleet can turn a well-made burrito into a soggy mess. But tailgating need not be relegated to just spring skiing and 50-degree sunny days. Even a bluebird day with near-freezing temps can be a joy to have a parking lot picnic in, but as with almost every aspect of this crazy sport of ours, a little bit of preparation and planning go a long way toward making the best out of a winter day spent outdoors.
Now grab that sixer of Heady Topper or PBR, fire up the Coleman, make sure there's some AC/DC on the playlist, and go make some lot friends. It just might be one of the highlights of your day.