The NOAA El Nino Forecast for Winter 2009-2010 has been released.  In the years I can remember that were strong El Nino, it wasn't ideal for skiers. What meteorologists call a "zonal flow" develops. Big wet storms pound the west coast and come straight across the country. When that flow is really strong cold air gets bottled up in Canada making only short appearances south of the US border.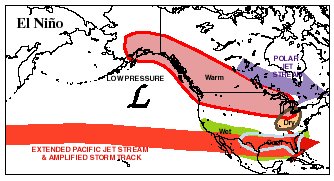 When El Nino isn't as strong, it can be good. Honestly I'm not sure what the difference is between a weak El Nino and La Nina. They may be the same thing. In that case, the systems come across and the cold air is more likely to be involved in New York and the northeast.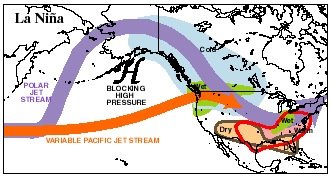 I still think it's best when there is no effect. Big cold Highs coming south from Canada, with clippers bringing down more cold air. And coastal lows running along the fronts. That's what I'm after. I'd always rather have consistent cold, even with a reduced chance of the big juicy storms.
The big meltdowns are a bummer — especially for a mountain like Gore — with limited ability to recover quickly. When this July prognostication comes out every year, the NOAA wording is always non-committal. They know it's a long way off. But they seems to be saying there is a decent chance of a strong El Nino.