The 2022-23 ski season has come and gone for most of us, and looking back, mother nature delivered a bit of a mixed bag. The season started on a good note with a little early snow, followed by prolonged warm temps with little snow mid-season. Then, March snow storms really made for an outstanding late season into spring. Here's a look at my season in photos.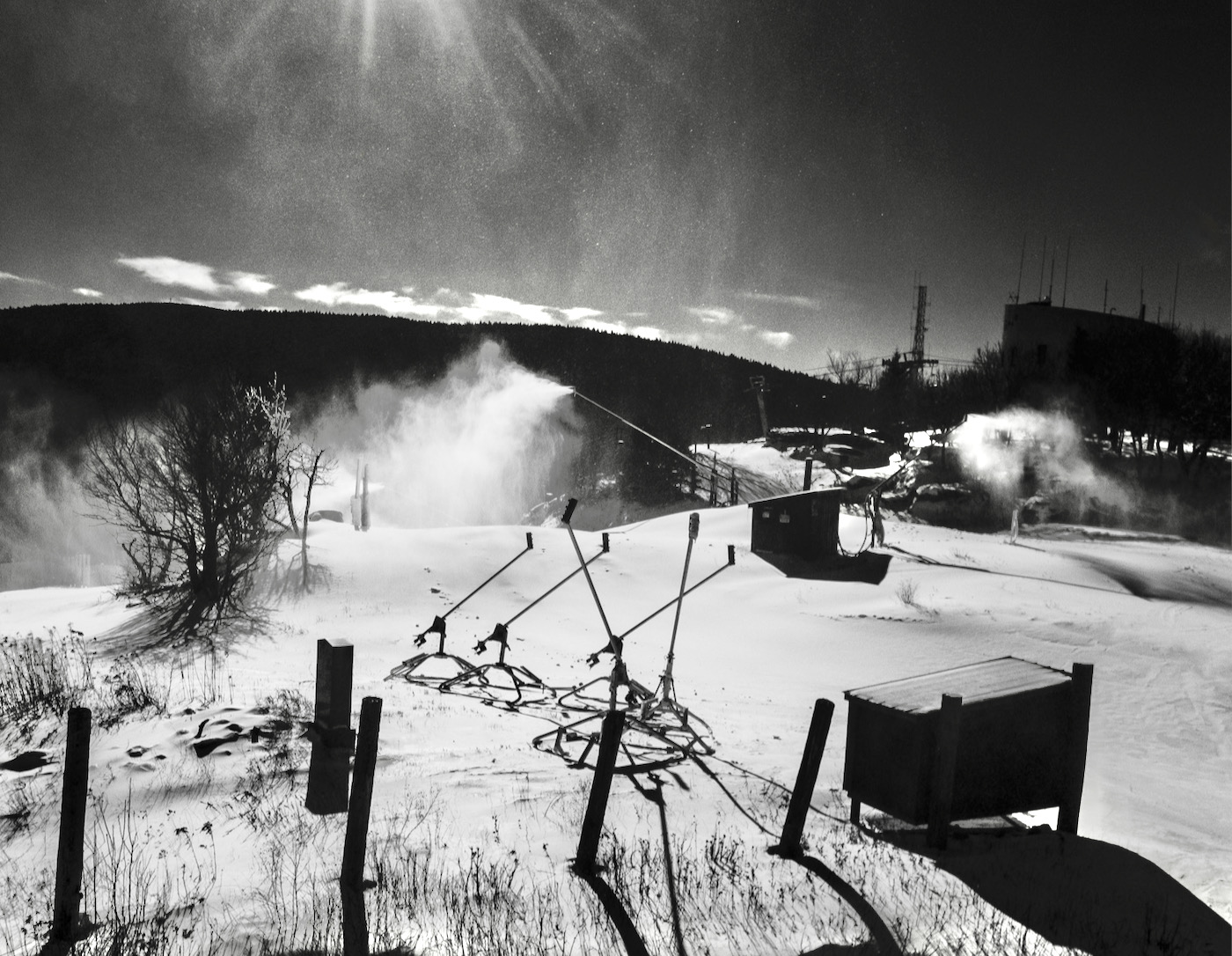 The early natural snow combined with snowmaking started the season with a feeling of optimism. Hunter got off to a good start making snow, and hope had me thinking we were going to see pre-pandemic level operations on the mountain.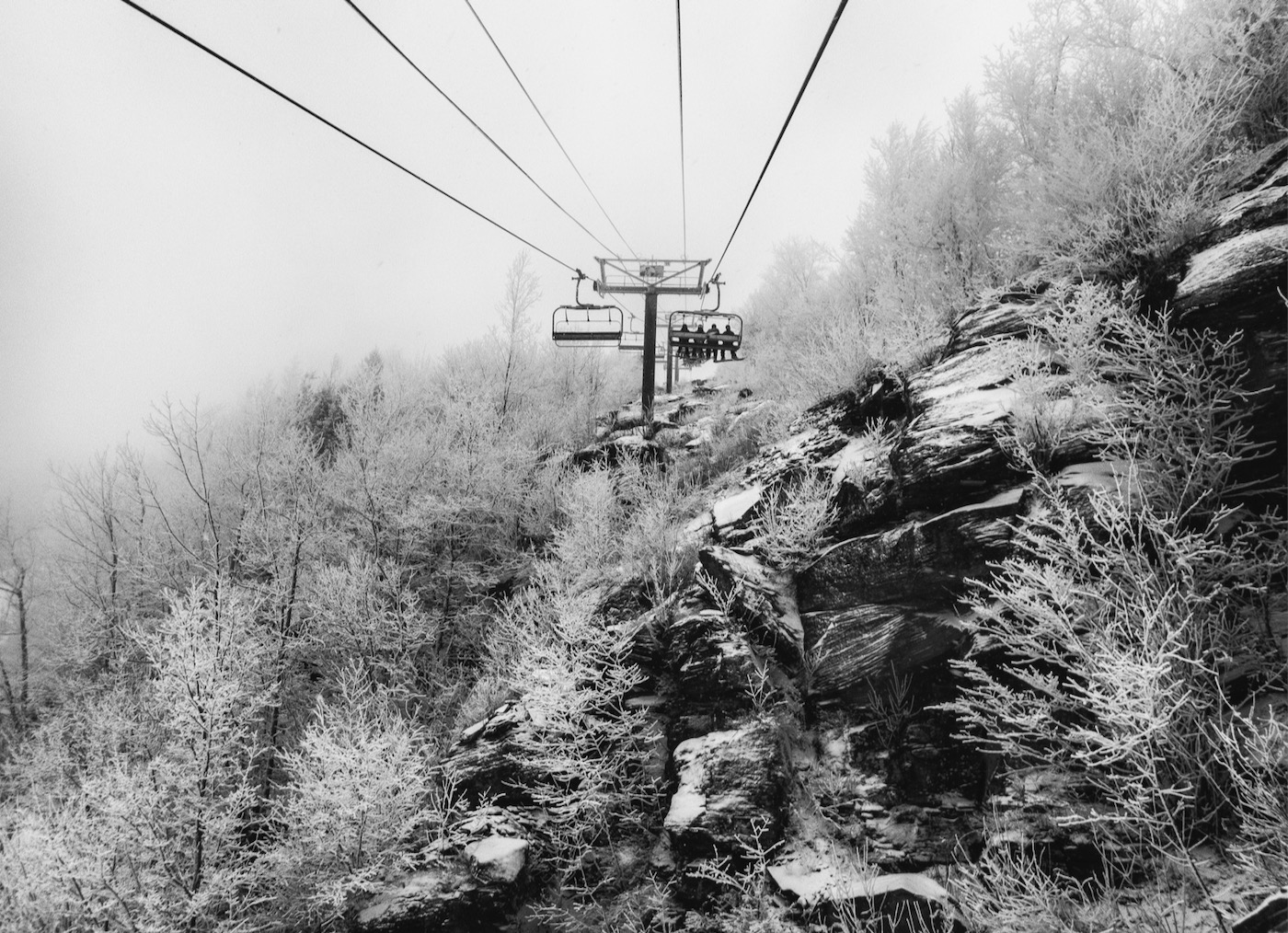 My early season optimism was further fueled by some late-Autumn natural snow in the Catskills, which made everything look nice and wintery. With snowmaking going and the natural snow, expectations were stoked for a snowy ski season.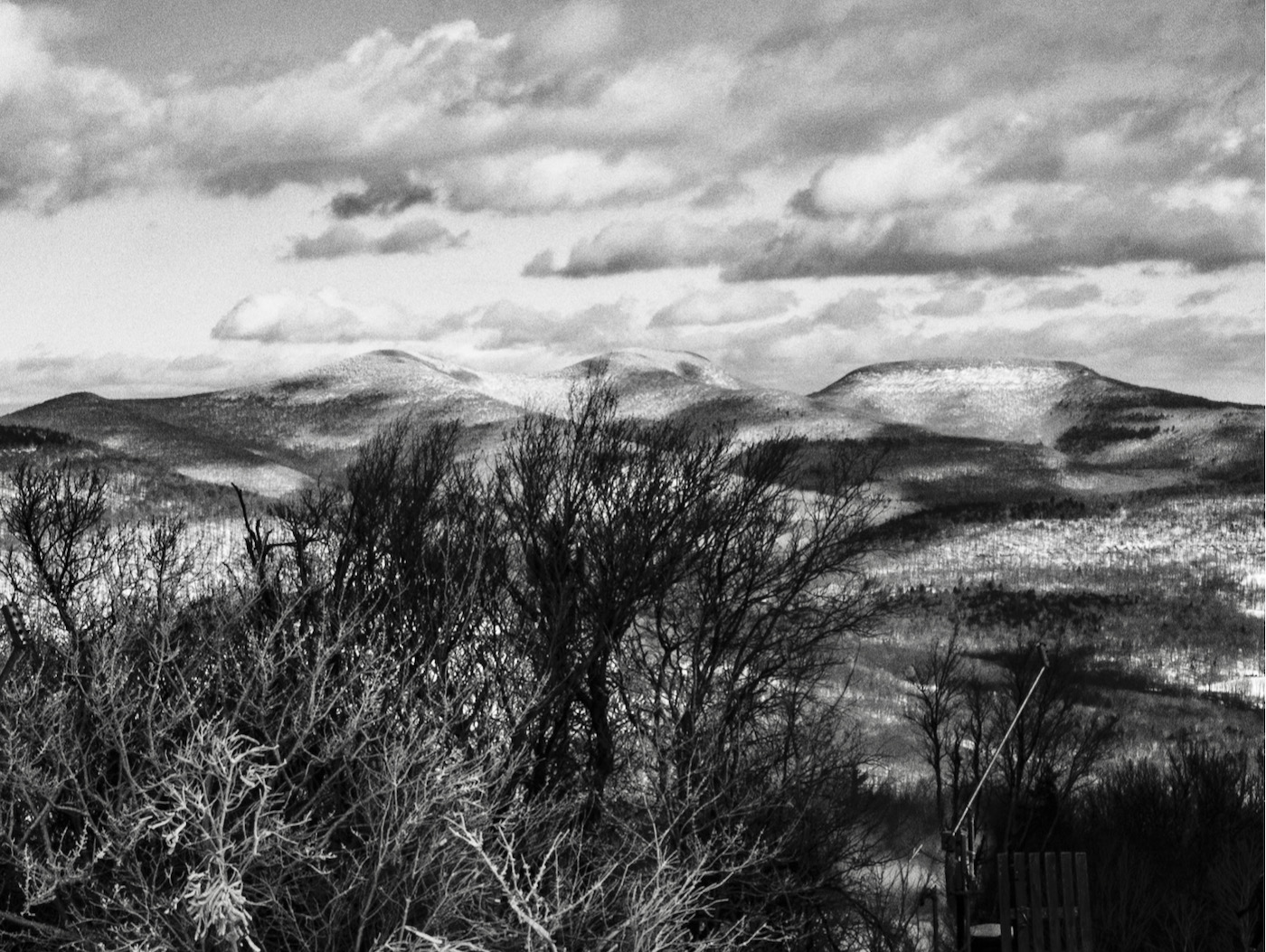 The Blackhead peaks form the iconic view shed from Hunter Mountain's front side. The 3 Blackhead peaks are each just under 4000' in elevation and are among the five highest peaks in the Catskills. L-R Thomas Cole, Black Dome and Blackhead Mountains.

This view from Blackhead, looking at Blackdome also shows the Hunter Mountain ski resort off in the distance on the left. This view provides some real perspective for everyone bombing down Hunter Mountain.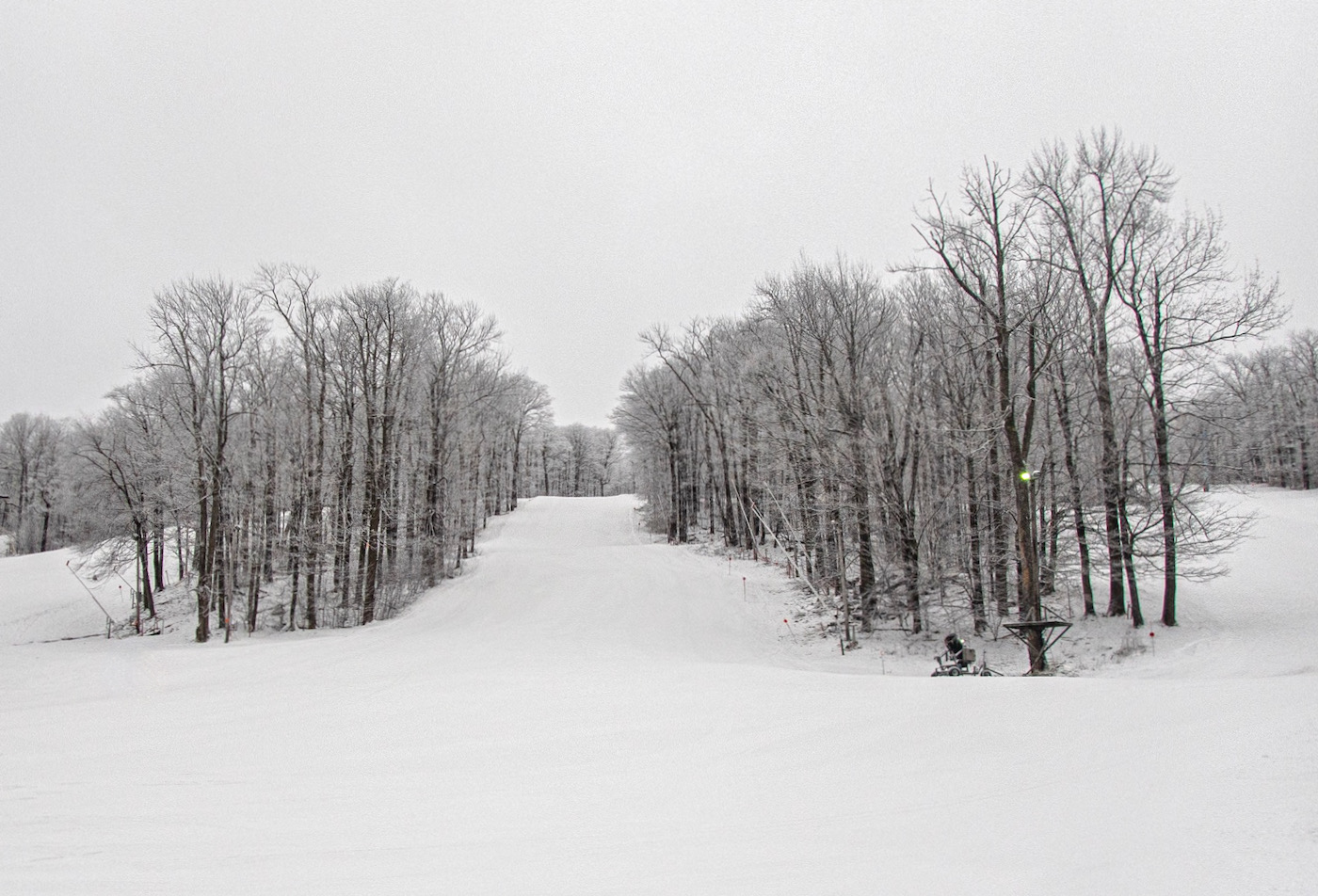 By late January, my early season optimism was fading under warm temps, too much rain and what seemed like limited snowmaking at Hunter. It was time to put my Ski3 card to good use and I visited Belleayre. While the snow at Belleayre wasn't deep, the coverage was extensive and almost all of the mountain was open for skiing. My daughter and I had a real enjoyable day.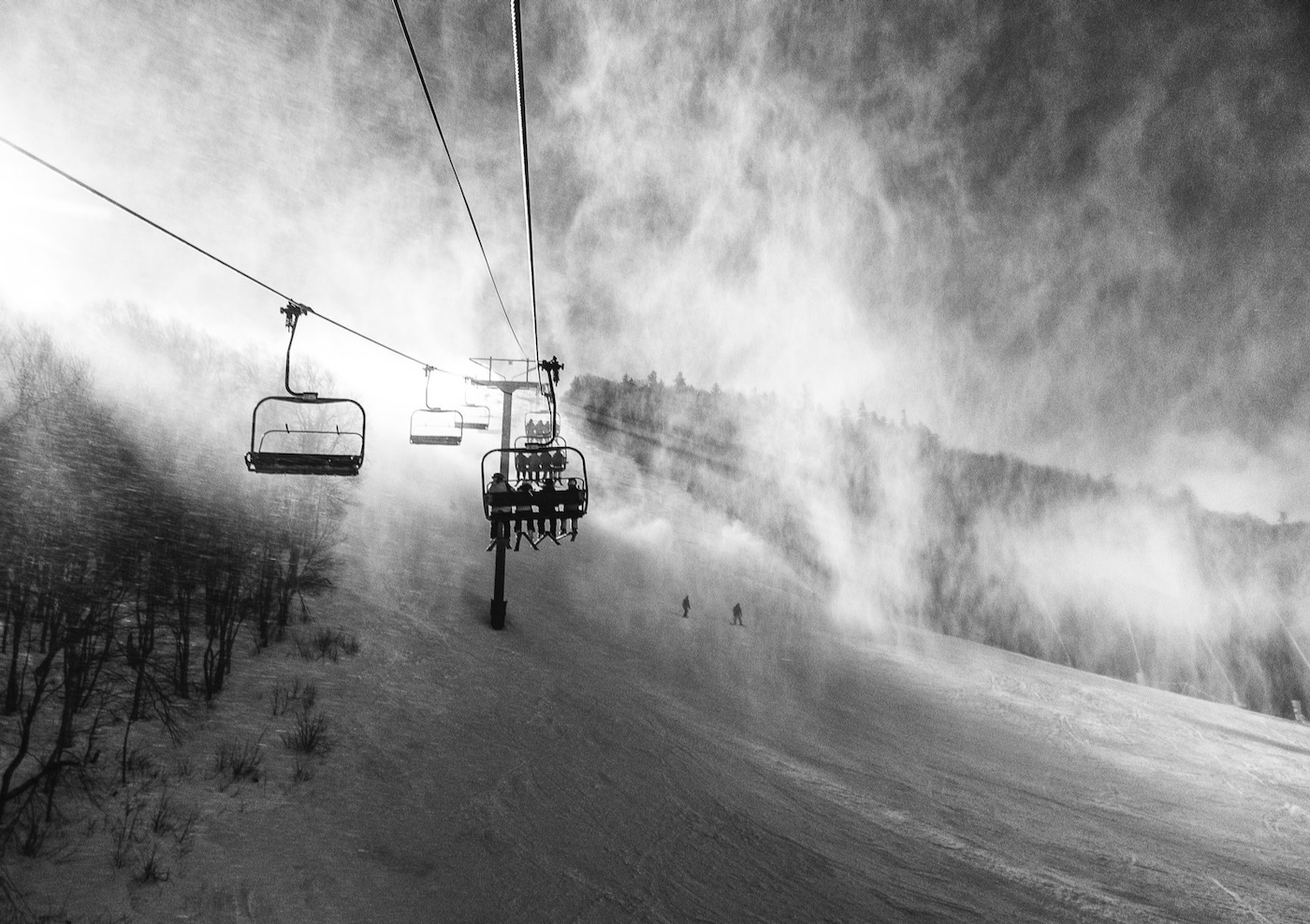 As January rolled into February, ski horizons expanded with my first visit to Killington this season. Snowmaking was going full blast across the resort, especially on Superstar. I enjoyed a real nice day with my friend Mark. If you're still skiing Killington this time of year, it's the result of scenes like this all season.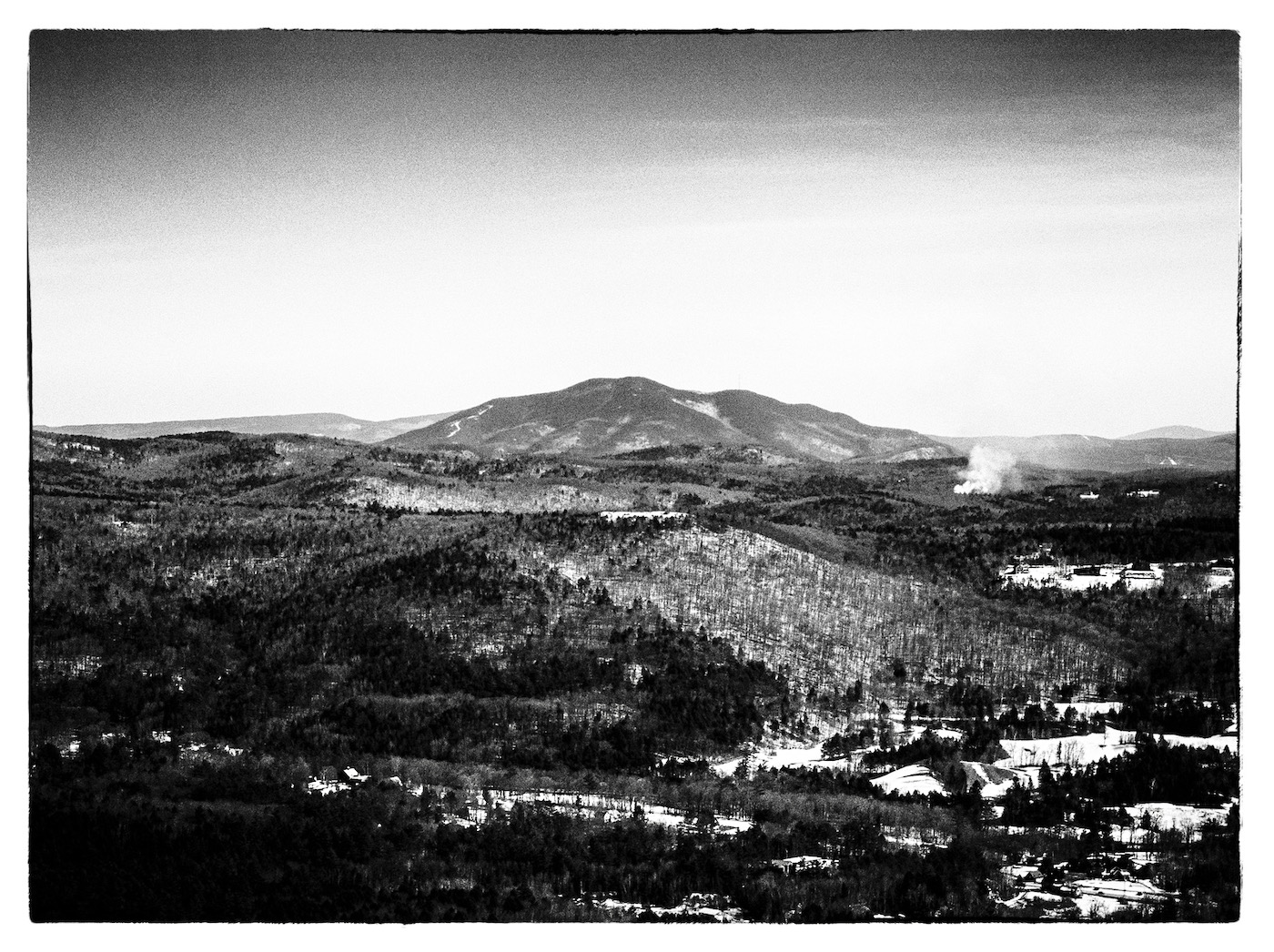 On Sunday after a great day at Killington, I figured I'd save my K Ticket for another day and hit Okemo using my Epic Pass. Okemo was well-covered and well groomed for a nice, relaxing ski day. It was a nice day for smooth carving across Okemo's packed powder.
While there, I sighted seven other ski areas including Bromley, Stratton, Mt Snow, Magic, Sunapee, Killington and Ascutney (shown above). I wonder if there is a ski area in the northeast where you can see more than 7 other ski areas? If you can think of one, please leave a comment, as I'm curious.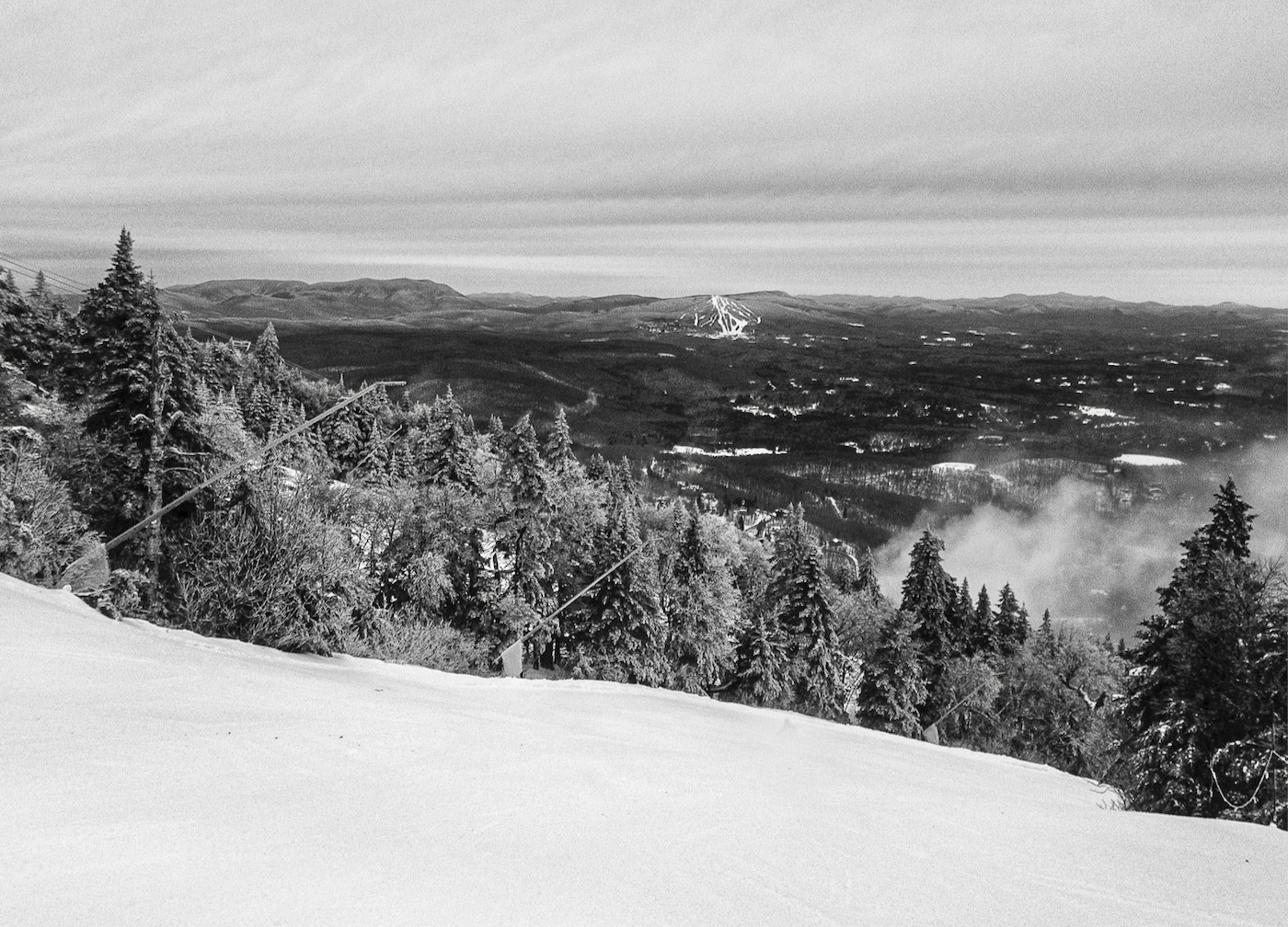 In late February, my friend Howard invited me to join him at Stratton. It's been awhile since I've skied here – it was quite nice. Stratton offers a great view of Bromley and Mount Equinox (left of Bromley in this image).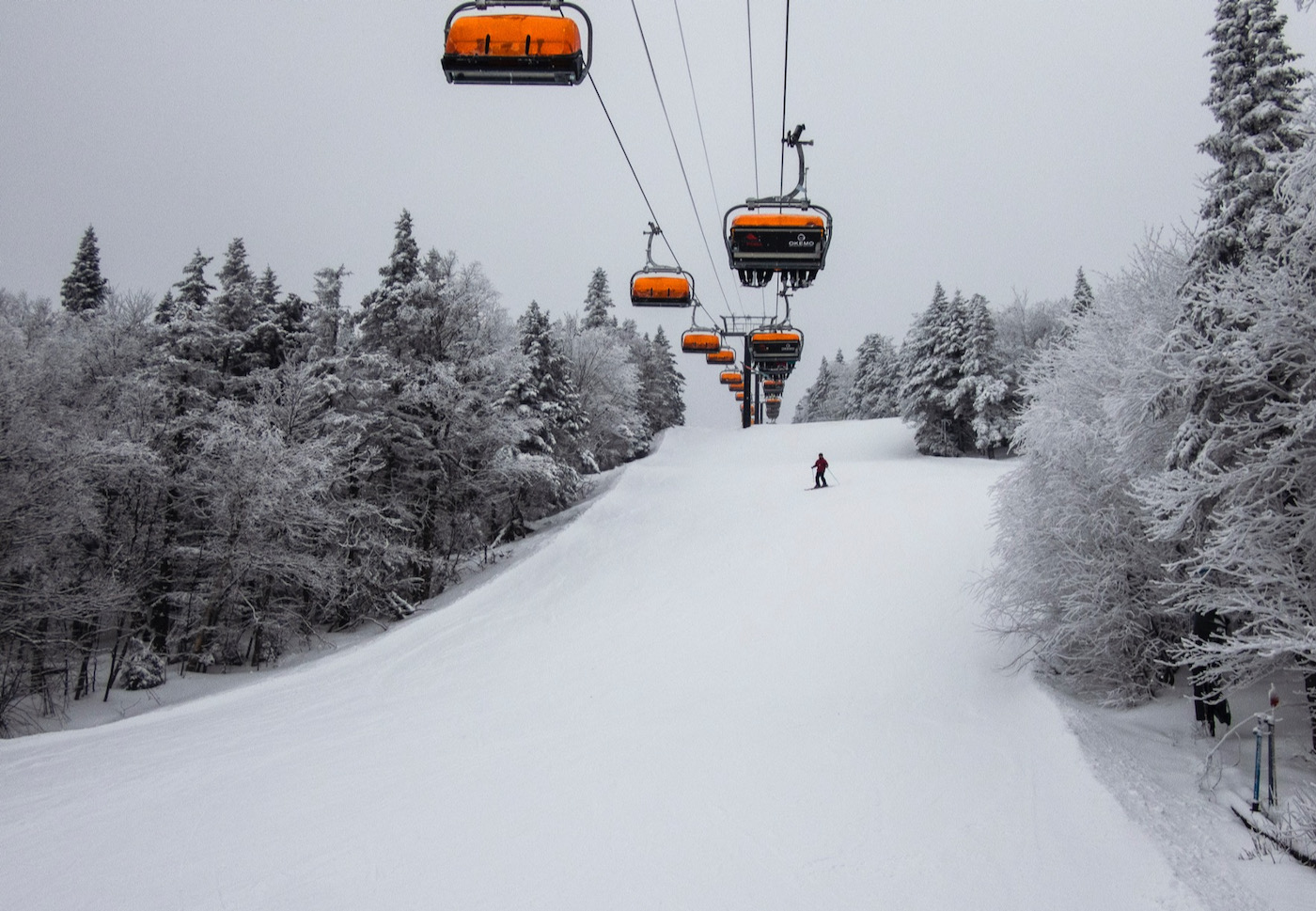 On Sunday, Howard and I skied Okemo (you can see him here). It was another great day of cruising, carving and enjoying the conditions Okemo is famous for. The chair bubbles give this virtually black and white image a nice touch of color.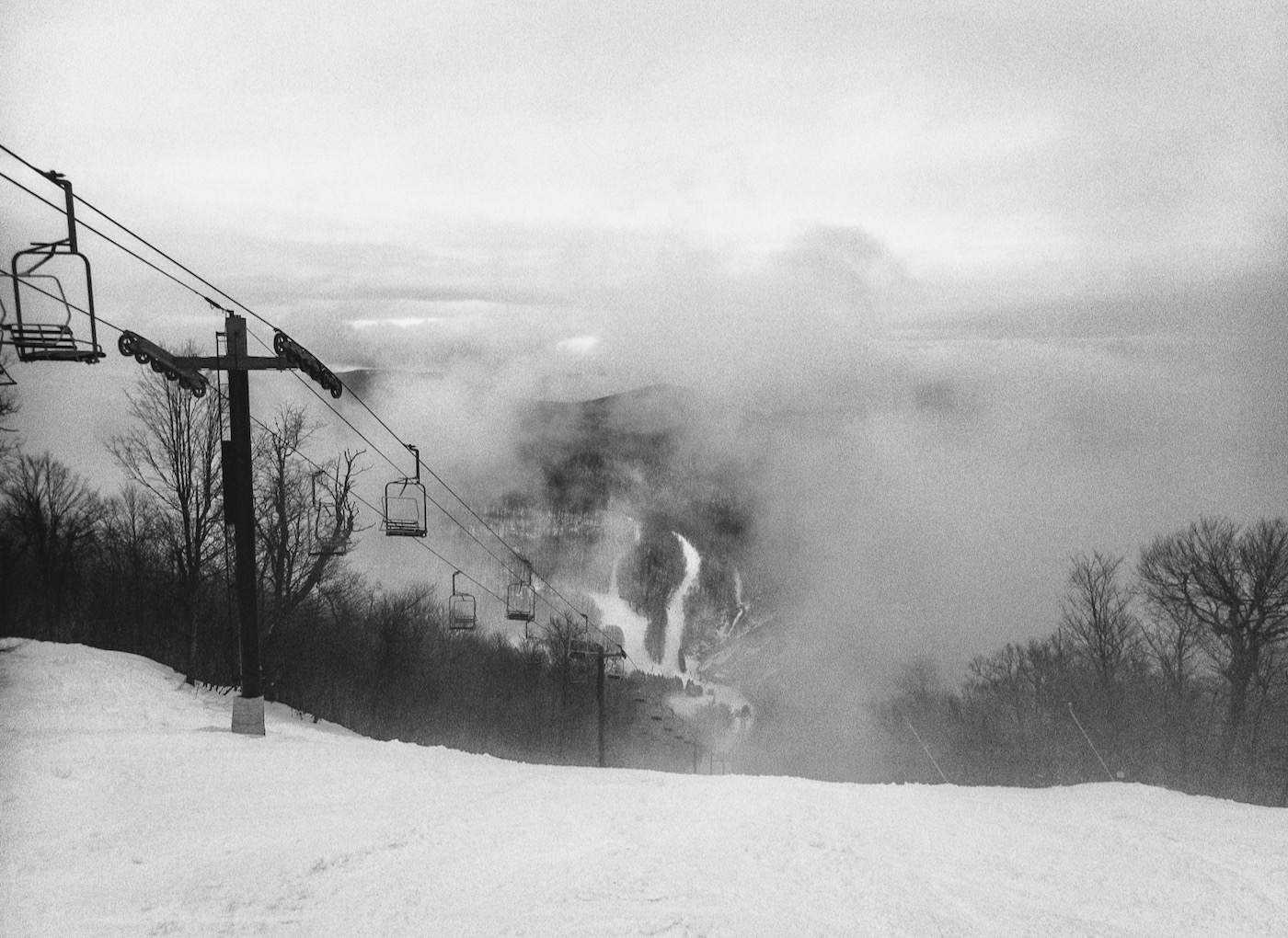 Later in March my friend Brian and I met up at Plattekill for our annual day on the mountain. After a fun day at Magic Mountain last season, we decided to meet up at Plattekill this year. We met at Plattekill on a rainy Friday, a few days after one of the March storms.
The mountain was covered with wet and heavy snow, and it became more fun as the day went on with everyone helping to loosen the snow's consistency. It was damp all morning, with about an hour of light rain, and we were happy to enjoy the conditions without getting fully soaked.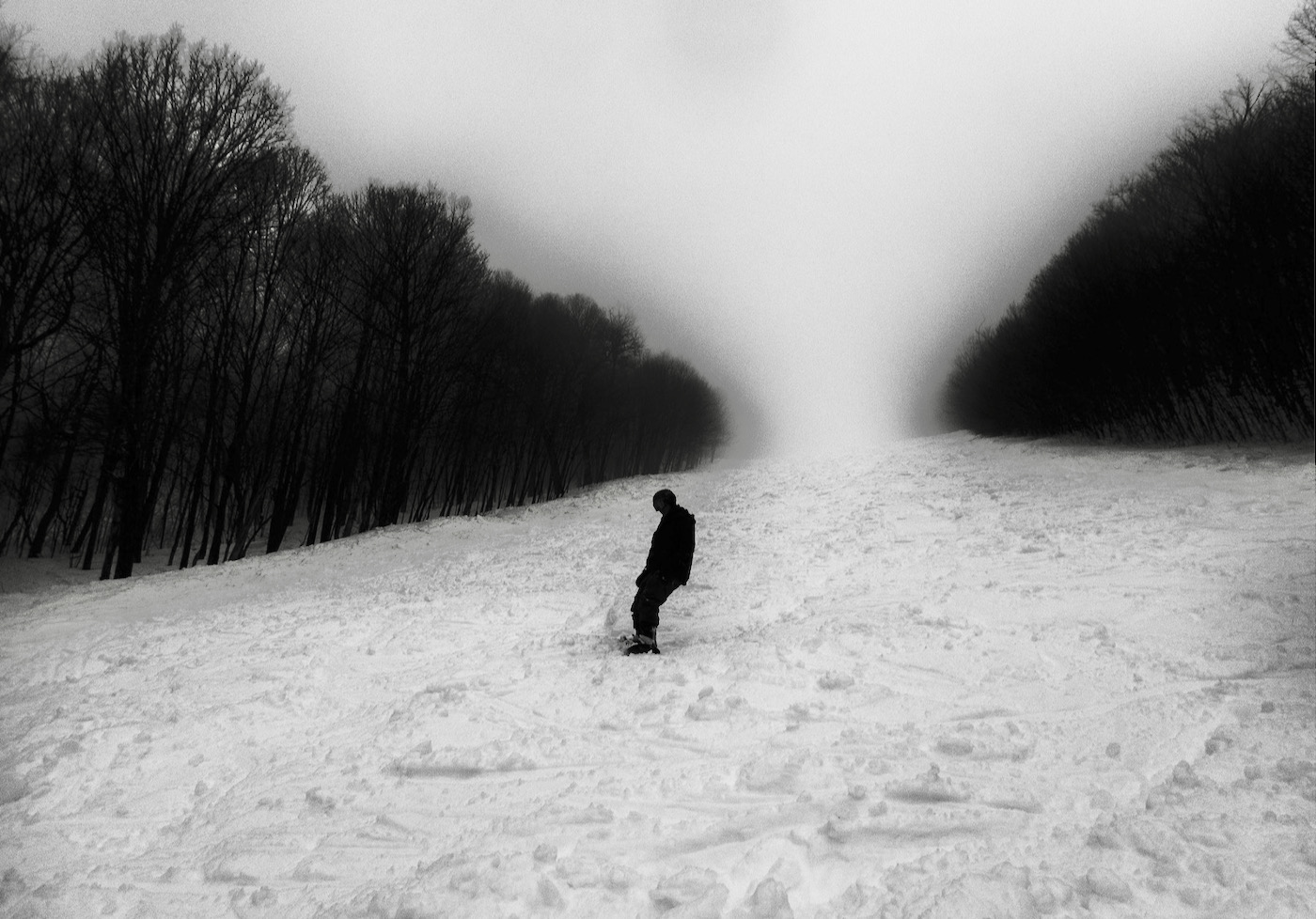 By early afternoon, the clouds began to lift, and we enjoyed soft snow and clearing skies for the afternoon hours. Another great ski day at Plattekill.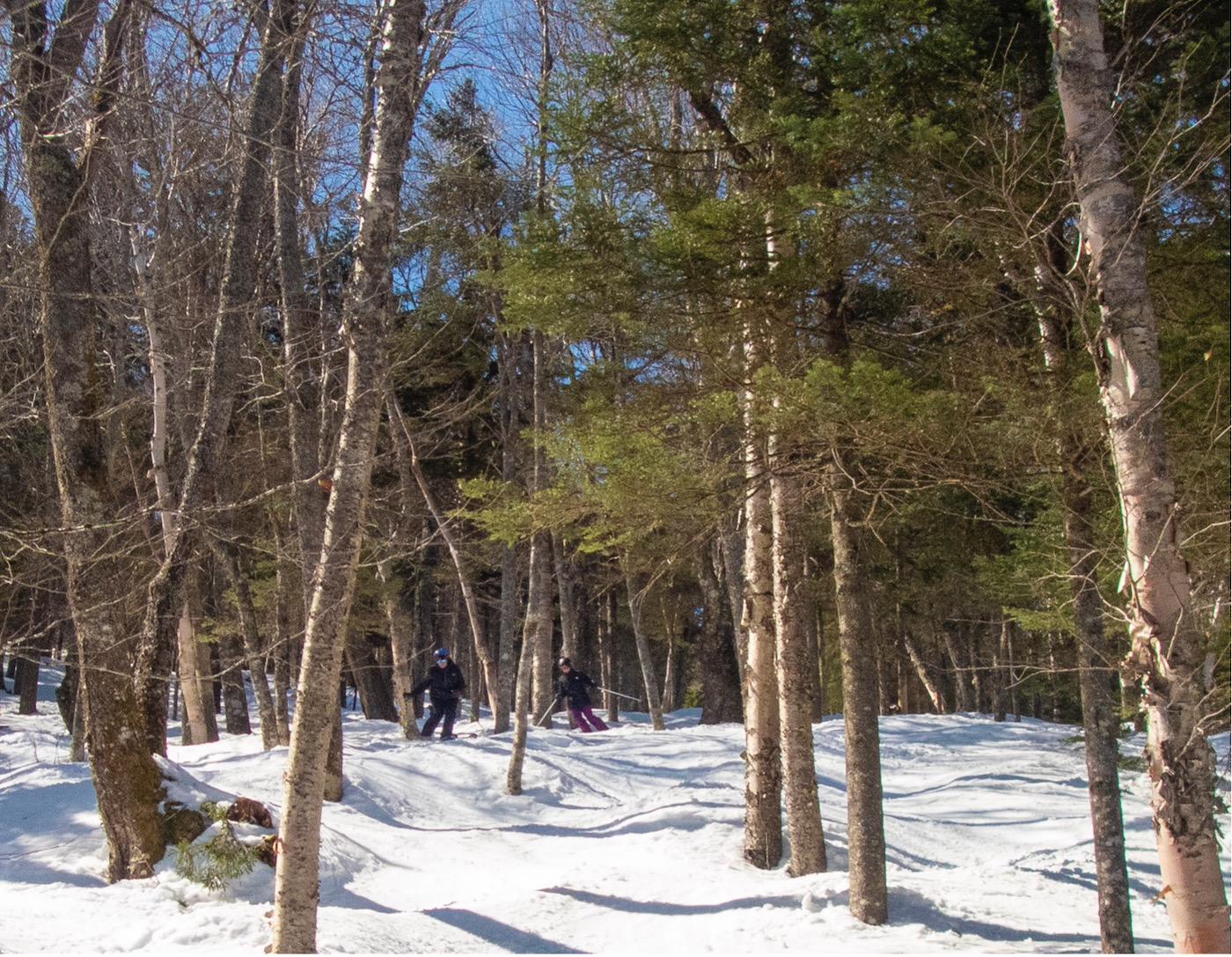 As spring rolled in, my daughter Alison and I met up with friends at Killington. With the mountain 100% open, we really got to enjoy every aspect of Killington, including some tree skiing. Here's a shot of my friend Buckwheat (L) and Alison (R) tree skiing at Killington. Buckwheat is a great skier and a true ski enthusiast and she really pushed Alison along all day. Alison expanded her ski horizons and had a blast.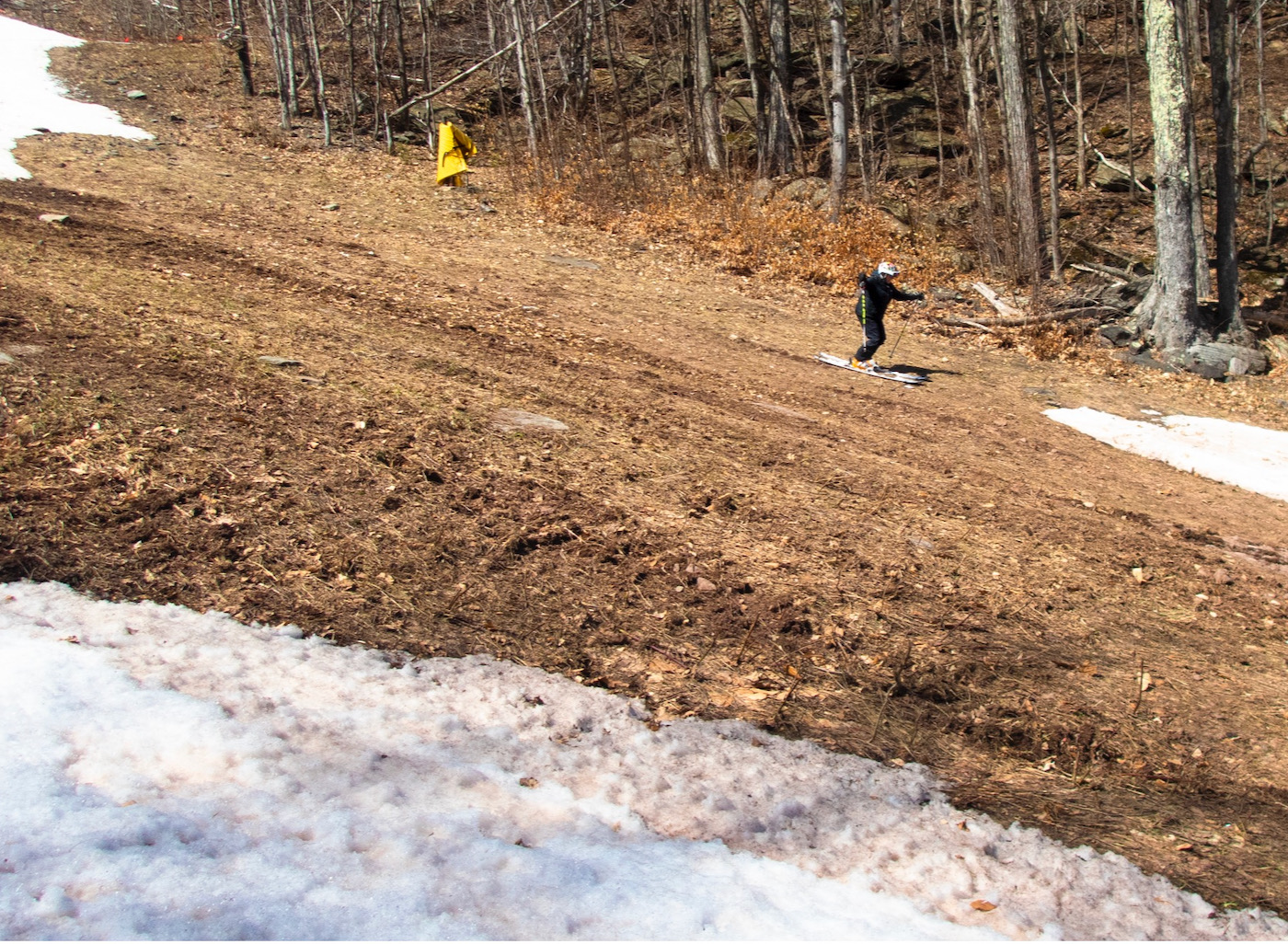 Season end at Hunter gets a little crazy. On closing weekend in April, we pushed the limits by skiing the thin covered Eisenhower run. I walked across the grass and dirt to get to the snow and shoot this photo, while Buckwheat decided to literally slide / ski over the dirt from one snow patch to the other.
This is not normal behavior for Buckwheat. It's the end of the season, and having fun was the only rule. This is why they invented P-tex and ski tuning equipment.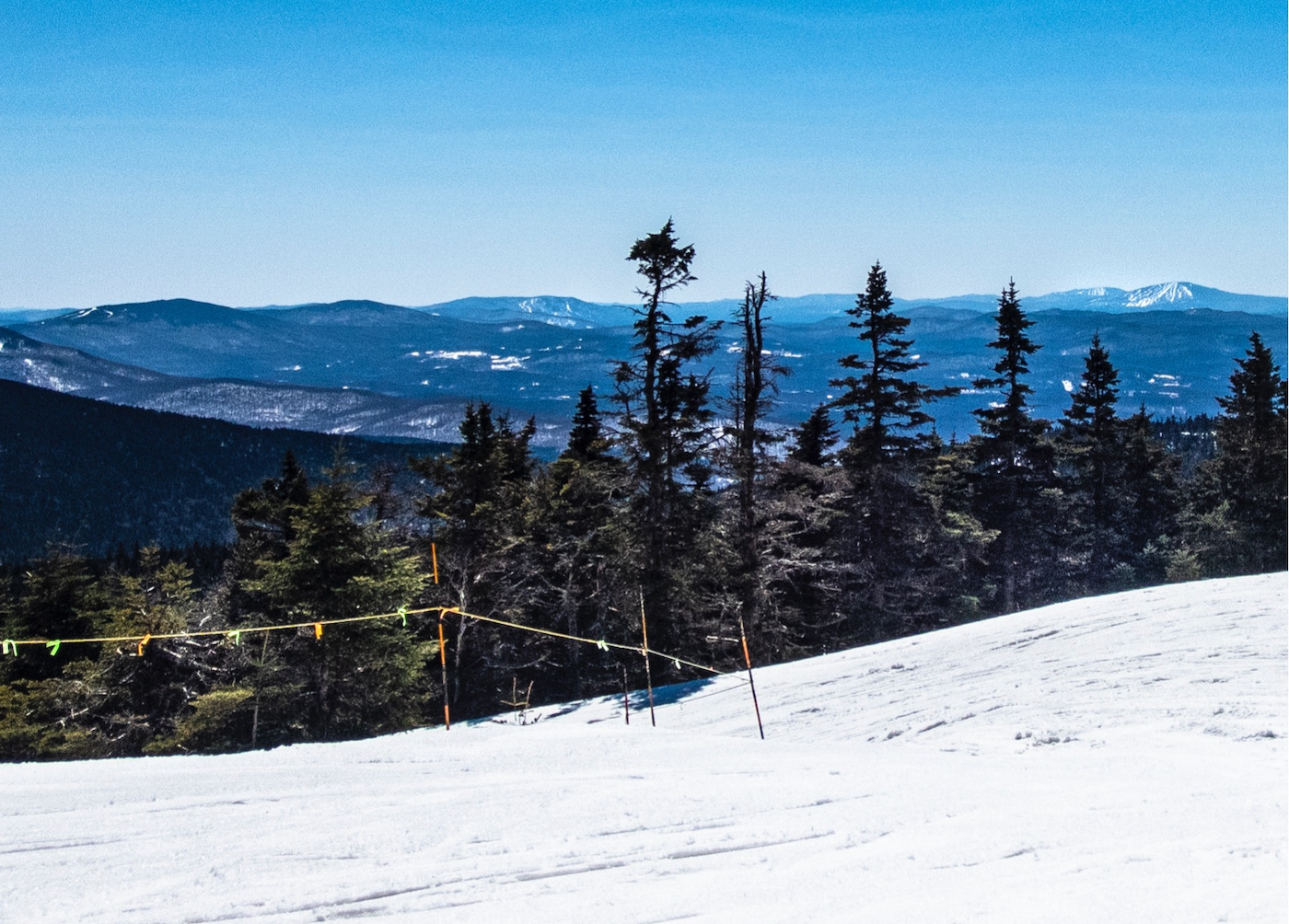 After wrapping things up at Hunter I headed back to Killington for one more day up there. The coverage was deep and plentiful in early April, and the weather was outstanding. It was a great day to be on the mountain. This view from Killington Peak looking south to (L-R) Okemo, Magic, Mount Snow and Stratton ski areas.
Add in Sunapee and Ascutney, off to the east, that's 6 ski areas visible from Killington. Throw in Pico, now part of Killington, and you have 7. There may be more – I've tried hard to locate Gore and Whiteface from Killington, but haven't been successful in spotting them yet.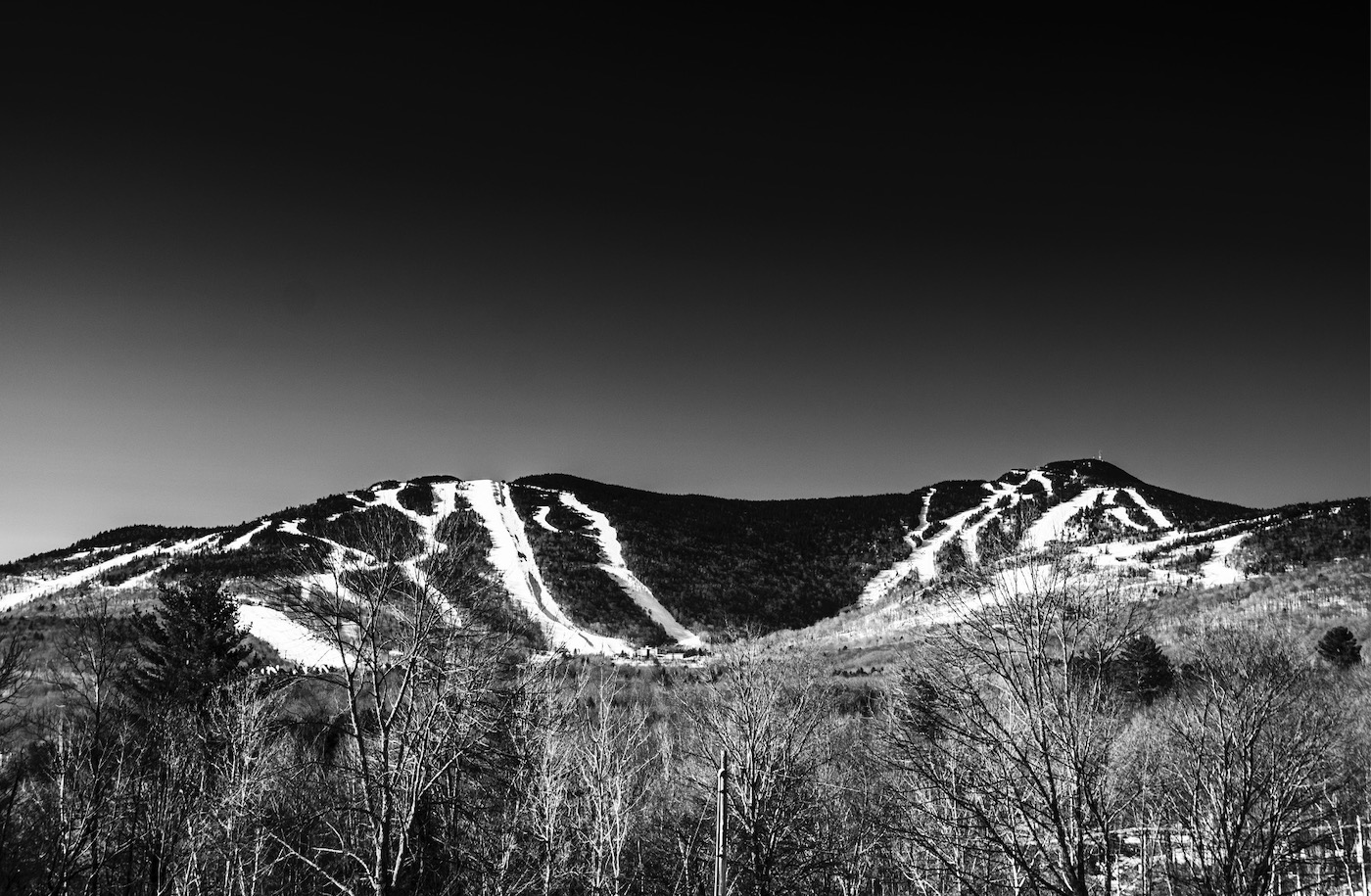 For years this view of Killington from the access road near The Foundry restaurant has captured my eye. As I was alone and on my own schedule, I stopped and shot this photo. It's a great view of the mountain, from Needle's Eye on the left to Ram's Head on the right – almost all of Killington. Diehards have to love the huge ridge of snowmaking piled up on Superstar, plainly visible in this image.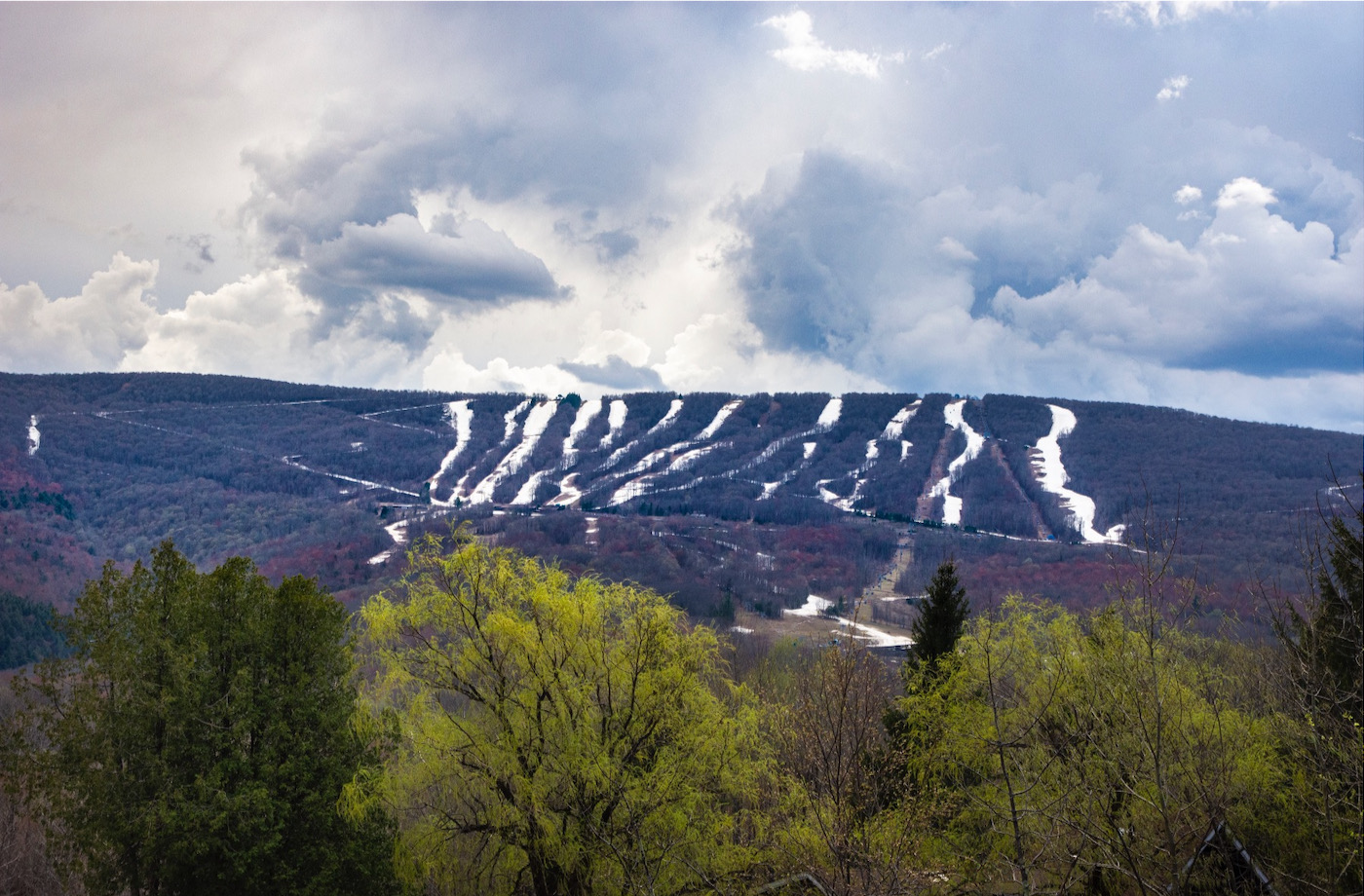 I wrapped up my season in mid-April for Belleayre's closing day. The mountain was still well-covered, with several choices of runs. While things got thin at the bottom by the gondola base, the upper mountain was skiing great all day. After enjoying some socializing at the season-end festivities at the base lodge, the weather started to change. Thunder storms were on their way in, shutting down operations and the season maybe an hour sooner than expected – but as every skier knows, mother nature wins every time.
I hope you all had a great season. Enjoy the summer everyone.
---
Steve Aaron is an avid skier, hiker, cyclist and photographer, always armed with a camera. Steve's landscape photos have appeared in Backpacker Magazine, Hudson Valley Magazine, NY Newsday and the Albany Times Union. His work is also featured in pieces for Ulster County Tourism, Scenic Hudson, The Trust for Public Land and other outdoor oriented organizations. Every August, Steve publishes a wall calendar featuring beautiful landscape images from the Catskills and Shawangunks. For more information on the calendar, join Steve's mailing list.