New York's Central Park is a quintessential city experience, delighting tourists and locals alike. I'll never forget my forays with friends; playing pickup soccer on the great lawn, my near misses on the bike path, and most recently bouldering all within sight of the gleaming rooftops, and ancient obelisks.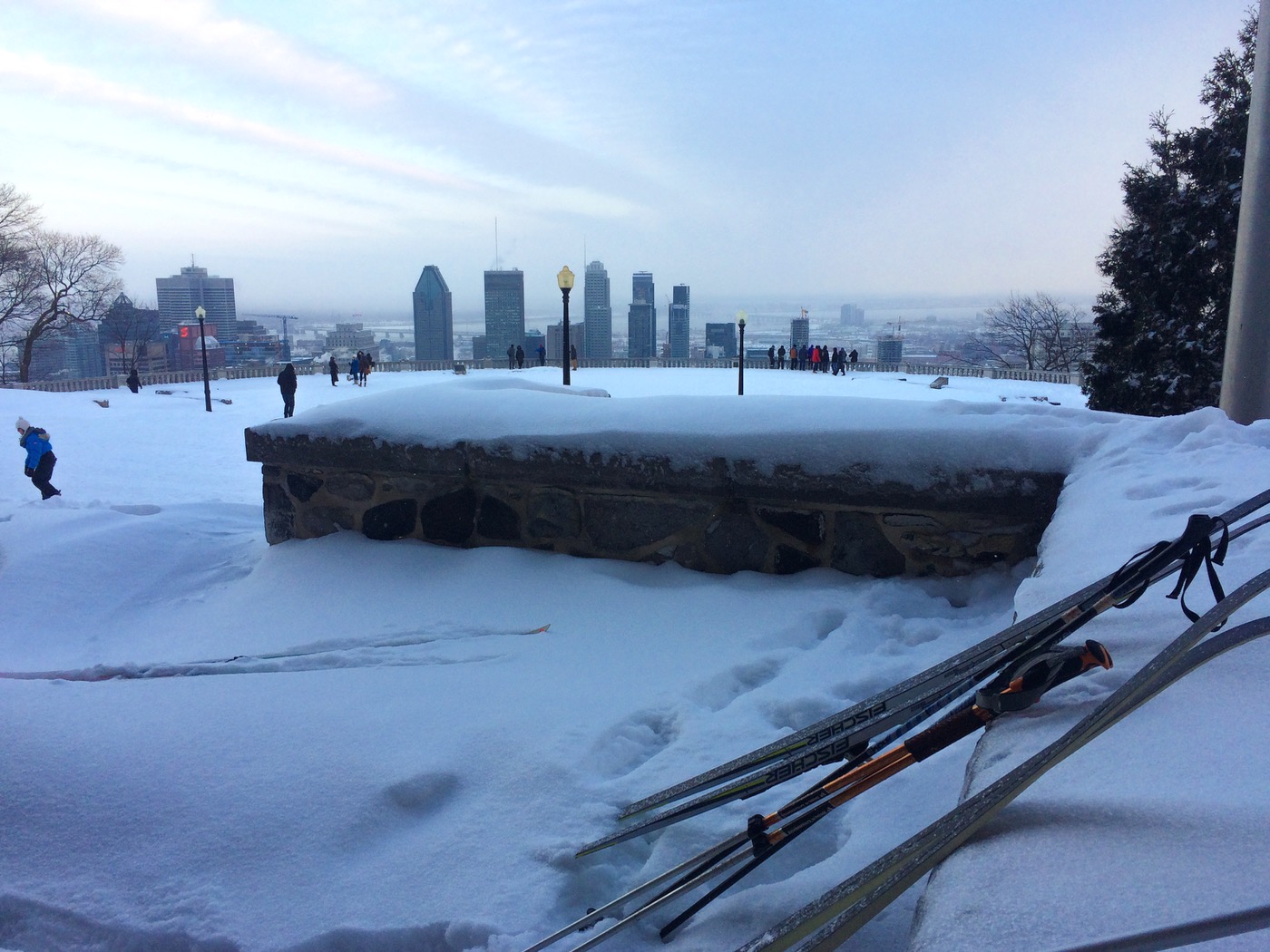 Much like the vaunted reservoir system, the foresight of city planners setting aside resources for future generations and developing them properly had unimaginable value.
While I still consider the crown jewel of New York's park system to be without peer, Frederick Olmstead, co-architect with Calvert Vaux, also made his mark planning Montreal's eponymous parc. At nearly the same size and about 20 years younger, Mont Royal presents year round activities and views, some of which exceed the possibilities in Manhattan. Fortunately, one thing I can say about both, is that neither is taken for granted.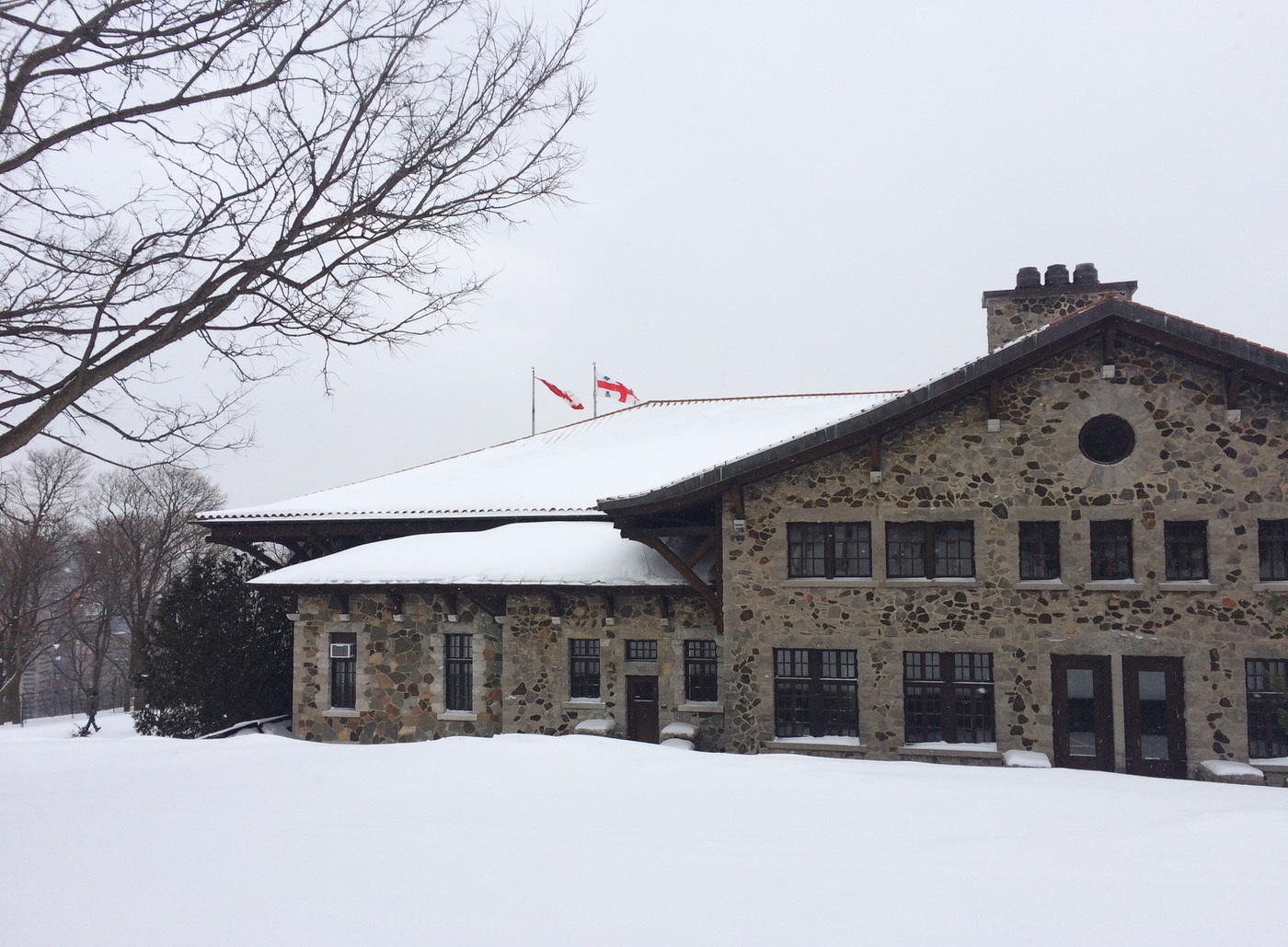 I slipped my cross country skis out of my car at the meter, booting up under the hayed-in sledding field for a three hour tour with a couple of friends. They had brought the right wax and expertise, and having done this many times over the years, had even brought a baby out to enjoy the recent snow.
The crust from our recent freezing rain event was buried in three inches of pixie dust and it was still coming down softly. The website was reporting good conditions and the groomer tracks were still very visible at 1pm. I think they may have even done a second pass to take advantage of the new snow.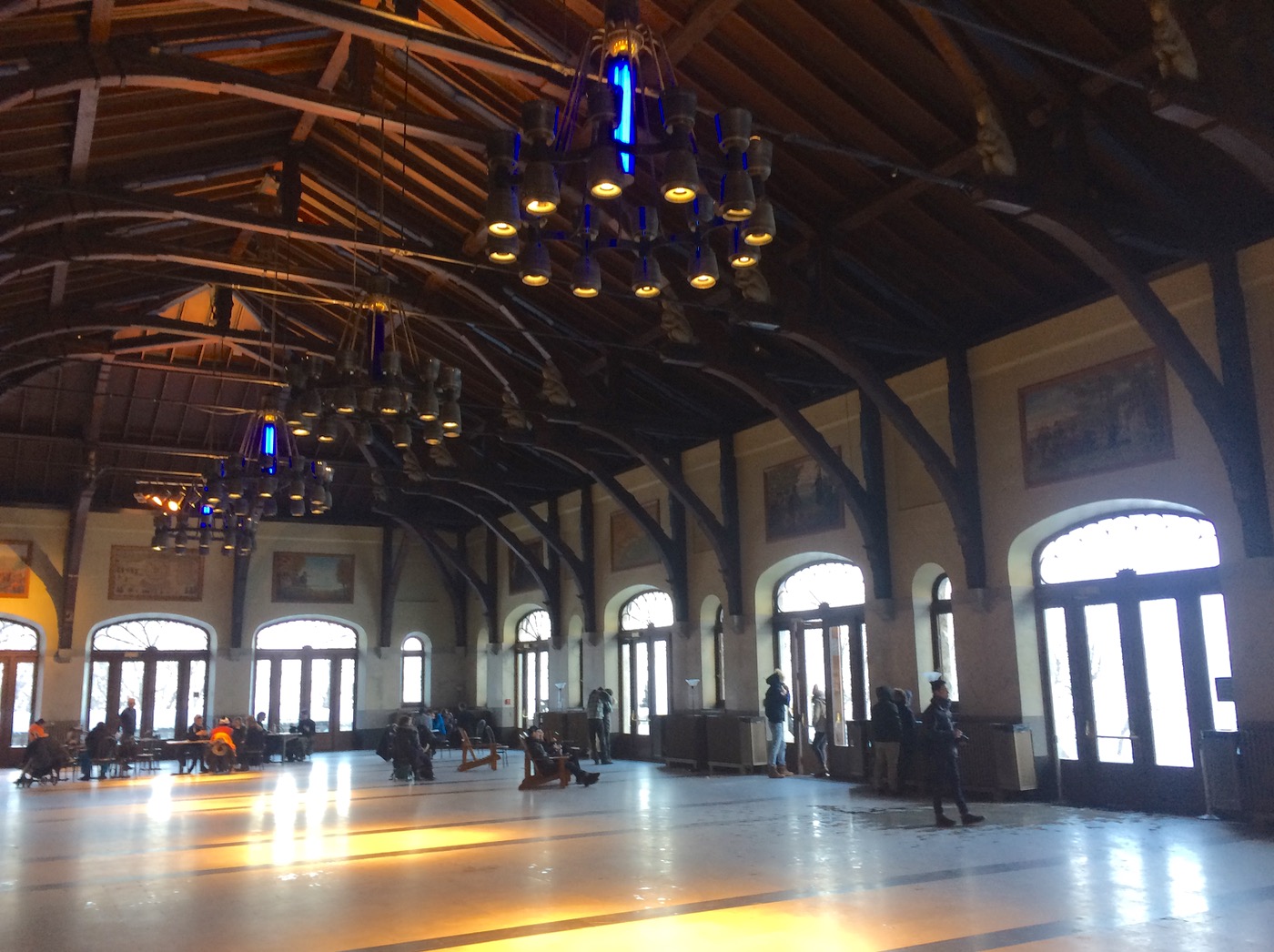 If you have need skis, they're available to rent at Lac Castor, but since we were geared up, our route would take us from the drum circle statue up to the belvedere, and back.
Saying the paths were appreciated would be an understatement. We saw lots of dog walkers, pow surfers, trail-runners, snowshoers, and plenty of faster skiers of all ages utilizing the network. Fortunately, respect was high among the participants, and there were few postholes in our ski track and even fewer "accidents."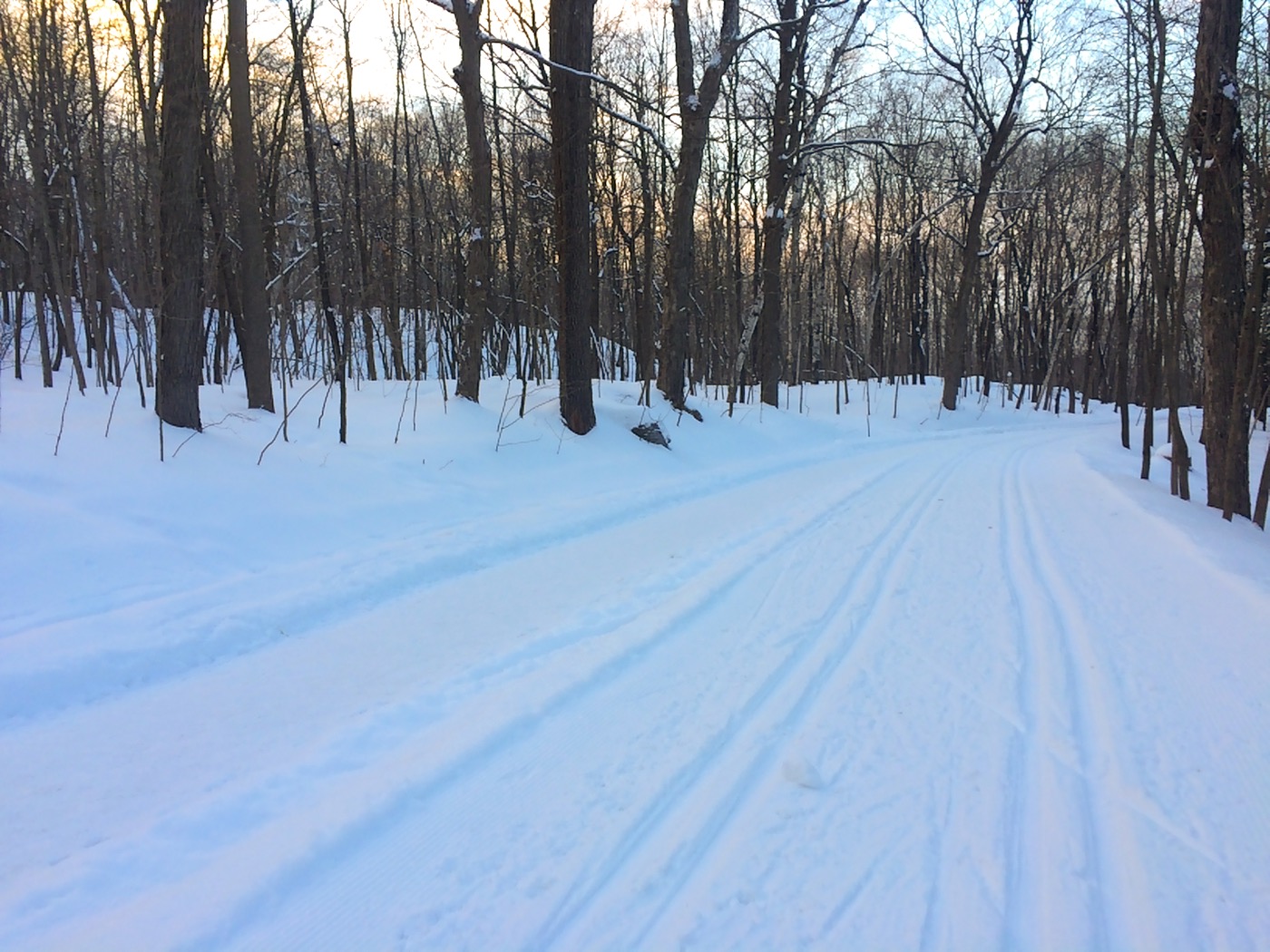 Feeling a bit more confident, we stepped off of the groomed piste to try some backcountry trails marked intermediate, but they were beyond my skill level.
After a few tumbles, we stayed in the tracks for the rest of the ski into the belvedere. From the lookout where it's often possible to see into the Monteregian hills, we saw only a wall of skyscrapers and gray. But we shared it with far fewer people than when I had last hiked the mountain in the summer.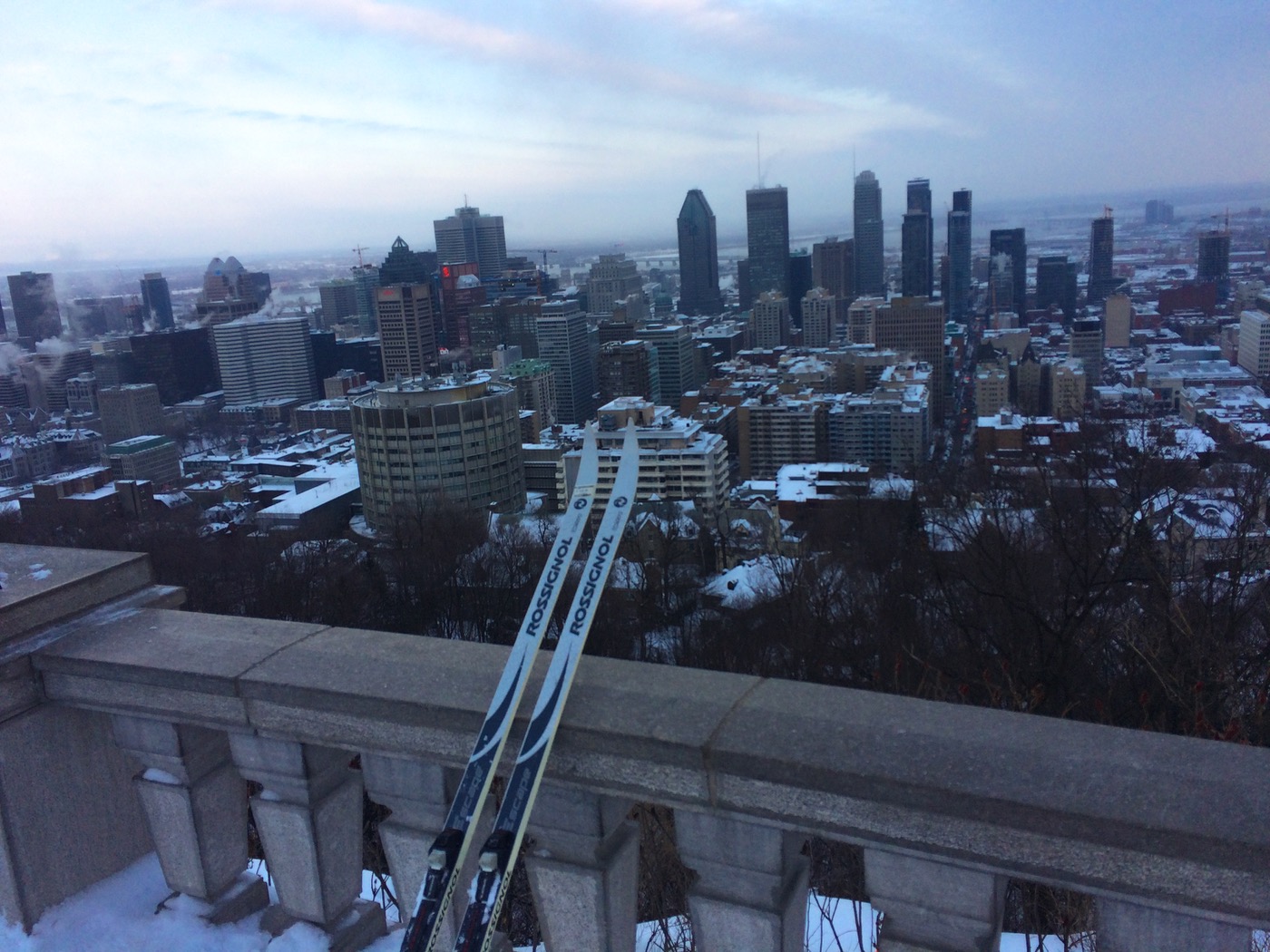 The ski out was far faster, and I schussed some pow without crashing. Maybe my downhill training had paid off, or maybe I was just that eager to get some real food in my belly. If only Olmstead had the vision to export just a bit more of New York City north, I could have used a slice.
Still, cross country skiers are supposed to be in the best shape, and I'm looking forward to additional training in the future. Mont Royal park is an exciting option to have so close, and traveling it on skinny skis might just be the best way to take advantage. Just add carbs.